The great prophet Alice Cooper was right: "Mil-e-wauk-ay" is indeed the Good Land. The city is home to some amazing watering holes, cutting-edge dining spots, comforting cheese-and-brat eateries, and more brewery tours than you can shake a cup full of dice at.
It's true that Milwaukee has more bars than grocery stores. These are our favorite places to eat, drink, and watch people make beer (while drinking it). Tell us yours in the comments section. Welcome to the Good Land.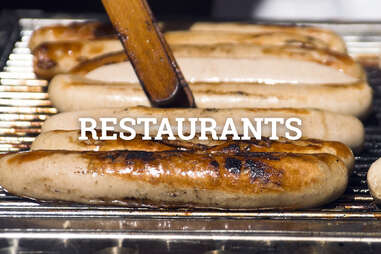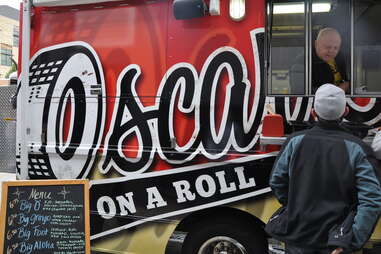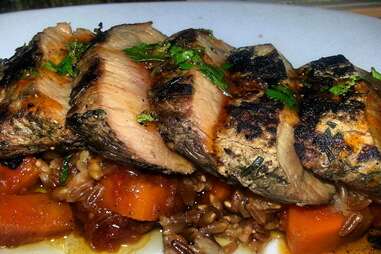 Bay View
Why you're here: Small plates & big taste
What you're getting: Ever since it opened in summer of 2012, curious eaters have lined up at the door for a taste of what this Bay View restaurant is cooking. The Duck's tiny kitchen specializes in shareable small plates ranging from their popular Korean pancake to the crowd-favorite bacon-wrapped/Gouda-stuffed dates. Practicing veganism (or courting a vegan)? Odd Duck covers that too, and even carnivores dig the plentiful vegetarian options. Add their fine cocktails to the docket and you've got a pretty good idea of why this place has blown up in such a short time. Which is to say, reservations are highly recommended.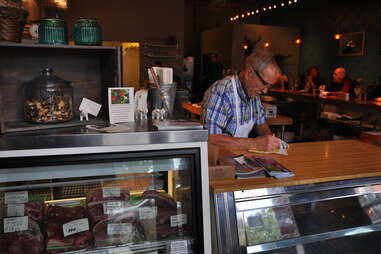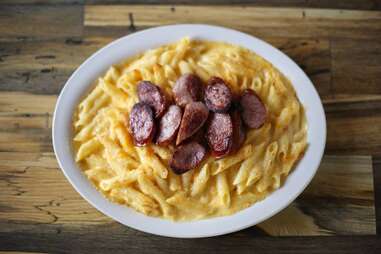 Clock Tower Acres
Why you're here: Deep comfort food
What you're getting: A restaurant for the American foodie in all of us, Triskele's delivers consistently delicious morsels time and time again from its seasonally-changing menu. It's one of Milwaukee's most underrated spots, serving up comfort like a dynamite sausage-topped mac & cheese and a mouth-watering Friday Fish Fry... that glorious mainstay of Midwestern weekend cuisine that ensures everyone's Catholic at least once a week. And if you prefer your comfort food a little fancier, the seafood selection goes beyond the batter-dipped variety, with mussels and mahi holding court to appease your date as you shovel fried fish into your face. Truly, there's something for everybody.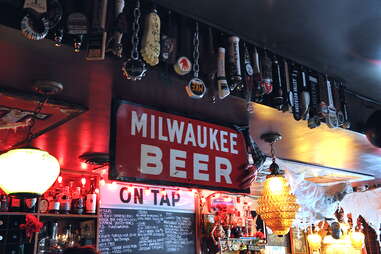 Riverwest
Why you're here: A tropical reprieve
What you're getting: The 414 area code is not tropical. Sure, there's a Great Lake immediately to the East and the summers can get extremely humid. But tropical? No. That is, unless you make it to Foundation in the Riverwest neighborhood. Adorned with bamboo, fish tanks, coconuts, sea horses, and puffer fish, Foundation whisks patrons away to where rum is king (no, not a Madison frat party). The sugarcane spirit is featured prominently alongside other island favorites, and some cocktails are served in ceramic vessels which can be yours to keep for a small price, making it a haven for Tiki fans and UW-Milwaukee students alike. Pro tip: a late night at Foundation is best cured by a caffeine top-off at Fuel Cafe the next morning.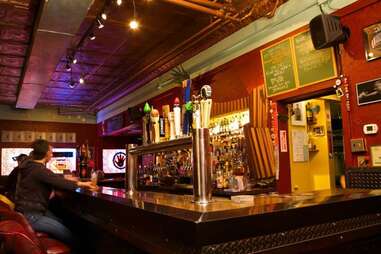 Lower East Side
Why you're here: Soccer and beer
What you're getting: Open in the wee hours of the morning for most soccer matches, the Nomad World Pub is Milwaukee's premier spot to catch not-Packers football. Thousands descended on the bar for its Favela-themed outdoor scene during the World Cup. The bar itself can get slightly cramped inside, but roll in with enough people on a weekend night and they'll be more inclined to open the second level. No stop to the Nomad is complete without indulging in their 'Prix Fixe' special: an ice-cold can of PBR, a shot of Jameson, and a cigarette for $5. If cheap beer, booze, and a cigarette isn't your thing, the Nomad specializes in a variety of European brews next to American craft on the draught lines. It's a mainstay in the ever-changing landscape of busy Brady Street, the area that continually gets the nod for best bar district in the city.
Mitchell Field
Why you're here: Boozy history lessons
What you're getting: Flying into Milwaukee through tiny General Mitchell airport? Landmark 1850 is a must-stop, and it's basically across the street. Much like Bryant's, a visit to Landmark is a short history lesson of old-time Milwaukee. The bar's been in the old building as long as the copper/iron ceiling. Owner Joe and his son, Jeff, are frequently on hand to tell you the history of Wisconsin's first bar. European mainstays and American craft beers dominate the taps here and pay homage to Milwaukee's early German, Polish, and Irish heritage. Everything is affordable, and the simple bar food is top notch. And if you're jetlagged, don't be surprised if you snap to thinking your plane went back in time.
Walker's Point
Why you're here: Party pints
What you're getting: The aptly named Milwaukee Brewing Company's tour provides the most fun you'll have with $10 in the city, unless you're really, really good looking (which you are). The space is small (the whole tour basically takes place in one large room), and the learning aspect isn't dominant... but you're not there to exactly retain any information. You're there to drink (and nod occasionally), and that's exactly what you're going to do. From the flagship amber ale Louie's Demise (ask for the backstory) to the hot new Outboard Cream Ale (ask to check out the tap handle), you're guaranteed to have a great time while drinking through the wares. The Friday 3pm tour can get especially insane. If you still have some gas left in the tank, use one of your tour tokens to have a MBC brew at a local bar.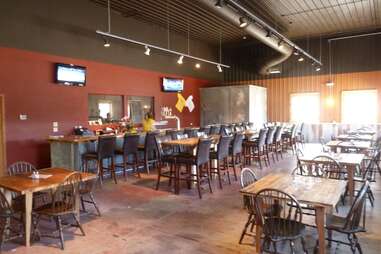 MillerCoors
Miller Valley
Why you're here: Because you kind of have to be
What you're getting: This one's actually pretty obscure, so you might have a hard time finding it. If you live here, you either work here or avoid it. If you're visiting, you're inexplicably drawn to its allure. And no matter who you are, you drink something made inside on a regular basis.
Jay Phillips is a professional beer peddler that has lived in various cities, towns, and villages in Southeastern Wisconsin for three decades. Lover of lists, indifferent towards pet rodents, and hater of senior citizens driving cars.