Presented By
Travel Alberta
Sporty Banff Might Be Morphing Into a Dining Destination
Here's where to go and what to eat in the Canadian town.
Presented By
Travel Alberta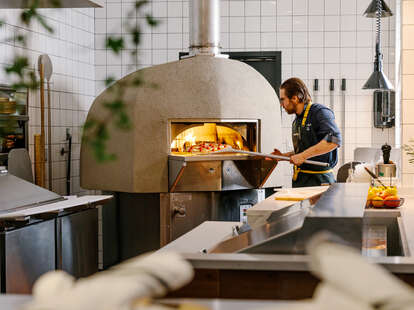 Photo courtesy of Farm Fire
Photo courtesy of Farm Fire
In the last two years, 11 fine dining restaurants have opened in Banff, a Canadian town with less than 10,000 year-round residents. For some, this restaurant boom is reminiscent of the one led by the railways in the 1800s, when the Canadian Pacific Railway was built as a passage from East to West. Others believe this portends an entirely new wave of growth.
The Alberta town known for its old-school, rustic charm sits alongside Banff National Park, a 2,500-square-mile expanse of picturesque lakes, hiking trails, valleys, and mountains. It's one of the country's biggest tourist attractions. Earlier this year, the park reported nearly 700,000 visitors in July alone, the largest number in nearly a decade.
While restaurateurs tend to swoop up space and expand to quaint tourist destinations like Banff, the town is largely propped up by locals, since you have to live in Banff to work there. Still, the city's culinary scene is changing, locals say, as visitors and residents alike are hungry for global flavors.
"Traditional, local, and Alpine foods are evolving in our kitchens," says Francis Hopkins of the Grizzly House, one of the city's oldest restaurants. He believes the diversity and sophistication of the city's dining scene is a pleasant surprise for many visitors, who primarily know the destination as a sports hub.
"Banff has seen so much change, but at the same time still focuses on quality and local—local flavors, supporting local, and sourcing local," says James Fraser, the marketing director of Banff Hospitality Collective, a restaurant group.
Among the city's evolving culinary footprint are these five bars and restaurants that offer global specialties with a distinctly local point of view.
Banff's growing culinary scene
Brazen
You can't miss Brazen's sign, as the bold lettering and the name itself sit right above a busy street corner. Situated in downtown Banff's Mount Royal hotel, Brazen serves traditional Western Canadian favorites with refreshing twists, like steak with blistered shishito peppers and ginger. The restaurant goes just as hard on meat-free options, as in a vegan braised cabbage with miso and a smoked tofu cashew cream. Brazen is also a great option for brunch, with boozy lattes, salmon-brie toast, and a Canadian take on a croque madame made with Canadian bacon.
Bluebird
Banff's newest restaurant, Bluebird, opened in September 2022. Walking in will remind you of a rustic home on steroids—but with more fireplaces. The menu devotes ample space to its signature prime rib, but vegans and pescatarians alike can break bread here. Some of the most exciting options sound so simple, like smoked cheddar donut hole appetizers and the buttery madeleines for dessert. Those options can stand on their own or sandwich a main course like the lobster bucatini with chunky, sweet pieces of meat. For vegans, the ember-roasted root vegetables are rich, flavorful, and satisfying.
Farm and Fire
This cozy, stylish restaurant has a seasonally rotating menu, and most of its fare is cooked over wood fire and sourced from local farmers. The piece de resistance? The rotisserie chicken. Don't doubt it, try it. The coffee brine and slow roasted flavor will take you on a journey. Pro-tip: It pairs perfectly with the Split Lip Old Fashioned, a riff on the classic cocktail made with Canada's Bearface 7-year whiskey and simple syrup from a local coffee roaster.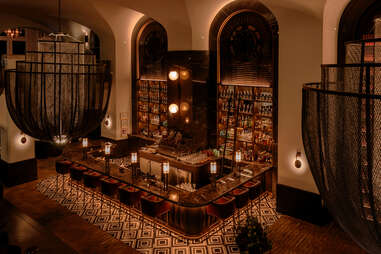 Rundle Bar
Fairmont Banff Springs opened in 1888, not long after the town was founded in 1885. As of 2019, however, the hotel is fresh off a $5 million renovation, and its various restaurants have been modernized as well. Among them is Rundle Bar, a sleek spot overlooking Rundle Mountain and offering afternoon tea, cocktails, or light lunch. Behind a wall of books is the speakeasy-style Sidecar Room, which can be reserved for private events. Menu highlights include the rhubarb-infused ahi tuna tartare and several selections from the cocktail and mocktail lists, which include the Alberta staples like a Caesar (a Clamato-fueled Bloody Mary variation) as well assignature drinks like the Wildflower, made with Wild Life Rundle Bar gin, Lillet Blanc, St. Germain, and plum bitters.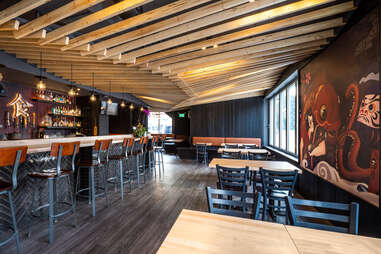 Shoku Izakaya
Since it debuted in 2020, Shoku Izakaya has been one of Canada's top spots for Asian-inspired meals. The menu leans Japanese, with a wealth of sushi and sashimi options including the Shoku Roll, a masterpiece of shrimp, negitoro, masago, avocado, cucumber, gari, tore, and mayo, all topped with a piece of smoked salmon. While this and other rolls are top-notch, the One-Kilometer-High Ahi Tuna Onigiri will really tempt you for seconds. The vegan options are plentiful as well, as seen in the smoked tofu chili bao bun or rice cake skewers. If you're a Bloody Mary drinker, you might especially enjoy the Bloody Mari, made with shochu, tamari, lemon pepper, and pickled ginger.
Tonya Russell is a contributor to Thrillist.