Ridiculous Fusion Restaurants That Are Actually Fantastic

In today's ultra-competitive restaurant biz, taking a hairbrained, potentially genius idea from concept to reality is extremely risky -- especially when that concept involves attempting to merge two completely separate culinary traditions into a single harmonious menu. And, as diners can attest, sometimes fusion joints end up terrible, but sometimes, just sometimes, they're flat-out amazing.
Don't get it twisted -- I'm not talking Cronuts, here (though they are delicious). A top-notch culinary mash-up consists of thoughtfully composed hybrid dishes that respectfully and creatively draw on modern cooking's global melting pot. And the 10 restaurants on this list represent the next generation of fusion pioneers-turned-household names in the style of Spago's Wolfgang Puck and Nobu's Nobuyuki Matsuhisa.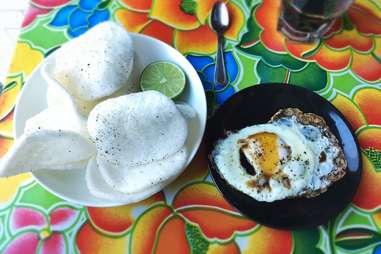 <em>New York, NY</em><br />
Restaurant-goers brave enough to wade through the ever-present, cocktail-sipping crowds at Danny Bowien's two-year-old Lower East Side hotspot&nbsp;are rewarded with the&nbsp;celebrity chef's undisputedly talented approach to lowbrow, hipster-friendly cooking. Fat Mission-style burritos reveal crispy, peppery General Tso's chicken, tacos are dotted with everything from shrimp and beef tripe to chicken and octopus, while the sunflower seed guacamole does a great job of balancing buttery avocado with a satisfying, nutty crunch.<br />
<br />
As with Bowien's first venture, Mission Chinese, the street food-inspired lineup has little in common with push-cart prices, but what Mission Cantina lacks in affordability it assuredly makes up for in fresh, bold flavors.
<em>Chicago, IL</em><br />
White Sox fans, rejoice! As of May 2016, historic Southside fixture Maria's Community Bar is now home to Kimski, a casual joint serving up a curious assortment of Korean-Polish hybrids to hungry (and grateful) Chicagoans.<br />
<br />
To bring this wacky idea to fruition, the 30-year-old, Polish-run taproom collaborated with chef Won Kim and each item on the shiny new restaurant's menu is specially crafted to honor each culture's distinctive cuisine. Tangy, savory kimchee pierogies rub elbows with potato-scallion quesadillas and thick Polish sausage covered in soju mustard, a sauerkraut-kimchee blend, and scallions, just to name a few. And, of course, everything is meant to be enjoyed in the company of a nice cold beer.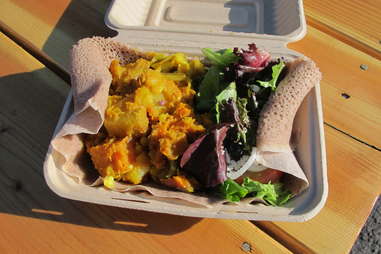 San Francisco, CA
If the mere concept of "Irish-Eritrean cuisine" has your head spinning, you're far from alone. This insane (and insanely appetizing) San Francisco food truck draws on Anglo staples like corned beef, stewed cabbage, and pork sausage and marries them to Eritrean (think: Ethiopian) specialties like chicken doro wat and alecha, much of it wrapped in traditional injera bread and spiced with lots and lots of berbere (ginger, garlic, chili). Like it or hate it -- the Village Voice slammed the popular Bay Area outpost in a 2012 review titled "Weirdest Food Truck Ever" -- EireTrea's idiosyncratic culinary angle is anything but ordinary.
<em>Los Angeles, CA</em><br />
Korean-born, Colombian-raised LA faithful OG Chino has been seamlessly fusing classic Asian and Latin flavors at this Koreatown favorite since 2012.&nbsp;Slow-roasted, Korean-style beef ribs are paired with sweet guava BBQ sauce and presented on a dreamy, tropically scented bed of coconut creamed corn. The steaming-hot empanadas come filled with kimchee and chorizo fried rice, served on a shareable plate next to a ramekin of kimchee-spiked aioli. And Chino, a DJ and lifelong hip-hop head, is responsible for Escala's vibrant, whimsical decor, a style that playfully complements the mash-up-heavy menu -- what might look unbalanced on paper tastes meant-to-be on the palate.
<em>Brooklyn, NY</em><br />
Since coming onto the scene late in 2013, Shalom Japan has been quietly taking over the Williamsburg restaurant scene with some of the strangest, most lovingly executed cross-cultural cuisine in New York City. Co-owners Aaron Israel and Sawako Okochi merged their respective culinary traditions (and their lives -- the two are married) to create a shockingly fluid menu that includes strange-yet-delicious combos like challah bread made from sake yeast, matzoh ball ramen garnished with a foie gras dumpling, and a mind-meltingly satisfying lox bowl teeming with rice, cucumber, Japanese pickle, avocado, and salty salmon roe.
<em>Chicago, IL</em><br />
Husband-and-wife team Yvonne and Bill Kim are the folks behind Chicago's best (and possibly only) Korean-Puerto Rican restaurant, a cozy spot nestled underneath the Blue Line in <a href="https://www.thrillist.com/eat/chicago/logan-square/best-restaurants-in-…; target="_blank">Logan Square</a>. Belly Shack's atmosphere is just as fun and inviting as its food, with bright floor-to-ceiling windows, sleek repurposed fixtures, and soul-soothing comfort dishes like the Boricua sandwich (fried plantain, tender Korean BBQ beef) and the Belly Dog, an all-beef dog smothered in crunchy egg noodles, kimchee salsa, and pickled green papaya and snuggled up to a stack of fiery togarashi fries. With a menu like this, it's no wonder Belly Shack has become a cult favorite amongst even the most chi-chi Logan Square foodies.
<em>Las Vegas, NV</em><br />
As one of Las Vegas' most beloved food trucks, Fukuburger continues to charm the late-night Sin City crowd with its twisted roster of Japanese-influenced "all-American burgers." The lineup includes gut-busting originals like the Buta Burger, where its signature "Fuku patty" (a secret blend of top-quality beef and Asian spices) is stacked with miso-glazed bacon, melted American cheese, onions, and pickled ginger, then drenched in Japanese BBQ sauce. And an order of spicy togarashi garlic fries, served with banana ketchup and sweet Thai chili-mayo "crack" sauce, is a must with any sandwich.
<em>Los Angeles, CA</em><br />
L.A. Taco's 2016 Taco Madness champ Revolutionario is just one in a seemingly endless line of baller SoCal fusion joints. Inside his nondescript food truck perpetually parked on USC's sprawling campus, French-Algerian chef Farid Zadi spices up burritos, bowls, and tacos with distinctly North African ingredients like black-eyed pea falafel, vegetable tagines, halal smoked lamb and duck hash, and shakshuka, a succulent mix of poached eggs atop a cumin-rich tomato-chili sauce. Better yet, Revolutionario also offers a $2 value menu of sample-sized munchies to keep the hungry college students a-callin'.
<em>Sugar Land, TX</em><br />
A suburban strip mall might not sound like the ideal setting for one of Greater Houston's most innovative eateries, but Sugar Land's Japaneiro's is set on winning over the skeptics with its bizarrely approachable Japanese-Latin cuisine.<br />
<br />
The menu moves from mash-up appetizers (molten mashed potatoes inside battered and fried tempura balls, served with a side of garlic chimichurri) to a massive selection of fresh sushi. The Ensalada roll is packed tight with crisp Japanese vegetables, jalapeños, sweet plantain, and kaiware sprouts, then topped with avocado, sesame seeds, and a garlic cilantro sauce, and the menu is rounded out with Texas-sized pepitos sandwiches, filled with everything from juicy cheesesteak to tempura shrimp.
<em>Brooklyn, NY</em><br />
Kimchi Grill began as a single taco truck in 2011 and quickly blossomed into a multi-location Brooklyn mainstay. Finally able to properly showcase his unique take on Korean-infused Mexican street food, mastermind Phillip Lee keeps borough dwellers fed and happy with a menu of oddly familiar Frankenfoods like crispy kimchee rice balls filled with kimchee (obviously), gooey queso Oaxaca, and Parmesan; Korean BBQ beef- and spicy pork-topped nachos; and the lettuce-wrapped Ssam burrito (kimchee fried rice rolled with two different kinds of kimchee, scallions, and a traditional Korean chili paste called ssamjang). Simply put, Kimchi Grill is the stuff of morning-after greatness, each dish a hangover-curing mix of fermented condiments and just-greasy-enough slow-cooked meats.
Sign up here for our daily Thrillist email, and get your fix of the best in food/drink/fun.
Meredith Heil is a staff writer for Thrillist. Nobu, Nobu, Nobu, Nobu, Nobu, Nobu, she just throwed a private dinner in LA. RSVP at @mereditto.