The Best Places to Eat in Atlantic City
Tony Boloney's

| Cole Saladino/Thrillist
Tony Boloney's

| Cole Saladino/Thrillist
With a long and storied history as America's original beach playground and one of the few legal gambling destinations, Atlantic City has seen more than its share of boom and bust in the last century. And because of that, the food scene there is a fascinating mix of an incredibly old, legendary spots, and a newer crop of places aiming to serve delicious food to a more diverse population as the city evolves and changes. Here are some of our favorites from both the old and new world of AC (NOTE: we've intentionally picked all restaurants outside of the casinos because we believe that's the best way to truly experience the actual city):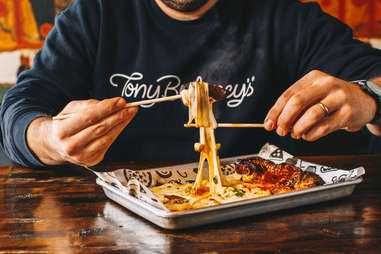 Mike Hauke's original pizza and sub shop made its name feeding the construction workers who built the casinos. And they kept that name feeding just about everyone else who comes their way, thanks to their made-in-house fresh "mutz", which you can put on just about any of their crazy subs (opt for anything with chicken cutlet and said "mutz"). The stunt pizzas, like their internet-famous Taco version (Tuesday only) and their Devour Ramen (Wednesday only) are also worth a look, though the white pies can hold their own. Come hungry.
From El Salvador native Ana Salazar, this colorful restaurant serves up fantastic pupusas (jalapeno and cheese is the real winner) and other Salvadorian style dishes (get the Plato Bloqueado if you're hungry) as well as Mexican, Honduran, and Colombian classics, smoothies, and much more. They'll even give you mozzarella sticks and chicken wings, but come on, be better than that.
Started in 2006 by Colombian native Fabiola Cruz, Pancho's got its reputation serving Latin line cooks leaving the casinos after work. But as word spread that these tacos were excellent, everyone else started coming too. As of now, Joshua Cruz, Fabiola's son, runs the place, and you can count on made-to-order tortillas, and excellent tacos suadero (brisket), lengua (cow tongue), and al pastor, made even better by topped with their house-made hot sauces.
Run by couple Kelsey and Kimberly Jackson, Kelsey's is a proper supper club featuring live soul and jazz music on the weekends, and excellent food with a New Orleans/Southern/Soul tilt from Chef Kelsey. Opt for the dark meat southern fried chicken and waffle, the fried whiting, or the slow-smoked ribs, and add in a cornbread basket and an appetizer portion of the shrimp and grits so you don't miss out.
It's worth traveling to nearby Linwood to see what pizzaiola Mike Fitzick (aka the Pizza Jew, as he calls himself) is making out of this space. Fitzick makes a wide range of pies according to his whims, so you've just got to go out and see what he's cooking up (and then buy some bread and pastries as well).
A collaboration between developer Mark Callazo and Chef Kevin Cronin, The Iron Room started out as a kind of speakeasy-ish cocktail bar, but, after moving over to Tennessee Avenue to be closer to the rest of Callazo's projects, they reset as an all-day coffee and breakfast/lunch joint that morphs into a wine bar at night. Whatever iteration it currently is, Cronin's food (like the wasabi deviled eggs with sugar glazed bacon bits, or his kewpie-mayo-inflected take on steak tartare) is absolutely worth seeking out.
Part of the Mancuso family since 1935, Angelo's is an Italian American restaurant that feels like the type of place you wish you grew up going to. The move here is to stick with the classics. My personal favorite is hot peppers marinara to start, the linguini with Aglio e Olio and Broccoli Rabe (add sausage to complete the holy trinity), washed down with their house wine, which, in more relaxed legal days, used to be made right there in the damn house. Also a great place to post up at the bar and make conversation.
A sandwich legend since 1946, White House (unaffiliated with the home of POTUS, FYI) has been offering a simple menu of "submarine" sandwiches since two years before the birth of the man who would go on to infer he invented the internet (Al Gore). As there is often a longer wait for takeout orders, the move is to sit down at the restaurant and split a bunch of whole subs amongst your crew. My personal favorites are the legendary cheesesteak submarine and the White House Special (which is essentially an Italian with extra meat), though you can't go wrong with the Chicken Parmesan or the simplicity of the Salami and Provolone, especially with the hot peppers and pickles.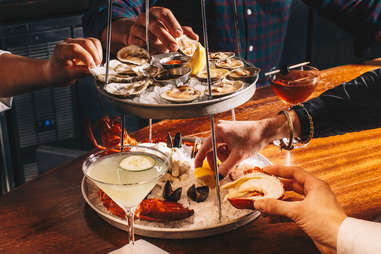 Listen to me. Opened by the Dougherty family in 1897, Dock's is a legend amongst legends, and so you need to understand that -- whether you're there in the winter or summer -- it's imperative to get to Dock's for their famous happy hour right when they open at 4pm, so you can enjoy their dozen deep oyster menu and other seafood before the place gets swamped. Then if you can make your way to a table, get a legendary dish like the Crab Meat Au Gratin and try and recall any other restaurant you've been to that's stayed in the same family for 123 years.
Chef Vola's
It began in 1921 in a rooming house/speakeasy. And though it is still in a house, and no longer run by the Vola family (the Esposito family took it over in 1982), it is still the most special and secretive dining experience in Atlantic City. Like Fight Club, there are rules to Vola's. For one, it's cash only. Two, it's BYOB. Three, there is no real website, email, or listed phone number (though the Internet can help you with that last one). Reservations often run three months out on the weekends (and weekdays in the summer). But if you can find your way in, you are treated to an incredible meal, from the server breaking down the impressive list of specials by memory, to the cramped but beloved atmosphere, to the glory that is the famous bone-in veal chop Parmesan and banana cream pie. Just remember, if you do get that reservation: it's cash-only and BYOB.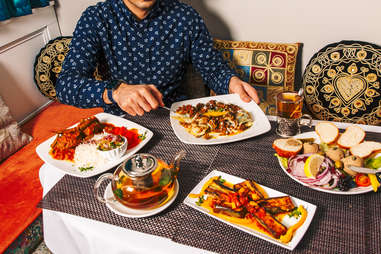 When Atlantic City native Abdullah Panah convinced his aunt, Chef Homa Bazyar, to sell her Denver restaurant and move to AC to open their first Afghan-French spot, everyone on the East Coast won. The beautiful space seems like an enclave unto itself, and the food from the hand-formed Mantu (Afghan dumplings), to the Uzbeki Palau (lamb shanks, rice, and onions mixed with carrots and raisins), to the Koobideh Kabob (marinated ground beef), is all excellent and flavorful. Go there early and often.
Defined as "Fresh. Seasonal. Regional. Italian Cuisine (by a guy named Joe)," Cafe 2825 has been an intimate, white-table-clothed standard in Atlantic City since 1986, when Joe Lautato's family moved out from Brooklyn to open it up. You can opt for one of the Sicilian specialties like the Spicy Dark Scungilli (imported conch in a spicy marinara), the weirdly addictive Meatball Salad (which is a red gravy-soaked meatball over greens and ricotta), and the vinegar brined Brooklyn Double Cut Pork Chop, but also know that if you don't get a tableside preparation of Cacio E Pepe or fresh mozzarella, you're missing out on the full Cafe 2825 experience.
Sign up here for our daily Thrillist email, get Eatmail for more food coverage, and subscribe here for our YouTube channel to get your fix of the best in food/drink/fun.