The Best Restaurants in Little Rock
South on Main

| Amy Bell
South on Main

| Amy Bell
Did you know Little Rock was named after an actual rock formation? And you better bet it was a small one. It's also where the American Taekwondo Association has its world headquarters. Now that we've established those obscure facts, let's talk about the food and drink scene. It may not be nationally lauded, but Little Rock's no place to sleep on or pass up. With eight breweries, numerous no-nonsense dining establishments, and a James Beard award-winning chef helming a Michelin-rated hotel restaurant, we have but just one question: Can you smell what the (Little) Rock is cookin'?
Downtown
South on Main is everything a literary nerd desires in a restaurant. The Oxford American Magazine is headquartered next door and the restaurant collaborates with them by hosting writer events, live musical performances, and film screenings that showcase the best of Southern culture. Chef Matthew Bell's extensively Southern menu features favorites like boiled peanuts, pork rinds, pimento cheese, hot chicken, and those oft-overlooked but wholly delicious chicken livers.
Downtown
The atmosphere at Cache is chic and modern. It's situated in the middle of all of the nightlife action in Downtown Little Rock and is the perfect place to celebrate special occasions. Chef Payne Harding also hosts a chef's table that seats one to eight. The upstairs is great for live music, cigars, or a nightcap. Cache also does a nice lunch -- try Fried Chicken Friday (fried chicken, fried summer squash, blue cheese cole slaw, and cornbread for $12) to get a taste of what they have to offer.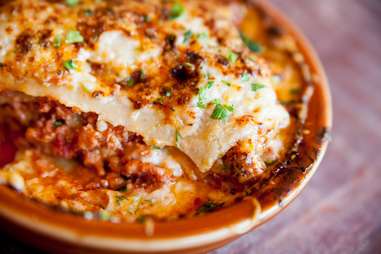 West Little Rock
Coming up on its eighth birthday, Tomas Bohm's original restaurant specializing in Czech and German classics is still a hometown favorite. In addition to delectable menu items like house made Bratwurst, Hungarian sausage, bacon-wrapped dates, grilled romaine salad, and cheesecake, there's a hearty assortment of renowned craft beers. Best of all, the kitchen is open until midnight Monday through Saturday, the prices are affordable, the staff are friendly and knowledgeable, AND there's a patio.
Riverfront
Brave New Restaurant has certainly stood the test of time. Opened by Chef/Owner Peter Brave in 1991, it overlooks the pristine Arkansas River, so it's highly recommended you find a seat on the patio. The menu features favorites such as avocado shrimp, grilled romaine salad, stuffed quail, pork tenderloin, and crème brûlée. Everything is farm fresh and it's an easy choice for "clean" eaters.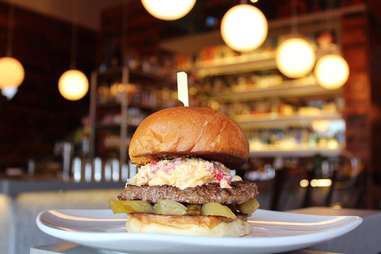 West Little Rock
Big Orange is Little Rock's go-to place for upscale burgers. The meat is locally sourced, and the buns are made fresh daily in Benton. If beef isn't your thing, turkey and veggie patties are available too. Burgers are just the tip of the iceberg as Big Orange is also known for its hand-cut fries and potato chips, inspired salads and hand-dipped, fresh whipped shakes. There's also local coffee, local beer, draft wine, and a pretty amazing cocktail menu. Have a seat and stay awhile.
Downtown
Located Downtown in the old Sweden cream building, The Root is a tremendously popular farm-to-table breakfast and lunch spot that offers a number of delicious vegetarian, vegan, and gluten-free options. They source 100% of the meat, eggs, and bread they serve, as well as the majority of their vegetables, fruits, nuts, and cheeses from small farms and producers in Arkansas. Menu highlights include eggs banh mi, house-made brats and burgers, and sweet potato fries. They also have a full coffee menu and an assemblage of local beers.
The Heights
Heights Taco & Tamale features Mexican and Tex-Mex inspired dishes with a local, seasonal, and unquestionably Arkansas influence... a little something they like to call "Ark-Mex." They smoke their own meats, make their own tamales and tortillas, and offer a variety of house-made sauces, syrups, and dressings. Menu go-tos include cheese dip, pickle-fried chicken tacos, hot delta tamales, and frozen mojitos.
Downtown
Vino's put Little Rock's beer scene on the map and is considered a local stalwart. It may be a little grungy, but the hand-tossed, stone-baked, New York-style pizza will not disappoint, and the calzones are phenomenal. Vino's secret? They don't try too hard, and it's working. In addition to brewing their own beer, they also host occasional rock shows and poetry slams.
Riverdale
Specializing in botanas (snacks) and bar offerings (handcrafted cocktails), The Fold is the place to go if you want your drinks to be as exciting as your food. With the recent upgrade of the patio, it's also perfect for Taco Tuesday, weekend brunch, or basically any day where the sun's out. The menu boasts some great vegetarian options like beet salad, sweet potato and kale tacos, a fried avocado torta, and cheese & jalapeño tamales. But don't worry, there are plenty of meat and seafood options too. Order a blood orange margarita to kick things off.
West Little Rock
Look no further for amazing Indian food in Little Rock. Open since 1993, it is beloved by locals and heralded for its warm and friendly service. Owner Sami Lal is likely to welcome you "home" as you come in the door, and thanks to his photographic memory he will never forget your face. The lunch buffet is legendary, as are the fresh curries, samosas, chicken tikka masala, and naan. If you leave hungry, it's your fault.
Downtown
One Eleven in the Capital Hotel offers the finest dining in town. Michelin-starred, James Beard award-winning Chef Joel Antunes created his menu using the freshest available ingredients and brought in a renowned staff who know the food front to back. It offers breakfast, lunch (including an express lunch), brunch (on Sunday), and dinner. Bonus, the lobby bar almost never closes and is frequented by political types, if you ever want to gripe about potholes or try to get some stories about Bill Clinton.
Downtown
Chef Justin Patterson's gourmet Asian fare definitely has an obvious Southern influence. He started out with a food truck, but quickly realized he'd need a brick-and-mortar to keep up with demand. His creations are prepared fresh daily and are unlike anything else in town -- pork belly corn dogs, grilled kimcheese sandwiches, Thai chicken burgers, and chicken fried cauliflower steak.
Sign up here for our daily Thrillist email, and get your fix of the best in food/drink/fun.
Stacey Greenberg lives in Cooper Young with her two sons. She is the author of the award winning Dining with Monkeys blog.