Sometimes you've just gotta shake your head and say to yourself, "only in Minneapolis". Usually it's after the Timberwolves do something stupid... but occasionally it's when you get to explain to out-of-towners that MSP is littered with some of the best beer bars, dive bars, cocktail bars, and just damn fine restaurants in the country. Plus we've got hot dishes and cheese curds and juicy lucys… because when a city has this much snow and pungent lutefisk, it deserves to also have the most delicious and cheesiest signature dishes in the States. 
Need even more places to eat and drink? Head to Thrillist Minneapolis for hot openings and the rest of our longtime favorites.
Uptown
Why you're here: A double-punch of cuisines from a James Beard winner
What you're getting: A startlingly simple steakhouse up top and a cavernous, wood-fired pizzeria below, the everyman chef here, Isaac Becker, is a super-nice dude who just so happened to win a James Beard Award for sister concept 112 Eatery. Also, the only photo in the whole place is of Eazy-E.
Robbinsdale
Why you're here: Tasting menu experience with amazing cocktails
What you're getting: After the single most successful crowdfunding campaign in the history of crowdfunding campaigns (with the possible exception of "the great potato salad incident"), the folks at Travail launched the newest iteration of their iconic modernist restaurant.
South
Why you're here: The perfect balance between the classics and whimsical modernist desserts
What you're getting: Midwesterners take their donuts very, very seriously, but even the most skeptical purists have, in one short year, fallen in love with Glam Doll. Skeptics can find plenty to love in the fritters and Long Johns, while the more adventurous will fall in love with the Calendar Girl -- topped with salted caramel and chocolate -- and the peanut butter & Sriracha Chart Topper, which finally answers the question of what it would taste like to make out with Jimmy Carter after dinner at a Thai place.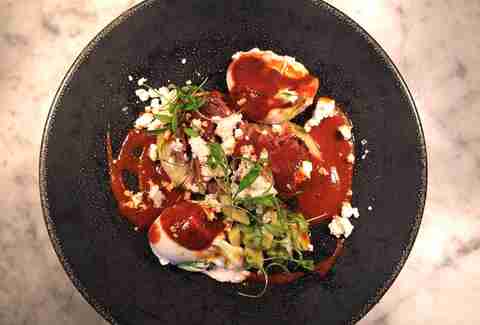 Uptown
Why you're here: American Nuevo meets good, old-fashioned rock 'n' roll, with a splash of bourbon
What you're getting: Lorin Zinter and Chef Jim Christiansen's new spot is churning out inventive food, including a rabbit terrine coated in carrot "caramel", with spectacular service in a space liberally decked out with Replacements quotes on the walls and reclaimed wood, so it's about as Minneapolis as it gets.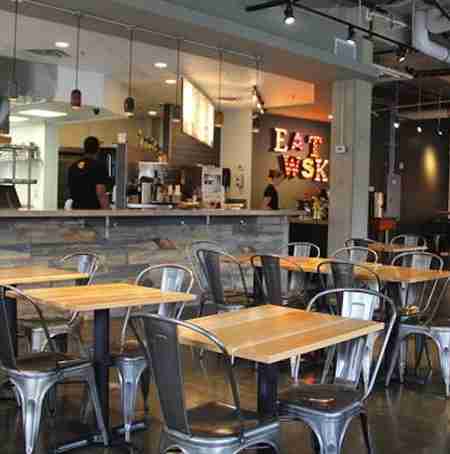 Uptown
Why you're here: One of the Twin Cities' top food trucks turned brick-and-mortar in 2013 and made our best new restaurants list in the process.
What you're getting: Originally just an award-winning food truck, WSK coldly turned its back on its middle name when it opened this sparsely modern Uptown location, which has three times the global street-eats menu of the truck, plus beer.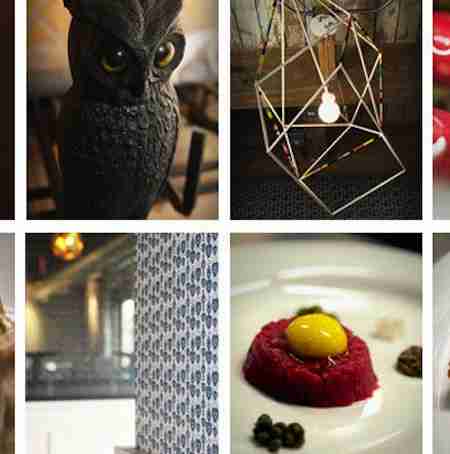 Downtown
Why you're here: An organic menu rooted in the area's Nordic history, plus great cocktails downstairs
What you're getting: Housed in a circa 1881 NoLo warehouse, the Dayton bros' spot is a dichotomous bi-leveler, with a rustic farmhouse (The Bachelor Farmer) upstairs using local, organic ingredients, some of which are even grown on their innovative rooftop farm.
North Loop
Why you're here: High-cuisine spin on classic Midwestern dishes 
What you're getting: The much-lauded Dish rocks a menu with eats like an open-face banh mi with a pork & foie terrine, and something called the "Corn Button", plus other inspired items from Chef Landon Schoenefeld, who's bringing you his takes on classic Midwestern dishes, which you won't find in any of the pans at your church potluck.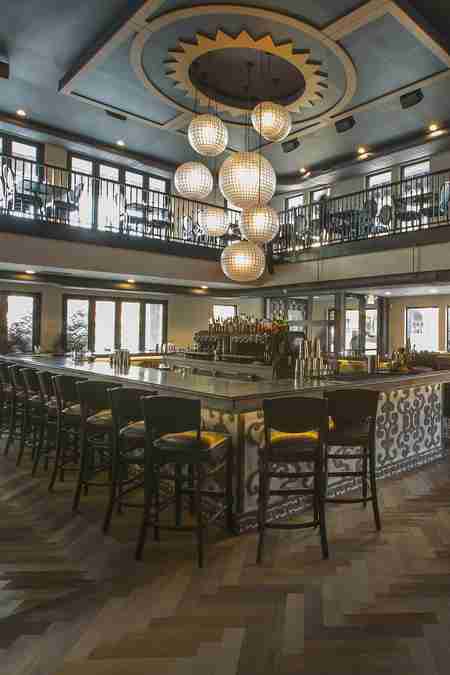 Uptown
Why you're here: Drinks at one of 2014's best new bars in America
What you're getting: From the folks behind the infamous Borough/Parlour came Coup d'état, a modern-American eatery in the heart of Uptown. They've got the food, they've got the cocktails, and they've got a whole lot of class.
Robbinsdale
Why you're here: It's the cocktail sidecar of one of the best new restaurants in the city.
What you're getting: Rookery takes the plates coming out of Travail's kitchen and puts them on a to-order menu. But, more importantly: their cocktails... oh the cocktails.
South
Why you're here: Classic craft 'tails... plus a Tiki bar inside this bar
What you're getting: A regally appointed, craft-cocktailin' eatery, Eat Street's buried in heavy oak and granite, large booths aplenty, and inventive drink creations courtesy of a bar staff who also own craft bitters company Bittercube. As though that's not enough, the Torpedo Room -- one of our favorite new bars in 2013 -- is serving Tiki 'tails inside Eat Street. 
Why you're here: It's one of the best cocktail bars in America -- and below one of our favorite restaurants.
What you're getting: Hidden in the basement of Bachelor Farmer, Marvel has the vibe of a classic speakeasy, including minimal signage, massive punchbowls, and a quasi-rustic lounge vibe. And while the place has all the trappings of a stuffy cocktail-snob magnet -- elaborate cocktails made like science projects with fancy equipment and the incorporation of crazy infusion ingredients served by mustachioed men who take drinks very seriously -- it takes great pains to stymie pretensions, thanks to Cheetos, the bar's go-to snack offering.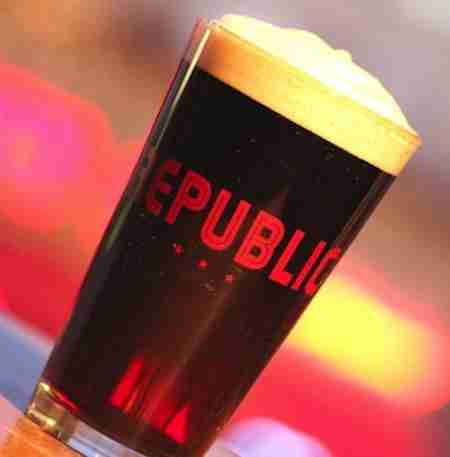 West Bank
Why you're here: It's the best spot in MSP for beer nerds to fill up.
What you're getting: When it opened in 2011 with 30-plus pro-picked taps, Matty O'Reilly's smartly sudsed rejigger of former party bar Sgt Preston's was a top-five beer bar. But now it just might be top-o-the list: they've jacked their lines up to 56 (plus a beer engine) and become the home of both the Better Beer University (a veritable Cicerone-making machine), and beer geeky events such as Where The Wild Beers are.
Southwest
Why you're here: 14+ Belgian bottles and 36 solid taps paired with an old-timey tavern menu
What you're getting: After helping St. Paul see double for years, the man behind beeropolis Muddy Pig finally opened his first Westside jam: Pig & Fiddle, which boasts a mega-impressive suds stable with everything from Southern Tier to Belgian specialties and plates "rustic" eats, like Welsh rarebit & mussels steamed with Wittekerke beer & bacon, in a space with dark wood trimmings and a massive fireplace.
Northeast
Why you're here: It's a quintessential dive... meaning it's one of our favorites in the country.
What you're getting: Nye's has an "old side" and a "new side", though neither looks like they've changed much since the '60s. You're assured one thing at both places: music you'll want to drink to. On Friday and Saturday nights, it'll be polka on the "old side" and piano players serenading you on the "new". On either side, pair the booze with pierogies, a fine complement to the beer prices that have recently risen slightly.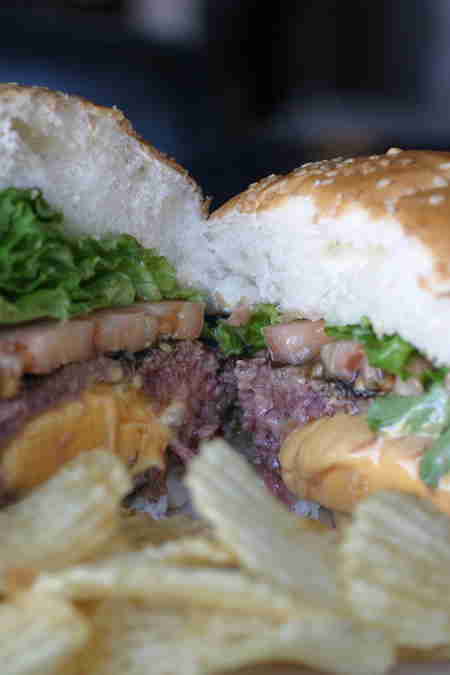 Downtown
Why you're here: Grumpy's remembers that burger toppings can be glorious.
What you're getting: Grumpy's doesn't do anything extravagant inside their Lucys, but they do top those suckers with creative options like guacamole, jalapeño bacon, and butter that's made from the other thing that made Lucy famous: peanuts.
Highland
Why you're here: They've got versions like the pepper jack-and-bacon-stuffed Guy's Bug Bite Burger
What you're getting: One taste of a Juicy Nookie, and you'll understand what Fred Durst did it all for... except maybe trying to make a comeback in 2012, and thinking Napster was a good idea, and...
Powderhorn
Why you're here: Matt's Bar firmly believes themselves to be the true inventor of the Juicy Lucy.
What you're getting: As they call it, you'll be ordering a "Jucy Lucy", which this no-frills dive cooks on a grill sitting right behind the bar.
Merriam Park
Why you're here: The Blucy Burger... 
What you're getting: While you can get it with classic American cheese, their speciality is melted blue cheese (get it now!?). The real treat here, though, might be their deep-fried Spam Bites. Never has fried meat in a can been so good.
Nokomis
Why you're here: The other spot that claims to have invented the Juicy Lucy
What you're getting: The 5-8 Club started as a speakeasy back in 1928, and even though their beer's legal now, maybe their burgers -- which in addition to cheddar, are stuffed with bacon and topped with onion straws -- shouldn't be.
Looking for more places to eat and drink in Minneapolis? Check out the rest of our guides to MSP or sign up for our daily email.