Montreal may be a bilingual city, but that's not how you intend to occupy your tongue when you're there, since it would take you over three years to eat your way through all the city's restaurants. Then you'd have to spend another few years sampling all the microbrews and absinthe cocktails in town, and, while it'd totally be worth it, we're here to save you time: these are the spots where locals get their onion ring & corn dog poutine, lobster poutine, and classic French plates. And then more poutine.
Need even more places to eat and drink? Head to Thrillist Montreal for hot openings and the rest of our longtime favorites.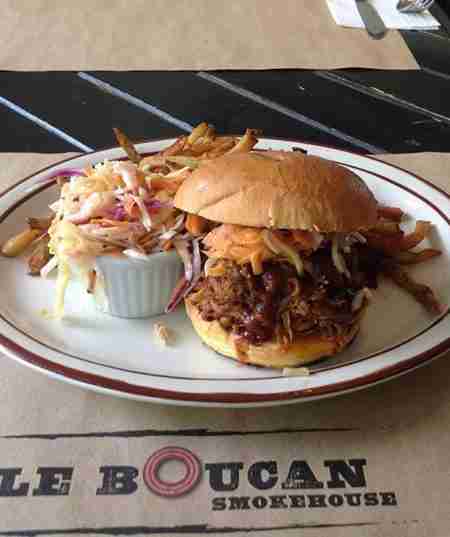 Griffintown 
Why you're here: Smoked meats just off the beaten path
What you're getting: Located just outside all of the downtown hoopla in the heart of Little Burgundy (congratulations Ron!), this cozy smokehouse boasts a special wood chip smoking technique for melt-off-the-bone ribs & chicken, topped with a famed house BBQ sauce. Follow it all with their bacon brownie -- that's right, there's meat in the desserts too.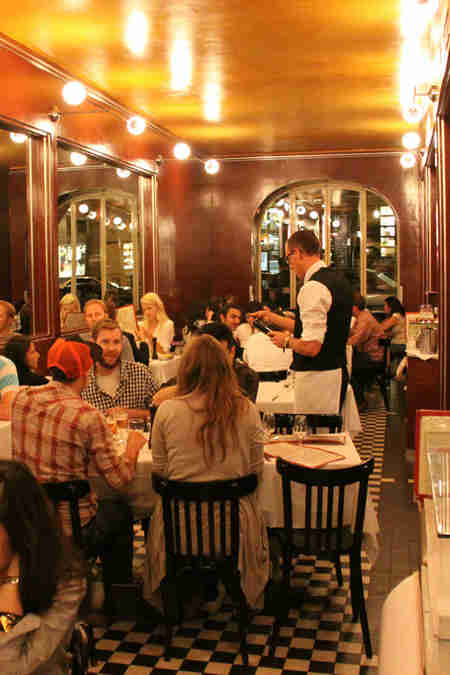 Plateau
Why you're here: French bistro dinner in Canada's Francois capital
What you're getting: This bistro epitomizes Parisian cool with its black & white checkered tiles, white linen tablecloths, and devilishly good-looking and well-dressed waitstaff. Enjoy classic French cuisine in style and then take in the infamously seductive nightlife of rue Saint-Denis. Also? You get an entire jar of pickles with your meal.
Little Burgundy
Why you're here: Steak & seafood with Quebecois ingredients
What you're getting: Named for Charles "Joe Beef" McKiernan (an Irish-born, no-nonsense military man & 19th-century Montreal working-class hero), this classic joint turns out belly-warming comfort food. When you're done here, make the inebriated crawl across the road to Burgundy Lion Pub, where keeping your pride may become a challenge.
Latin Quarter 
Why you're here: Creative food with a view
What you're getting: This aptly-named culinary lab is on the top floor of the Société des Arts Technologiques (a hub for digital arts culture); the glass-walled building is surrounded by flashy LED sidewalk lights & topped with a huge white dome known as the Satosphére. Take your experience to the next level on one of the best rooftop terraces in the city.
The Main
Why you're here: Its unique mix of beef & Jewish deli staples
What you're getting: Named by Forbes Magazine as one of the top steakhouses in the world, Moishes has been a fixture in Montreal's gastronomic scene for 70+ years. They've served the likes of everyone from Hulk Hogan to the former Pope John Paul II, and it's the perfect place to increase your own mass.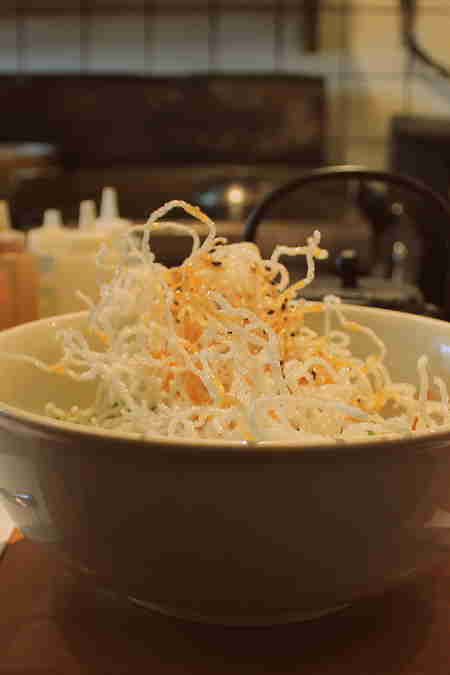 Downtown 
Why you're here: One of Canada's best izakayas
What you're getting: Even in the deep, dark depths of Montreal winter, there is always a line outside of this cozy Japanese izakaya. This nationally ranked restaurant is well worth the wait for the best ramen in town or a drool-worthy shrimp burger.
Plateau
Why you're here: Over-the-top rich food
What you're getting: A cult favorite for locals & tourists alike, their artery-clogging foie gras poutine is served in an amazingly unpretentious, casual, and friendly atmosphere. Be prepared to adjust your belt a couple notches after you chase it down with one of their maple syrup shakes; probably the name of the condition you'll develop afterwards, too.
Multiple locations 
Why you're here: Great cocktails without the pretension
What you're getting: The drinks at La Distillerie have a reputation for being really strong, and really big. Where else can you order booze by the liter and have it served to you in a Mason jar? Also, you get jars of Goldfish crackers to snack on while you drink. This place gets packed, so get there early.
Downtown 
Why you're here: Prohibition-style bar pouring old-fashioned drinks
What you're getting: Dominion Square Tavern's fashioned as a '20s-era saloon -- one that serves fancy variations on traditional Quebecois pub fare. Pour four drinks simultaneously with their fancy tabletop absinthe fountains, and your liver won't be green much longer.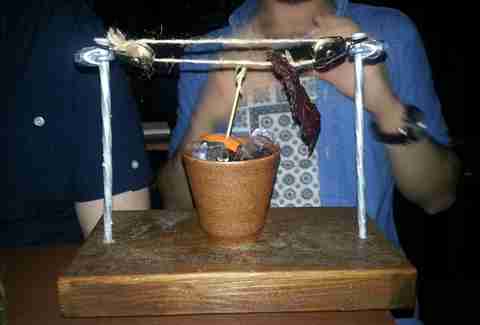 Plateau 
Why you're here: Experimental mixes
What you're getting: Drinks are regularly lit on fire in this otherwise dimly-lit bar that has the feel of an ol' timey speakeasy. Experienced "Labtenders" will be happy to mix up any classic 'tail, or something from their list of originals, many of which contain maple syrup.
Plateau 
Why you're here: Drinks in the heart of Montreal's going-out neighborhood
What you're getting: Buzzing on any given night, Bílý Kun is one of the hottest watering holes in the trendy French neighborhood, Plateau (meaning it's a stone's throw away from about four late-night poutine joints, too). Also, they have a freaking wall of ostrich heads, which is not something you can ignore by just burying your... never mind.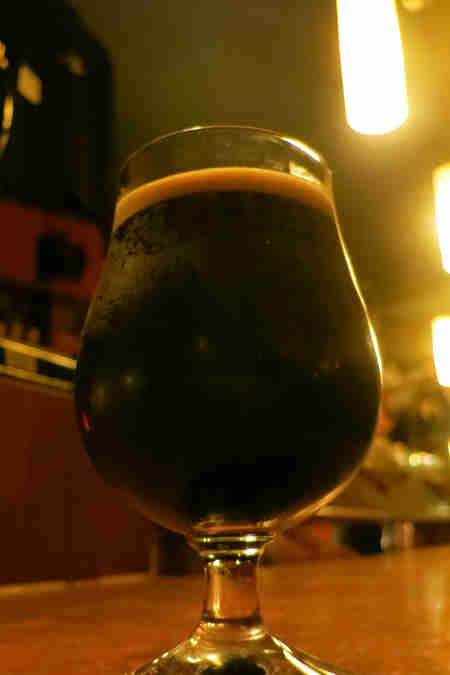 Plateau 
Why you're here: Micros from one of the best beer bars in the world
What you're getting: Offering their own house microbrews & exotic imports on chalkboard wall menus, Dieu du Ciel! has everything from chocolate stouts to peppercorn-infused red ales to "Aphrodisiaque" cocktails (sometimes known as "literally any cocktail").
Plateau
Why you're here: Live music with your drinks
What you're getting: Stomping grounds for many of Montreal's musicians (including the Arcade Fire), Casa's a great place to take in a night on their patio or to catch a band in their second room. They serve up regular DJ's and nacho plates large enough to ensure you probably won't be able to dance to said DJ's.
Mile End
Why you're here: A resto whose burgers & brunch are just as good as the drinks
What you're getting: This detail-oriented, hipster-chic spot's always filled with Mile End neighborhood regulars, and's rumored to have the best-looking staff and clientele in the city. Don't go too far after last call -- they'll be serving up one of the best hangover brunches in the city the next morning.
Latin Quarter 
Why you're here: One of the best outdoor drinking areas in the city
What you're getting: Down a seedy dark alley just off of the St. Catherine's strip, you won't find this place if you're not looking for it. When you get there, make your way straight through the bar and refrain from gasping when you discover the amazing, vine-covered outdoor terrace; the barkeeps'll easily find another way to occupy your tongue.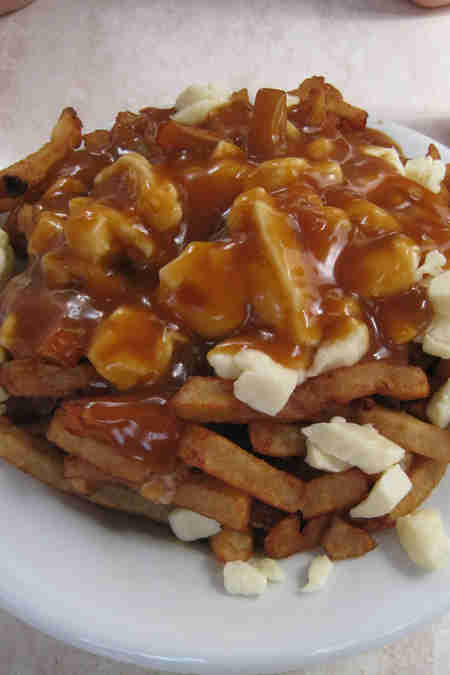 Plateau
Why you're here: It's a local classic with poutine that's anything but classic.
What you're getting: Any list that doesn't include La Banquise shouldn't be taken seriously. This classic greasy spoon is open 24/7 and boasts a menu with over 30 varieties of the good stuff to choose from, including La Taquise, which's taken to the next level by sour cream, tomato, and guac. But if you're sparing no expense, the real star is La T-Rex: a massive, meat-laden number topped with ground beef, pepperoni, and bacon.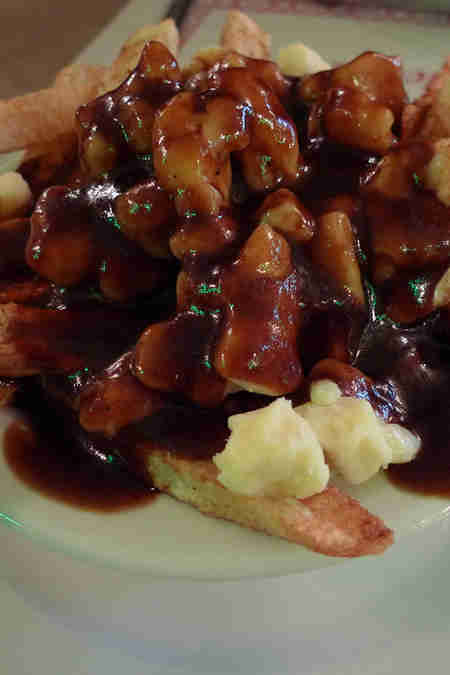 Sud-Ouest
Why you're here: Poutine from a '50s-style diner
What you're getting: Affectionately referred to by locals as the "G-Spot", this '50s-style greasy spoon has 27 different types of poutine available, though ask the waitress, and she'll recommend the Reine Gadboi -- it's topped with onion rings and chopped-up pogo sticks (which are just corn dogs that've jumped across the border).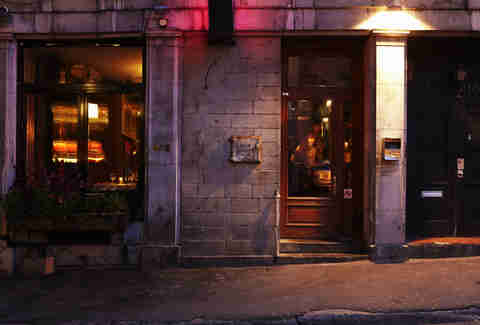 Ville-Marie
Why you're here: Fancy poutine
What you're getting: Head chef Chuck Hughes loves lobsters (he has one tatted on his arm), and his lobster poutine is the poutine that won Iron Chef America 2011, basically flaying Bobby in the process. It's so famous that foodies around the world actually plan their trips to Montreal around it, and you will find it at his resto, hidden down a side street of Old Montreal.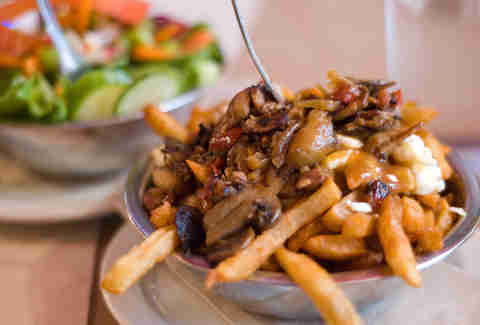 Several locations across Montreal
Why you're here: Poutine that makes sauce the star
What you're getting: There are eight styles of poutine to choose from at this fry-house, including a hearty sucker topped with steak, 'shrooms, and fried onions. The thing that really makes it, however, is their selection of 17 different sauces to dip the fries in. And in case you were wondering, those fries are trans-fat free! Phew!
Looking for more places to eat and drink in Montreal? Check out the rest of our guides to the city or sign up for our daily email.