Montreal may be a bilingual city, but that's not how you intend to occupy your tongue when you're there, since it would take you over three years to eat your way through all the city's restaurants. Then you'd have to spend another few years sampling all the microbrews and absinthe cocktails in town, and, while it'd totally be worth it, we're here to save you time: these are the spots where locals get their onion ring & corn dog poutine, lobster poutine, and classic French plates. And then more poutine.
Need even more places to eat and drink? Head to Thrillist Montreal for hot openings and the rest of our longtime favorites.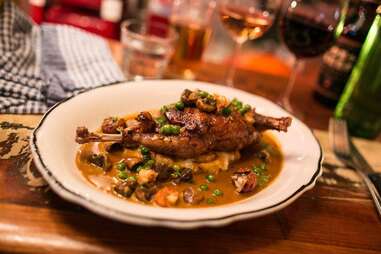 Little Burgundy
Why you're here: Steak & seafood with Quebecois ingredients
What you're getting: Named for Charles "Joe Beef" McKiernan (an Irish-born, no-nonsense military man & 19th-century Montreal working-class hero), this classic joint turns out belly-warming comfort food. When you're done here, make the inebriated crawl across the road to Burgundy Lion Pub, where keeping your pride may become a challenge.
Latin Quarter
Why you're here: Creative food with a view
What you're getting: This aptly-named culinary lab is on the top floor of the Société des Arts Technologiques (a hub for digital arts culture); the glass-walled building is surrounded by flashy LED sidewalk lights & topped with a huge white dome known as the Satosphére. Take your experience to the next level on one of the best rooftop terraces in the city.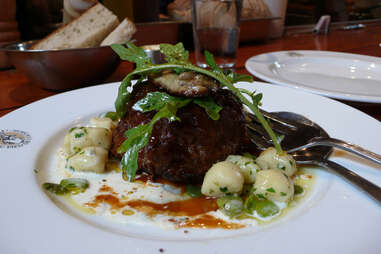 Plateau
Why you're here: Over-the-top rich food
What you're getting: A cult favorite for locals & tourists alike, their artery-clogging foie gras poutine is served in an amazingly unpretentious, casual, and friendly atmosphere. Be prepared to adjust your belt a couple notches after you chase it down with one of their maple syrup shakes; probably the name of the condition you'll develop afterwards, too.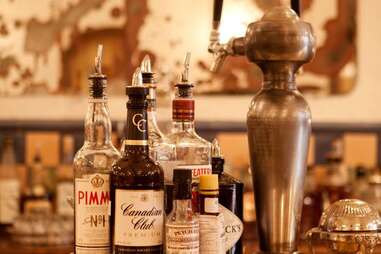 Plateau
Why you're here: Experimental mixes
What you're getting: Drinks are regularly lit on fire in this otherwise dimly-lit bar that has the feel of an ol' timey speakeasy. Experienced "Labtenders" will be happy to mix up any classic 'tail, or something from their list of originals, many of which contain maple syrup.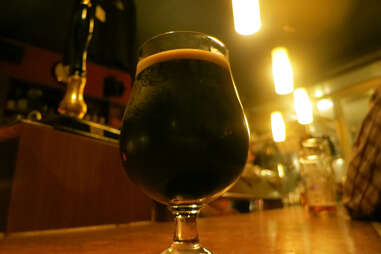 Latin Quarter
Why you're here: One of the best outdoor drinking areas in the city
What you're getting: Down a seedy dark alley just off of the St. Catherine's strip, you won't find this place if you're not looking for it. When you get there, make your way straight through the bar and refrain from gasping when you discover the amazing, vine-covered outdoor terrace; the barkeeps'll easily find another way to occupy your tongue.
Ville-Marie
Why you're here: Fancy poutine
What you're getting: Head chef Chuck Hughes loves lobsters (he has one tatted on his arm), and his lobster poutine is the poutine that won Iron Chef America 2011, basically flaying Bobby in the process. It's so famous that foodies around the world actually plan their trips to Montreal around it, and you will find it at his resto, hidden down a side street of Old Montreal.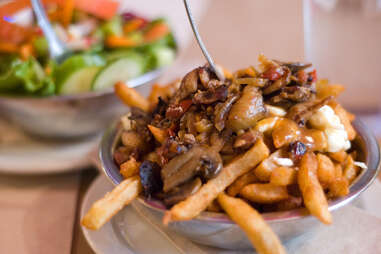 Several locations across Montreal
Why you're here: Poutine that makes sauce the star
What you're getting: There are eight styles of poutine to choose from at this fry-house, including a hearty sucker topped with steak, 'shrooms, and fried onions. The thing that really makes it, however, is their selection of 17 different sauces to dip the fries in. And in case you were wondering, those fries are trans-fat free! Phew!
Looking for more places to eat and drink in Montreal? Check out the rest of our guides to the city or sign up for our daily email.