Widely regarded as the best place to live in Germany, highly traditional Munich is developing a cosmopolitan cooking scene. Yes, you can still get plenty of Weisswurst, but the cutting edge has brought in Continental classics, Asian spices, and ethnic-oriented restaurants serving everything from fiery curries to pimped-out cheeseburgers.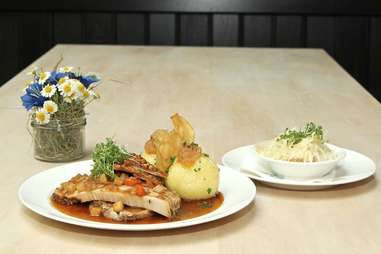 1) Tegernseer Tal Bräuhaus
Here's the problem with most old-fashioned restaurants in Munich: they're just plain old. After it opened in mid-2013, the new Tegernseer Tal Bräuhaus jumped into pole position among classic Bavarian kitchens, serving standards like Schweinebraten mit Knödel (roast pork with dumplings) and Obatzda (cheese spread), along with lots of oompah music, lederhosen, and dirndls, in a bright new setting right in the heart of Old Town.
2) Mark's
Pull out the platinum card: at the top of an ornate staircase inside the Mandarin Oriental, this date-ready restaurant offers awesome views, near-psychic servic,e and some of the city's best seafood, including fresh Brittany turbot and trout from the Norwegian fjords. Chef Simon Larese dusts his menu with Asian notes, pairing lobster with coriander sauce, and foie gras with marinated mango. When it's warm, book a table on the outdoor terrace overlooking the spires of Old Town.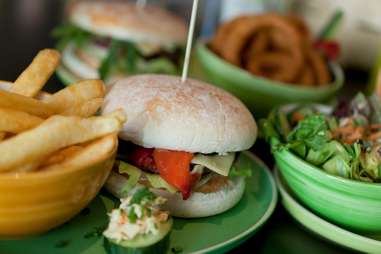 3) Hans im Glück
Named after a fairy tale, "Hans in Luck" knocks out great cocktails, DJ sets of chill-out tunes, and an array of new-school burgers topped with the likes of gorgonzola, brie, and parmesan, while the house special comes covered with peppery arugula and a tangy balsamic reduction. Part of a local mini-chain, the Schwabing district branch makes for a great stop after a day of going through the neighborhood's cool indie shops and boutiques.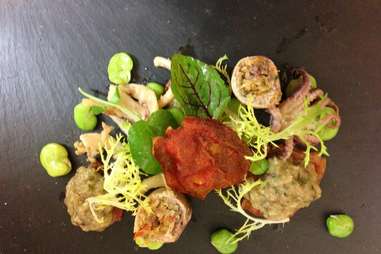 4) Marais Soir
The formerly downtrodden Westend neighborhood on the far side of the Oktoberfest grounds keeps getting better, with new arrivals like this casually-chic Mediterranean bistro, a sister location of the local favorite Café Marais. The chef, Riccardo Asti, blends Italian and French influences, topping creamy olive risotto with scallops, and serving guinea hen as a sage-scented saltimbocca. Relatively inexpensive for what you get, four-course menus start at €45.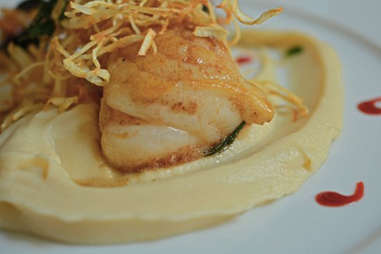 5) Rilano No. 6
In 2012, this new high-flier took over the ornate Lenbach Palace, whose Old-World opulence is difficult to overstate, though you can say the dining room's plasterwork ceilings are high enough to shoot three-pointers. Ballers of another kind come here to drop wads on schnitzels, fondue, and other classic Continental fare. With main courses hovering around €25, you might even be able to leave with some change.
6) Tantris
A Teutonic titan, this red-on-black, Asian-inspired seafood champion has held at least two Michelin stars every year since 1974. Now in the hands of the founder's son, Felix Eichbauer, Tantris remains one of the best restaurants in Germany, backing up the five-course tasting menus (€150) with its own 35,000-bottle wine cellar. For private parties, a separate room can seat up to 26 privileged players.
7) Atelier
The Bayerischer Hof Hotel has been the city's go-to guesthouse for over 100 years, but it took a complete refurb a few years back to create the modern Atelier restaurant, which promptly picked up a number of culinary awards. Chef Steffen Mezger serves Old World classics with a lot of topspin, pairing brook trout with cooked cucumbers and U.S. wagyu beef with ribbed marinda tomatoes. A splurge, but worth it.
8) Yum2Take
It doesn't matter how short your stay is; eventually you'll get tired of pork and potatoes. Beloved by locals, this lowbrow -- German for "cheap" -- Thai kitchen is the perfect antidote to an overdose of Schweinshaxe. Don't bring American resto expectations: service can be brusque, and the bright, shiny atmosphere is much like Mickey D's. What you'll get in return are great noodles, spicy curries, and even some veggie (gasp!) meals, all priced well below average.