Phoenix is like a giant fiery bird rising from the... oh wait. Wrong Phoenix. But the largest city in AZ is a giant oasis in the flaming-hot (fiery?) desert, and you know what they say about spending time in the desert: it's important to stay hydrated and well-fed. With cocktails and carne asada. Here's where the locals get their fill of Southwestern tacos and over 250 tequilas.
Need even more places to eat and drink? Head to Thrillist Phoenix for hot openings and the rest of our longtime favorites.
South Scottsdale
Why you're here: A special "drinking food" menu until 2am, plus a confit pork shank for every other hour
What you're getting: Steeped in a laid-back atmosphere aided by wood floors and an open kitchen, P&P doesn't seem like the place to find a culinary masterpiece, but trust us, as soon as you order the little neck clams with a side of its daily featured tots (!) you will change your mind about that. Also worth mentioning? It's open till 2am every single day, and has a special "drinking food " menu.
Various locations
Why you're here: A solid-gold, hands-down Phoenix classic
What you're getting: Postino's locally revered status is all the more impressive considering how it's managed to expand out into four individual, unique branches that retain the essence of the Arcadia original -- an intimate, classy wine bar, with an ever-rotating bottle list (plus a great beer lineup), and a solid menu to match.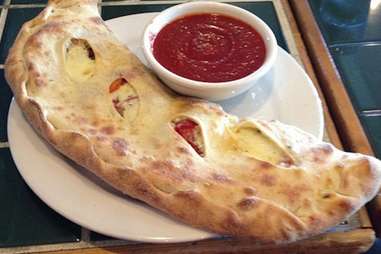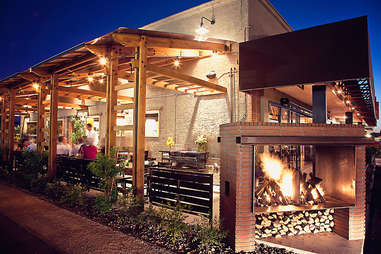 Arcadia
Why you're here: The best example of Phoenix's evolving fine-dining scene
What you're getting: Though a recent addition to the scene, Beckett's Table has rapidly become a local icon, with every detail, from the misters on the patio to the leather-topped stools at the brick-lined bar, thought through -- and that attention extends to the menu, too, which boasts an ever-evolving (and ever-changing) array of modern American classics, like chicken dumpling soup.
Midtown Phoenix
Why you're here: Cocktails and craft beer in a historic Phoenix 'hood
What you're getting: The Windsor champions itself for being a place where "everyone is welcome", and thanks to the eight rotating craft taps (Left Hand Milk Stout!), fantastic house cocktails (go for the rye/mint/pineapple No. 09), and extensive food menu, that's certainly true.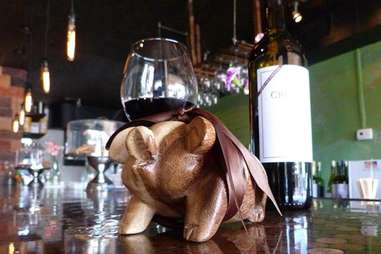 Midtown Phoenix
Why you're here: Family-owned bar with a constantly changing drink lineup
What you're getting: The Whining Pig is a reliably great joint; every two weeks, 33% of the wine selection and 25% of the beer selection will change, giving customers a revolving door of new options to try, and they have yet to disappoint.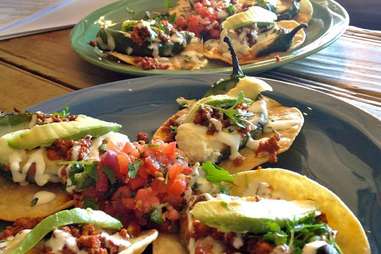 Various locations
Why you're here: Uh, tacos & tequila
What you're getting: With the vast shelves of 'quila, you can create approximately one million variations on the margarita. Their new Mexican dishes cut back on the grease and lighten things up with the freshest veggies and cheeses, and their happy hour comes with as many rounds of tacos as you can handle. Bonus: the Slow Cooked Bar-B-Q Pork tacos have won awards, and rightly so.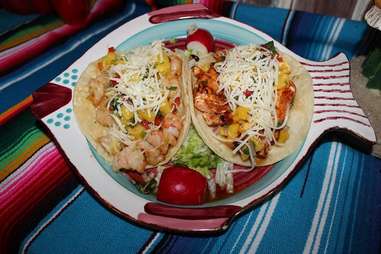 Various locations
Why you're here: Time-tested family recipes
What you're getting: The name isn't just a marketing technique -- Rosa's grandson opened the first Tia Rosa restaurant in Mesa in 1991 exclusively using Rosa's homegrown Mexican recipes, and the decor matches the traditional-ness of the menu. Sadly, one of the Tia Rosa locations just burned down... but they are working to reopen soon, and there are two more locations throughout the East Valley.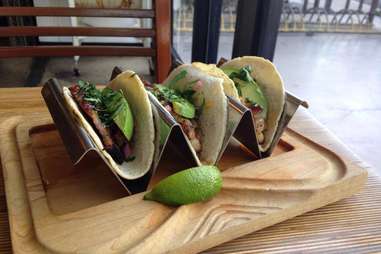 Biltmore
Why you're here: Breakfast, Mexican-style
What you're getting: There is an entire portion of its menu dedicated to "the art of hollandaise". Unlike most breakfast spots with that naggy request for "no substitutions", Snooze actually says, "We encourage your custom creations", not that it's needed however. Also, don't think because we're talking breakfast that the drink menu is limited to mimosas and Bloodys. Plan on sampling the Dharma Rum: a chai latte, rum, whipped cream, and pumpkin spice glass of deliciousness.
Uptown Phoenix
Why you're here: Welcome to a choose-your-own-enchilada adventure.
What you're getting: Gadzooks boasts possible enchilada ingredients like beer-braised bison, Chihuahua cheese, and "blended habanero lava" -- and as weird as they may sound, they are fantastic.
Looking for more places to eat and drink in Phoenix? Check out the rest of our guides to the city or sign up for our daily email.