The 12 Best Restaurants in Salt Lake City Right Now
If you're convinced that Salt Lake City cuisine is all about green Jell-O and Mormon funeral potatoes, think again: a wave of multicultural eateries, cutting-edge chefs, and imaginative restaurateurs are turning the city by the Great Salt Lake into a first-rate dining destination. Here are a dozen can't-miss SLC eateries worth skipping an LDS potluck for.
<em>402 E 900 South</em><br />
Greeks immigrated to Utah in the early 1900s with the development of the railroad and mining industries, and they brought their sun-kissed Mediterranean cuisine with them. Instead of basic gyros and souvlaki, you'll find fresh, modern interpretations of Greek cuisine in dishes like grilled lamb riblets with caper chimichurri; braised beets with horseradish skordalia; and loukoumathes: delectable Greek donuts with spiced honey syrup.
<em>19 W. Market St</em><br />
When Chef/Owner Takashi Gibo opened his namesake restaurant, he seriously raised the stakes for Japanese cuisine in Utah. A gentle and kind perfectionist, Gibo is known for serving up the freshest and most innovative sushi, sashimi, and nigiri around, but be on the lookout for his often-overlooked cooked dishes as well, like shiitake lamb shank and sensational <em>Saikyo miso</em> sablefish. For a special treat, try the <em>ankimo</em> (monkfish liver) hand roll; it tastes like foie gras, without the moral dilemma of actual foie gras.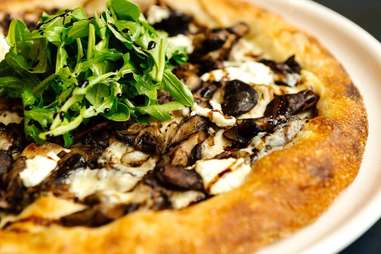 <em>62 E Gallivan Ave</em><br />
The aptly named From Scratch takes its mission literally, making everything (from doughs and pizza cheese to ketchup and mustard) completely from scratch. The margherita pizza is a beautifully blistered, wood-fired wonder that begins with a base of flour (milled in-house), topped with Bianco diNapoli tomatoes, house-made mozzarella, and fresh basil. This is pizza, perfected.
<em>418 E 200 South</em><br />
HSL executive chef/owner Briar Handly is one of Utah's most talented and innovative cooks, as evidenced by creations such as his General Tso's-style cauliflower with kohlrabi, or his breaded olives with smoked quail, pine nut vinaigrette, and Meyer lemon. That said, the real stunner here is HSL's bodacious burger: a 7oz patty made with beef cheeks, topped with house-made American cheese on a fresh brioche bun, with decadent duck-fat fried spuds served alongside.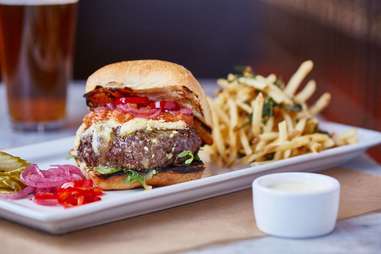 <em>202 S Main St</em><br />
The bustling Bambara restaurant in the Hotel Monaco is the place in Downtown SLC for a power lunch. Or, more specifically, a Powers Lunch -- as in the daily lunch menu created by executive chef Nathan Powers. Each prix-fixe option includes soup or green salad, as well as a delicious chocolate chip turtle cookie, while mains run the gamut from mussels &amp; frites to a legit Cubano sandwich. The only losing move here is not to play/eat.
<em>755 S State St</em><br />
The best way to experience the wide range of Ethiopian flavors here is to order the Blue Nile Special: a table-sized (literally) serving of <em>injera </em>bread with an assortment of items such as <em>doro wot, yesiga alicha, gomen, yemisir wot, tegabino shiro</em>, and much more -- all eaten with fingers at an hourglass-shaped straw table called a <em>messob</em>. The ultra-friendly and helpful service doesn't hurt, either.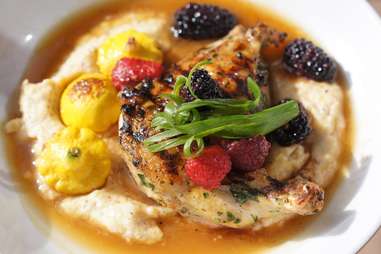 <em>6451 E Millcreek Canyon Rd</em><br />
Situated in a historic log mansion in the Wasatch National Forest (just a seven mile drive from town), Log Haven is surrounded by waterfalls, wildflowers, and some of the most breathtaking natural views you'll find anywhere. Even so, it's chef David Jones' contemporary cooking that keeps people coming back to this award-winning restaurant for occasions both special and simple. Combining a world-class scenic setting with cuisine to match, it's no surprise the Log Haven slogan is "Nature is delicious here."
<em>307 W 600 South</em><br />
If you think you have to travel to Texas, Memphis, or Kansas City for world-class barbecue, think again. Yes, R&amp;R has won a pit-full of awards at state and national barbecue competitions, but prestige aside, it's the flavor that matters. Dig into the tender texture of the slow-smoked brisket, or grab a helping of pulled pork and spare ribs with hushpuppies and fried okra poppers on the side.
<em>216 E. 500 South</em><br />
Starting out with an Easy Bake Oven before moving on to New York's French Culinary Institute and gigs at the Big Apple's Mesa Grill and Mandarin Oriental's Azul in Miami, Les Madeleines chef/owner Romina Rasmussen was the first to bring exotic gourmet cupcakes and her famous butter Breton pastries -- <em>kouign-amann</em> -- to Salt Lake City. However, as glorious as the pastries are, don't overlook the sensational sandwiches on offer as well: the <em>gougère</em>-Portobello, the Miami, and the Madrid (Serrano ham and manchego cheese) are all worthy of your affection.
<em>1766 S Main St</em><br />
Situated in a small house on a quiet part of Main Street with plenty of parking, Pho Tay Ho offers 20 different pho options, ranging from basic <em>tai</em> (thin-cut beef steak) to an all-in version with steak, flank, meatballs, brisket, tendon, and tripe. There's even a vegetarian pho with tofu and bok choy, if you're dining with someone meat-averse. The key is in owner Hoang Mai's slow-cooked broth: beef bones simmered overnight with fragrant ginger, cinnamon, anise, onions, and other aromatics, served up in immense bowls with perfectly cooked rice noodles.
<em>736 W North Temple</em><br />
Owned and operated by the Cardenas family for more than forty years, this beloved south-of-the-border-style eatery is as close to a culinary shrine as exists in this town. Don't let the line for seating dissuade you: it's well worth the wait to sink your teeth into Red Iguana's signature <em>mole</em> dishes and classics like<em> cochinita pibil,</em> enchiladas, and a killer chile Colorado.
<em>3390 S. State St</em><br />
There's no shortage of excellent Asian restaurants in SLC, but Hot Dynasty's your go-to for budget-friendly Chinese cuisine with upscale ambiance. The gargantuan "chili sauce" bowls of beef, lamb, fish, or pork bung are large enough to feed the Osmond family (SLC reference!), and the dan dan noodles are some of the best you'll find anywhere. Plus, wine lovers will rejoice at the unexpectedly robust list, which includes bottles ranging from Provençal rosé to Dom Pérignon.
Sign up here for our daily Denver email and be the first to get all the food/drink/fun in town.
Ted Scheffler is a longtime Utah-based food, wine, and travel writer, editor of
Devour Utah
magazine, and restaurant critic at
Salt Lake City Weekly
. As a reformed anthropologist and professional musician, he rides herd over an ever-growing guitar and amplifier collection when not eating. Follow him on Twitter @Critic1.