When you visit Toronto, you need to know two things: the Ontario capital has more going on than its incredibly exciting politics (thanks Rob Ford!) and there's so much more to eat than all of the maple syrup. Whatever you do, make sure you have a few days set aside for brunching -- TO gives NYC and DC competition for the best brunch city -- so you can try at least six Bloody Caesars, which might as well be the national drink of Ontario. Use the Clamato juice-drinks to wash down the maple-smoked salmon and maple bourbon bacon and shots of maple whiskey. Your only regret will be not staying longer. 
And if you want more, head to Thrillist Toronto for hot openings and the rest of our longtime favorites. 
Adelaide, Yonge, Queen
Why you're here: TO's best Italian
What you're getting: So, you're probably going to have to wait in line at this place, but when we say it's worth the wait, we mean it, because they cook some of the city's finest Italian eats. The industrial-esque space has exposed overhead pipes, and the menu throws out high-quality 'za (from classics like salami & Napoli, to a white pizza w/ house-smoked salmon), as well as pasta dishes like their inventive dandelion & spicy sausage combo. 
Ossington, Danforth
Why you're here: Thin-crust, Neapolitan-style pies 
What you're getting: Libretto's 'za is slow-risen & flash-cooked for just 90 seconds in their 900-degree wood burner. Toppings range from the classics (marinara, grilled eggplant, etc.) to more inventive numbers like duck confit & pear, while the decor itself sees the rough edge of steel chairs & bare brick walls matched with low lighting and a warm wooden bar top. 
Financial District
Why you're here: Fine dining with a view of Toronto's most famous skyline icon
What you're getting: Canoe is located in the Financial District and there's a reason why (it's a bit heavy on the wallet), but if you can get over that, you'll score some of the town's best fine dining, with dishes like tea leaf-smoked duck and maple-torched salmon. You'll also be eating in a cool glass-walled room on the 54th floor of the TD Tower, sporting a view across to the giant needle of the CN.  
Little Italy
Why you're here: Classic deli vibes in a modern space
What you're getting: Caplansky's Delicatessen has been serving up high-end deli food to delighted meat-lovers at College & Bathurst since its opening in 2008. Thick-cut and hearty, one of the more popular numbers is Zane Caplansky's $8 smoked-meat sandwich, while breakfast offerings include the lox, salami, egg, and latke-filled Geddy Lee special, perfect for people in a rush(!).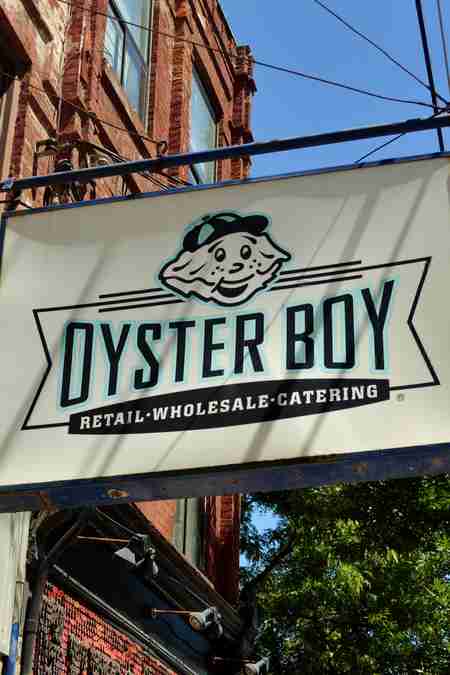 Trinity Bellwoods
Why you're here: Oyster-anything
What you're getting: Proudly sporting the slogan "the oyster is our world" (see what they did there? Of course you did...), this local joint ain't kidding. They've got everything from Rockefeller to Royale, as well as bivalve-stuffed tacos, lobster rolls, and of course fresh dozen platters from an ever-rotating list -- and it's all served up in a simple white-wall & wood-table setting. 
Trinity Bellwoods
Why you're here: Hearty, delicious food that stands up to the winter
What you're getting: Whether it's the maple bourbon bacon with your brunch, the clam & bacon in your Caesar, or the bone marrow you're having for dinner, The Saint clearly wants you to become as fat as Val Kilmer. The black-draped, diner-inspired interior adds a casual edge to the otherwise high-end hangout.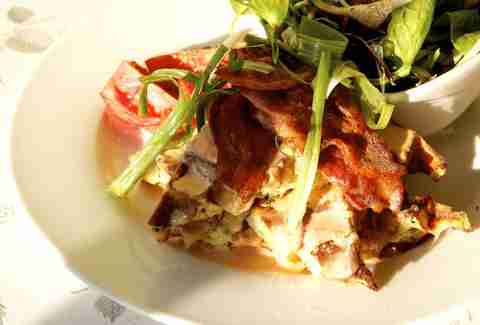 Leslieville
Why you're here: Fancy brunch from a local icon
What you're getting: The bad news first: you're probably going to wait in line. The good news, however, is Lady Marmalade is a local institution with incredible up-classed brunch food. Run by a brother-and-sister duo in the East End, the menu sports all the greasy-spoon staples without any of the grease. Be sure to try the poached eggs.
West Queen West
Why you're here: Drinks on the roof of a city landmark
What you're getting: The Drake has a café, resto, lounge & club. The real gem, though, is the rooftop patio bar, serving up a great view of the Queen West district along with drinks like Shock Top Belgian ale, drafts from local microbrewery Mill Street, and a Negroni from their barrel-aged cocktail list. 
King West
Why you're here: Asian-inspired cocktails and sake
What you're getting: In the heart of King West, this Asian bistro bar offers a beautiful, lush, and shaded patio with impressive Asian-style stone & wood decor inside. Drinks range from the cross-pollinated mango-tamarind martini to their premium "Dragon Slayer" sake.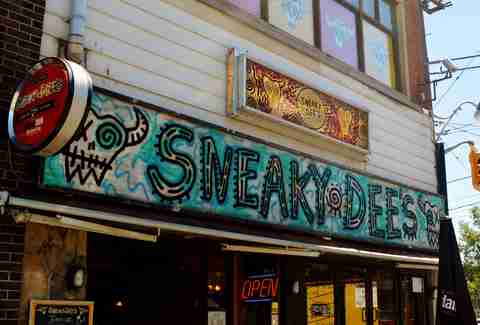 Kensington Market
Why you're here: Graffitied dive hosting local bands
What you're getting: Announcing itself as the iconic dive in TO, Dee's dark space is totally covered in graffiti and has two floors for live shows, DJ's, dancing, and $3 beers. They're extremely well-regarded in the local music scene, their nacho plates are the stuff of legend, and they're totally featured in Scott Pilgrim.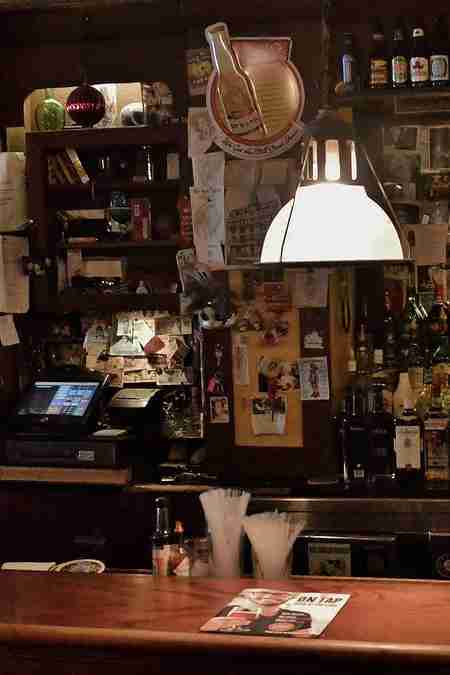 Queen West
Why you're here: A live show
What you're getting: The Horseshoe may sound like the perfect place to get lucky, but it's far more than that -- in fact, seniority alone makes this bar worth the visit, never mind the countless iconic acts that have graced the stage of this Queen West institution. Since its opening in 1947, the spot's seen Stompin' Tom Connors, The Police, Blue Rodeo (!), Rheostatics, The Strokes, and Joel Plasket, to name a few. The relaxed front bar often hosts neighborhood regulars, with the back bar taking the big-name acts.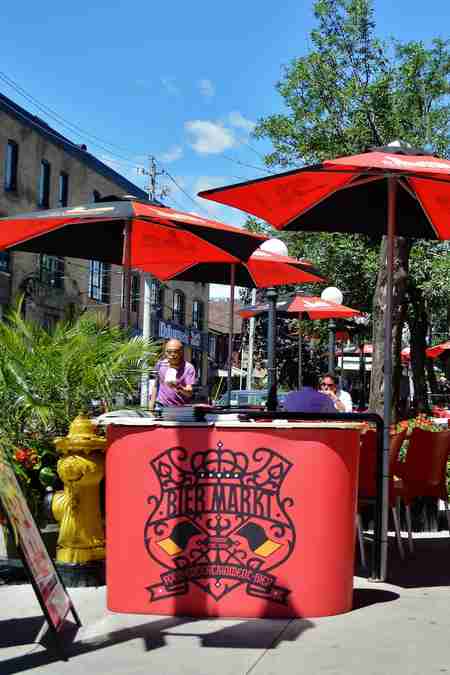 Multiple locations
Why you're here: Brews from 150+ brands from 30 countries
What you're getting: Proudly boasting one of the most extensive beer menus in the city, Markt serves them all via a special three-gas blend used to push the brews from keg to tap, meaning it "never comes into contact with oxygen" (which is ironic seeing as you'll likely be inhaling it). The space itself has an old-world Belgian feel too, with brass fittings sitting alongside bentwood chairs, and a dark, class-laden atmosphere. 
Little Portugal
Why you're here: The arcade games from your childhood... for free
What you're getting: Get Well pairs the great advice imparted by its name with reasonable prices, lots of space & seating, quirky artwork, and old-school arcade machines (Tetris, pinball, etc.) that're all free to play. The craft beer menu is extensive, and even includes a house cask number. Located in Dundas West, you're also surrounded by other bars which're also deserving of your attention, incl. The Communist's Daughter, Red Light, and The Garrison, all only steps away.
Financial District
Why you're here: Classic, OG Caesar. With so many pickles. 
What you're getting: The restaurant's top-notch, feel-good grub is matched by similarly feel-good libations, including a Caesar in its purest form: vodka, Walter mix, fresh horseradish, Tabasco, Worcestershire, celery salt, and lemon. The only sort of craziness here is in the house pickles; superb specimens that might include a pearl onion, cornichon (that's a small pickled gherkin), long bean, and a fat, juicy caper berry. We said pure, not boring.
Financial District
Why you're here: A custom Caesar Bar
What you're getting: It's a checklist of a million possibilities (well, more like 70,308. Yes, we calculated it.) that includes four rimmers, three base spirits (choose from vodka, bourbon, or tequila), a trio of hot sauces (including one that may entice or scare called "Burning Desire"), and a variety of condiments and garnishes. This one is rimmed with kimchi, and made with vodka, Sriracha & horseradish, then garnished with a stalk of celery, Doritos, and a D. Martin pepperette.
Little Portugal
Why you're here: Build-your-own Caesar
What you're getting: Awesome brunch and late-night snacks are the specialties at this space on Dundas West. How awesome? Check out their Caesar: a DIY number that gives you the power to spike your Walter-based drink with Bombay gin, Iceberg vodka, or El Jimador tequila. The kicker is the rimmer and garnish: Cool Ranch Doritos!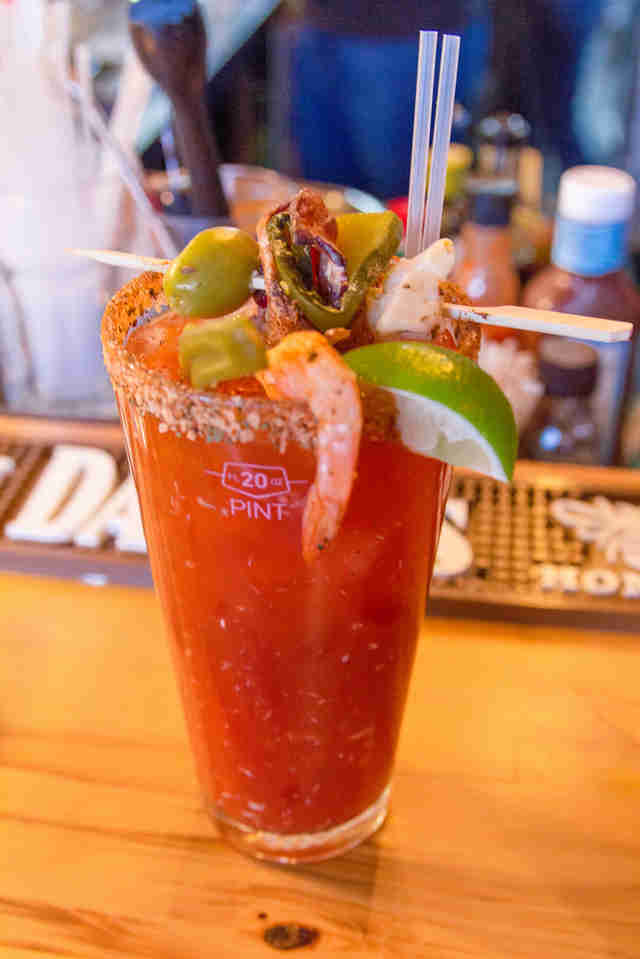 The Danforth
Why you're here: A Caesar with all the smoky flavors you'd expect from a smokehouse
What you're getting: While this neighborhood smokehouse serves three Caesars, including a vegetarian version and the original (made by Christopher Johnson, aka the last bartender to sling drinks at Marco's Italian, where the drink was invented), it's the gilded Big Smoke that's got folks bowing in reverence. The 20oz beast contains a double shot of house-smoked pepper and chili-infused vodka, house-seasoned Clamato, and Louisiana Gold hot sauce. It's christened with a squeaky cheese curd, house triple-smoked bacon, a sweet sandwich pickle, smoked pepper, and lightly smoked shrimp.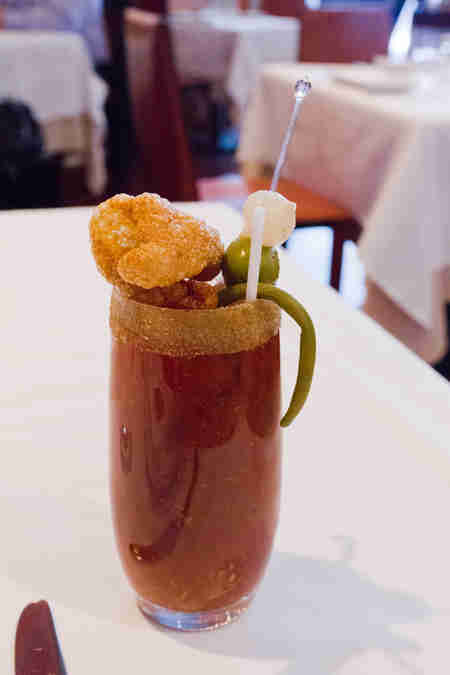 Harbord Village
Why you're here: Extra-spicy, extra-porky, Sunday brunch Caesar
What you're getting: This sucker's got both spiced gin and vodka, a proprietary Caesar mix (from ex-little sister, County General), and is garnished with house pickles, olives, and mammoth chicharróns! It's too bad it's only available at Sunday brunch (but that's when you can get this).
Alexandra Park
Why you're here: They figured out how to pack bacon into all the ingredients
What you're getting: It's packed full of umami, and, oh yeah, bacon. In. Every. Form. We're talking about bacon-infused maple Crown Royal, and bacon-infused Worcestershire, that's been added to chipotle Tabasco, liquid mesquite, and Clamato in a glass that's rimmed with crushed bacon and garnished with candied bacon strips.
Financial District
Why you're here: The kitchen makes a fancy bouillabaisse for the drink
What you're getting: The city's newest watering hole, it's across the way from where South of Temperance used to be and a 3,500sqft patio is slated for this summer. Their version of this cocktail uses a Canadian craft Caesar mix (Walter), mixed Italian spices, and is fortified with a bouillabaisse that's made specifically for the drink by the kitchen. No small stuff for that matter; it's lobster stock, shrimp shells, chili, onion, and garlic. Once assembled, the drink is shaken (not stirred), then finished with a pickled green bean, and fresh ground horseradish.
L​ooking for more places to eat and drink in Toronto? Check out the rest of our guides to the city or sign up for our daily email.