12 Best Restaurants on the Pacific Coast Highway
You come for the views on California's Pacific Coast Highway, but you keep going for the food. There's a wealth of fresh, local, and unforgettable eats nearby, from hoity toity white tablecloth spots to shuck-your-own oyster joints, and from time-warp barbecues to detour-worthy taco stands. Here are the best places to get your nosh on or nearby the PCH: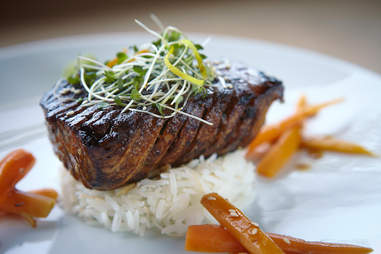 <a href="https://www.facebook.com/RiversEndJenner/photos/pb.66442897795.-2207520000.1435860045./10150428445372796/" rel="nofollow" target="_blank">River's End Restaurant &amp; Inn/Facebook</a>
Jenner, CA
Most restaurants that boast million-dollar views coast on their natural assets, do so while serving sub-par food. Not so at River's End. This fisherman's lodge, ca. 1927, towers over the estuary where the waters of the Russian River blend with those of the Pacific. Luckily, the rustic cuisine here is as epic as the view: Chef Martin Recoder sources meat, fowl, vegetables and fish from Sonoma, or the waters off of its coast. Visit in the fall and OD on everything Dungeness crab.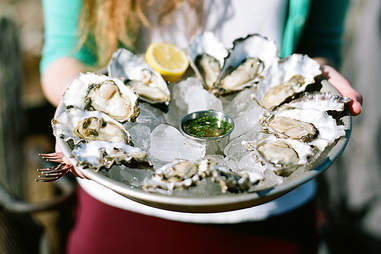 Anna Marks
Marshall, CA
This chain of four outlets was started by a couple of partners in the early 1980s around the idea of sustainable aquaculture; today they farm over 3.5 million oysters, clams, and mussels from cultivated seabeds every year. The Marshall joint is their original; here you can grab a picnic table and shuck your own oysters, with a view of the bay they were pulled from. And if your shuck game is wack, they'll teach you.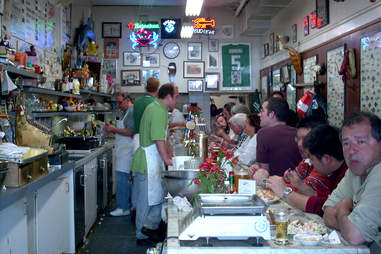 <a href="https://www.flickr.com/photos/32742728@N00/444104893/" rel="nofollow" target="_blank">soupstance/Flickr</a>
San Francisco 
This hundred-year old cash-only spot is full of salty snacks and locals coming in for the take-out business. Steal a spot at the counter, order an Anchor Steam on draft, and feast on life-changing crab fat, live urchin, oysters, and sashimi. Arrive early: the joint closes at 5:30pm.
Kodiak Greenwood/Courtesy of Big Sur Bakery
Big Sur, CA
If you've overnighted near Big Sur, do breakfast on the patio of this converted 1930s ranch house: you can't beat the coffee, the pastries, and the wood-fired breakfast pizza (bacon, thyme, eggs, parmesan). The only problem with starting your day here: you won't wan't to leave because breakfast pizza, right?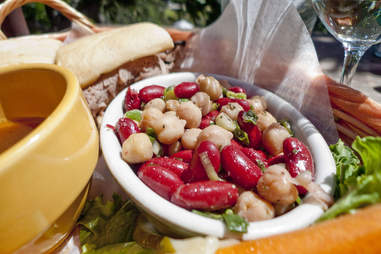 <a href="https://www.flickr.com/photos/longster/4940914510/" rel="nofollow" target="_blank">Longster47/Flickr</a>
Big Sur
With the Pacific roiling 800 feet below, and the Santa Lucia mountains at your back, the view from this eatery is heroic. With sites like these, the place could serve earthworms and it might still be worth going. Luckily, they've got the Ambrosiaburger -- a grilled 6-oz steak sandwich served on a chewy French roll, with a chili-salsa secret sauce. Just get one -- there's no reason to read anything else on the menu.
<a href="https://www.facebook.com/galleymorrobay/photos/pb.218565123485.-2207520000.1435858721./10150736049728486/" rel="nofollow" target="_blank">The Galley Seafood Grill &amp; Bar/Facebook</a>
Morro Bay
Even if the place didn't boast a panoramic view of Morro Rock -- and the bay surrounding it -- we'd still recommend The Galley, given its fresh, simply-prepared fish, most of it caught in nearby waters, which get paired with easy-sipping wines from the central coast.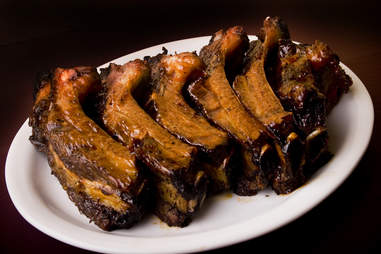 Courtesy of Rib Line
Grover Beach
A worthy stop for Santa Maria-style BBQ, where meats, including angus tri-tip, are seasoned with dry rub before being grilled over an open red oak fire. If you're hungry, theoretically you could opt for the 4-lb "Brahma Bull" sandwich, as seen on Adam Richman's Man vs Food. But you've gotta hit the road, so in the interest of your car-mates: please don't take the challenge.
<a href="https://www.flickr.com/photos/saechang/4949461927/" rel="nofollow" target="_blank">Michael Saechang/Flickr</a>
Nipomo
The central coast is cattle country, so it's completely sensible to stuff yourself silly at this cinderblock-walled steakhouse ca. the early '60s. Order a 2-inch thick "Spencer" cut, and it'll be grilled atop real oak coals, Santa Maria style. While you're awaiting the perfect char, you can read up on the badass who founded Jocko's in the 1920s -- sadly, the joint doesn't serve the white lightning he peddled from his trunk during Prohibition.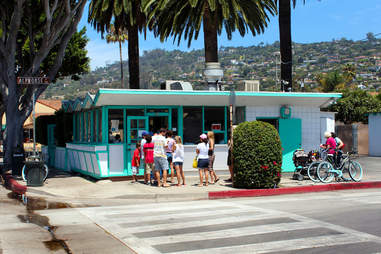 <a href="https://www.flickr.com/photos/wallyg/14791175552/" rel="nofollow" target="_blank">Wally Gobetz/Flickr</a>
9. La Super-Rica Taqueria
Santa Barbara
Before she departed for the great souffle in the sky, Julia Child was known to frequent this taco joint. Needless to say, it's worth the short detour off the 1 to check authentic Mexican off your list. The shambolic cash-only spot features killer chorizo, spot-on chile rellenos, and tacos made with hand-kneaded tortillas. Before motivating from your plastic chair to hit the road, wash it all down with a fresh-made watermelon agua fresca. Cabezas up -- the place is closed on Tuesdays and Wednesdays.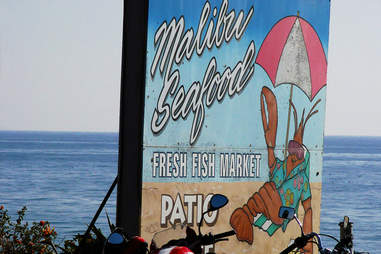 <a href="https://www.flickr.com/photos/mariacecita/405826781/" rel="nofollow" target="_blank">mariacecita/Flickr</a>
Malibu
This classic no-frills seafood shack slings fresh catches in much the same way it has since the early '70s. Order the fish 'n chips, the clam chowder, or the tuna burger and scarf it down on one of three breezy patios, each with its own view of the surf.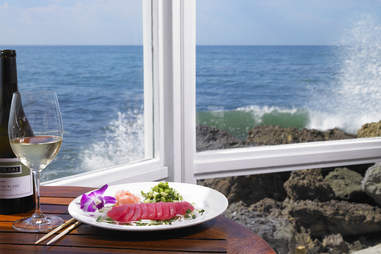 Courtesy of Duke's Malibu
Malibu
At this retro, Hawaii-tinged spot, you can choose to hit the dining room or the barefoot bar -- in either case, you'll be mere feet from the breakwaters of the Pacific. Sure, it's a bit touristy -- but sometimes the good things are.
Courtesy of Reel Inn
Malibu
There's not much pretense to the Reel Inn: come here for large portions of fresh seafood, either grilled, sauteed, or cajun syle (your choice), served atop checkered picnic tables and among surfboards roosting in the rafters. And though the celebrity set can be found here on the regular, everybody must wait in line. A perfectly democratic finish to the smorgasbord that is the PCH, one of America's greatest roads.