Salad Chains That Will Make You Drop Your Sandwich
It's an inconvenient truth for people who love sub-$5 burgers and have no damn time to wait for them: Fast food is lagging. As healthier food continues to spike, most fast-food spots have been playing catch-up to add healthy items to their grease-laden menus. But do you really want to go to Arby's for a kale salad?
Salad shops like the drive-thru-enabled Salad and Go and East Coast darling Sweetgreen are bringing quick, quality greens to the masses. And "the masses" isn't a cute term, either. These places are known for long lines of lunch-goers craving fresh, healthy alternatives to burgers and fries (but sometimes with fried chicken). What's more, you could soon be standing in one of those lines. Here are the fast-salad operations primed to take over -- and potentially resuscitate -- the fast-food world.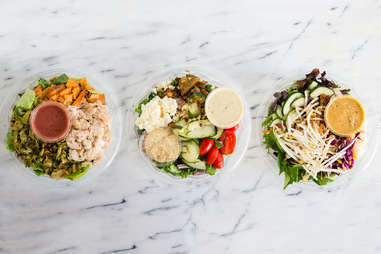 Founded: 2007 in Washington, DC
Current locations: 64 in Virginia, California, Pennsylvania, New York, Maryland, Massachusetts, Illinois, and Washington, DC
Sample salad: The Rad Thai with organic arugula and mesclun, bean sprouts, shredded cabbage, citrus shrimp, and spicy cashew dressing
Right off the bat you should know that Sweetgreen is almost definitely the bougiest option on this list of primarily bougie places. If the contemporary farmhouse design -- complete with reclaimed wood and shared-seating benches -- doesn't give it away, the lines of uber-hip eaters wrapping around the shop like it's the entrance to Space Mountain will do the trick.
Founded by three Georgetown graduates who were simply trying to answer the question "why are there no great fast-salad options?" Sweetgreen works on a Chipotle-style set-up. You can create your own salad, but the curated offerings are just too uniquely crafted and balanced to skip -- and the puns are just too fun to say. Look no further than the Kendrick Lamar collaboration, "Beets Don't Kale My Vibe." And yes, it's seriously called that (and has kale and beets, natch). It also single-handedly solves the "I don't want salads in the winter" conundrum by offering warm bowls that don't taste soggy or forced. The Harvest Bowl adds hot organic rice to a mixture of kale, chicken, and toasted almonds. And the menu is a checklist of local purveyors, so don't be surprised if you see some names from your area's premier farmers market pop-up on the roster. It's a little more expensive and time-consuming, sure, but it's also memorable... and not just for the puns.
Founded: 2013 in Gilbert, Arizona
Current locations: Six locations in Arizona
Sample salad: The Southwest Caesar with kale, romaine, pico de gallo, pepper Jack, and tortilla strips
Salad and Go is totally embracing the concept of making healthy food fast on the cheap, right down to the drive-thru. It even brands itself as "America's replacement for traditional fast food." That doesn't just mean throwing together some kale and leftover chili from the Wendy's next door, either: It's doing super-fast salads that are actually worth skipping a Big Mac for.
There's not a ton of room for customization here, as it's operating at drive-thru speeds. But it has pre-loaded options like the Roasted Sweet Potato & Strawberry with mixed greens and romaine, quinoa, goat cheese, and Champagne vinaigrette. Despite executing salads with complexity, it does it at a high clip, delivering the freshness in the same time it'd take to get a 20-piece nuggets. Despite only existing in Arizona, it's a big step towards a true, dedicated fast-food salad chain.
Founded: 2006 in Culver City, California
Current locations: 24 in California
Sample salad: The Chipotle Barbecue Chicken with romaine hearts, queso fresco, cilantro lime dressing, and avocado
This venture backed by Danny Meyer (the world-class restaurateur maestro behind the smash-hit Shake Shack) has coined itself as "fine casual dining," which just brings up images of Olive Garden. But really, it's just PR-speak for a fast-food restaurant that holds more stock in quality than quickness. This is the option that blurs the line between fast food and an actual restaurant, but it warrants inclusion because the salads are banging and what even is "fast food," anyway? With its hanging bulb lights, minimalist seating options, and heavily styled dining areas it doesn't look like fast food: It's more like a trendy youth hostel in Sweden, actually.
As far as the food, the veggies come fresh daily from Oxnard, California, so you aren't getting weeks-old romaine. And the longer preparation time allots some idiosyncratic dishes full of unusual ingredients that go the extra mile and make the longer wait times worth it. The "big" Salami & Kale salad uses salami from SoCal legend P. Balistreri. The Tuna Nicoise has grilled rare albacore and a freakin' quail egg on top. Lest that sound too fancy, there are more straightforward -- but equally delicious -- offerings like a fried chicken-loaded number with spinach and butter lettuce. That doesn't even sound like a salad! When you can make a salad that doesn't look or taste like a salad, you're doing something right. Maybe it means fine casual dining?
Founded: 2001 in New York City
Current locations: 39 in New York, Connecticut, Washington, DC, and North Carolina
Sample salad: The Texas Po'Boy with fried chicken, red onions, white cheddar, and romaine
Definitely not associated with that Food Network show where people make desserts out of pig blood, Chopt is set up like a Chipotle: Stand in a line (that usually stretches out the door) while patrons choose from pre-arranged salad mixes like the spicy Santa Fe with avocado and romaine or the Mediterranean Falafel, which is kind of like a Greek take on a burrito bowl. Or you can go rogue and choose from a stocked gallery of meats, veggie add-ons, and crunchy stuff. The guac is extra. Guac is always extra.
From there, they furiously chop your greens to order with what can be be described as a handled salad-scythe. Be warned though: This place is super intense -- if Sweetgreen is a contemporary, minimalist farmhouse, Chopt is a factory farm. The Wall Street location at lunchtime is like a mix of an Apocalypse Now-style Vietnam flashback and the inside of a high-volume suit factory, but it's absolutely worth enduring the chaos. It's quick. It's consistent. And it might be the best bet to truly explode nationally.
Founded: 2010 in New York City
Current locations: 15 in New York
Sample salad: The Aloha with romaine and kale, charred pineapple, hijiki, and toasted cashews
Fresh & Co. doesn't do anything particularly bold to differentiate itself from competitors as far as set-up or appearance -- it's your basic counter-service assembly line. Instead it stakes its claim in the market with subtle differences and by playing to its strengths. There's a veritable bounty of available salad ingredients representing the most prolific on this list. The salads are cheaper than most, but they still incorporate locally sourced ingredients, which is a big point of pride for the brand. In fact, it's kind of weird that Fresh & Co. can undercut the competition while keeping things interesting and surprisingly delicious.
Starting at around $7, the custom salads are definitely less pricey than most, and even though it has chef-designed options, you probably want to get your hands dirty making your own (I mean, not literally... they do it for you). Fresh & Co. has a ridiculous number of options, and this is where it truly shines. We're talking about chimichurri, turkey bacon, falafel, spinach -- both baby and adult. It's essentially a control freak's dream. And in the morning, it has a full breakfast menu stocked with everything from huevos rancheros to challah French toast, omelets, and a full hot cereal bar, just in case you aren't fully sold on the concept of salad as a breakfast item.
Founded: 1995 in New York City
Current locations: 32 in New York and Massachusetts
Sample salad: The Green Goddess with cucumber and romaine, avocado, feta, and raw sunflower and pumpkin seeds
I know what you're thinking: "I thought this article was about salad, not soup -- unsubscribe!"
Well slow down, bucko. Though soup is in the name (it's damn good soup, too), half of H&H's business rests solely on the proverbial shoulders of vegetables. The salads here are relatively cheap (usually hovering around $8 or $9) and come in the pre-made variety -- think Cajun Chicken & Avocado Cobb with smoky chipotle -- or you can make your own and pair with a soup or sandwich.
Just know these salads are a little more... basic than the others on this list. Like Kelly Rowland, they're intended to pair up with other offerings, not as solo joints. Still, they're quick, inexpensive, and taste better than anything you could whip together in the meantime. It's also a great option if you're craving a quick salad fix with somebody who wants something else. Everybody wins here. Except Kelly Rowland.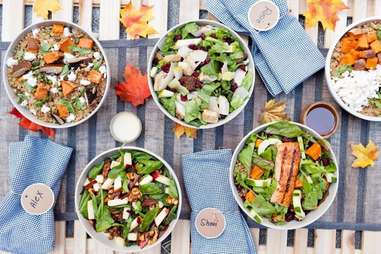 Founded: 2006 in New York City
Current locations: 30 in New York, Illinois, Hong Kong, Dubai, and Singapore
Sample salad: The Ultimate Falafel with romaine and red cabbage, cucumbers, grape tomatoes, and pita chips
The only international chain on this list, Just Salad technically doesn't live up to its name, as it offers wraps and smoothies, too. But we won't hold that against it, as we're all about diversity (and also smoothies).
The sustainability-focused restaurant separates itself from other chains with the unique category system which organizes options into themes like "health" and "value," which helps you choose among basics like Caesar and Mediterranean mixes if you're playing it safe. The "awesome" menu is just a pseudonym for salads like the Buffalo Kale Caesar, which despite containing kale also contains copious amounts of Buff chick and thinly shaved Parmesan (but not too thinly shaved -- this is the "awesome" menu after all), or the Smokehouse Steak loaded with black beans, taco chips, and steak... obviously. But even those are designed by a nutritionist, so they're still pretty damn healthy without skimping on the "awesome" part.
Sign up here for our daily Thrillist email, and get your fix of the best in food/drink/fun.
Wil Fulton is a staff writer for Thrillist. He actually blames Gwyneth Paltrow for most of the world's problems. Follow him @wilfulton.