8 Delicious Sauces You Should Be Grilling With (But Probably Aren't)
Welcome to Grillist, our annual celebration of all things smoke and fire. Join us all summer long as we get up in your grill with expert BBQ advice, insightful interviews, great recipes, and bad grilling puns -- but mostly those first three.
Masters of the grill, heed these words. Don't coat that poor, helpless piece of meat in whatever generic BBQ sauce you have lying around. It's been through enough already, and all it wants is to not be ruined before you put it through another ordeal.
BBQ sauce is great and all (well, not all of it), but it's far from the only sauce that should be in your arsenal next time you fire up the grill. These eight sauces from around the world might not be as easy to find at the corner store, but trust us: these chef-approved sauces might be the keys to unlocking flavors you never knew you needed at a cookout.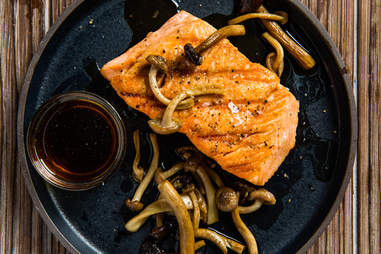 Cole Saladino/Thrillist
Ponzu shoyu
Traditionally used as a dipping sauce for shabu-shabu (Japanese hot pot meals) or tempura, think of ponzu as a citrus-flavored soy sauce, only way more complex than what would happen if you dumped lemon juice in some Kikkoman. It's made when yuzu fruit or sudachi -- a round, green mandarin -- is cooked down with other aromatics like bonito fish flakes, seaweed, mirin, and rice wine. Soy is added, which yields a final product packed with rich umami flavor and full of tang thanks to the citrus and vinegar. Oh, and nod only does it make just about anything you put it on 1,000% times more flavorful, it's also a kick-ass marinade.
Pair it with like ahi tuna, salmon, trout, snapper for best results since fish and citrus belong together, though it works pretty well on chicken, too. Its unique flavor profile works with many different types of cuisines, so you can take it beyond Japanese recipes and throw it in just about anywhere you could use a punch of rich umami and citrus --  check out these ponzu-marinated carne asada tacos -- or in its simplest form over some freshly grilled seafood.
And it's widely available, so you won't have to scour to find it... though the ubiquity means some brands are better than others.
"My favourite is the Higashimaru brand," says chef Hana Etsuko Dethlefsen, culinary instructor and author of Let's Cooking: Japanese Cooking at Home, Vol 1. "If you can't find that, the Mizkan brand is usually easier to find."
There's also this incredibly addicting looking Yuzu It sauce, which is "essentially a yuzu-chili hot sauce. It is more versatile, mild and user-friendly than traditional yuzu kosho," says Hart Lowry, executive chef at Hojoko in Boston.
If you're looking for a more refined product, you can always make your own, too. Chef Hiroyuki Naruke (aka Chef Hiro) at Q Sushi in Los Angeles recommends that you buy "any brand that is a basic blend, and blend it with kombu seaweed and bonito flake. Let it wait a few days to marinate. This will make your ponzu taste better by adding in the necessary flavors."
Chermoula
A pungent North African-inspired sauce that's commonly used in Moroccan or Tunisian cooking, chermoula consists of fresh herbs like cilantro and parsley mixed with aromatics such as cumin and cayenne along with lots of lemon juice. The final product is a sauce that can be used as a marinade or dipping sauce, but works best when used as a marinade for seafood.
The high level of acidity and presence of herbs makes this a natural partner for seafood. Use it as a marinade for white fish like striped bass, halibut or mahi-mahi, and serve with plenty of couscous or other grilled veggies for a healthy meal that's actually tasty. The ground spice gives the fish much-needed depth of flavor (sort of a cross between Cajun and Moroccoan), while the herbs and citrus keep the whole thing super fresh, taking your taste buds from spicy to tart to savory in a heartbeat.
Since chermoula relies heavily on the use of plenty of herbage, it's probably best when freshly made, though there's hope for the lazy: "I usually make my own," says chef Aaron Willis of Seattle's Ciudad Grill, "But I remember Belazu being fresh and bright for a jar sauce." Alternatively, you can always go back to Amazon to buy yourself a bottle without ever having to leave the back yard.
Cole Saladino/Thrillist
Chimichurri
God bless you, Argentina, for the wonderful things you do with steak. Chimichurri is an Argentinian herb sauce that has a nice pop to it thanks to plenty of acid. It's made by blending cilantro, parsley, red pepper flakes, garlic, and red wine vinegar, and is usually served on freshly grilled skirt steak.
The sauce itself is uncooked and is the perfect thing to use for an outdoor grilling sesh. Steak is its natural soulmate, though it also works with chicken or on grilled veggies like potatoes. It's zesty AF and can't be stopped, and should only be applied after your meat is finished cooking. These aren't the kind of herbs you want to be burning on the coals.
Lazy bones, beware: Chimichurri isn't something you'd generally want to eat out of the jar. "While we've had all different styles of chimi in Argentina, I am personally a huge fan of the fresh herb versions," says Gabrielle Quiñónez Denton, the James Beard-winning cookbook author and co-owner of Portland, Oregon steak oasis Ox.
Since you only really need a handful of ingredients, do yourself a favor and make this one at home.
Fish sauce
Fish might not be as universally beloved as chicken (shame on you all), but in its liquid form it's an unstoppable force of flavor. Like the name implies, fish sauce is made when fish -- usually anchovies -- and salt are left to ferment. The end result is a salty, pungent umami-packed sauce that's a huge player in many types of Asian cuisines, most prominently Thai and Vietnamese food. Be warned, though: While fish sauce is incredibly delicious, it is industrial-strength smelly, so try not to get it on your hands lest ye smell like an old fisherman lost at sea.
You definitely want to grill up some chicken wings marinated in fish sauce: it adds complexity to just about anything you add it to, and works really well when thrown in sauces and marinades. Something about that earthy umami flavor just makes meat want to sing. Throwing in some spicy Thai chilis to the mix yields the condiment prik nam pla, which is a fantastic dipping sauce full of tang that works especially well with chicken.
Lucky for you, there just so happens to be plenty of great store-bought fish sauces you can choose from. Chef Ian Chalermkittichai, aka Thailand's Iron Chef, suggests that folks in the US "use Squid (Pla Muak) brand because it has the best flavor out of all the available fish sauces sold in the US."
Cole Saladino/Thrillist
Sambal
Sambal is sweet, sour, and hot. It's a spicy Southeast Asian condiment made up of pureed chilis with other ingredients commonly added to the mix including shallots, fruit, shrimp paste, and fish sauce. Most commonly used in Indonesian cooking, sambal can be made up of many different kinds of chilis including bird's eye, habanero, cayenne, and lombok, a mild green-red pepper.
Sambal is a staple pantry ingredient in Indonesian cuisine, and is often paired with grilled seafood like shrimp, cuttlefish, and anchovies. Do yourself a favor and kick out your stale bottle of Sriracha out of the fridge and opt for sambal in its stead. Sambal is finger-lickin' good when paired with shrimp or on chicken skewers, but its flavor really comes through if you're brave enough to pair it with grilled squid. It also lends a wonderful kick to marinades and soups, and -- no surprise here -- elevates the humble cocktail to godly status.
"For me, it's gotta have shrimp paste, or it's not sambal," says Willis, who spent some time living abroad in Indonesia. "The Sambal Terasi Hijau by IBU and Sambal Terasi 'Homestyle' by ABC are my favorites."
If you're in love with chili paste goodness, it's also probably worth investing in some LKK Chili Bean Sauce. Executive sous-chef Victor Chong at Chicago's lauded Chinese restaurant Imperial Lamian uses the stuff as a base to create a variety of sauces including sambal and satay, which means it definitely merits a spot in your ancient kitchen cabinet.
Hoisin
Hoisin translates to "seafood" in Chinese, though you won't find any fish in this sauce. Often called "Chinese BBQ sauce," hoisin is a thick, salty-sweet sauce that you often find alongside a bowl of pho. Regional variations vary, but the main ingredients tend to be black beans (used to make the base of the sauce), chili, vinegar, and five-spice powder.
This salty-sweet combo is super versatile. It makes for a tangy marinade that you can bathe just about any kind of meat in as well as a delicious post-grill sauce for generously brushing on top of your meat. Chicken or pork work really well here, but laying down a nice hoisin glaze after cooking is a great way to soften the gamier taste of meats like duck or lamb.
As far as procuring hoisin goes, you can either buy a popular brand like Lee Kum Kee off Amazon, or head down to your local Asian food market and snag a bottle there. Either way, the Lee Kum Kee hoisin brand yields "sticky sweet, dark and rich goodness that works as a good marinade for chicken wings," according to Willis.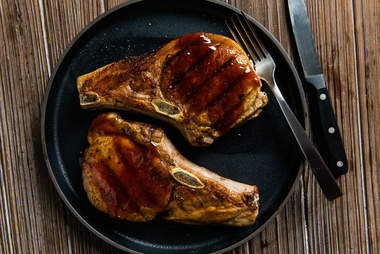 Cole Saladino/Thrillist
Plum sauce
The dark horse of the sauce world, plum sauce may not be as intricate as a mole, but it definitely deserves its place up there with the big sauce bosses. Plum sauce is a highly viscous sauce that looks a little bit like molasses. It's a sweet-and-sour condiment largely used in Chinese cooking that's made of plums, vinegar, garlic, and ginger along with a few spices like five-spice or star anise to boot.
Plum sauce is best used as a dipping sauce in Chinese cuisine, so we suggest you think of it as a glaze to apply to meat once it's cooked. The fruitiness of the sauce is a match made in heaven for pork (think grilled pork chops), and works really well with chicken and tofu, too. Serve it with some fresh scallions and cilantro to keep your dish from being too heavy.
Certain kinds of plum sauce, like the Kikkoman brand, are fairly easy to score at spots like Target and Walmart. If you want a more authentic product, chef Ken Hom, author and television presenter for the BBC, suggests using "Lee Kum Kee's Plum, hoisin and Peking duck sauces as well as their spare rib sauce" for dipping your grilled things, which probably merits a trip to a Chinatown.
Satay sauce
Indonesia continues to give the world the gift of flavor by bringing us the famous satay, a sauce made up of soy and peanuts with a few herbs and spices thrown in. Commonly referred to as just "peanut sauce," the peanuts in satay sauce are usually roasted or fried before being ground up. The spices -- typically tamarind, garlic, ginger, and lemongrass --  get their own share of pulverizing with a mortar and pestle before being added to the peanuts. One of Indonesia's most popular street foods -- called satay -- is skewers of meat that are marinated and cooked on the grill with satay sauce. It's sometimes served with rice cakes (ketupat) or jasmine rice, and is dangerously addictive.
Satay was made for grilling meats. It's used to marinate the meat before it hits the grill, with chicken, beef, and pork being the best options to suit its nutty flavor profile. Tofu also takes on its flavor pretty neatly. It's also a groovy dipping sauce, especially if paired with a little sambal for that extra touch of heat. The versatility of satay means it can be good on lots of different things; for instance, it's sometimes used as a sauce for patat oorlog, a Dutch dish that means "war chips" and mixes fries with satay, raw onions, and mayo.
You can buy satay sauce in a variety of places. Local Asian markets and grocery shops are your best bet, though you can occasionally find certain brands (like this McCormick version) in major grocery outlets. As far as the pre-made and legit brand goes, Willis is pro Tiger Tiger brand: "It's Indonesian and has a little hint of curry in it."
Sign up here for our daily Thrillist email and subscribe here for our YouTube channel to get your fix of the best in food/drink/fun.
Janelle Albukhari is a food and drink writer with a very real hoisin addiction. Follow her adventures on Twitter.
Photographer:
Cole Saladino
Food Stylist:
Jen Beauchesne