The 21 Best Sausage Spots in America
Most people might not want to go to a sausage fest, or see how sausage is made, or order it instead of bacon at breakfast, but no matter how intestine-cased or phallic-looking it is, we here at Thrillist have a deep love and admiration for the humble sausage. Few meats walk the tightrope between traditionalism and creativity quite like it, and to celebrate this dichotomy we've compiled a list of the 21 best sausage purveyors in the country.
Now before you hang us out to dry in the comments for not listing your favorite spot, we have a few caveats: only sausage-smiths that cook and serve on premises were eligible to earn a spot on this list, so those with only wholesale or retail operations didn't qualify. We view hot dogs as a unique beast of their own, and thus frankfurter-focused businesses didn't make the cut. Same goes for BBQ sausage, the exception being one Texan who is going above and beyond the traditional.
Without further ado, take a bite into this list. We're told it has excellent snap.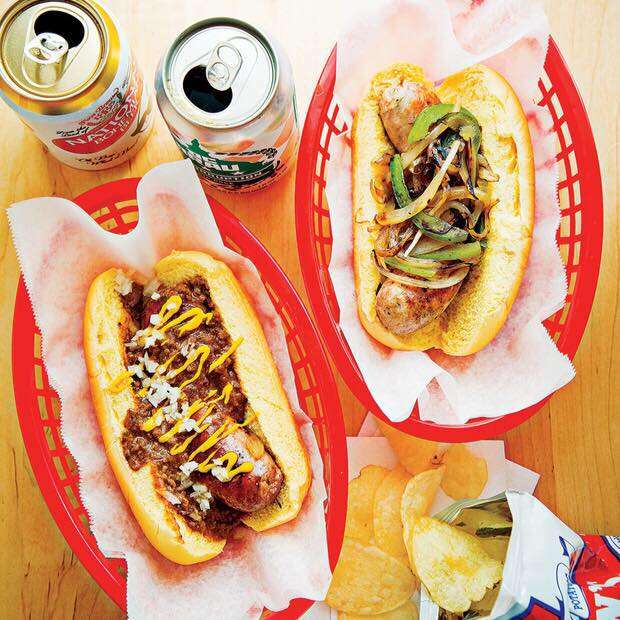 Washington, DC
The line between a hot dog and sausage is sometimes blurry, and if there's one link on this list that has a foot in each camp, it's DC's beloved half-smoke. It's no secret that we love Meats & Foods, and their half-beef, half-pork, don't-call-it-a-dog is the best in a city, with a flavor that stands up even without giving it a bath in chili.
San Francisco, CA
The girth and flavor of Rosamunde's sausages are no secret. What started on Haight St as a meaty complement to the renowned Toronado Pub has expanded to five locations (Oakland, the Mission, Williamsburg, and... Oakland), and if the jerk that called them The Next Chipotle is right, you can expect to see more locations soon. Their craft beer roots spill over in the sausage in the form of an IPA-infused beer brat, plus they offer a world tour in the form of Italian, Hungarian, and Moroccan merguez. And if none of those excite you, you can't go wrong with the apple-/cran-studded wild boar.

Peabody, MA
The Boston area's cased-meat game is no joke, as evidenced by the world-famous Sausage Guy and beloved newcomer Browyn (one of the best beer garden's in the nation!), but our pick is 20 miles north just outside of Salem in the small town of Peabody. Bavarian buffs make the pilgrimage to Karl's to pick up pantries worth of German groceries, but the most popular items are the 55 varieties of sausage, the best of which can be devoured at the in-house restaurant. Should you happen by during Oktober, don't miss the RostBratwurst that's been spiked with Sam Adams Oktoberfest.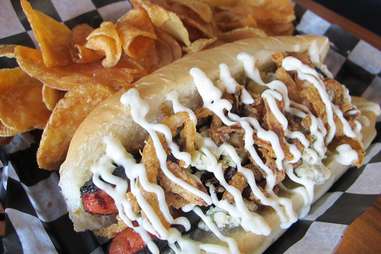 Denver, CO
Once upon a time, a former Alaskan repo guy ran a hot dog stand on Denver's touristy 16th St Mall. One food cart grew into multiple carts, and now he's got two brick and mortar locations in the Mile High area. But Biker Jim didn't become the undisputed Sausage King of Denver (why has no one trademarked this?!) by serving up boring meat. To wit: tubed meat like the rattlesnake + pheasant dressed in harissa-roasted cactus, Malaysian jam, scallions, cilantro, and onion two-ways. Or a wild boar sausage covered in wasabi aioli, caramelized apple, and shaved Irish cheddar. You can mix and match the sausage (10 options) and a plethora of toppings (5 topping combos), giving you plenty of reasons to go back.

Miami, FL
This beer hall in the middle of Miami's art district not only cranks out some of the best steaks in the city, but literally cranks out a dozen different original sausages that you can take to go or enjoy with a beer in their outdoor dining room. Highlights include a chicken sausage with plum wine, Hungarian mettwurst with caraway and paprika, currywurst, and blue cheese and fig, all of which are best enjoyed with a side of steak.
Covington, KY
Just across the Ohio River from Cincinnati, Wunderbar is an outpost of German-centricities that -- in addition to giant pretzels, beer cheese, and one of the city's best burgers -- is the area's go-to place for sausage. The menu changes regularly, and you can't go wrong with the currywurst, but if you're there for brunch, don't miss the opportunity to try the Cinn Sin breakfast staple Goetta, a pork sausage cut with oats that's a result of the city's rich German heritage and its legacy as a pork-production stronghold.

Los Angeles, CA
LA's most beloved (and most unpronounceable) sausage mini-chain started a trend... and then outlived it, thanks to killer locations, a great beer selection, and carefully sourced sausages that run the gamut from standard-but-delicious (kielbasa, bockwurst) to daring-and-oddball (mango jalapeno, duck & bacon). Plus they earn bonus points for offering five types of mustard and double-dipped Belgian fries.
Detroit, MI
You can find Corridor's creative links in over 30 restaurants around Michigan, not to mention farmers' markets and grocery stores, but for pure experience points the best place to down one of their sausages is from the 50 yard line of the Lion's Den. Their stand at Ford Field slings only a small selection of their worldly creations, which feature all hormone/antibiotic-free meats, and next-level ingredients like lemongrass and lime leaves in their popular Vietnamese chicken sausage. They've yet to announce the menu for the 2015 season, but we're hoping for a bacon & beer brats, since nothing pairs better with pigskin than pork.

Cleveland, OH
Bratwurst and kielbasa are dietary staples in Cleveland, and nobody does either better than Sokolowski's, a Tremont tradition. With respect to the wonderful Polish boy of Cleveland lore, it's really saying something when Sokolowski's remains the best Polish experience in a town with more "skis" than Aspen, and their fresh takes on kielbasa and brats are the finest you'll get in any restaurant in the city.
Portland, OR
Formerly known as Olympic Provisions -- until a certain athletic organization hilariously took issue with the name -- Olympia's wares are carried all over the west coast and beyond, and for good reason. Whether you're getting breakfast links, chorizo, brats, Italians, or fancy salumi, the Portland artisan meat-packers serve up some of the best damned sausage to hit buns and charcuterie boards in the region. But they're best enjoyed with a craft cocktail at OP's two Portland outposts, where they're also serving up sopressata, salchichon, and other wonders.

New York, NY
If you think that naming a butcher shop The Cannibal is macabre, well, you're right. But this NYC institution's no homage to human flesh, but rather a bicycle racer so fierce he devoured the competition: Belgian champ Eddy Merckx. The bike/beer/brat-themed restaurant is known for next-level cuts like half pig heads and 50-day dry-aged rib eyes, but the sausage is some of the most creative in the city, and thus the country: morcilla blood sausage topped with spaghetti squash, charred leek, & hazelnuts; a simpler smoked kielbasa with bacon & dill potatoes; a peanut-topped Thai sausage; and a lamb & feta number with Brussels, candied orange, and Chervil yogurt make the Cannibal very worthy of sinking your teeth into.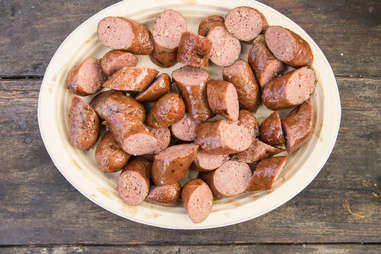 Austin, TX
Since opening his trailer in 2013, Tom Micklethwait has climbed to the top tier of Austin's much-debated barbecue scene, with his brisket earning rave reviews from our local expert and beef ribs taking home the alt weekly's first inaugural beef-rib smackdown trophy. Those accolades aside, you might argue that mainstays like Meyer's Smokehouse in Elgin or Kreuz in Lockhart make the best smoked sausage in the state. You can't argue with the historical legacy of those joints, but we gave Micklethwait the nod because his daily cased offerings transcend the typical BBQ sausage with unusual meats like duck with cherries or pork belly andouille, which are worth the trip alone.

Dallas, TX
Karl Kuby's recipes date back to the 1700s, and since opening in '61, he's been a fixture at the shop. But these days the captain of casing is certified master German butcher Dieter Probson, who stocks the retail cases with 16 types of sausages, seven of which are available at the attached restaurant. You can't go wrong with any of them thanks to Probson's six years of sausage schooling, but the favorite is the grilled weisswurst, a traditional veal and pork link that's pale in complexion and dotted with subtle herbs like parsley. There's no better excuse to clang steins before noon.
Milwaukee, WI
Milwaukee is so serious about brats that the humble sausage has inspired court battles, so we knew they'd have one of the best in the country. Despite the city's wealth of established sausage slingers, our hat tip goes to the newbie Vanguard, whose nutmeg, coriander & beer pork brat is not to be missed. The classics are great, but what sets them apart are the more experimental moves like seven options styled after cities (from the Pittsburg with vinegar slaw, fries & ranch to the garlic-loaded Transylvania), plus beer-paired chef's creations like the Indian Kilig or Southeast Asian Thai Breaker.

Chicago, IL
This Polish meat market isn't just content to serve unparalleled kielbasa, it's got range across a number of sausage styles from German knackwurst to Swiss Landjäger mysliwska to Sheboygan brats. The downstairs shop has a spectacular variety of meat products, and the upstairs rooftop patio is primed for summer beers and grilled sausages. Order up an alpine sausage: a twice-smoked garlicky keilbasa, with housemade kraut, knishes and potato pancakes. Actually, order two.
Atlanta, GA
Specializing in perhaps the most overlooked protein in the canon of cased meats, Delia's is a fowl-focused stand in Atlanta that pivots away from Georgia's fried-chicken biscuits and serves sausages dressed in a surprisingly robust number of styles that range from traditional offerings like the Champ (kraut and sweet mustard) to dogs in sheep's clothing like the Philly (onions, peppers & whiz on a hoagie), and insanity like the grilled Krispy Kreme Double D Delight. Plus, for those who prefer grilling their own, Delia's chicken links are also sold at damn near every Kroger in town.

Pittsburgh, PA
Just west of Pittsburgh's Polish Hill neighborhood, S&D was started in 2008 by a couple of recent immigrants who were unable to find their favorite foods anywhere else in town. After building a clientele hungry for dried Polish mushrooms and candies they loved during childhood, S&D built out a kitchen serving a nostalgic menu of pierogis, borscht, and most importantly, a smoked then grilled kielbasy with a side of beets, horseradish, and mustard (from Poland, of course).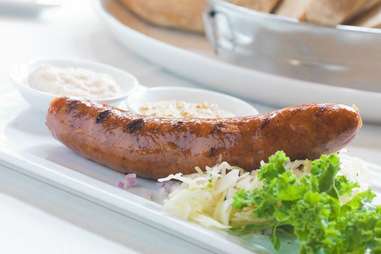 Kansas City, MO
You can score a solid sausage at almost any BBQ joint in Kansas or Missouri, but it's rare to find a KC masterpiece that perfectly channels the taste of Vienna. Nobody does Austria better than Grunauer, which is fitting since the family behind the massive hall of beer and brats has been operating a similar restaurant in Vienna since 1957. Andouille, currywurst, veal kalbsbratwurst, cheddar filled kasekrainer, and a brat loaded with Tommyknocker pale ale round out the sausages on the menu. We suggest you wash them down with a Helles from local German-minded ale-slingers KC Bier Co.

Hamtramck, MI
A small, largely Polish and Eastern Euro city within the city of Detroit, you won't get a meal more wonderfully Warsaw than the one you'll get in this great little basement spot, where families -- we're talking, like, three generations at a a time -- gather for gigantic chunks of kielbasa, plus stuffed cabbage, pierogi, and enormous boombas of beer. And while the humble sausage offerings here aren't as diverse as some of the others on the list, it's the simplicity of this joint that makes it fantastic. Plus, if you must continue your sausage quest, there are a ton of Polish delis nearby. If you can move.
Seattle, WA
Apologies to tubular meat mainstays like Uli's Famous Sausages, or Shultzy's, but this cavernous former furniture warehouse is by far the coolest place in Seattle to slam some 'sage. The massive 420-seat beer hall with two elevated mezzanine-style sitting areas, a "bier den" tricked out like some grandiose Bavarian hunting lodge, plus a pair of bars and five indoor bocce courts is a spectacular place to hang out for any occasion, but we're talking about sausage here, and they've got it in spades. The sauerkraut- and-horseradish-sided plates of keilbasa, frankfurters, bratwurst are all made from scratch on-site, which is definitely (sorry about this... ) the wurst way to get it.

Lafayette, LA
In Cajun country, boudin is king (andouille is its noble queen!), and Johnson's rules Louisiana with a recipe that dates back to 1937. When the original Johnson's in Eunice closed in 2005, locals mourned the loss of their favorite sausages, but they were reborn thanks to architect-turned-pitmaster Greg Walls, who married into the Johnson family and reopened a new restaurant smoking a KC-influenced style of barbecue with Louisiana undertones. The boudin's hearty snap, generous meat-to-rice ratio, and punch of spice make it stand out from the pack, as well as their signature preparation: the Parrain Special, a sausage-stuffed grilled cheese named in honor of the Godfather of Boudin.
Sign up here for our daily Thrillist email, and get your fix of the best in food/drink/fun.
Dan Gentile is a staff writer at Thrillist. He loves sausage fest jokes as much as the next guy, but not as much as the next guy, or the next guy, or the next guy. Follow him to more cased-meat jokes at @Dannosphere.