The 11 Essential Sausages for Summer Grilling
Ten out of 10 Midwesterners agree: sausage is the best summer grillable by leaps and unreasonably friendly bounds. Almost every culture has its own form of sausage: an important, calorie-rich staple first invented as a means to keep meat fresh and consumable before the advent of refrigeration. Even though modern-day humans exist in a time of unparalleled technological convenience, sausage still accounts for a huge part of the everyday American diet -- according to the National Hot Dog and Sausage Council (which is a real thing that exists), we spent $3.85 billion on the salty links in 2015 alone. That's a lot of encased meat.
Naturally, no two sausages are created the same. But the sausages on this list -- ranging from commonplace grocery-store buys to butcher-shop specialties -- have one thing in common: they're the most important tube-steaks you can put on your grill.
Bratwurst
Second only to beer, bratwurst is hands-down one of Germany's most valuable and widely appreciated culinary contributions. A durable, no-fuss griller, brats are generally made from some combination of veal, pork, and beef -- or (less traditionally -- and, to be honest, less deliciously) turkey and chicken -- and come in a wide range of flavors and varieties. OG brats are beautiful just as they are, of course, but those inclined to branch out should try Nürnberger Rostbratwurst (small marjoram- and cardamom-infused pork links), Coburger Bratwurst (made with nutmeg, lemon zest, and coarsely ground beef or veal), and American-made gems like cheddar & beer brats.
Knockwurst
Tender veal and pork come together in holy, garlicky matrimony in this lightly smoked, natural-casing German sausage. The short & stubby pre-cooked links are easily found in most US grocery stores and only take a few fiery minutes to reach peak skin-snapping readiness. Juicy and succulent, grilled knockwurst can be enjoyed on its own with mustard and sauerkraut or chargrilled, split down the middle, and served on a slice of crusty bread.
Italian sausage
Here's a fail-safe formula for hosting the best cookout ever: head to the market and purchase an assortment of both hot and sweet Italian sausage links, red bell peppers, banana peppers, onions, and crusty semolina sandwich rolls. Slice the veggies into strips and douse them in olive oil. Fire up the grill and toss on the sausages, peppers, and onions. Toast the rolls, grill the meat and veg until thoroughly browned, throw it all together with some banana peppers, olive oil, salt, and pepper, wipe your hands on your "Kiss the Chef" apron, crack open a beer, and watch everyone at the party instantly fall in love with you.
Kielbasa
No matter how you slice it, kielbasa is admittedly kind of... basic. But you know what? The Polish mainstay is also super, super easy. All you have to do is choose your flavor (pork, beef, veal, chicken, lamb, turkey -- you name it), drop a few dollars on it, free it from its shrink-wrapped plastic, haphazardly throw it on the grill, and in no time you're digging into a thick, salty piece of meat that smells like almost every backyard shindig anyone's ever attended. It's unlikely to impress a single carnivorous soul but, hey, if it ain't broke, right?
Andouille
Not only is this spicy Cajun specialty sausage the heart and soul of any good gumbo, it also makes a mean grilled sausage all on its own. Andouille is usually made from a combination of pork, paprika, black pepper, and other spices, though some varieties incorporate lean alligator meat into the mix which gives the meat a subtle, pleasant gaminess. Smoked over sugar cane and pecan wood, this bayou bad boy comes alive over an open flame and should be browned over high temperatures.
Sai krok isan
Bite into a perfectly grilled sai krok isan and you'll immediately be glad you trekked out to your local (or not-so-local) Asian specialty market to get your paws on one of these uber-popular Thai street snacks. Sai krok isan is fermented, which sets it apart from its fellow bangers by giving it a briny, funky flavor. That sour tinge provides a superb counterpoint to the sausage's smoky spice factor, earthy fish sauce, and soft, pre-cooked sticky rice, plus the small, squat links make an ideal sandwich stuffer. Add fresh, crisp cucumbers, a handful of roasted peanuts, and a drizzle of chili-based hot sauce and you've got yourself a damn good meal that's likely to impress. Especially if you can somehow pair it with jelly beer.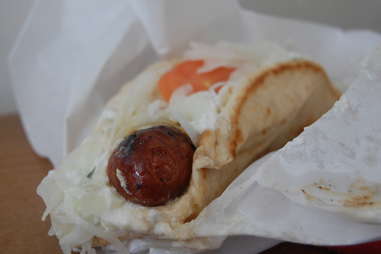 Loukaniko
Loukaniko is a smoked Greek pork sausage teeming with any number of bright Mediterranean flavors like fennel seed, thyme, coriander, or zesty orange peel -- kind of like a robust Belgian saison in meat form. Grill this one directly over medium-hot coals until it attains an even, crisp char that brings to life all those lush, fragrant spices hidden inside the casing. Once it's good and crispy, pop it into a pita with some fresh veggies or slice it up and serve it mezze-style with spicy pickled peppers.
Duck sausage
Most commercially available duck sausage brands blend duck meat (smoked or unsmoked), ground pork, and a bit of duck liver together with fruit (apples, oranges) and spices (garlic, fennel, sage, juniper) while some booze it up with brandy or Curaçao. This sausage might be a bit pricier than some of its mammalian counterparts, but the supple, buttery texture and rich, slightly sweet tang it brings to the table is well worth the extra bucks. Besides, everybody loves the guy who shows up to the neighborhood BBQ armed with an eight-pack of smoked, brandy-dipped duck sausages, right?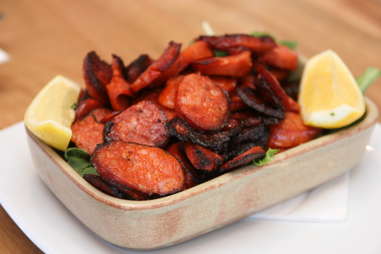 Chorizo
Chorizo is one of those versatile beauties that takes well to just about any cooking method. Pan fried, simmered in beer or cider, oven roasted, or grilled over medium-high heat, this deep-red, spicy Spanish favorite is a year-round crowd-pleaser. On the grill, keeping these smoky, paprika-heavy links whole and unpunctured traps all that rich and tasty flavor inside while a careful browning allows some of the sausage's signature grease to drip off. Serve with lemon alongside roasted potatoes, good bread, and olive oil to casually transform any cookout into a tapas bar.
Merguez
The only lamb-filled sausage to make the cut, merguez is a long-standing Middle Eastern and North African staple sausage, often served drenched in hot and/or yogurt sauce and stuffed into a soft pita, street meat-style. Inside, hearty ground lamb is heavily dosed with cumin, sumac, garlic, fennel, and harissa (a spicy African spread) before being stuffed back into a sturdy lamb intestine (there, I said it) casing. Merguez is especially fun to make at home, since it thrives on low-and-slow indirect heat -- the key to producing the most lusciously lip-smacking sausage possible -- and you can satisfy your halal hankering without having to wait in line with a bunch of miserable office drones. Also, it tastes amazing.
Linguiça
Seasoned with a heavy hand of smoked paprika, cumin, and garlic, pork butt-based linguiça is the sausage of choice in Brazil, Portugal, and, curiously enough, much of New England thanks to a well-established Portuguese immigrant population (see Mystic Pizza for reference... also, for a wonderfully fulfilling movie-watching experience). Its flavor and consistency are reminiscent of a thick-cut pepperoni and it comes in both a mild and spicy Calabrese version infused with potent South American peppers. This is no light afternoon fare, mind you -- linguiça is thick and hearty, traditionally served over rice with beans and stewed greens, and might not be the best choice for the faint of heart (or for the high of blood pressure).
Sign up here for our daily Thrillist email, and get your fix of the best in food/drink/fun.
Meredith Heil is a staff writer for Thrillist. She's on her wurst behavior. For more lyrical genius, see @mereditto.