It's summertime, the livin' is easy, and seafood shacks are throwing open their doors. There's no better way to consume the fruits of the ocean than with a paper plate on your lap, the wind in your hair, and creaky floorboards beneath your feet. What the following seafood joints lack in ritz they more than make up for in character, legend, and, of course, lobsters, shrimp, crabs, and various other delicious lower life forms. Forget restaurants, and hit our round-up of the 21 best shacks.
Recommended Video
Here's Our Travel Guide to This Nation of Over 7,000 Islands
What you're getting: Halibut and chips
Though the primary reason to visit Tides Tavern is the seafood, that its owner through the '60s and '70s was a Jerry Garcia look-alike named "Three Fingered Jack" is up there. It opened as a general store in 1910, but party times began with the end of Prohibition. The current iteration -- seafood on the deck, live music, and great burgers for that weird friend who hates seafood -- dates from current owner Peter Stanley's reconstruction project in 1973.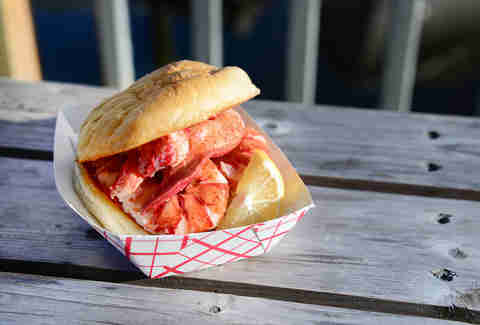 What you're getting: Lobster rolls. Lots of them.
No one likes to wait in lines. Especially lines famous enough in Maine that nearly everyone mentions them at some point if you come through Kennebunkport. But the thought of getting that sweet hand-picked-meat lobster roll (and maybe some fried dough for dessert) from a tiny shack in one of the most beautiful parts of the world, and then posting up on a lobster crate and watching the seagulls swoop in on unsuspecting tourists to take a piece of their hard-earned roll for themselves, seems to make it all worthwhile. Just remember: keep your head on a swivel.
What you're getting: Oysters and more oysters. Bowens pulls them from the marsh out back each day, and has an all-you-can-eat table where you can order them by the literal shovelful.
Deliverance was set in Georgia, and did not feature a seafood restaurant. BUT, if it had, it would surely have been Bowens Island. Cab drivers been known to drop patrons off early out of sheer terror before reaching this graffiti-covered, well, shack, on the edge of a creepily quiet peninsula. Those who make it can expect Charleston's best no-frills seafood and cold local beer.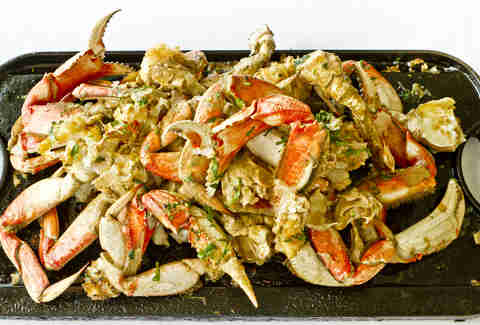 What you're getting: Garlic-roasted Dungeness crab or the cioppino
It started in 1861, so you can excuse the fact that the neighborhood is more industrial now and off the water and any tourist trap path. But that just makes it all the better when you spot the giant clam sitting on the roof, and you go in and see the blue- and white-checked tablecloths, and get that sourdough kettle bread with hot clam broth to dip it in. The menu is big, but really you have two choices: get the garlic-roasted Dungeness crab, or opt for the local cioppino, thick with mussels, squid, crab, and what seems like infinity fish. Oh, and no trip is complete without their own Milwaukee steam beer (and maybe a little more of that bread).
What you're getting: Uh... the fried clams?
At more than a century old (1914), Woodman's claim as inventor of the fried clam and clambake pioneer has more credence than most. Founder Lawrence "Chubby" Woodman's first attempt at the fried clam was in 1916, at the "humorous suggestion of a friend," proving that humor and seafood have both come a long way. He also invented a no-beach-required mobile clambake system, whereby he loaded everything onto a truck, and drove out to hungry hordes all over New England to cook the clams over a wood fire. Chubby's third- and fourth-generation family members continue to run the clambake catering business and restaurant, and 25 of their 80 employees have been clocking in for more than 30 years!
What you're getting: Crawfish. Unless you're the type of person who tries to order a grilled cheese at a sushi joint.
Appropriately for a seafood shack/barn located in Vermilion Parish -- "the most Cajun place on Earth" according to the Census Bureau -- Big John leans heavily towards the boil. You could order something else from the menu, but know that it's a mere formality and you risk looking like a weirdo. Orders are by the pound (3, 5, or 10); prepare your sauces while you wait. It's only open through crawfish season, which is roughly November through May, and is just the perfect filler for when those lobster shacks shut up shop.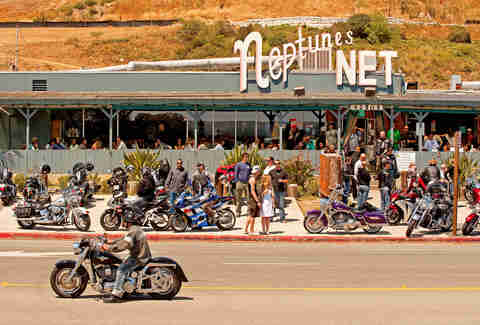 What you're getting: Go "restaurant" side for the clam chowder.
To steam or to fry? That is the eternal seafood question. At Neptune's Net, you can literally pick a side, as the restaurant is split into two, with a side dedicated to each. While this may not be ideal for dates, you may be too enamored with the view across the Pacific Coast Highway to the ocean to care. It's so pretty, in fact, that you must just recognize Neptune's Net from a bunch of movies, from Iron Man to Point Break.
What you're getting: The Dynamite poke bowl. Believe the hype.
It's tiny and located within a condo complex and may look like a place to leave your spare key, but its Japanese-influenced seafood bowls and Hawaiian beer beat out even the most upscale contenders. There are eight different kinds of poke to choose from, but the move is really to go with the spicy Pele's Kiss, or the avocado aioli-topped Dynamite. And maybe get some of that fresh, fresh sashimi while you wait.
What you're getting: The Shack Specialty shellfish platter -- all the shellfish that comes in just off the pier where you're eating, plus all the corn, potatoes, and sausage of a Low Country boil.
Like they were hell-bent on becoming the inspiration for a Jimmy Buffett song (more on him later), in '83, the now-owners of The Crab Shack saw an ad for a fish camp, bought it, left their lives in Atlanta, got their boat captain licenses, started charter-fishing operations out of the marina, and then, eventually, launched The Crab Shack. While it sounds like a gamble, starting a seafood shack at a large fishing camp on a city-island, teeming with Atlantic seafood, is a very smart move indeed.
What you're getting: Fried shrimp
When life hands you lemons, make lemonade. And when Hurricane Hugo hands you a wrecked trawler, open a restaurant, with its very name, on that very spot! The Wreck overlooks Shem Creek and is most definitely shack-like in its "take it or leave it" stylings: there's no air-conditioning in the screened-in dining room, and it's worth calling ahead as it keeps irregular hours, only recently started accepting credit cards, and doesn't take reservations, check-splitting -- or any of your nonsense.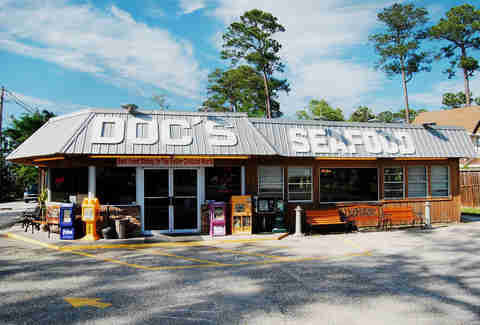 What you're getting: Fried shrimp -- as often as possible.
We think Orange Beach should give Doc's, which sits underneath the light where Highway 161 T's with Canal Road, a tax cut: there is no stronger inducer of end-of-vacation blues than being forced to sit and stare for half an hour at the place that served you the best damn fried shrimp and crab claws of your life. You will come back to Orange Beach and to Doc's and you'll sit at their long, ruddy tables and order a 1/2 dozen giant, briny Gulf oysters and then a basket of crab claws for your table and then those fried shrimp, and you'll wash it down with a cold bottled beer. And later in the week you'll curse your sunburn and the sand still stuck to your car seat while you sit at the light, and you'll stare at Doc's and the whole process starts over again.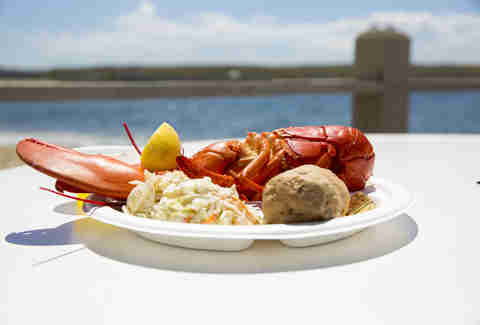 What you're getting: Steamed lobster, rolls, and salads. Quickly.
Change is coming to Duryea's, an 80-year-old institution that has technically changed hands, but will remain under current management, with the same menu and prices, for one more summer due to last year's off-the-charts profits. So there's even more reason to make the trek here for Maine and Canadian lobster, clams, and shellfish. All are served up for retail, wholesale, and in-your-face-now on the 70-seater deck, famed for its sunset views over Fort Pond Bay. While those won't change, a high-end seafood restaurant is next, so catch this shack while you can.
What you're getting: Stuffies and a mixed crab bowl
It sat out over Fort Point way before sitting out over Fort Point was a thing. Its yellow and red tent can be seen for miles, and when you see people filling it, stretching out along those communal tables dotted with paper towel rolls and Tabasco, you know that summer has returned to Boston and that is indeed a great thing. Start with the quahog, chourico (Portuguese spelling!), and Ritz cracker "Stuffies," and move onto the crab cake slider sandwich if it's lunch, or throw on a bib and make yourself gleefully messy with a mixed crab bowl, then Water Taxi back to whence you came.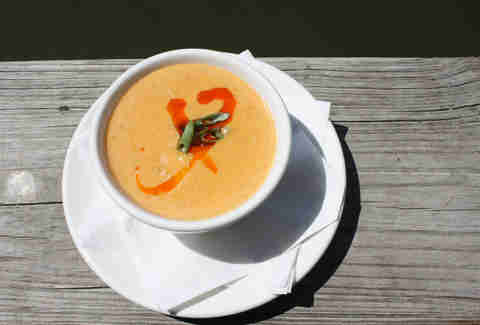 What you're getting: Steamed hard-shell crabs aka "Jimmies"
Bubba's current owners, of 28 years, know a good thing when they see it; they retained the original name -- which was also the previous owner's nickname. Seafood doesn't get more "locally caught" than this, where fishermen park right on the restaurant dock on Lynnhaven Inlet with fresh hauls from the Atlantic Ocean and Chesapeake Bay. Watch your food arrive, and the sunset, from the waterside tables while you munch on shrimp, lobster tail, and the killer crab cakes, which are put together every morning from fresh blue crab meat. The only downside with being directly on the water? Hurricane Sandy all the way down to regular storms and high winds can put the deck out of commission. But temporarily -- this expert clean-up team keeps on truckin'.
What you're getting: Clamcakes and the fried clams
If you're a kid, a trip to Flo's often results in finding yourself awkwardly entranced by the lady clam mascot in the tight red dress. As an adult, you're often fascinated by the history of Flo's, which mainly just tells the story of the many hurricanes (curse you Carol, Donna, Gloria, and Bob!) that have knocked it down over its almost 80-year existence, only for it to re-emerge stronger, or at least with more expensive windows. There is only one way to do Flo's, and it involves getting half-a-dozen clamcakes, and their fried clams, with a delicate breading and homemade cole slaw. Just watch out for those hurricanes.
What you're getting: Smoked salmon jerky
Half of everything at Cannon Beach is named "Ecola"-something, from the Chinook word for "whale," so be sure to ask specific directions to this seafood shack or risk ending up at a gas station. It's a family affair, and has been for the past 22 years; they fish the Washington and Oregon coasts daily, so you can be sure that whatever is on your plate was swimming a very short time ago. Unusually for a seafood shack, Ecola is open 363 days a year, for whatever "seasons, weather and fisherman's luck" is serving up. You should hope it's salmon and halibut.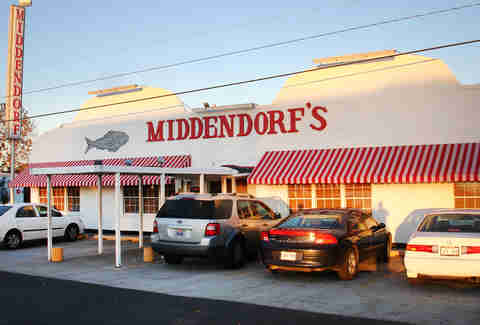 What you're getting: Fried thin catfish
You've probably had fried catfish before: it's a simple dish, easy to make with a few spices and breading thrown onto a thick slice of the river fish before it hits the fryer. But if you haven't had it at Middendorf's -- a restaurant in a fishing village that barely exists -- then you have yet to discover just what catfish can taste like. The restaurant cuts their catfish wisp-thin. It's salty and flaky and piled so high on the plate. You'll want to tuck your napkin into your shirt and have your bottle of hot sauce close at hand. And maybe also go ahead and look up fish filet lessons because you'll never be able to eat other catfish again.
What you're getting: Did we say every kind of oyster dish?
You will see other larger oyster companies en route to The Marshall Store up in Tomales Bay, and you will be inclined to say, "Wait, those places are crowded and popular looking! Maybe I should go there." But that would be a mistake. Instead have your party find a spot at one of the tables sitting on barrels overlooking the bay, go in and grab a six-pack or some wine from the refrigerator, and order up every kind of oyster (fresh from their farm right there) dish they make. No joke, you need to get all six: the raw, BBQ, chorizo, Kilpatrick with bacon & Worcestershire, Rockefeller, and the smoked. They have other things and they are delicious (particularly the fish tacos), but pay them no mind on that first visit. You have some oyster-based work to do.
What you're getting: Picnic-style lobster by the shore, or "in the rough." There is a smattering of tables inside, but... summer.
Abbott's Lobster encourages fever-pitch excitement by counting down to the first lobster of the season on its website and it works: lobster fiends from all over the country are known to camp out for days, in anticipation of that first taste of crustacean. But know that this counter-service, BYOB restaurant's steamers, stuffed clams, and chowder are also not to be missed, as more than 100,000 visitors per year and a bunch of food writers can attest.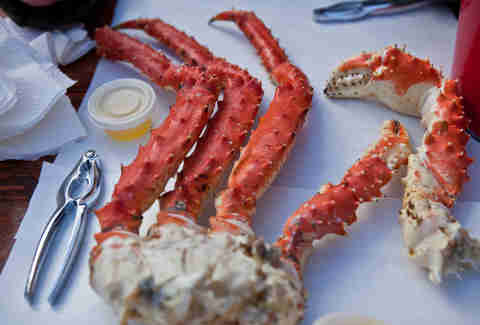 What you're getting: You can't go wrong with a bucket of crab legs, but be sure to grab some bisque.
Jokes, as well as dreams, can come true. Just ask Tracy LaBarge, a Juneau transplant who used to joke about selling crab legs from a hot dog cart (look, it wasn't a coherent plan yet). Fifteen years later, the real-life result goes way beyond, with the "best legs in town" and award-winning king crab bisque.
What you're getting: Gumbo, calmly.
Lucy "Lulu" Buffett's brother Jimmy -- yes, that Jimmy -- has his "Parrotheads" but with more than 75,000 visitors per year, Lucy's fan club is pretty sizable too (need we mention that this place doesn't take reservations?). The motto here is "Keep calm and eat gumbo," but their take on a classic, peel 'n' shrimp, is also a major point of pride, as are the fried crab claws, which are grandma Buffett's recipe.
Sign up here for our daily Thrillist email, and get your fix of the best in food/drink/fun.