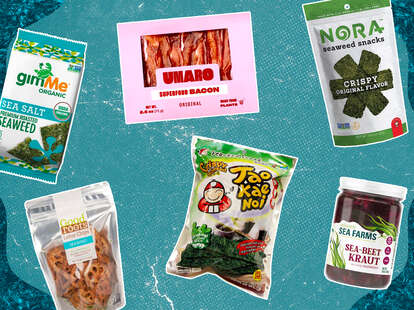 Design by Maggie Rossetti for Thrillist
Design by Maggie Rossetti for Thrillist
Seaweed snacks are nothing new. These marine greens have been filling shelves at health food stores, taking up room in kids' lunchboxes, and, of course, have been a staple of Japanese cuisine for many years. In fact, the direct-to-consumer market of seaweed snacks is poised to keep growing over the next decade.
Now producers are getting innovative, going above and beyond the typical nori chips we've come to know and love. Take Berkeley, California-based Umaro Foods, which is using purified protein extract and plant-based oils from ocean-farmed red seaweed to make its version of crispy bacon.
"We didn't set out to make bacon, but we were playing around with textures in the lab and it just worked," says Umaro CEO and co-founder Beth Zotter, who has a background in renewable energy and got a grant from the Department of Energy to build offshore seaweed farms. "We dehydrate the seaweed, infuse it with sunflower oil, and you get this release in your mouth of all the oil when you bite into it. We've really nailed that bacon texture."
Beyond the taste, Zotter points out that seaweed is an incredibly sustainable resource. These products don't require any fresh water, land, or fertilizer to create and there's a seemingly unlimited supply of ocean to build seaweed farms, which is why organizations like World Wildlife Fund and The Nature Conservancy have recently backed them.
"You're creating a managed forest, and a lot of ocean creatures like to hang onto seaweed," she says. "Most of the ocean has no substrate for mussels or oysters. As soon as you put something there, you can think of a seaweed farm as another artificial reef."
Edible seaweed also boasts a string of health benefits. According to a recent study, nutrients include vitamins B, C, E, and K, omega-3 fatty acids, protein, amino acids, and 10 times more minerals (like iron and calcium) than land-based plants.
"We don't see this as a niche application," Zotter says. "Our company is built on the vision that seaweed will one day supply the bulk of our protein needs."
All the more reason to get snacking. From bacon to chips to kraut, here are some of the most creative—and delicious—ways to add edible seafood into your diet.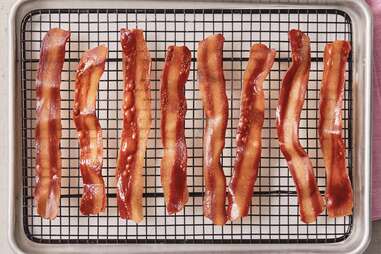 Currently Umaro is testing its bacon in restaurants around the country, including San Francisco's Sorrel Restaurant, New York City's Egg Shop, and Nashville's D'Andrews Bakery and Cafe. The product, once cooked and crisped up, makes for an ideal addition to a BLT or a BEC breakfast sandwich. The plan is to eventually roll out in grocery stores, but for now consumers can find the nearest location where Umaro bacon is sold on this map.
If straight-up, high-quality seaweed squares are what you're after, then Gimme is a great go-to. Available on Amazon, in Target, and at other major grocery stores, the company's organic, non-GMO seaweed snacks come in Sea Salt, Teriyaki, and Wasabi.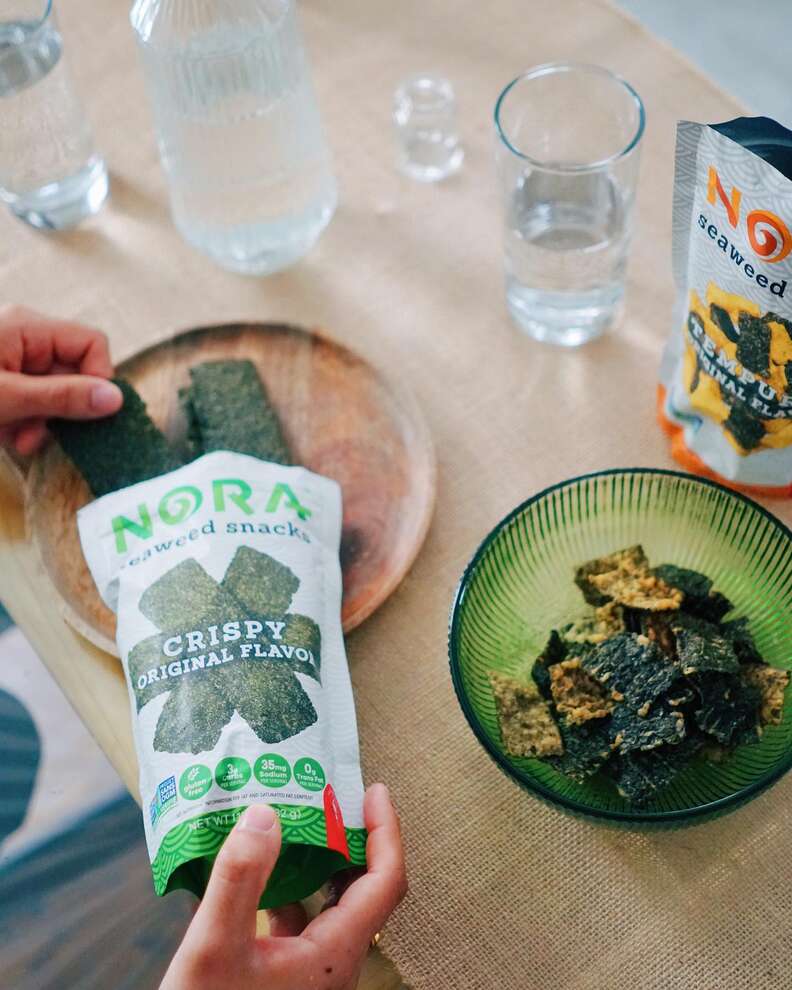 Trips to Thailand, Korea, Japan and China inspired the snack brand Nora, which has products available in Whole Foods and other organic markets around the country. The snacks come in varying spice levels and also include the option of tempura for an additional crunch. They work well as toppers on salad, ramen, or sushi rolls.
For the ultimate in guilt-free chip snacking, try Good Roots Lotus Chips made from lotus flower blossoms. There's one flavor that includes seaweed flakes for an extra salty kick without the briny flavor. Every chip (sturdy and ideal for dipping) is loaded with vitamins, minerals, protein, and a ton of fiber.
For something a bit different, try the Sea-Beet Kraut from Atlantic Sea Farms in Biddeford, Maine. The oceanic seaweed is combined with ginger and beets to make a burgundy-hued sauerkraut great on sandwiches, eggs, harvest bowls, and hot dogs. Check local organic markets (like Whole Foods) for availability.
We're a sucker for the bold packaging and 10 unique flavors of the California-based Tao Kae Noi seaweed snacks. Varieties include Sriracha, Thai Curry Crab, Tom Yum Goong, and Sour Cream & Onion. Plus, we love channeling our inner '90s kid while we snack on the brand's Fruit Roll-Up-like grilled seaweed rolls.
Jess Mayhugh is the editorial director of Food & Drink for Thrillist.