Food Collection/Shutterstock
Food Collection/Shutterstock
With summer in full swing, we trust you're taking advantage of all the season has to offer, from road trips across America to poolside hangouts and backyard BBQs. Each is an excellent way to spend the year's warmest months, but the latter is the only proven means of adding more bacon-chipotle potato salad and dressed-up deviled eggs to your life.
Hosting a cookout is a noble endeavor—and a lot of work. However, attending a cookout as a guest is the platonic ideal of outdoor hangs. That said, you shouldn't show up empty-handed, and while cold drinks are always appreciated, sometimes you're enlisted to help feed the crowd. When the occasion arises, it's smart to have a few tried-and-true dishes at your disposal, whether it's a beloved family recipe passed down through generations or a simple dessert you saw on TikTok.
These are 10 great dishes to bring to your next cookout, each more interesting than it has to be. Because everyone gets excited about skillet blueberry cornbread, but no one's ever said, "Yay, so-and-so brought napkins."
Bacon-Chipotle Potato Salad
The world deserves good potato salad. That includes your host, friends, strangers, and anyone in your orbit, so skip the sad, store-bought tub and spend 30 minutes making your own. Potato salad comes in numerous varieties, from mustard-based to mayo-spiked, and, like many foods, it only gets better with bacon. Make this version featuring mayonnaise and sour cream, plus Dijon mustard, hard-boiled eggs, crispy bacon, and chipotle hot sauce, and you'll have a crowd-pleaser on your hands. It's creamy, spicy, and a perfect accompaniment to the typical cookout menu of burgers, brats, and other summer classics.
Skillet Blueberry Cornbread
There are as many cornbread recipes as kernels of corn in this world. That's not true, but the sentiment holds. Most recipes lean traditional, merging cornmeal with buttermilk and eggs, but you don't have to stop there. Case in point: this show-stopper of a blueberry cornbread that's made in a cast-iron skillet. It features fresh blueberries and an optional dose of sugar for a sweet-and-savory treat that will please everyone from grandma to your boss' kids. Cook it in a skillet over fire, or just throw it in the oven and you can serve it in the same pan. It looks good, tastes great, and stands out on a crowded table.
Watermelon Salad
Attend a watermelon-free cookout at your own peril—it's a conspicuous omission if this hydrating fruit isn't available on a hot summer day. Now, no one would fault you for bringing a huge dish of diced watermelon; you'll be a hero to many. But if you'd like to take things up a notch, incorporate that melon into a simple salad. It pairs well with herbs like mint and basil, so start there. Add feta cheese, toss with a citrusy vinaigrette just before serving, and call it a day. The fresh watermelon, cooling mint, and crumbly cheese combine to form the perfect bite, and the pops of color add brightness to any plate.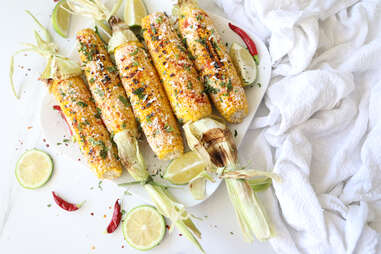 Elotes
Mexican street corn, a.k.a. elotes, is arguably the best way to eat corn and anyone who argues otherwise has never eaten it. Corn on the cob is grilled, seasoned with chile and salt, slathered in mayo or crema, and then dusted with cotija cheese and a squeeze of lime. Delicious. Serve whole cobs for a classic presentation, or turn the dish into esquites by slicing the corn off the cob and serving it in a cup with all the same toppings. The latter is easier to eat, especially if you're standing poolside with a plate in one hand and a drink in the other. But nothing beats the presentation of freshly grilled elotes.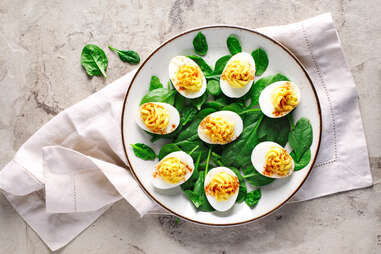 Deviled Eggs
If you see people huddled around a serving platter, chances are high that deviled eggs are involved. These tasty snacks walk the line between light and heavy, and no cookout can't benefit from its presence. When game-planning your options, you can go traditional, combining the yolks with mayonnaise, mustard, and vinegar before scooping the filling back into the halved egg whites and topping the delightful package with paprika. But deviled eggs are great vehicles for creativity, as evidenced by versions that incorporate everything bagel seasoning and eggs that mimic Bloody Marys. So, don't hold back. But do throw a little caviar on top if you're feeling fancy.

Much like those nostalgic red, white, and blue popsicles that were summertime staples when you were younger, these new Smirnoff flavors will be your go-to adult beverages this summer. We're especially loving the Red, White & Berry flavor—it's infused with notes of cherry, citrus, and blue raspberry that's refreshing on its own or served with your favorite cocktail.
Please Drink Responsibly. The Smirnoff Co., New York, NY
Spicy Smashed Cucumbers
Fresh vegetables provide a welcome foil to rich meats and heavy starches, and few vegetables are fresher or tastier than spicy Chinese-style cucumbers. The dish can be customized in multiple ways, but many classic preparations feature sesame oil, rice vinegar, soy sauce, garlic, and red pepper flakes. Start by smashing the cucumbers with your hand or the flat side of a knife, toss with a pinch of salt, and let them drain for 20 minutes in a colander. This will release some of the water and keep the veggies from being too liquidy once you add the sesame oil, rice vinegar, and soy sauce dressing. Add chile flakes for spice and toasted sesame seeds for crunch, if you enjoy such things, and you're good to go.
Chile-Spiced Fruit Cups
We owe Mexico a debt of gratitude for countless foods and preparations. That includes the fresh and spicy fruit cups found at markets, stands, and fruterias across the country. There's no one formula for recreating this combo, but you can't go wrong with pineapples, mangoes, and strawberries. Top the fruit with chile powder and a squeeze of citrus—or make it extra easy and use Tajín. The packaged seasoning features salt, chile, and dehydrated lime, adding a punch of flavor to fresh fruit and giving you a side dish that's more interesting than plain fruit salad.
Toasted Jalapeño Mac 'N Cheese
Mac 'n cheese is a cookout staple, but don't just settle for a box of pasta mixed with powdered, bright-yellow cheese. Once your pasta is cooked, reach for a block of sharp cheddar—it's a perfect base cheese due to its distinct flavor and meltability. From there, mix in some Gruyère or Gouda for additional flavor and depth. If you want to take it a step further—well, two steps—stir a handful of finely diced and sauteed jalapeños into the cheesy, al dente pasta, and top with bread crumbs. Throw the whole affair into the oven and bake until the bread crumbs are browned and crispy, and you'll enjoy a dose of spice and texture with each bite.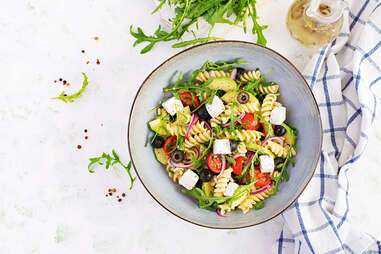 Italian Pasta Salad
Pasta salad is a popular choice to serve alongside grilled and smoked meats, especially if you prefer your pasta herbed and zesty rather than smothered in cheese. There are lots of options for making this dish your own, but when in doubt, make it vaguely Italian. Toss the pasta with tomatoes, cucumbers, red onions, olives, mozzarella pearls, and fresh basil or parsley—or any combination of the aforementioned ingredients—and mix it all with tangy Italian dressing. If you want to keep things light, stop there. But a little spicy salami never hurt anyone.
Grilled Fruit Cobbler
Fun fact: A serving of fruit still counts if you consume it in a cobbler. So take advantage of this loophole (and the season's bounty) by bringing a fruit cobbler to your next cookout. This easy-to-make dessert can be prepared with any variety of stone fruits or berries, and you can cook it in the oven, on the stovetop, or even on the grill. If you need some inspiration, this recipe for grilled fruit cobbler calls for peaches, plums, or nectarines, plus berries, in addition to the usual suspects, like flour, sugar, and butter. Grill the stone fruits for a tasty char, then incorporate the fruit and batter in a cast-iron skillet, cover, and grill until the juices are bubbling and the top is golden brown. Show up with this cobbler and you'll be the most popular guest at the party.