Every Siggi's Skyr Yogurt Flavor, Ranked
We tasted every cup of this Icelandic yogurt to determine which one you should snag on your next trip to the dairy aisle.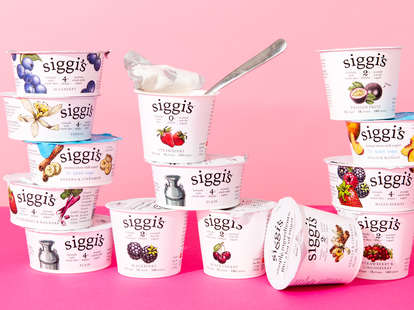 America's yogurt preferences have evolved over the years. While there will always be a place for cups and tubes of sugary fermented dairy, in recent years, thicker, more sour Greek yogurt has packed store shelves. And now it seems that our proclivity for strained yogurt has grown to include Icelandic skyr, an even thicker form of yogurt.
Perhaps the best known skyr maker is Siggi's, which sells its charming cups -- in flavors that range from vanilla to lingonberry -- in grocery stores all over the country. To say it is popular is an understatement: Siggi's increased sales by 50 percent in 2017 while the overall U.S. yogurt market saw sales decline. Given that you'll likely encounter Siggi's at a grocery store near you, we ranked every flavor so making a decision on which to buy is easier.
Here's how we specifically rated each individual skyr (yogurt):
Thickness: No one wants a yogurt that's too thick or too watery. The perfect yogurt strikes a density balance that finds it somewhere between cottage cheese and ice cream.
Flavoring: It isn't just enough for a yogurt to taste like what's advertised to flavor it. It also needs to ensure it's neither too sweet or sour.
Mouthfeel: Does everything -- from the sugar content to the thickness to the ingredients/flavoring -- provide a pleasurable textural experience?
25. No-Sugar-Added Peach AND Bananas & Cinnamon
In tasting both the no-sugar-added peach and bananas & cinnamon flavors, you realize there's a vast difference between being "low-sugar" and "no sugar." We respect the attempt, but both of these flavors missed the mark. The peach left a distinct burnt-rubber aftertaste. The bananas & cinnamon tasted less artificially altered, but you came away with the feeling that as a flavor it would be better with more sugar. In the race to the bottom, these two flavors tied for last.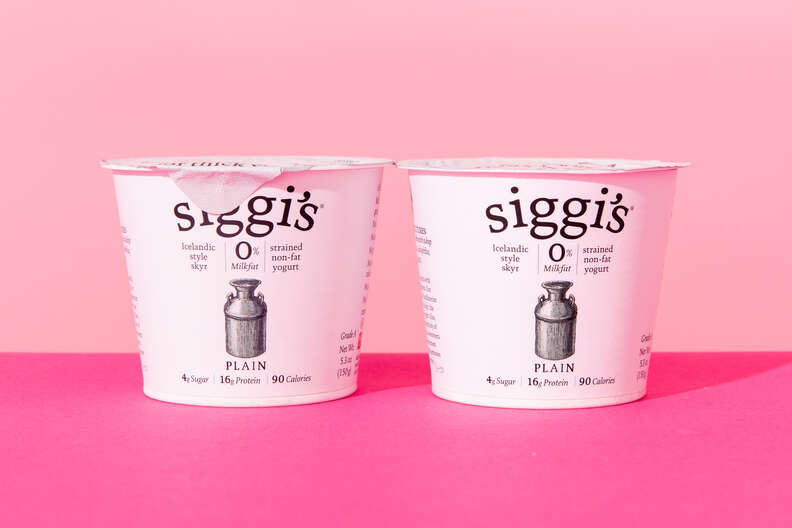 23. 0% Plain
Look, it's non-fat plain yogurt. It's not going to win many awards by itself. While this 0% skyr is plenty thick relative to its milk fat percentage, you need to add something to make it through the entire cup. This makes this skyr the perfect product for people who enjoy adding granola, blueberries, etc. to their yogurt. However, without accoutrements, you get the feeling that you're simply inhaling spoonfuls of probiotics.
22. 0% Peach
What held this 0% flavor back was its overall flavor: Despite including actual chunks of peaches, this skyr gave us an off-kilter aftertaste after every bite. The yogurt was also watery but we left more disappointed that the yogurt wasn't more, well, peachy.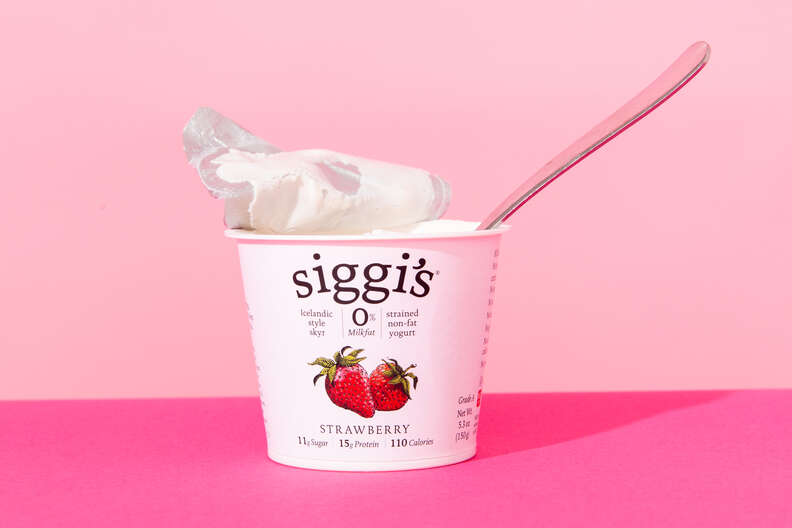 21. 0% Strawberry
This particular iteration of strawberry was really odd. Instead of tasting what we should have -- strawberry -- we instead got notes of… chocolate? There was a distinct chocolatey bitterness at the end of each bite, and while it wasn't unpleasant, it just wasn't the sweet summer flavor of strawberry.
20. 2% Blackberry
The mouthfeel on this 2% blackberry wasn't the best. Perhaps it was the sweetness overpowering the actual blackberry flavoring, or the lack of fruit pulp to overcome its wateriness. Because the texture and flavor was off -- which are two of the most important components to consider when it comes to food -- the resulting experience wasn't as pleasurable as it should have been.
19. 0% Vanilla
Bottom line: Siggi's does a damn solid vanilla. Unfortunately, this non-fat version, is a bit bland. Halfway through the cup it becomes a chore to finish, as every further bite dries out the mouth. The vanilla is there -- but the texture definitely needs improvement.
18. 0% Blueberry
Overall, 0% blueberry was an average yogurt. It tasted like blueberry, wasn't too watery, and left us completely satisfied after eating -- even if there was a hint of dry mouth towards the end. In the world of yogurt, you could definitely do worse.
17. Triple Cream Chocolate
We personally liked this flavor, but we're also suckers for sour foods. People who aren't, or those expecting sweet and fudgy chocolate, will be turned off by how acidic this skyr is. The chocolate is definitely there, but don't expect a pudding-like flavor. It's a must-try if you're an acid head; it'll be a turn-off if you're not.
16. 2% Coconut
Thick, rich, creamy -- texturally, the 2% coconut will have you thinking you're eating a Triple Cream skyr instead of one of Siggi's lower fat options. It tastes artificially sweet, as if someone dumped a packet of Splenda into the cup, but it's still tropical and summery.
15. 0% Orange & Ginger
If you want your tastebuds to feel like they got sucker-punched by a fistful of ginger, eat this skyr. It's a bold and smoky flavor-bomb, packed with some nice citrus notes.
14. Triple Cream Raspberry
It's not as thick and creamy as you'd expect from a Triple Cream option, but it's fine overall. Our only note is that this skyr could stand to use more raspberry. The fruity taste comes in a flash at the top of the tasting note before disappearing completely.
13. 2% Strawberry & Lingonberry
Apparently, mass manufacturers should use the lingonberry in their products more often. Not only was this yogurt pleasantly thick, but each spoonful provided a sweet, smooth bite that spreads the gentle and surprising strawberry-lingonberry taste all over the tongue.
12. 2% Black Cherry
This skyr hits the perfect balance between being tart but not too tart, producing a smooth and mellow mouthfeel that even cherry agnostics will dig. It's essentially a healthier (and more tangy take) on black cherry ice cream, which is a pretty generous compliment for a cup of yogurt.
11. 4% Strawberry & Rhubarb
As far as flavors go, this one is summery and unlike any other yogurt you'll find in the dairy aisle. It's not heavy on the rhubarb flavoring, but the strawberry is generous, making it one of Siggi's stronger strawberry-related offerings.
10. 0% Mixed Berries & Açai
This is an all-around solid mixed berry experience. There isn't as much açai as there is berries, but if you're after a thick berry yogurt that is low on fat but high in flavor, then this 0% option is for you.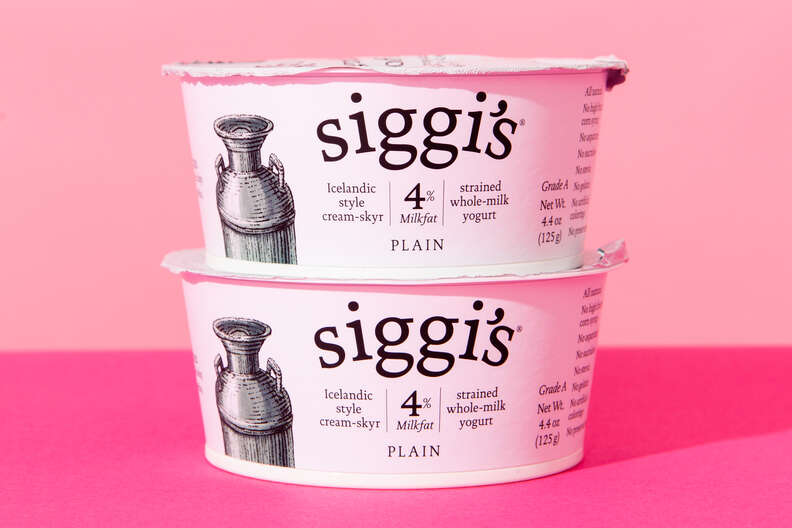 9. 4% Plain
To put it simply, this plain yogurt is good. The 4% plain packs a tart punch that'll leave you licking your lips after every bite. It's also low in sugar because of the lack of flavoring. The high fat content leads to a smooth and satisfying texture. Hell, flavored-yogurt-only-eaters might even like this one. You could always drizzle some honey or sprinkle in some fruit to balance out the sour.
8. 4% Mixed Berries
Like the 0% mixed berries and açai, this skyr is a solid generalized berry yogurt and Siggi's strongest multi-berry offering. The berry flavoring is sweet to start and then slightly tart on its way out, and its thickness provides a creaminess through which to savor its fruitiness.
7. 4% Blueberry
This skyr brought a cement-like consistency that'll help sell it as one of two things: Either as a one-stop-shop breakfast item that'll fill you up if you only have time for 30 seconds of eating or a proper dessert. It lacks more blueberry notes to vault it into a top-five spot, but it's venerable nonetheless.
6. 2% Passion Fruit
It's a bummer that this is only a seasonal flavor because it's one of Siggi's best. Period. It's sour but complex, a flavor that you'll want to roll on the tongue (or whatever it is food snobs do when they're really into the taste of something) for a second before finishing. It's one of those rare products that makes you forget that you're eating yogurt for a second.
5. 2% Vanilla & Cinnamon
If this pairing is indicative of anything, it's that Siggi's needs to incorporate more cinnamon in future flavors. The cinnamon flavor was up-front and present and every bite, but the vanilla notes smoothed it out so that it wasn't too in-your-face. The velvety consistency also rocked, making vanilla & cinnamon the most can't-miss 2% skyr that you'll find on store shelves.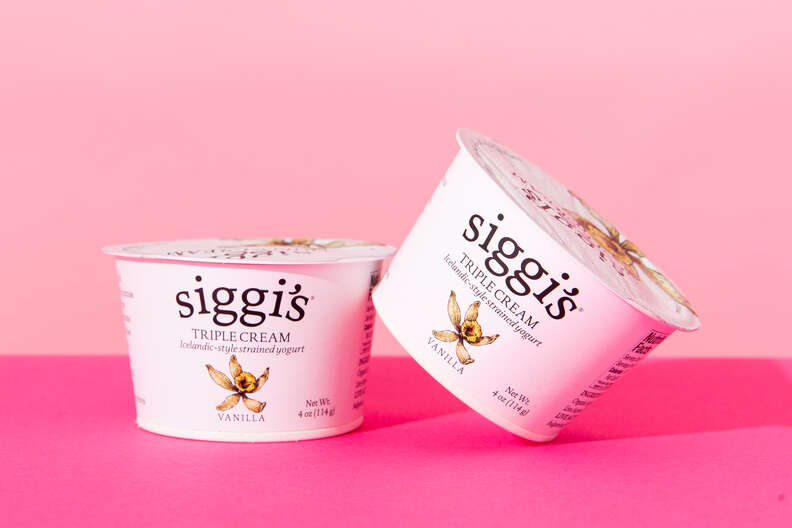 4. Triple Cream Vanilla
Siggi's triple cream vanilla refuses to sink into blandness. The cup has a bright and aromatic vanilla flavor that carries this heavy yogurt to the finish line.
3. 0% Raspberry
Don't let the 0% branding fool you. This skyr is thick and requires a sturdy spoon to consume. It also nails the raspberry flavor, being equal parts tart and sweet, utilizing raspberry seeds to add a nice crunchy element.
2. Triple Cream Lemon
This triple cream skyr proves all you need is a little burst of lemon to take a yogurt above and beyond. Everything -- from the thickness to the flavoring to the mouthfeel -- hits. Crumble in some graham crackers and you can almost pretend you are eating a slice of lemon meringue pie.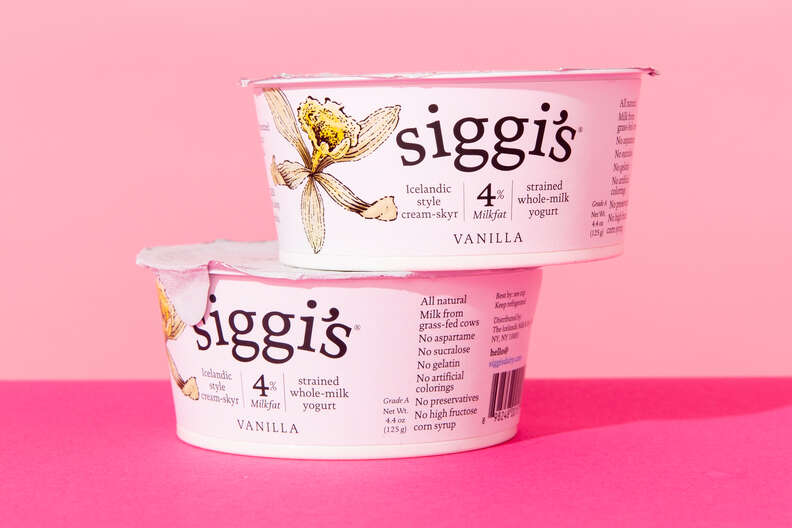 1. 4% Vanilla
What makes this skyr Siggi's best? Simple: Its thickness is perfect, allowing for eaters to swiftly attack it but not requiring multiple stirs to keep it solid. It tastes like pure vanilla happiness. And it's the epitome of creaminess. It is quite frankly a solid snacking yogurt and deserves a gold medal.
Sign up here for our daily Thrillist email and subscribe here for our YouTube channel to get your fix of the best in food/drink/fun.
Ryan Joseph is a freelance writer and Ohio native who thinks your Cincinnati chili hot take is trash.