When folks talk about the best food cities in America, there's a tendency to think big. Like, sprawling-metropolitan-area big... places where the population of classically trained chefs could feasibly fill an entire small town in South Dakota, then start fighting over who makes the best deconstructed chislic.
The cities on this list -- all with populations of fewer than 100,000 -- prove that you don't need silly things like "public transit" and "the need to lock your door at night" to still bring the culinary thunder. These aren't the best small towns with one or two terrific restaurants. They're small cities that can hold their own with the big boys, with enough culinary clout -- we're talking diners, fine dining, trucks, bars, bakeries... you name it -- to feed cities twice their size.
Editor's Note: This list is but a small sampling of the great food cities. Let us know our next stop on our small-city tour in the comments below.
Asheville, NC
Population: 83,000
Is Asheville a great beer city? Yes. In fact, it's one of the best in the whole country (the best, if you happen to live there). But despite my best efforts, a man can't live on beer alone (for long). Luckily, this paragon of Southern hospitality with a hippie twist keeps right up with that beer cred with a bustling, complex food scene.
Carolina BBQ is scattered throughout the region, but Asheville is basically one-stop shopping for whole hog, with Buxton Hall serving as a highlight of the meat scene… and somehow managing that pulled pork glory without the benefit of it being made in a roadside shack of questionable structural integrity. Rhubarb represents one of the best damned Southern restaurants, period (hint: get anything with bacon… so everything). Concrete bunker The Admiral offers up amazing takes on the fusion thing (curried fried chicken FTW), Curate -- with its amazing seafood and fresh-sliced iberico ham -- hits requisite tapas/fine-dining buttons, while Chai Pani offers up Indian-infused takes on pub fare. Oh, and you're in the South. Get biscuits. Preferably with fried chicken at HomeGrown. It pairs well with beer. Everything does when you're in a city that ranks among the best beer and food cities in the US.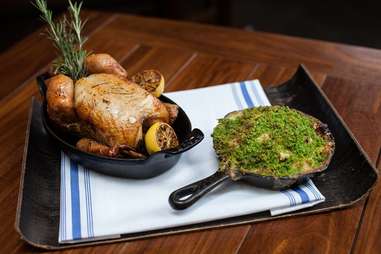 Aspen, CO
Population: 6,500 (permanent residents)
Despite appearances -- all those skiers and mythical salmons of Capistrano give a false impression -- Aspen remains a very, very small town. But what sets Aspen apart from other tourist-heavy mountain towns of its ilk -- from Breckenridge to Vail -- is the sheer volume of great food residing therein. If Aspen had nothing but a gaggle of mall-chain fare, it'd still be great. But, as it happens, the population --anywhere from 6,000-27,000 depending on the season -- is privy to some of the nation's best food. And, well, the presence of dispensaries certainly helps the hunger felt by locals and tourists alike.
Fun fact: the hardest weekend to get a table is Fourth of July, the town's busiest. Aspen certainly gives people plenty of places to refuel: with everything from fine-dining stalwarts like Chef Nobu's CO-only mini-chain Matsuhisa and The Little Nell's Element 47 with its award-winning wine list, to less-expensive eats at the pancake heaven that is Poppycock's or an expertly made lunch at Peach's. If you have to select a weekend to visit, Aspen hosts the enormous Food & Wine Classic each summer, a long-running food lover's paradise that imports the best chefs from around the world for one stuffed weekend. Or, you know, just go in the wintertime to ski and eat the food that's regularly there. Also, don't miss Chefs Club by Food & Wine and David Burke Group's Aspen Kitchen. Seriously, who even has time to ski?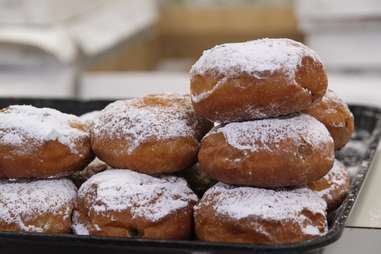 Hamtramck, MI
Population: 22,000
OK, so maybe we're cheating a little, since Hamtramck is a city within the city of Detroit, and considering the suburban Detroit offerings (and great things going on up north in Traverse City or in any of the lovely small lake towns), we could have gone in a number of directions for Michigan. But Hamtramck is very much in a world -- and a class -- all its own, and to ignore the food offerings of this little town -- or simply lump it in with Detroit like it's some sort of Sterling Heights -- is to gloss over the amazing experience of actually dining in the anomaly.
Much of that clout comes from the city's huge Polish and Middle Eastern populations, which means the extremely densely populated area is rife with more culinary varieties than most major cities twice the size of Detroit itself. Must-do food experiences include a sit-down at the dark, dim basement known as Polish Village, which is constantly packed with Eastern Euro families ready for handmade cabbage rolls and kielbasa. Royal Kabob and Sheeba bring huge platters of Yemeni fare, while you can get Bangladeshi takes on pizza (think naga sauce on a thin crust and beware the ghost) at the legendary Amar Pizza and unexpected vegetarian delights with a Buddhist flair at Living Zen. Throw in a huge concentration of dive bars, upscale bar fare at Rock City, diners and bakeries constantly pumping out paczki and Middle Eastern sweets, and you've got a fascinating microcosm unstuck in time. Hamtramck might be enveloped by the city. But it's still a place all its own.
Healdsburg, CA
Population: 11,000
You could easily go ahead and lump Healdsburg -- an idyllic, fancy-pants hamlet smack in the middle of wine country -- in with a number of other great Sonoma towns and call it a food region: with the likes of Petaluma, Guerneville, and Santa Rosa bringing the heat and wineries scattered about like fast-food wrappers on a New Jersey back road, it's not exactly like the area's hurting for good food.
But Healdsburg, taken on its own, is like all of Sonoma concentrated into one little picturesque town, and with that (and, let's be honest, some money floating around in the wind) comes excellent dining on every corner. The city plaza-adjacent Dry Creek Kitchen pops out incredible high-end fare like duck confit and a perfect filet at prices that are (for wine country) relatively affordable, while the small plates at Bravas offer up a nice contrast to the wine-and-cheese fare that seems to be everywhere. For those burned out on wine, Bear Republic pairs its award-winning beers with one of the best burgers in the county. Or, well, just grab a sandwich at local legend Jimtown Store (hope for brisket, don't skip the biscuits) and head out to the Russian River with a bottle of wine. Or beer. Or both. You're probably on vacation anyway.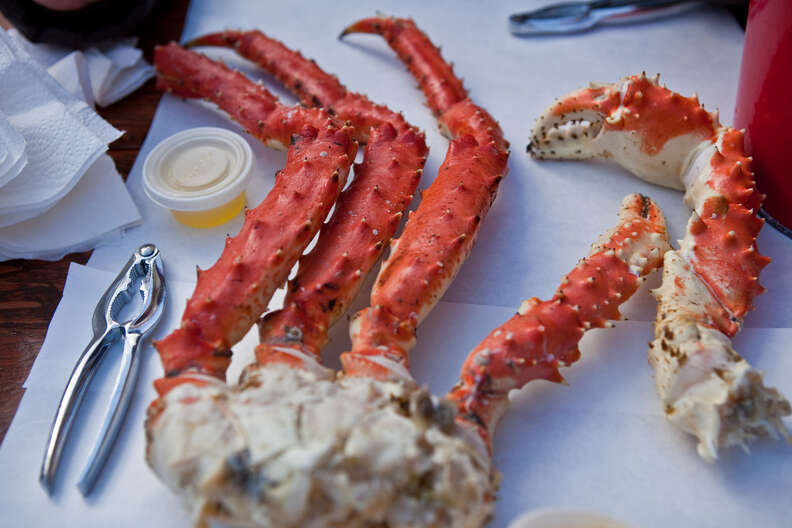 Juneau, AK
Population: 32,660
At a mere 33,000 people, Juneau is still a pretty big town for Alaska, trailing juuuuust behind Fairbanks and, well, way behind Anchorage. But those cities, when push comes to shove, are a bit behind lil' Juneau in terms of the sheer volume of excellent food being churned out in one of the most majestic towns in the union.
Many men in Alaska have beards. But two of Juneau's chefs -- Beau Schooler and Lionel Uddipa -- have James Beard clout, which they bring to the fore in multiple restaurants. Schooler's cred includes head-to-tail skills brought to restaurants like The Rookery Café, Panhandle Provisions, and the hyped In Bocca al Lupo, while Uddipa lords over high-end SALT, where he brings his experience at Michelin-recognized spots to completely destroy Alaska-centric fare, which relies heavily on the sea.
Oh, yes, the seafood. Tracy's is, trust us, the best place for king crab in the nation, if not the world. The owner also runs Hooked, a processing plant from which everything from halibut to sea cucumbers are hoisted from the sea and onto plates around the state. There's Mexi/Asian fusion at V's Cellar Door, legendary waffle spot GonZo… the list goes on and on. For a town that's this tiny, Juneau's rocking pretty much every food trend other cities vie for, right down to the foraging thing. Only here, it can be done in the chefs' backyards.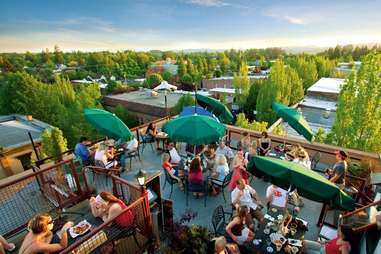 McMinnville, OR
Population: 33,000
I live in Portland, and I can tell you that there are lines and lines of people waiting outside a hip new place for eggs right now who will be ready and willing to murder me -- or at least leave a passive-aggressive note on my windshield -- for this, but here it goes: the best brunch in the state of Oregon comes from McMinnville's Crescent Cafe. The chicken and dumplings? Superb. The homemade "pork loaf" take on scrapple is out of this world. Hell, it's worth a trip just for a single house-made English muffin at this hole in the wall on a small drag of businesses in this little Rockwell town most famous for its Aviation Museum.
But brunch alone doesn't set little McMinnville apart from other great Oregonian small towns -- from the coastal fare of Cannon Beach to the Mexican paradise that is Wilsonville. No, it's just a standout in a little town that includes Nick's Italian Café, recently bestowed an America's Classics award from the Beard folks for its no-fuss, East Coast-style Italian (something of a rarity out here). The renowned Thistle was founded by a dude who's so obsessed with farm-to-table and nose-to-tail cooking that he once slugged a dude in Portland during a cook-off for fudging facts about his pig, for God's sake. Bakeries and ice cream shops round out the small-town requisites, but here's another thing: this is in the heart of Willamette Valley wine country. So yeah, there are also wine bars. And multiple tapas bars. And nature. Not that you'll have the time or energy to get out and move.
Oxford, MS
Population: 19,000
Mississippi is a state littered with holes in the wall where fantastic Southern soul food comes with a side of American history, much of which is considerably less savory than the pig's ears and oxtails on the plate. So what sets Oxford -- a college town with a fancy town square and a gigantic stadium with three times more seats than the town's permanent residents -- apart? Well, let's just start with John Currence, a James Beard-winning chef who calls the city home and, more importantly, has five different restaurants that could each be considered among the best in the South, among them the famed City Grocery, Snackbar, and Big Bad Breakfast, restaurants that hit the high-water mark for modern Southern comfort for all who grab a seat (and who endured long lines to do so).
But Currence isn't alone. Want a classic meat & three? Of course you do -- you're in Mississippi. Hit up Ajax Diner for burgers, soul, and mac. Catfish and fried oysters? Taylor Grocery's your spot (there's a grocery theme, isn't there?). There's so much great food here, it's no surprise that the town that houses Ole Miss also houses the Southern Foodways Alliance, which is the foremost authority on Southern-fried tradition. Clearly, it set up shop here for a reason, and it ain't football.
Portland, ME
Population: 66,000
Oh, sure, you can slight us for putting the biggest city in Maine on this list. But let's face it: you can fit the population of Portland, ME 10 times over in Portland, OR (and probably get people in PDX angry about transplants... it's kind of their thing). But despite that smaller population, Portland can still hang with the its namesake food mecca on the left coast.
Based just on lobster alone, Maine's Portland has the advantage over most everybody, with standouts like Old Port Tavern, Becky's Diner, and Fishermen's Grill in contention for the country's best. Oysters, too, reign supreme, with Eventide Oyster Co. a standout for its old-school traditions paired with fantastic drinks. Speaking of, the Portland Hunt & Alpine Club is world-class on the cocktail front, and works wonders as a pregame for the fine-dining fare at Fore Street, or the upscale pub fare at Duckfat, run by a Chopped champion who knows his way around some poutine. And that's to say nothing of the shacks, diners, and bars that have made Portland a legend, long before the hipsters out west stole the city's name. (There were hipsters in the mid-1800s, right?) It also helps that the beer scene is tremendous. And the city's beautiful. In fact, there's a lot of common ground between the two Portlands, but the OG has something the other doesn't: a humble, laid-back attitude toward its greatness.
Waltham, MA
Population: 62,000
Editor's Note: For this entry, we quote former Walthamite/a capella legend/Thrillist Partnerships Editor Adam Lapetina. "Waltham. Just say it out loud. It doesn't matter which way you pronounce it -- it sounds like the kind of place where stuffy British milquetoasts trade barbs over whose museum contribution was more selfless. But that characterization couldn't be farther from the truth (I've only ever encountered one British dude there, and he was super chill). And while people may overlook this slightly drab, industrial park-dotted city in favor of the more traditionally New England towns around it (Weston, Wellesley, Wayland... Newton), Waltham's got something they don't: Moody St.
In addition to being a college town (Bentley and Brandeis sit within its limits), Waltham is an exceptionally well-represented melting pot -- and anybody who's anybody knows that you've got to open your restaurant on Moody St, affectionately known to outsiders as Restaurant Row. Just walking down this mile-long stretch, you'll encounter Salvadoran, Japanese, Vietnamese, Caribbean, Italian, West African, Cuban, Brazilian, Thai, BBQ, and Indian joints. Like, enough that there are multiple restaurants serving each cuisine and you'll be forced to choose your allegiance. Make sure to hit up Taqueria El Amigo and/or Taqueria Mexico for some of the best under-the-radar Mexican in the Boston area, and In A Pickle for its famous caramel crunch French toast. Or, if the fancier things/impressing your parents are desired, there's Italian fine-dining greatness to be had at Il Capriccio and New American at Red Bird. But really, you wouldn't be faulted for just hopping from one place to another, sampling food and developing a strong urge to travel the world. When you're done you'll feel like you already did."
Winter Park, FL
Population: 29,000
"Suburban Orlando," to the uninitiated, might sound like a place where nonagenarians go to get away from the young'uns who make too much noise at the 4pm dinner service in the big city. You'd be wrong. In fact, our Miami-based expert/travel writer named the idyllic, tree-lined suburb "home to the entire food scene north of St. Petersburg." Considering the sheer amount of Florida packed into that statement, it's bold.
But true. Most conversations start with upscale Southern fare at The Ravenous Pig, a gastropub whose shrimp & grits could give Hominy Grill in Charleston a run for its money. Those same folks are behind Cask & Larder, which pairs everything from hay-smoked steak to chicken skin-roasted oysters with house-made beers. Luma -- with seafood ravioli and one of the state's best burgers -- does highbrow fare without the attitude, while Cocina 214 brings a chef-based flair to Tex-Mex (more the latter than the former in that hyphenate). Florida might be where people go to retire. But Winter Park is where those people go to make sure they get the most out of their elastic waistbands. Oh, and don't worry. Most places are open past 5.
Sign up here for our daily Thrillist email, and get your fix of the best in food/drink/fun.
Andy Kryza is a senior editor at Thrillist. He currently lives in Portland, OR, but still has a heart comprised largely of Flint-style coney dogs. Follow him to dry chili destinations: @apkryza.