Soul food isn't just an American tradition; it's a way of life, with deep roots in the South that have spread all over the nation like an uncontrollable fryer spill in the Mississippi. Collard greens, Hoppin' John, fried chicken, neckbones, waffles, biscuits, grits, catfish... they're as American as apple pie, though you'd be better off ordering the apple cobbler at most soul kitchens. Or the banana pudding. Or both.
With an insatiable hunger for fried comfort, we cast our net out and named 21 of the best soul kitchens in the US -- and we know damn well that, with all the hole-in-the-walls, roadside shacks, and small-town favorites out there, we've missed just as many more. Let us know about them in the comments section. We'll check them out when we wake up from our fried chicken nap.
Recommended Video
Tuna Eyeball with Timothy DeLaGhetto and Ben Sinclair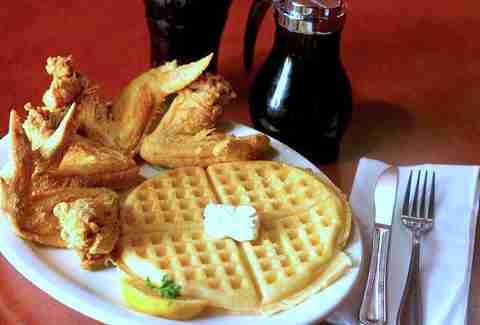 Gladys Knight's Chicken & Waffles (Atlanta, GA)
What you're getting: The Midnight Train (four enormous chicken wings paired with one waffle)
Atlanta is a soul food kingdom, but only one joint is lorded over by the actual Empress of Soul, who has been known to pop into her own kitchen to oversee the frying of some of the biggest, most succulent wings around. Gladys also serves up classics like braised oxtail and fried tomatoes alongside newfangled takes on classics such as collard green spring rolls, which pair up nicely with one of Gladys's signature cocktails, and taste even better when taken in with live soul music that has the Empress's stamp of approval.
Sylvia's Restaurant (New York, NY)
What you're getting: Sylvia's World Famous Bar-b-que Ribs & Chicken, the perfect combo of two of the South's greatest contributions to society
Having opened in Harlem in 1962, the late, great Sylvia Woods' institution has seen American history at its best and worst, and, through it all, it's stood as a paragon of great food's ability to act as a common ground. For a truly enlightening experience, wander in for Sunday Gospel Brunch, where chicken & waffles and steak & eggs come with Bloody Marys and Hail Marys, courtesy of live gospel musicians that hammer home the idea of food as a religious experience, and allow you to atone for the sins of eating too many grits in one sitting.
Willie Mae's Scotch House (New Orleans, LA)
What you're getting: Fried chicken with red beans & rice
Located in NOLA's less-touristy Fifth Ward, Willie Mae's draws crowds without the benefit of beads or boobs, though with fried chicken this good, even the hardest of bodies risks going up a cup size. The multi-generational place is so beloved that patrons volunteered to help rebuild it after Katrina, just to ensure they could continue to take pleasure in one of the country's best made-to-order chicken spots, a place where the catfish is crispy, the cornbread's flaky, and the bird's the kind of perfection that brings communities together in times of chicken-less crisis.
Lo-Lo's Chicken & Waffles (Phoenix & Scottsdale, AZ)
What you're getting: KK's (three pieces of chicken, two waffles, grits, eggs, cheese, and an inflated cholesterol count)
The most authentic Southern fare in a state whose culinary scene is currently notorious for a certain cat-crazy pizza joint, Lo-Lo's devoted followers claim it can stand up alongside its Harlem and LA brethren any day... and they're right. The namesake Belgian bird combo is enormous and exquisite, and goes the extra mile by piling on grits, greens, and other fixins on top of the already indulgent pile of euphoria. Throw in catfish & waffles and Tex-Mex items like chorizo, and you've got a strong case for Southern cooking that expands far West of the Delta.
Dooky Chase's (New Orleans, LA)
What you're getting: Everything (the lunch buffet is the stuff of legend, especially on Fridays, when they roll out the shrimp and lima beans)
Since 1941, Dooky's has seemingly had a never-ending line out the door for folks salivating over the legendary lunch buffet, which offers up a rotating daily dose of creole cooking and soul-warming fare. Favorites include shrimp & lima beans, po' boys, gumbo, and fried chicken that has become so iconic, you'll begin associating Dooky with crispy bird instead of that Green Day album.
Fish & Chicken Inn (Columbus, OH)
What you're getting: Combo #2 (three wings, four jumbo shrimp, greens, and yams)
It's all in the name at this tiny Columbus oasis, but the simplicity is a thing of beauty. Shrimp aside, this is a place where fish, like perch, catfish, and whiting, dominate the fryers and come as platters or between buns, and where simple chicken wings take on a life all their own. But don't discount their chicken gizzards, which come by the chewy/crispy 20, and the hush puppies that go for $.25 a pop and could serve as a starchy meal all alone.
Hoover's Cooking (Austin, TX)
What you're getting: Chicken-fried steak
Hoover Alexander's mother was the best cook out of her six siblings, and his grandfather was the best cook out of his six siblings, so by the time Hoover's opened in 1998, his signature style of soul food was already generations old. Located just blocks from Longhorn Stadium in a neighborhood that's gentrifying faster than you can say "fixed-gear bike shop" (which is just two blocks down), Hoover's has withstood the test of time thanks to artery-clogging comforts like chicken fried steak and locally grown produce... but mostly thanks to that chicken fried steak, a massive hunk of beef heavily battered and doused in white country gravy that'll slow your bloodstream to a crawl.
Gus's (Memphis, TN)
What you're getting: Half a fried chicken with cole slaw
In a city best known for its BBQ, Gus's has spent the past 60 years spreading the gospel of fried chicken across the land, transitioning from its original location to the outskirts of Memphis to the city proper, and ultimately to other TN cities, as well as Arkansas and Texas. Regardless of the location, no two trips to Gus's will taste the same, thanks to an ever-changing recipe that kicks its fresh bird with a spicy secret breading. If that's not enough heat, pair it up with a whole jalapeño, or cool down with Gus's signature cole slaw.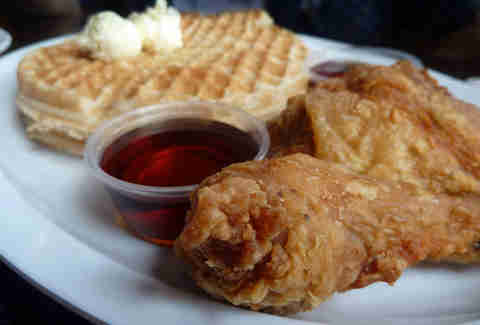 Chicago's Home of Chicken and Waffles (Chicago, IL)
What you're getting: Mark's Big Boy (two waffles topped with half a chicken, gravy, and onions)
The South Side is loaded with incredible soul food, but nothing is quite like Sunday brunch at CHCW, where you'll find the neighborhood decked out in its Sunday best for a little deep-fried spirituality. Those waffles also come topped with catfish and are paired with grits, creamy mac n' cheese, and signature rice & gravy. Stop by Thursday-Saturday, and get it all with a side of live jazz.
Mrs. Wilkes Dining Room (Savannah, GA)
What you're getting: Whatever you're given (expect fried chicken, hope for beef stew)
In 1943, Sema Wilkes took an old boardinghouse and converted it into a family-style restaurant, where she wo-manned the kitchen until she passed away in 2002. Back then, her home-cooked meals changed daily, and were served at communal tables where strangers passed around her legendary chicken, meatloaf, and stew, along with candied yams, rice & gravy, and whatever else she cooked up. The Wilkes kids still run the hugely popular place, where your dining mates are whoever sits next to you, and where you can book a room in the historic building if you end up overloading on baked beans.
Martha Lou's Kitchen (Charleston, SC)
What you're getting: Smothered pork chops
For 30 years, Martha Lou's -- pink as an elephant from Dumbo's alcohol-fueled nightmares -- has watched Charleston's culinary scene grow while cultivating immortality for its sameness. There's a reason why neighborhood regulars, Charleston chefs, and food-channel luminaries flock to get a taste of what Martha Lou's cooking: it's some of the South's most soul-warming cuisine. Martha does turkey wings and beef stew that would convert PETA's president, but the real gems are the golden-fried pork chops soaked in gravy that give the infamous -- and rightfully so -- fried chicken a run for its money.
Bully's Restaurant (Jackson, MS)
What you're getting: Smothered oxtails
In a state that claims some of the best hole-in-the-wall soul food in the country, Bully's stands tall, as a divey, inconspicuous place that, for 40 years, has stuck with the kind of down-home cooking most places would shy away from. You can play it safe with fried chicken, but don't. The oxtails are tender and hearty, the neckbones and pigs feet offer huge rewards to people brave enough to go old-school, and sides like fried corn, okra & tomato stew, and fried green tomatoes are the stuff of Delta legend.
Motor City Soul Food (Detroit, MI)
What you're getting: The somehow-less-than-$4 pork chop sandwich (as an app) and the two-piece chicken
If you find the bullet-proof glass encasing the cooks and diner-style trough here off-putting, well... you don't know Detroit. And you're missing out on one of the best meals you'll ever have, served up in a friendly, no-nonsense restaurant. Shoot the breeze with the locals in line -- which, admittedly, will be long -- and wait to feast your eyes on the spread, full of collards and turkey wings, fried and baked chicken, and meatloaf. Oh, and one of the best banana puddings in the country. Perhaps the glass there is to keep you from licking the serving bins.
Kountry Kitchen Soul Food Place (Indianapolis, IN)
What you're getting: Smothered pork chops
Things are pretty big on Kountry Kitchen's regular menu -- dominated by choose-your-meat combos including chicken-fried steak, meatloaf, and chops, plus catfish, shrimp, and whiting on the surf side. But the place is a haven for communal eating, with family-style portions of all their mainstays designed to serve up to 25 people. But even if you split the 10-serving fried catfish with one buddy, save room for Ms. Jessie's caramel pound cake and homemade cobblers, which have nothing to do with shoes and everything to do with euphoria.
Roscoe's Chicken & Waffles (Los Angeles, CA)
What you're getting: House Combo #21 (mac & cheese, greens, cornbread, and two thighs)
Look, Roscoe's is rightfully credited with bringing its namesake Harlem staple (chicken & waffles and Roscoe himself, who's a hell of a dude) out West, but the Belgians and birds are only half the fun. The deservedly famous place also cooks up one of LA's best baked mac & cheeses, plus incredible grits, and a brunch that includes a killer liver omelet. Hell, even Snoop loves Roscoe's, and that dude doesn't just put his name on anything. Oh, wait...
Eagle's Restaurant (Birmingham, AL)
What you're getting: Neckbones
If you throw a rock in Birmingham you're bound to hit a soul food restaurant (but seriously, don't be a prick), but once Bizarre Foods cruised into 'Bama, they blew the lid off the amazing, local-favorite secret that is Eagle's. Each day, the cafeteria-style trough features a different line-up. Sometimes it's tender pig neckbones. Sometimes it's au gratins, fried chops, cube steak, oxtails, or fried chicken. No matter what, it's magnificent. Thanks a lot, Zimmern. No, seriously, good call. The regulars might have longer lines, but this is some of the purest soul cooking around. It's a secret worth spilling.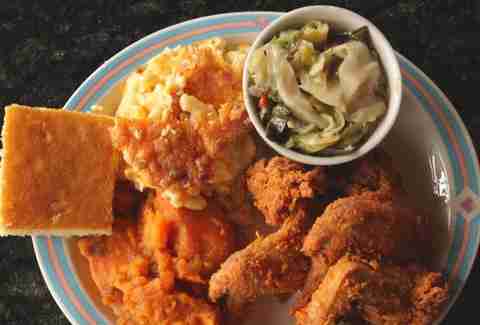 Sweetie Pie's Kitchen (St. Louis, MO)
What you're getting: Show up on Saturday and score a whole catfish, ribs, and tips... for $11.75
Cooking up recipes brought to St. Louis via Mississippi generations ago, Sweetie Pie's is the fortunate child of Robbie Montgomery, a former backup singer for Tina Turner (and other lesser-known musicians like the Stones and Stevie Wonder). Sweetie Pie's two locations keep recipes grounded in tradition, serving up classics like oxtails and turkey wings alongside Jack salmon and roasted duck, plus some of the best neckbones around. Nevermind Mary. Miss Robbie might be the proudest woman this side of the river.
Casey's Buffet (Wilmington, NC)
What you're getting: Everything. Twice.
As Warren taught us, it's really tough, and really dubious, to trust a buffet. But Casey's is the real-deal, a soul food-lover's dream come true, and the perfect testing ground to the uninitiated, since they have pretty much everything: fried chicken, chitterlings, fatback, chops, okra... you name it. Unlike many buffets, everything is fresh, hot, and scratch-made. Pro tip: For optimal freshness, arrive right in the middle of the lunch rush, when the trays are being replaced with the freshest food possible. Also, never say no to the offered Kool-Aid. Unless you're dining with Jim Jones.
Hattie B's Hot Chicken (Nashville, TN)
What you're getting: The Damn Hot 1/2 Bird
Hot chicken: It's not just Gonzo the Great's preferred match on OkCupid, it's also Nashville's signature dish, a blazin' hot, Diablo-red take on fried chicken that Hattie B's happens to do better than most anyone in the city. Get it paired up with another Southern mainstay, pimento mac & cheese, and don't skimp on ordering a $5 gallon of sweet tea. You're going to need it to cool the heat.
Amy Ruth's (New York, NY)
What you're getting: The Rev. Al Sharpton (waffles with smothered chicken)
In the city that popularized chicken & waffles, this Harlem joint stands wings and thighs above the rest. It's an incredibly popular destination for pilgrims coming to the city to enjoy amazing soul food (not just chicken and waffles, although they are a standout), and you'll pretty much always find this place packed with folks ordering down-home cooking from a celeb-dominated menu, with items like the Gabrielle Union (fried pork chops) or the increasingly svelte Al Roker (beef short ribs). Each main dish comes with two sides, so opt for the candied yams and cornbread, and wash it all down with a sweet tea. You'll be glad you did.
Dub's St. Johns (Portland, OR)
What you're getting: Fried chicken and rib tips
Located in the oft-overlooked outpost of St. Johns, Dub's feels like it was dropped by a tornado that swept through Detroit and deposited it in North Portland. A window in a dark dive bar, it's run by a rapper and producer with a mission of chronic legalization... which means Dub knows his food. It's some of the best fried chicken in the Pacific Northwest. Dub's former restaurant fell victim to arson, but like a hot sauce-covered phoenix, he emerged, adding some of the city's best ribs to his roster and cooking up dank food with the careful attention of a dude whose main mission is to cure the munchies.
Thrillist senior eat/drink editor Andy Kryza grew up eating fried chicken and collards in Flint, MI, and still can't cook mustard greens to save his life. Follow him to hot sauce via @apkryza.