All the Best Southern Comfort Foods, Ranked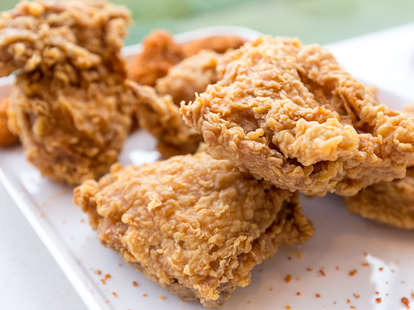 Prajak Poonyawatpornkul/Shutterstock
It doesn't matter what state you're from, if you're an American, comfort food almost always equals Southern food. Fried, stewed, slow-roasted, or smoked, these are the dishes that hit you at your core, that wrap you up like a bear hug from mom, that taste, as cliché as it sounds, like home. When I was a kid growing up in Texas, I couldn't get enough of it (Southern cooking, I mean, not hugs from mom -- I was good on those).
I haven't called Houston home since the late '90s, but those cravings -- along with a strange affinity for Garth Brooks -- never left my side, overtaking my body like Mississippi kudzu vines. I spent two summers driving around the South, eating my way through state after state under the guise of shooting my masters thesis film. I'll tell you, one trip to Bojangles' and you're in it for life -- there's a reason it's called soul food.
But how could you ever choose between impossibly tender pulled pork and finger-lickin' fried chicken? Pecan pie and peach cobbler? You don't, because we already did. These 27 classics, judged by popularity, regional importance, taste, texture, and emotional response, represent the best of the best in Southern cooking.
27. Fried okra
When fried whole in generously spiced, eggy batter, okra can make for a respectable side dish. But, more often than not, they're bland, mushy, bite-sized nuggets and not worth the sodium intake. You just can't trust 'em, and when it comes to comfort food, reliability is of the utmost importance.
26. Boiled peanuts
It's clear that boiled peanuts are a thing, but, like, why? They might be a slight upgrade from boring-as-hell ballpark peanuts, but all they really do is fill your mouth with 30-45 seconds of admittedly delicious flavor, get your hands all wet and smelly, and make a huge mess. Apparently the real OGs eat the shells, too -- just try and wrap your head around that one.
25. Chitlins
The thing about chitlins -- or chitterlings, or chittlins, depending on who you ask -- is that, if you think about it, they're pretty gross. But chopped-up hot intestines, fried and/or slow-boiled in a stew, truly speak to the Southern nose-to-tail way of cooking and hold such historic significance for so many families down South that they're a no-brainer for this list, albeit a hold-your-nose-and-suck-it-down one.
24. Pimento cheese
Here's the thing: pimento cheese is insanely delightful. Smearing a zesty scoop on a Ritz cracker or a slice of white bread is straight-up heavenly. At the same time, when you really think about it, it's actually pretty disgusting, like briny, chunky mayo left out in the sun. Some swear by the stuff, others won't touch it, but it will always, always have its place on the picnic table.
23. Fried catfish
The Gulf states produce far more of these freshwater bottom feeders than any other place in the nation, making the region catfish ground zero. They're at their best deep-fried, preferably eaten at an outdoor fish fry with 30 or 40 of your closest friends and family, but their tendency to taste a little, uh, muddy undeniably takes them out of the running for best Southern dish.
22. Deviled eggs
When whipped up well, these little bundles of texture and tang are the highlight of any good backyard barbecue and go down way, way easier than they should considering their substantial calorie count. They may not be God's gift to the waistline, but they're still church food at its finest.
21. Brunswick stew
Northerners are probably scratching their heads at the very notion of Brunswick stew, but that's what makes it great. In reality, it's a fairly basic dish: tomato-based broth, lima beans, corn, okra, other random veggies, and chicken (though some old-timers still swear by opossum, squirrel, or rabbit instead). No matter how you cut it, though, it's smoky, robust, and if you grew up in Southeastern Virginia, as rejuvenating as a Saturday tent revival.
20. Country ham & red-eye gravy
Thick-cut ham slabs dressed in a thin glaze of coffee-spiked, savory red-eye gravy pale in comparison to barbecue or fried chicken. But based on its long history, inoffensive nature, and relatively easy prep, this dinnertime go-to, uninspired as it may be, deserves its due credit for sure.
19. Peach cobbler
Does peach cobbler, with its signature chunks of crumbly, sugary crust and warm, syrupy core, deserve to fall so low on this list? Probably not, but even cobbler diehards will concede that it's not the most exciting dessert on the block. Pound for pound, pie wins out every time. Throw a few fresh peach slices and a scoop of hand-churned vanilla ice cream on there, though, and now we're talking.
18. Hush puppies
If you know anything about Southerners, you know that they'll fry up just about anything, including something as innocuous as a damn bite of cornbread. But it turns out that hush puppies -- that's cornmeal fritters, not loafers -- make for a pretty decent side dish. They're no buttermilk biscuits, but they'll do in a starch-starved pinch.
17. Red beans and rice
Got a case of the Mondays? Load up on this Creole comfort food, traditionally eaten on the first day of the week to make use of Sunday leftovers. It's stewed for hours with ham hock, vegetables, and white rice, and will surely cure whatever ails you -- even if it can sometimes approximate salt-lick soup.
16. Sweet potato casserole
Throughout most of the country, a Pyrex pan brimming with smooth, luscious sweet potatoes, cloyingly sweet and topped with toasted pecans, is merely a supporting actor in a crowded Thanksgiving pageant. But below the Mason-Dixon, you better believe this dish takes a starring role with plate-scraping showmanship.
15. Chicken and dumplings
A chilly Appalachian night is no match for a massive pot of this soup-stew-casserole hybrid, bubbling away on the stove like a strangely pleasant swamp. It's not an everyday food by any means, but what it lacks in versatility it absolutely makes up for in instant, belly-warming comfort.
14. Hoppin' John
Hoppin' John, a mixture of black-eyed peas, rice, Vidalia onions, bacon, and about half a shaker of Lawry's seasoned salt, is a New Year's Day tradition throughout the South. Down a bowl or two of this stuff on January 1st and you just might come into some serious cash-money over the next 12 months -- either that or some serious bloat for the next 12 hours.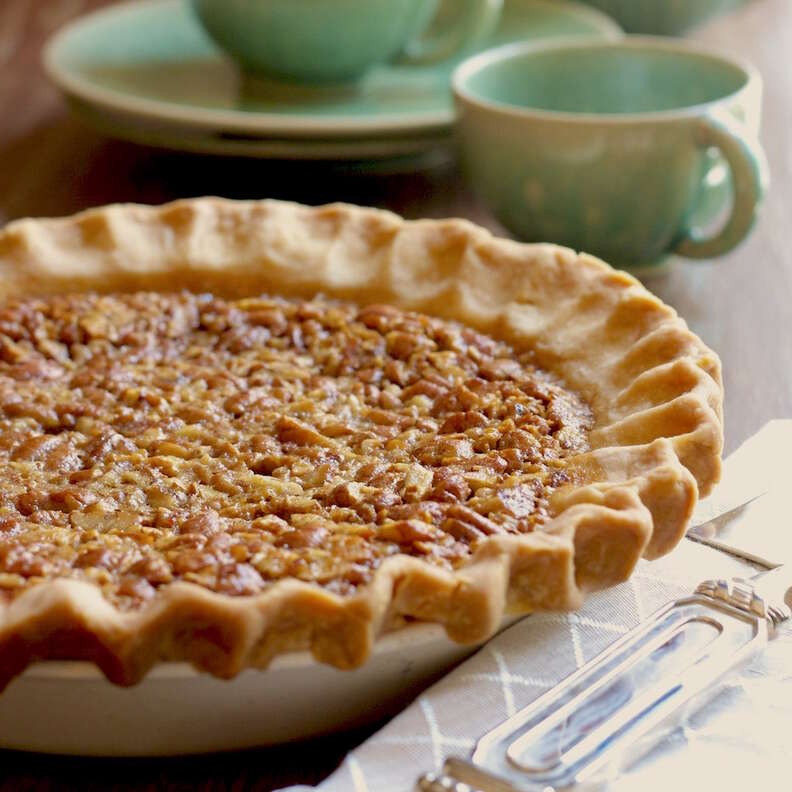 13. Pecan pie
This sticky charmer has been center stage at every Southern holiday table since the dawn of time -- or at least since Karo-brand corn syrup first hit the shelves. And with its caramel-sweet filling, Cracker Jack-like candied pecans, and Crisco-laden crust, 10 out of 10 money-hungry dentists agree you should dig right in with total abandon.
12. Chicken-fried steak
Adults might feel indifferent towards a cheap cut of beef, breaded and deep-fried to oblivion, but for Southern school children, chicken-fried steak day ruled the hot lunch meal plan. Douse that sucker in white gravy and it'll be so succulent, hot, rich, and filling, you'll feel like you're swaddled in a warm blanket -- and millions of miles away from Ms. Taylor's math quiz.
11. Gumbo
If the only Holy Trinity you know involves a wallet and watch, you better stop messing around and find yourself a bowl of gumbo. Celery, bell peppers, and onions are the backbone of Cajun cooking and the almighty three shine in this stewy Southern mainstay. That, and a supple array of shrimp, crab, oysters, okra, obscure Creole spices, and, of course, piquant andouille sausage, all swimming atop a fluffy rice pillow. It's not the most universal dish by any means, but every chef in New Orleans would disown us if we didn't include it somewhere on here.
10. Biscuits & sausage gravy
You haven't lived until you've found yourself perched atop a diner stool at 8am, stuffing your gullet with flaky, piping-hot buttermilk biscuits and cardiac arrest-inducing meaty white gravy. They say breakfast's the most important meal of the day, after all, so you better go hard or go home.
9. Collard greens
A dinner table without collard greens, simmered slow and low with plenty of onions, ham, and garlic, is like a forest without trees -- drab, depressing, and an offense to any red blooded, nature-loving American. There's no better iron-fortified leafy green out there, plain as day. Eat your heart out, kale.
8. Fried green tomatoes
Brown and crispy on the outside, fried green tomatoes are hot and gooey on the inside with just the slightest hint of vegetal crunch. When served with lots of hot sauce and paprika mayo or sandwiched between lettuce, country bacon, and white bread, they feel just like basking in the late-summer sun. Also, they may or may not be the cornerstone of the South's all-time greatest film...
7. Banana pudding
No one knows what kind of wicked genius first invented banana pudding, but let the record show that he or she is responsible for generations upon generations experiencing pure, unadulterated, food coma-induced bliss. From babyhood to old fogey-dom, those velvety layers of vanilla custard, ripe banana slices, spongy Nilla Wafers, and cool whipped topping have always been there to catch your fall (except if you don't like bananas, which, if that's the case, just leave).
6. Crawfish boil
This is one of those treasured dishes that's equally as fun to make as it is to eat. In Louisiana, tossing 50lbs of wriggling, fire engine-red crawfish, andouille sausage, plump corn on the cob, red potatoes, and a bouquet of spices into a giant vat of boiling water is the only way to celebrate summer. Just don't forget to suck those heads clean, podna, or you'll stick out like a 'Bama fan at the Tigers' stadium.
5. Shrimp and grits
From Louisiana to the shores of North Carolina, any brunch worth its salt features this seafood crowd-pleaser. Corn grits, mashed silky-smooth and loaded with melted cheese and way more butter and cream than anyone wants to know, provides the ideal platform for the shrimp's peppery pop. Shellfish isn't your thing? Keep on shaking that bright-red bottle of Texas Pete over the stuff and trust us, it'll taste amazing.
4. Sweet tea
OK, fine, it's not a "food" per se, but good grief, is there anything more quintessentially Southern than a Mason jar full of freezing-cold iced tea brewed with more sugar than an entire Skittles factory? The answer is, "no, ma'am." And we'll take a large, please, with a side of insulin for good measure.
3. BBQ pulled pork
It doesn't matter if it comes drenched in Carolina vinegar, spicy Tennessee dry rub, mayo-heavy Alabama dressing, or simple Texas smoke, this tender meat-of-the-Southern-gods has the power to set off just about any sauce it touches. Pile it high on a chewy bun, add some creamy coleslaw, and buckle up for the best lunch of your damn life. Also, BBQ pulled pork nachos are hands down the best thing to come out of Memphis since Kathy Bates (and that Elvis guy, I guess).
2. Buttermilk biscuits
Yes, the biscuits are back. But, to be honest, it's hard to find a single Southern meal that doesn't come with at least one of these steamy butter-bombs. They make everything, from scrambled eggs to fried chicken, taste like a Sunday morning in some storybook Grandma's dusty kitchen. Besides, they're so nice we ranked 'em twice.
1. Fried chicken
Fried chicken is, without a doubt, the South's greatest export. You can dust it with cayenne and tuck it into a soft bun, plop it onto Belgian waffles and drown it in syrup, smother it in pepper-flecked country gravy, or yank it straight from a greasy paper bucket. It has all the qualities of the perfect food: crunch, juiciness, saltiness, spice, contrast in texture and taste, not to mention it smells better than a Mississippi magnolia tree in bloom. Any person claiming to hate the taste of fried chicken is lying like a no-legged dog -- period, end of story.
Sign up here for our daily Thrillist email, and get your fix of the best in food/drink/fun.
Meredith Heil is a staff writer for Thrillist. She's out that H-town, coming, coming down. She's coming down, dripping crawdads on the ground. Bow down to @mereditto.