Regional chains aren't simply side-of-the-road stops. For many, they're a way of life (and sometimes a shortcut to death). The South has some of the best chain restaurants in the country, cooking up everything from fried chicken to BBQ, burgers, and biscuits. So. Many. Biscuits. And while some, like Raising Cane's and Zaxby's, have been making their presence known outside the South, much of the country remains sadly unaware of many of the chains below. Let's hope they expand, fast, so our belts may too. 
*One selection note: We love Waffle House and Whataburger, but wanted to stick with chains that haven't become cultural institutions with huge footprints and international renown, or places that meteorologists use to predict hurricanes. 
Recommended Video
Tuna Eyeball with Timothy DeLaGhetto and Ben Sinclair
Where they are: Alabama, Florida, Georgia, Kentucky, Maryland, North Carolina, Pennsylvania, South Carolina, Tennessee, Virginia, Washington DC, and West Virginia
Why you need them: That Bojangles -- the biggest chain on this list -- started in Charlotte should already instill confidence in their chicken, but this is a joint that does its diligence. The chain's chicken arrives fresh at every location, and then takes a long marinade bath for 12 hours. Plus, the breading has a heavy dose of lip-tingling cayenne pepper. Go all in and grab a 12-piece & six biscuit box -- those buttermilk biscuits do a damn good job complementing the chicken's grease and spice. Bo's is also famous for its seductively sweet tea and all-day breakfast service -- so you can snag a Cajun Filet Biscuit to ease hangover pains whenever you decide to wake up.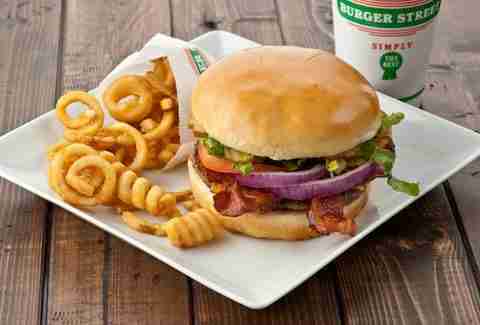 Where they are: Texas and Oklahoma
Why you need them: Fresh veggies and a juicy patty let you know this burger is made-to-order, but the lopsided burger shape and take-a-number serving style are a friendly mom-and-pop reminder. This place offers up a briny olive burger, something few chains roll with (shout out to Halo Burger in Flint, Michigan!), in addition to an oh-so-Texas version topped with chili and Fritos, plus killer curly fries and a line of frozen lemonades to give Del's a run for its money. It's an iconic restaurant founded by a dude who made iconic Southern staples his business: The same guy launched Taco Bueno and the South Park-famous Casa Bonita.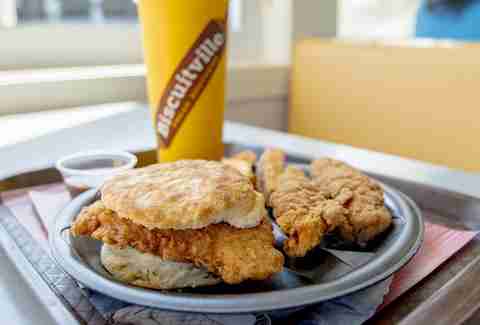 Where they are: North Carolina and Virginia
Why you need them: It's not just a clever name. These little hand-held pockets of joy are made from scratch and served up fresh from the oven every 15 minutes. Depending on your proclivities, your biscuit arrives doused in Dixieland specialties including a hefty spoonful of creamy pimento cheese, crispy fried pork chops, a blanket of sausage gravy, or flaky fried catfish, amongst many, many others. If you can take the heat, we recommend testing out the spicy cayenne-dipped Nashville hot chicken. And, as if that's not enough, get even comfier with countrified sides like fried okra, Carolina-style coleslaw, sweet potato casserole, cheesy grits, sticky honey buns, and yes, more biscuits. They also make waffle sandwiches. Don't even think about it.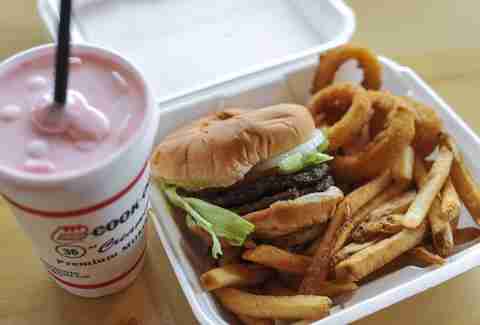 Where they are: Alabama, Georgia, Kentucky, Maryland, Mississippi, North Carolina, South Carolina, Tennessee, Virginia, and West Virginia
Why you need them: Cook Out feels a bit like walking into an incredible mall food court. Chopped pork BBQ? Sure. Chicken nuggets? Yep. Char-grilled hamburgers? Of course. Salad? Go somewhere else. Corn dog? Obviously. And look, it may seem like a tall order to fit a milkshake in after all that, but just make it work, OK? Go with "The Tray," the chain's mix-and-match-style combo meal let's you get a Big Double Burger, onion rings, a corndog, and a Cheerwine float for $5.
Where they are: Louisiana and Texas
Why you need them: Dat Dog's probably the smallest chain on this list, and that's a damn shame, because in a country that claims to love hot dogs but has a serious lack of hot dog-focused franchises, Dat Dog should be everywhere. New Orleans is a city that knows how to eat well, so if they're obsessed with Dat Dog's encased meat creations, from more familiar porcine options to less expected local flavors like alligator and crawfish, it's a safe bet that you will be, too. The first satellite location's already open in College Station, Texas. Let's hope that's just the beginning. We all need a duck sausage covered in crawfish étouffée. We just don't know it.
Where they are: Texas
Why you need them: Founded in 2012 by an aspiring lawyer who traded tort reform for torta reform (sorry, we had to), East Hampton was a longtime fixture on our list of best sandwich shops in America. So what happened? Well, it became one of the best sandwich chainlets in the country through fast expansion, and our list is reserved for smaller shops. But we annually reconsider our thinking, because these things are insane. Southern fried chicken is a star here, showing up Buffalo-style or loaded with avocado mash, pepper jack, greens, and cured bacon with a jalapeño cream sauce. But there are decidedly un-southern flourishes here, too, like rich lobster rolls covered in Old Bay mayo, hand-carved French ham and cheese sandwiches, and a fantastic prosciutto di parma. It's a collision of southern hospitality and east coast flavor, and the world needs more of that, especially given the joy of hearing somebody order "chowdah" in a southern drawl.
Where they are: Alabama, Georgia, Mississippi, and Tennessee
Why you need them: A burger chain that doesn't pull any punches -- this is a classic cheeseburger, and the recipe probably hasn't changed since it was served up at the original, walk-up counter in Birmingham back in 1960. In other words, it's a welcome reminder of why a simple burger is always awesome. Get the Big Jack, the signature with lettuce, tomato, onion, and pickle. It's one of life's simple pleasures, as is the crispy fried chicken, served with mashed potatoes, green beans, and a killer biscuit, as southern law dictates.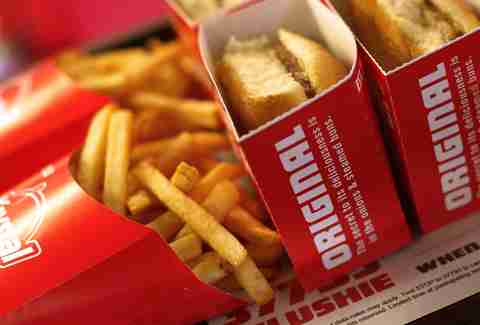 Where they are: Alabama, Arkansas, Florida, Georgia, Kentucky, Louisiana, Mississippi, North Carolina, South Carolina, Tennessee, and Virginia
Why you need them: Yes, they look almost exactly like White Castle, and are prepared in a similar way. But 1.) there are no White Castles in the South, unless you count the freezer at 7-Eleven as a restaurant (it's debatable) and 2.) Southerners claim Krystal's way better, touting a better steam, fresh onions, and a dollop of mustard atop the the square patty and pickle. But the Southern chain also fields a strong line-up of Chiks (breaded chicken breasts, filets, and wings), plus a itty bitty hot dogs and a huge selection of breakfast items. No chicken rings, though...
Where they are: Alabama
Why you need them: Milo's sweet tea is famous throughout the Southeast and up into parts of the Midwest, where grocery stores peddle jugs of the liquid sugar, but the lucky folks in central Alabama get to enjoy that tea in blissful harmony with a crisp square burger, melted cheese, tangy Milo's sauce (the recipe's a secret, but it's cousins with Russian dressing, BBQ sauce, and steak sauce), and a toasted bun. Every burger has the lunchtime equivalent of a cherry-on-top: a tiny extra square patty in the middle of a bigger burger. And, because Milo's likes secrets, the crinkle-cut fries are covered in an orange-tinted spice mixture.
Where they are: Texas, Louisiana, Arkansas, Kansas, Missouri, New Mexico, and Oklahoma
Why you need them: We hesitate to give Texas too much credit, but it's impossible to deny that Tex-Mex food -- with all its cheese-soaked, chili-lovin' awesomeness -- is amazing. Taco Bueno has your requisite tacos, burritos, nachos, and quesadillas, but the real move is to go with the Bueno Chilada Platter, which gets you queso and chili sauce poured over two ground beef Chiladas (a soft taco-burrito hybrid), plus rice, beans, and fresh guac. See, everything really is bigger. And because of stuff like this, everyone is too.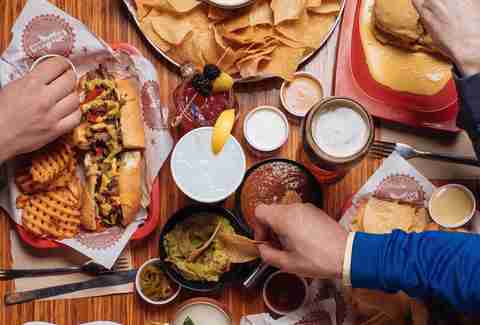 Texadelphia
Where they are: Texas and Oklahoma
Why you need them: Fact: The idea that you can't get a good cheesesteak outside of Philadelphia is inherently bullshit. And this chain proves that you can actually of well off the well-worn South Philly script and still do it right. Yes, they do an authentic sandwich wit, covered in Whiz. But they also bring a Tex-Mex flair to sandwiches, which basically means that they put queso on thin-sliced steak -- an addition that makes way, way too much sense, given queso's basically Whiz's country cousin -- and serve their sandwiches with chips and salsa. Funny what can happen when you challenge the notion that it's impossible to grill steak and onions in a different zip code.
Where they are: West Virginia, Kentucky, Ohio, and Florida
Why you need them: Has this list reached peak biscuits? No. There's no such thing as too many biscuits. Especially in the south, where this West Virginia chain has made a name for itself on the strength of its fluffy biscuits, even taking a foothold in that weird part of Ohio where people speak with accents and pretend the Buckeye state is part of the south. Anyway, the biscuits here are the stars of 19 fantastic breakfast sandwiches, including a stellar Shaved Ham Melt; the Miner with bacon, potato, and cheese; and the hilariously named Politician, which is full of bologna. But lest you think this is all hand held, they also do big-ass dinner platters with all the fixins, including chopped steak, country-fried steak, pork chops, and fried chicken. All come with biscuits. That should be implied.
Sign up here for our daily Thrillist email and subscribe here for our YouTube channel to get your fix of the best in food/drink/fun.