"Chain" is a catch-all phrase for a restaurant that has multiple locations, be it a fast-casual experience, a group of sandwich shops, or a fast-food empire. But when it comes to finer dining, putting the word "chain" in front of "restaurant" raises as many flags as putting it in front of "email." 
But here's the thing: Upscale chains can be completely legit if you can get past the semantics. And sometimes, they can represent some of the best dining options in a given area. That's especially true with steakhouses, those paragons of celebratory, special-occasion dining. Throwing the word "chain" in front of steakhouse brings to mind visions of Texas roadhouses, bloomin' onions, and baked potato bars for many. Which are absolutely fine for what they are, but aren't exactly the pinnacle of what a multi-location steakhouse can be. They, too, can be special occasions. But sometimes, you need something a little extra, a proverbial lobster tail atop the juicy steak that is your night out. 
The restaurants on this list are the cream of the multi-location crop. They range from white-tablecloth, old-school monoliths with tableside carving to tabletop cooking to South American meat-craft. The one thing they all have in common is that, no matter where they set up shop, they serve to elevate the entire dining scene, offering up something at once familiar and wholly unique to each location. They're the steakhouses that give "chain" a good name, even if many of them scoff at the very idea of being a chain to begin with. 
Recommended Video
This Restaurant Reinvented the McGriddle
Where they are: Alaska, Arizona, Arkansas, California, Colorado, Florida, Georgia, Illinois, Indiana, Maryland, Michigan, Minnesota, Missouri, Nevada, New Jersey, New York, Ohio, Oregon, Pennsylvania, Tennessee, Texas, Utah, Virginia, and  Wisconsin
You can roll your eyes and make all the Michael Scott jokes you want, but Benihana packs some serious cred beneath its adorable onion volcanoes. In declaring it among the most influential American chains of all time, we previously noted, the world-famous teppanyaki "managed to convince Americans that an Asian restaurant was worth spending big, special-occasion money on -- no small feat in 1964 when World War II was still very central in the country's collective memory, and considering America is still wrestling with the ramifications of certain immigrant cuisines being perceived as cheap." Regardless of being ahead of its time (now it's considered old-school) Benihana still manages to balance special-occasion showmanship with undeniably delicious offerings. The mushroom-grilled hibachi is a made-to-order highlight of a menu that answers "surf & turf" with "sushi & steak." Plus, dude, they don't even have a Benihana in Scranton…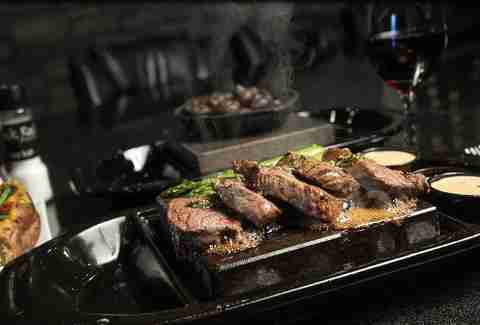 Where they are: Florida, Illinois, Maryland, Michigan, and Ohio
There's a lot going on at this rapidly growing Midwest-based empire, which splits the difference between super-chill bar and fancy steakhouse, including lobster bisque adorned with a full claw and a ridiculously decadent burger that manages to use fried mozzarella as a bun. But you're here for steak, and that's where Black Rock shines. See, that eponymous rock is front and center, and it's a doozy: a slab of volcanic rock heated to 755 degrees. This seems like the world's most dangerous centerpiece, but it's actually your own personal flat top grill. Basically, this is caveman's Korean BBQ, and that stone allows you to cook your own cut of Angus steak (or lobster, tuna, scallops, or baby backs). Go with a filet or New York -- maybe with a cast-iron full of Burgundy mushrooms -- and make it your way. Or many ways: Part of the fun is the fact that you can start out medium rare, then work your way to well-done (if you're a monster) while you eat/cook. Then maybe order that mozz burger. You know, for dessert. 
Where they are: Arizona, California, Colorado, Connecticut, Florida, Georgia, Illinois, Indiana, Maryland, Baltimore, Massachusetts, Michigan, Minnesota, Missouri, Nevada, New Jersey, New York, North Carolina, Ohio, Pennsylvania, Rhode Island, Tennessee, Texas, Virginia, Washington, Washington DC, Wisconsin
Capital Grille is part of the Darden family of restaurants, which means it's cousins with Olive Garden and Longhorn Steakhouse. But, like, distant cousins. Which is to say, this is a long way from endless breadsticks and Texas Tonions. Capital Grille is the fancy one of the family, and it's got some serious bonafides thanks to an beautifully curated array of prime cuts, including a masterful dry-aged New York strip au poivre and the 32-ounce dry-aged Porterhouse, perfect for a special occasion, even if said occasion is "eating a 32-ounce dry-aged Porterhouse." For those looking for something a bit more more creative, things get even more interesting with a coffee-rubbed dry-aged strip, or a porcini-rubbed ribeye kissed with 15-year aged balsamic, either of which pair great with creamed sweet corn with bacon, lobster mac, or burrata with heirloom tomatoes that also gets a dose of that special balsamic. Clearly, Capital Grille is also the artist of the family. 
Where they are: Alabama, Arizona, California, Colorado, Connecticut, Florida, Georgia, Iowa, Illinois, Indiana, Louisiana, Massachusetts, Maryland, Michigan, Missouri, North Carolina, Nebraska, New Jersey, Nevada, Ohio, Oklahoma, Pennsylvania, Rhode Island, Tennessee, Texas, Utah, Virginia, and Wisconsin
A relative newcomer to an upscale steakhouse world dominated by old-schoolers, Fleming's launched in Newport Beach during the heyday of the California cuisine movement. But you wouldn't really know it looking at its roster of prime steaks, which don't exactly scream "beach bod." And thank God for that. Sure, you can go with a lean petit filet mignon, but why would you do that when you can get the elusive bone-in version, or ribeyes served either dry-aged or with a big-ol' bone sticking out, maximizing flavor and getting another kick with the addition of truffle-poached lobster or jumbo crabmeat doused in béarnaise. Kick the meal off with beef carpaccio or a seafood tower stacked with crab, tuna poke, and lobster tails, and definitely take them up on the suggested wine pairings: This is a place that takes its wine as seriously as its steak, and, well, did we mention that bone-in filet?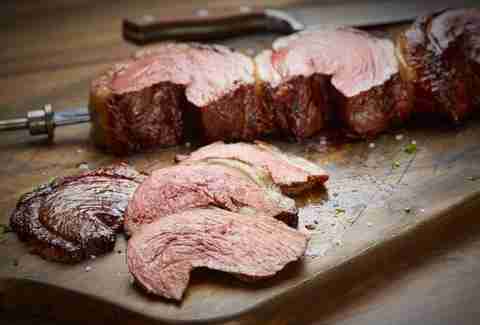 Where they are: Arizona, California, Colorado, Florida, Georgia, Illinois, Louisiana, Michigan, Maryland, Massachusetts, Minnesota, Missouri, New York, Nevada, Oregon, Pennsylvania, Texas, and Washington
Fogo has become the de facto ambassador of Brazilian churrascaria: It opened its first location in Brazil in 1979 to raves, but when it hit the US in 1997 -- in Texas, perhaps the only place that loves beef as much as Brazil -- it experienced rapid growth. And it's little wonder why. The place embraces the churrascaria style, in which meats are jammed on giant, lance-like skewers and roasted over fire. Throughout the course of dinner, well-dressed servers will circle the table like heavily armed dim-sum cart operators, offering up steaks, chicken, and sausages, which are then carved directly onto your plate in a manner that kind of resembles watching a street vendor carve a gyro, except here it's high-end steak. You can order big-ass entree steaks, but the move here is to get the signature pichana as the gauchos make their rounds -- it's a tender, salted, thin-sliced sirloin that folds over to slightly resemble a heart on the skewer. But don't fill up on sirloin alone: go all in with the full all-you-can-eat model, which allows you to get into bacon-wrapped steak, pork loin, and chili-spiked sausages, plus a trip to the market table full of charcuterie, cheese, and veggies. 
Where they are: Arizona, California, Florida, Illinois, Massachusetts, Nevada, New York, Texas, and Washington DC
At 20 years old, Mastro's is technically still be a baby in steakhouse years, but the Scottsdale-based Mastro's is about as old-school as it comes when it comes to getting opulent in style. This is a formal-attire-only affair, a cavernous place with dim, arty overhead lights, live music most nights, and an affinity for barrel-aged brown liquor. Oh, and it's got steaks and chops for days, highlighted by a Japanese A5 wagyu, bone-in Kansas City strip (basically a New York strip, but with a bone and a funny accent), and other location-specific specialities, all of which are wet aged to maximize flavor and many of which are carved tableside, because you did't get dressed up to cut your own steak. This is also a place that takes its sides and apps very seriously, with dozens of options to choose from, though passing over the steak sashimi, escargot, or lobster cocktail seems like a sin, unless you're saving room for a colossal seafood tower populated with the chilled shellfish of your choosing.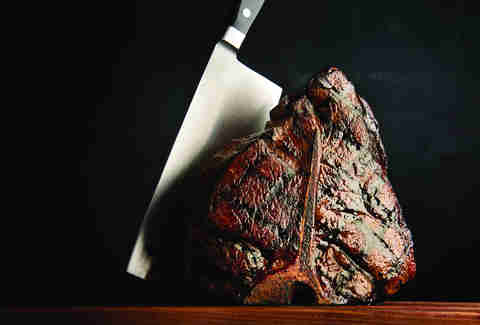 Where they are: Arizona, California, Colorado, Florida, Georgia, Hawaii, Illinois, Indiana, Kentucky, Louisiana, Maryland, Massachusetts, Michigan, Mississippi, Missouri, Nevada, New Jersey, New York, North Carolina, Ohio, Oregon, Pennsylvania, Tennessee, Virginia, and Washington DC
Used to be, Morton's was one of those steakhouses people told you you had to visit when you went to Chicago, one of those new-wave icons that's been bowling people over on the strength of its grills since the '70s. Well, things are different now, and while you'll still get a Morton's rec when you go to Chicago, chances are it's a place that people will tell you you have to go to Morton's when you visit dozens of other cities, thanks to an aggressive expansion. But here's the thing. Even if you're hitting a Morton's in Colorado, you'll still get that Chicago flagship experience, largely because they've used the same suppliers all along, and those experts peruse locally sourced beef for each market with the same watchful eye as a discerning sushi chef in butcher's clothing. Regardless of whether you get a wagyu Zeubton from Idaho or a prime Manhattan cut from New York, you'll be in good hands, especially given that the constants on the side menu include bacon & onion mac and the best Brussels of any chain, period. Oh, and most locations have a full-time sommelier, so whether you opt for a medium-rare steak, a rack of lambs, or a pile of crab legs, you'll have the ideal pairing. Just like in Chicago!
Where they are: California, Colorado, Florida, Georgia, Illinois, Massachusetts, New Jersey, New York, Nevada, North Carolina, Pennsylvania, Tennessee, Texas, Virginia, Washington, DC
The Palm's original location was a New York institution for nearly nine decades before it closed in 2015, one of those classic steakhouses where the host greeted you like family and a rich history was all over the walls -- quite literally, given the place had a tradition commissioning artists to draw caricatures of local luminaries on the walls of its otherwise very high-end institution. But as it's expanded into a fine-dining empire, the tradition lives on in each location, and that attention to local history paired with top-notch, fine-dining-with-a-hug hospitality has allowed it to become at once hyper-local and internationally renowned. It helps that the steaks are showstoppers, aged for a minimum of 35 days and ranging from petit filets to a massive double-cut New York strip, sliced tableside as god intended. Seafood's also big here, sometimes literally, as is the case with the 4+-pound Nova Scotia lobster, though they have less-aggressive seafood accompaniments on the extremely chefly menu too, including Maryland-style lump crab cakes. Don't skip the duck fat-roasted fingerlings, and be sure to come back often: Who knows, maybe some day the caricature looking back at you from the wall will be your own.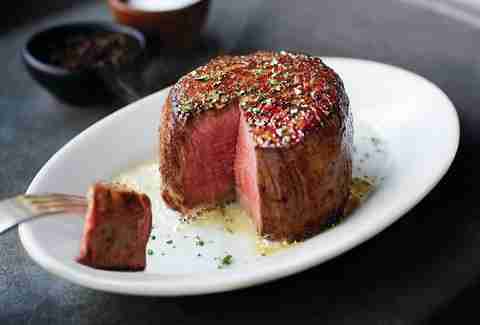 Where they are: 38 states
Opened in 1963, Ruth's Chris has expanded to pretty much every state and set flags abroad, bringing a fine-dining swagger wherever it goes and offering proof that you don't need to skip the pomp just because your circumstances have led to an international steakhouse empire. Here, white tablecloths and valets set the mood for a steakhouse experience that frequently catapults Ruth's into the top-tier of restaurant experiences in many of its cities… in fact, for a long time time, up-and-coming cities counted the arrival of a Ruth's as a sign they "made it." And while each location caters to local tastes there are a few constants: steaks from the New York strip to the signature filet are marvels of butter-soaked meat craft. The Crab Stack is a perfect appetizer, a glorious pile of citrus and blue crab that serves as a palate cleanser and a bar-setter. And the beastly Porterhouse for Two is a must-have for any carnivorous date night, a massive, beautifully marbled steak carved table side and intended to share. Think of it as the steak version of the iconic Lady and the Tramp dinner, but with a lot more blood.
Sign up here for our daily Thrillist email, get Eatmail for more food coverage, and subscribe here for our YouTube channel to get your fix of the best in food/drink/fun.