Let's face it. In the Year of the Rat 2020, as the collective voice of the dining world shouts down and shames folks away from meat-centric meals and celebrates all things vegetable and plant-based (including "meat"), publishing a list of great steakhouses feels as retro as many of the classic places that have long haunted these styles of stories.
And don't get me wrong. I love the nostalgia-inducing food memories sparked by going to places like House of Prime Rib in San Francisco, or Cattlemen's in Oklahoma City, or yes, even the target of New York Times restaurant critic Pete Wells' recent takedown, Peter Luger's in Brooklyn. And if you want to go to places like Spark's or Bones in Atlanta, or Bob's in Dallas, go forth with my blessing. You're just not going to find them on this year's list. 
This year we're focusing on the next generation of steak places. Places that, on top of giving you crazy incredible steaks, also pay careful attention to the highest quality sourcing while (hopefully) keeping an eye out for sustainability, or at the very least providing a degree of transparency. Steakhouses are, generally, expensive special occasion meals, and if you're forking over a lot of money to eat a lot of meat, it's reasonable to expect that in 2020 they're taking the same kind of care. 
Now for the process: To find the top places, I talked to butchers, food writers, and my friend Ramsey, who alarmingly eats only steak and sandwiches. As much as possible, I tried to trace the restaurant's steaks back to the meat purveyors and ranches supplying the spots to further determine quality, sourcing, etc. I spent an inordinate amount of time perusing meat catalogs and watching videos with ranchers describing their feed practices. And to help you navigate the menu, we've created a companion steakhouse glossary. But enough sizzle, let's get to the steak.
Philadelphia, PA 
In 2019, in the land of lavish 250-seat steakhouses, Philly chef Michael Schulson went the other way, and opened this diminutive 40-seat joint, which feels more like a steak studio rather than a house. But that smaller size allows Schulson, whose grandfather was a butcher in the Bronx, to control more of his meat. Outside of the grass fed filet, every steak on the menu is butchered and dry aged on the premises, from the 18-ounce NY Strip to the 45-ounce tomahawk. But it's not just the steak -- each element, from the Parker House rolls, to the bone marrow appetizer topped with beef cheek, to the gloriously old school Baked Alaska, feels hand-selected and special. Alpen Rose is simultaneously a love letter to and a critique of the old style steakhouse, and more people should be paying attention to what it's saying.
Seattle, WA
What's beef? Beef is when you roll 30 deep into Bateau just so you can try as many of the steaks up on the wall before they're crossed off and gone. Bateau, Seattle star chef Renee Erickson's take on a steak house, doesn't look like a steakhouse. It is bright and airy and nautical, very much in Erickson's style wheelhouse, but it just might be the most thoughtful and wonderful version of a modern steakhouse going in America right now.
All the meat comes from Heritage cattle breeds actually owned by Bateau and raised by Moses Lake, Washington ranch Pure Country. As their website states, "Our cows are conscientiously raised, grass fed and, just as importantly, grass finished." They then dry age all the meat for a minimum of three weeks, and Tom Coss, their in-house star butcher carves them up (there is a cool video you can check out showcasing what he does). Naturally, the steaks change daily according to what Coss has to work with, and are put up on the chalkboard. When they're gone, they're crossed off. It may sound simple, but it is a radical departure from the traditional steakhouse, and hopefully a harbinger for how more steak places will operate in the future. Plus, the cocktails are excellent.
New York City, NY 
Simon Kim's Korean barbecue-inflected play on a steakhouse needs to be acknowledged here, because they do something no other steakhouse in America does, a steak omakase consisting of 10 cuts of beef (plus sides and some small apps and dessert). I'm talking USDA prime skirt, hanger, filet, "finger meat" from within the ribs, a 45-day dry-aged rib eye, Japanese Miyazaki Wagyu (believed by some to be superior to Kobe), and a traditional soy marinated short rib called Galbi. Separate from that, there's a 150-day-aged strip on the menu. But about that omakase -- the experience of tasting single bites of an extensive variety of meats is unlike any other steakhouse, and that is the point: It is a complete rejection of the idea that you need to eat 45 ounces of the same cut.
New Orleans, LA 
Admittedly, it's a little confusing that the New Orleans-based second iteration of a Mediterranean-inflected steakhouse first opened in Costa Rica by three Israelis (who first owned a butcher shop together in Israel) might also be one of the best steakhouses in America, but it also happens to be true. All of the meat is aged in-house, including 21- and 31-day dry-aged ribeyes and strips, and both tenderloin and strip A-5 Japanese Wagyu. They also feature an on-staff butcher and butcher shop for guests to take home some of their cuts of dry aged meat if they desire. And trust me, after you try it in the restaurant, you will desire, indeed.
Houston, TX 
Ever since he opened Underbelly in Houston in 2012, the name Chris Shepherd has rung out in culinary circles around the country. But in the fall of 2018 when he decided to get into the steakhouse game in the most steakhouse-centric city in the most steakhouse-centric state in the United States of America, there was a little trepidation. Why would a chef who has made a name doing things other folks wouldn't and couldn't do, get so... basic? 
But, of course, no one should've worried. Georgia James, almost from the beginning, leapfrogged the rest of the Houston steakhouse elites with a menu that features steaks both dry- and wet-aged, sourced from Black Angus producer 44 Farms in Cameron, Texas, and also Snake River Farms in Idaho, and cooked up, as Shepherd does it at home, in a cast iron skillet (except for the wet-aged 100-day Hanger steak, which is wood fire grilled). And just like its chef, Georgia James' "Baller Board" meat plate, which features something like 11 cuts of meat and other animals, is already iconic.
Miami, FL 
Edge Steak and Bar is in the Four Seasons in Brickell. The Four Seasons is fancy. Edge is fancy. You can get foie gras and truffle bon bons. The dining room will be filled with both movers and shakers. But here is the thing, Edge also breaks down their steaks four ways: If you want grain-fed prime porterhouse from Creekstone, they've got you. If you want grass-fed filet from Southern Australia, yes. Real Wagyu from Miyazaki Prefecture in Japan is on the menu (also Australian Wagyu). And there's 100-day dry-aged prime saw cut ribeye. All of the meat is broken down into categories with its sourcing extremely clear (including the tea they get from American Tea Master and Very Cool Guy I Like Mike Ortiz at JoJo Tea). You walk in with your eyes open, and you leave with your stomach full.
Dallas, TX
The first time I tried John Tesar's food at Knife, it was to get the burger, which also happens to be one of my favorite burgers in the world. But the second time I went to Knife, I was freed from the shackles of burger eating, and I got to really see just what Tesar and his crew could do when that meat wasn't ground up at all. But before I even get into the steaks, let's talk a little bit about the fact that there is a five-piece bacon tasting and a ham tasting. As for said steaks, you can go "New School" with Celina, Texas's A Bar N Ranch Wagyu Skirt Steak, or "Old School" with a Harwood Texas-based Heartbrand Ranch Akaushi filet mignon, or "Exotic" with a 240-day Dry Aged 44 Farms 107 Ribeye. No matter what, you should still get an Ozersky burger for the table because it's a delicious burger, and anyway, steak can only get you so far.
Portland, OR 
Started by chef-owners David Kreifels, Jason Owens, and Benjamin Dyer over 10 years ago, Laurelhurst came into the world on fire, notching national awards for its mix of a casual shop to buy locally-sourced meats and a brasserie-style steakhouse with kick-ass food. Speaking of said kickass food, alongside Snake River Farms for their Wagyu, they use Hawley Ranch grass-fed beef from Cottage Grove. They get nearly everything else from other local Oregon farms and purveyors. If you can only get one thing, the move is Snake River Farm Wagyu Coulotte with a grand charred green onion sauce you'll want to put on everything else you eat. But man, I really hope you can get more than one thing.
Chicago, IL 
Though Bavette's tends to get more of the new school spotlight in the Chicago steakhouse arms race, Maple and Ash quietly and cheekily offers up an inventive and excellent selection of steaks you can rarely find elsewhere, like the Wagyu filet mignon from Pittsburg, Texas's famous Strube Ranch, or an 80-day Dry Aged NY Strip from La Pryor, Texas and, of course, The Eisenhower, a 40-ounce porterhouse cooked directly in the coals, just as Dwight D. inexplicably did it 70 years ago. Best of all, if you've got the money and want them to make all the decisions, just opt for the "I Don't Give a F*@k" because clearly they do.
Kansas City, Missouri 
Upon first reflection, Stock Hill can just seem like any new concept from a restaurant group playing in the space of Restaurants That Might Appeal To Younger Professionals With Disposable Income. And yet, when you look deeper, you see it's more than that. All their steaks, sourced through Halperns' Purveyors, are hand-selected, aged 30 days, and come either from a ranch in Quenemo, Kansas (like the wet-aged bone-in ribeye) or Omaha, Nebraska (like the Imperial Beef Wagyu Kansas City Strip). Add in their cocktail list, with drinks like the Smoking Hill with hickory-smoked ice, you can see Stock Hill didn't just try and become another stock upscale restaurant.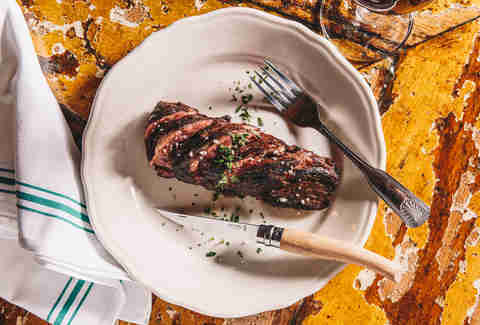 Brooklyn, NY 
New York Times former restaurant critic Sam Sifton once called St. Anselm "Keens for the millennial set," and New York Magazine called the owner the "Danny Meyer of Williamsburg." And yet, despite all of this backhanded praise, St. Anselm has stuck around for nearly 10 years as the anti-steakhouse steakhouse of New York. An unassuming neighborhood restaurant committed to serving grass-finished cuts of beef, like an under $30 butchers steak with garlic butter, and the show-stopping Piedmontese Ax Handle Rib Eye, you could make an argument that St. Anselm showed the rest of the world that there could be a way forward in the steak space without having to turn yourself into a faux-old-school show pony with tens of millions of dollars. And that's a lesson, frankly, more and more folks should start paying attention to.
Houston, TX 
Yes, Ronnie Killen has another steakhouse, which helped propel him to fame but STQ, which he opened in 2016, combines a focus on steak alongside barbecue and anything else he wants to do. And frankly, people by now should know you just let Ronnie Killen do what he wants to do. The 60-seat restaurant is small enough to feel intimate, but features a murderer's row of fantastic steak options, some wet-aged, some dry-aged, some sourced from Snake River Farms, and others, like the corn-fed dry-aged porterhouse from a farm in Illinois. The steaks, of course, are fantastic, but STQ's secret is that steak pairs gloriously well with barbecue, and if you don't get his pecan smoked pork belly with cherry habanero BBQ as your appetizer, well... you may want to question just what you're doing with your life.
Sign up here for our daily Thrillist email, get Eatmail for more food coverage, and subscribe here for our YouTube channel to get your fix of the best in food/drink/fun.