The Best Store-Bought Pies For Thanksgiving
Find out if it's worth shelling out $30 on a pie you could pick up from Trader Joe's for $6.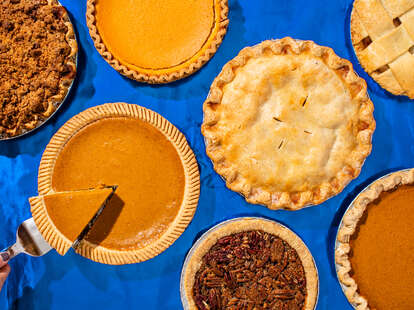 Photo by Cole Saladino for Thrillist
Photo by Cole Saladino for Thrillist
We see you. You've been assigned a dessert for Thanksgiving, and so here you are, looking up pie companies because you don't bake. And you've got your cursor hovering over an "add to basket" button, wondering if that pie is really worth $25, 35, 50?!? Could you get away with picking up any old pie from the grocery store, instead?
We're curious, too. Are those fancy pies you can order from a specialty bakery worth the extra money? Exactly what kind of sorcery is happening under those pricey crusts to make them cost that much? Or is there absolutely no difference at all, in which case you're completely justified in picking up a pie at Ralph's on the way to Aunt Simone's the day of?
We decided to find out. We ordered three pies from one of the best specialty pie makers in the country, the Southern Baked Pie Company. Surprisingly, they don't (yet) carry a sweet potato pie, so we ordered that from a barbecue outfit in North Carolina which shall go nameless because, bless their hearts, what they sent was an awful mess. Poorly packed, frost-covered, and the filling shrunken to half the size of the pie shell.
We ordered a replacement last-minute from The Little Pie Company here in New York City. Sacrilege? Probably, but we do what we must.
For our grocery pies, we got apple, pecan and pumpkin from Trader Joe's, and the sweet potato from a local supermarket chain, Food Emporium, made by Table Talk Pies. And then we assembled our trusty team of 25 Thrillist staffers to taste all of that pie and tell us which they liked best. Could we tell the difference between the pricey pies and the grocery pies?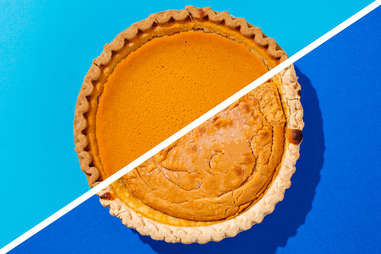 Sweet Potato
Table Talk, prices vary
Little Pie Company, prices vary
Sweet potato pie is new to a lot of our tasters, and some first assumed they were tasting extra pumpkin pies. But nope, sweet potato pie is it's own thing. Surprisingly, the supermarket pie (Table Talk) was the winner. I suspect it's because that pie was loaded with sugar, and the Little Pie Company's version tasted more like sweet potatoes. The latter was my preference.
As for the ugly frostbitten pie, one taster generously said it "tastes like it was made with love." Aww.
Pecan
Trader Joe's, prices vary
Southern Baked Pie Company, $39.95
People were almost evenly split between the Trader Joe's pecan and the Southern Baked Pie pecan, which is surprising since they are so different. Trader Joe's was overcooked almost to the point of becoming pecan brittle and was difficult to cut. One taster found it "weird and crunchy" while another preferred it, calling it "really good and sticky." Southern's, on the other hand, was a luscious dream of sweet caramel topped with toasted pecans. One taster called it "classy."
Apple
Trader Joe's, prices vary
Southern Baked Pie Company, $39.95
Not the most popular pie in general, but if you're a fan, Southern Baked Pie Company impresses with its gorgeous dome of a crust. Tasters preferred the flavor of its apples.
Pumpkin
Trader Joe's, prices vary
Southern Baked Pie Company $39.95
Trader Joe's pumpkin wasn't as dramatically different from Southern's this time, but again, the vote was nearly evenly split. Southern's was said to have "better all-around flavor and texture" but one person said it tasted too much like baby food. I think it had a truer pumpkin taste. Trader Joe's got a "wow" and a "Dubest," but one person thought it had too much cinnamon. Thrillist Explorers podcast host Wil Fulton admitted he wanted his pumpkin pie to taste less like pumpkin and more like a PSL, so he liked the Trader Joe's version.
Wild Cards
Southern Baked Pie Company Caramel Apple Pecan Pie $39.95

People thought this was OK. I definitely prefer the pecan to this—I don't want any fruit getting in the way of my pecan. But if you love an apple with a crumb crust, you really can't do better.
So what did we learn?
Order your fancy pies at least a week in advance, just in case, even though they usually take a couple days to ship. They will arrive frozen. You can defrost them on the counter for two hours, but they're better heated up in the oven before serving (according to the directions on the package). This goes for all the pies—they're typically sold with slightly under-done crusts for this very reason.
What it comes down to are two things. First, if aesthetics are important to you, the fancy pies are your obvious choice. Second, if you prefer a natural-tasting pie (that tastes like its main ingredient) go with the fancy. If you prefer a pie that pretty much tastes like candy, go with the supermarket. Either way, share it with love, because it's a Thanksgiving dessert, after all.