People tend to think of suburbs as havens for nondescript chain restaurants and, if Tom Hanks' filmography is to be believed, covertly homicidal neighbors. But thankfully, neither of those two prevailing stereotypes hold true in all cases! On the food front, certain suburbs distinguish themselves as having not just acceptable sustenance, but true destination-worthy eats that will inspire you to forget about whatever weird conspiracy theories you may have cooked up about your neighbors. Here are 11 of them.
Recommended Video
Thrillist's Best (and the Rest): The Truth Behind the Saddest Cookbook Ever
Annandale, Virginia
Population: 41,008
Metro area: Washington, DC
Annandale has long been the DC metro area's go-to for some bibimbap with a side of karaoke, but the Korean enclave has become an even more powerful draw in recent years with the opening of The Block, a 5,000-square-foot Asian food hall from the owner of the much-loved shaved ice slinging food bus SnoCream. Yes, they have an outpost here, and you'll also find everything from poke to pork belly pho to boat noodle soup at the various stands -- appropriately and excitingly, they recently launched a night market. Of course, focusing solely on the shiny new food hall does a disservice to all the excellent eating that's been available in the area for years, from the Korean-Chinese at Jang Won to the sublime soups at Lighthouse Tofu to the 24/7 Korean-Japanese gorging available at Yechon. What, you thought you were done? You haven't had any barbecue at Kogiya yet! Nor have you indulged in the sweeter side of things at Breeze Bakery. Honestly you may want to tap out on the karaoke and just go home for a nap, but that would make you a quitter.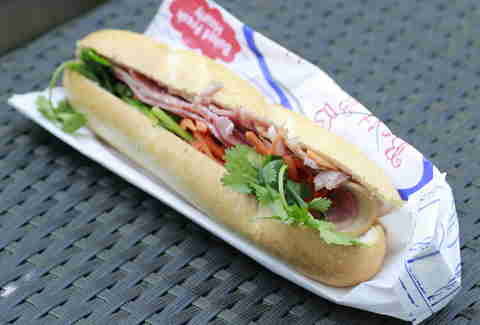 Beaverton, Oregon
Population: 89,803
Metro area: Portland, Oregon
Portlanders LOVE to bag on the home of Nike World Headquarters, what with all the car dealerships and strip malls. But they're also more than happy to brave the clogged roads of Highway 26 for a taste of Beaverton's legendary Korean offerings, and considering the suburb is home to one of the West Coast's largest Korean populations (it's no LA, but still...), that's no surprise. Locals and visitors alike flock for a taste of Duh Kuh Bee's transcendent hand-pulled noodles, dumplings, and barbecue variations that add a bit of Chinese influence to traditional Korean fare, while DJK and others offer up the full KBBQ experience, with an endless sea of banchan offering a feast while the bulgogi sizzles. Strip mall-bound Yuzu has been a destination for izakaya fare since long before the Japanese bar food overtook Portland, and Oyatsupan Bakers owns the tonkatsu game thanks to the brilliant marriage of fried pork and fluffy bread. It's a scattershot sampling of incredible cuisine, one where fancy Italian offerings at Decarli coexists with sumptuous Indian feasts and where fast-food banh mi spot Best Baguette continuously jockeys for sandwich glory with the legendary Beaverton Sub Station. Yeah, it's a lot of strip malls. And those strip malls are hiding culinary treasures amid the travel agencies and jewelry shops.
Bellevue, Washington
Population: 141,444
Metro area: Seattle
Bellevue has quietly elevated its culinary game over the years, serving to complement Seattle's storied food scene rather than compete with it. Still, even divorced from Emerald City altogether, Bellevue is a formidable and lovely example of the wide array of fresh, artisan fare that makes the Pacific Northwest so unique. And no, we're not talking about the endlessly babbled about Sugar Factory, white chocolate burgers be damned. Here, seafood is king, with fisherman's bounty taking a high-end turn at the vaunted Seastar, where everything from ahi to seafood stew and crabcakes commingle. Mom-and-pop shops, meanwhile, keep the seafood cheap, while the city's rich Asian history allows for a huge number of must-try sushi spots and dumplings, with Musashi's and an outpost of local fave Dough Zone respectively representing each beautifully. The Middle East is represented by the glorious shawarma of joints like Mediterranean Kitchen, while Daniel's Broiler is the prime cut steakhouse with a view. Still, for all its traditional flair, Bellevue's on top of the new trends too, as evidenced by the elevated bar fare of Lot No. 3 and the newish Lincoln South Food Hall, where burgers, bar, pizza, and poke find common ground under one roof, giving off a food cart-style experience without the need to stand in the rain.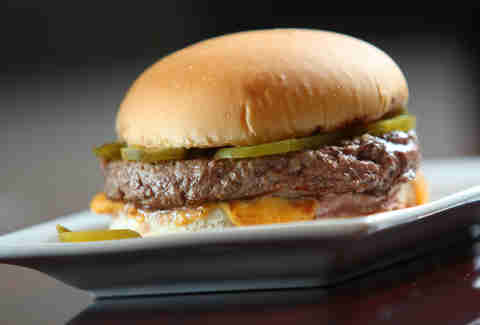 Dearborn, Michigan
Population: 94,491
Metro area: Detroit
With one of the largest Middle Eastern populations in the US, Detroit metro's Dearborn was bound to have at least a few great places for shawarma, kebabs, and baked goods. But the fact of the matter is, it's arguably the best place in the country for Middle Eastern food, period. Legendary James Beard-approved banquet hall Al-Ameer is the go-to place for shawarma, stuffed lamb, and other classics, but it's hardly the only game in a town that hosts New Yasmeen Bakery -- come for the fried kibbeh, stay for the cannoli -- and Yemeni destination Sheeba, plus the sprawling Dearborn Meat Market, which offers one-stop shopping for all things halal. But Dearborn pulls its weight beyond falafel, with classic, no-frills Miller's Bar offering one of the state's best burgers, a solid Coney contribution in Joe's Top Dog, Italian feasts at Giulo & Sons, and a pair of Latin American delights in M Cantina and Frida. And, just in case you're wondering, yes, there's a Buddy's Pizza there, too.
Decatur, Georgia
Population: 23,832
Metro area: Atlanta
The drive in and out of Decatur definitely isn't greater, but when it comes to the dining and drinking scene, ATL's feasty eastside suburb has it all figured out. If you love oysters and you haven't had them at Kimball House -- half-priced -- you've been cheated. If you like Indian food and nobody's recommended Chai Pani or Tava, your palate is basically Ben Kingsley. If you think Ford Fry is a genius restaurateur and haven't been to No. 246, you don't really know what the hell you're talking about, Willis. Actually, disregard that whole commuting problem, because no MARTA stop puts you within easy walking distance (as in less than a block) of so many seriously dope restaurants and bars, such as Revival, The Pinewood, The Iberian Pig, Leon's Full Service, and Brick Store Pub. And even the ones that aren't considered premium are still pretty damn good, whether you're hitting Farm Burger, Raging Burrito, ir Victory Sandwich Bar. Yeah, there's good food all around ATL metro, but if you want to make sure your dining dollars are well-spent, put your money on The Dec.
Dublin, Ohio
Population: 42,346
Metro area: Columbus
The restaurant industry has been at the forefront of a Rust Belt revival, with chefs and intuitive locals leading something of a revolution, helping cities like Cleveland find new identities through food. While not exactly hurting for revitalization, affluent Columbus 'burb Dublin has taken a cue from the bigger cities and stepped up its food game in a huge way, bypassing the region's suburban obsession with higher-end chains in favor of the kind of farm-to-table and global cuisine found in much bigger markets. Old-guard favorites like steak joint Tucci's and Irish pub Brazenhead still hold court, but things are getting decidedly more delicious in Dublin, from the up-and-coming Bridge Park district's constantly evolving dining scene to Downtown's mainstays. Most Midwestern towns still associate ramen with bricks, yet Dublin is home to the outstanding Fukuryu, a solid noodle stop on an East Asian tour that includes remarkable bites at Ty Ginger. High-end Italian is the game at Mezzo, Cameron Mitchell's Harvest Pizzeria brings a new wave of farm-fresh artisan pizza, and Napa offers a mix of comfort and California cuisine with expert wine pairings. Dublin may be small, but its restaurant scene is growing at a pace that it could soon become an unlikely destination for folks looking for an experience outside the bigger cities... but not too far outside.
Evanston, Illinois
Population: 74,756
Metro area: Chicago
It might feel like cheating to tout a Big Ten college town that lies immediately to the north of Chicago, but it wasn't terribly long ago that there wasn't much reason to cross Howard and head into Evanston unless you were looking to observe socially awkward Northwestern students in their natural habitat. These days, however, there's an abundance of edible reasons to hop on the Purple Line, from Eddie Lakin's gorgeously griddled burgers at Edzo's to the refined rusticness of Found to the opportunity to indulge all your pork cravings at The Peckish Pig and then cap the evening off with a fantastic cocktail at Ward 8. International flavor is also in abundance, from Jamaican at Claire's Korner (try the curry goat) to Taiwanese at 527 Cafe. And despite some of the previous needling, there are a few old-time Evanston institutions that are absolutely worth a detour, most notably the Chicken Shack, whose fried chicken can ably hold its own with any of Chicago's best. And while you're up there, snag some cinnamon rolls and donuts from Bennison's Bakery for the ride home. Well, let's be honest -- before the ride home.
Larkspur, California
Population: 12,396
Metro area: San Francisco
Defining precisely what constitutes a "suburb" in the Bay Area can be a tricky business, what with Oakland and San Jose also having their respective spheres of influence, but Larkspur most assuredly qualifies, with its idyllic downtown and easy access to both San Francisco and Oakland. But why talk semantics when we can talk food? Picco's California-meets-Italy cuisine could hold its own in any major city, and the same goes for the pizzeria they opened next door. Though, said pizza also has to compete with the excellent pies at Farmshop, which, in turn, have to compete on their own menu with all manner of locally sourced culinary wizardry. And even though every street corner seemingly has its own next-level donut shop these days, not all of them are Donut Alley, just like very few dive bars have the character (and characters) of The Silver Peso -- yes, generously poured well whiskey absolutely counts as food if it's in the right environment and from the right bartender, OK?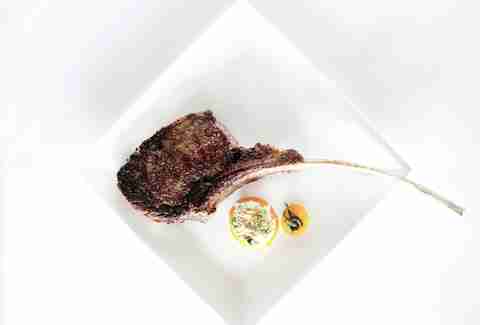 Pearland, Texas
Population: 119,940
Metro area: Houston
Ronnie Killen may have given this city tucked under Houston's southern edge one of the finest steakhouses in the country AND a barbecue joint that regularly draws hour-deep lines of brisket and beef rib seekers, but Pearland is more than just Mr. Killen's protein party, even though that could be a sweet name for another restaurant (speaking of other restaurants, he's also gotten into the Tex-Mex game with Killen's TMX. Before Killen's came to town, Central Texas Bar-B-Q was giving the area its smoked meat fix since the late '60s, with a stellar lineup of off-menu Cuban dishes that make it a departure from your typical barbecue joint. Speaking of islands, D'Caribbean Curry Spot has built a loyal clientele on the back of its oxtails, jerk chicken, and curried goat. King's Biergarten was started by an Austrian dude named Hans, so as you can imagine they have a way with schnitzel and robust beer consumption. Thanh Phoung offers standout Vietnamese in an area that's deep with excellent options on the pho front. And lest Texas-style barbecue get all the love, recently opened Seoul Pig has given the area an already buzzing Korean barbecue joint to ensure that meat consumption remains appropriately high.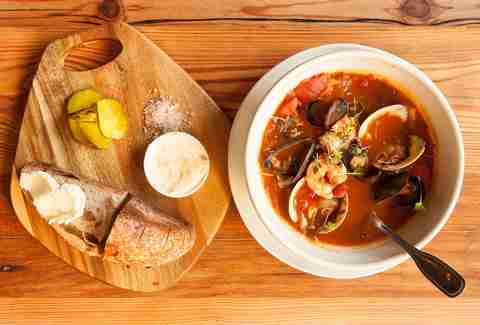 Round Rock, Texas
Population: 123,678
Metro area: Austin, Texas
Austin's still one of the fastest growing cities in the country, but cost of living has led to an exodus to both tiny Texas towns like Lockhart and booming suburbs. Round Rock is the closest, and although it was long the butt of jokes, a flood of hip young families have brought their tastes with them. Arguably Austin's best tacos (Veracruz All Natural) and best burger (Hopdoddy) both can command hour-long waits within the city, but now have line-less footholds in the suburb. Jack Gilmore -- the iconic chef behind Austin favorite Jack Allen's Kitchen -- has basically taken over, with an outpost of his eponymous comfort food restaurant plus Salt Traders Coastal Cooking, a seafood destination worth the drive. But for those screaming "don't Austin my Round Rock," there's plenty of homegrown options as well. The suburb has always been a melting pot, with favorites like Teji's Indian Restaurant and Grocery becoming so popular they actually expanded to Austin. Biting at Teji's heels is Southern Indian-influenced Chennai Cafe. Palermo Pasta House brings the red sauce, Miso mixes Korean and Japanese influences, and Taste of Ethiopia puts the big city's African options to shame. Take that, Austin!
Winter Park, Florida
Population: 30,879
Metro area: Orlando, Florida
If you've never bothered to venture outside the parks, Orlando is actually pretty fantastic city with a thriving food scene that doesn't involve popsicles with mouse ears. That food scene got its start, however, in the posh suburb of Winter Park. The city first made its mark with 4 Rivers Smokehouse, the best barbecue joint in the state that's now spawned 14 locations. And following that success, John Rivers opened a more-traditional southern spot in Winter Park at The Coop. Ravenous Pig is mentioned by many as the best restaurant in metro Orlando, a gastropub that's the second generation of the massive hit Cask & Larder, who now operates out of Orlando's airport. Winter Park also has the best high-end Mexican food in the area at the sunny Cocina 214 and first-rate Indian fare at Mynt. Want brunch? Briarpatch has lines around Park Avenue on weekend mornings for its truffle fried eggs, pear, and gorgonzola omelets. As any self-respecting fancy suburb should, Winter Park now boasts its first vegan restaurant, Ethos, serving stuff like chicken bruschetta and vegan pizzas. Block for block, Winter Park just might have a greater variety of choices than the big city next door.
Sign up here for our daily Thrillist email, get Eatmail for more food coverage, and subscribe here for our YouTube channel to get your fix of the best in food/drink/fun.