Everybody knows that the best part about Super Bowl has nothing to do with the actual football being played. It isn't the zingy commercials that cost millions of dollars per slot and feature clydesdales and celebrities, nor is it the halftime shows that are bedazzled with special effects yet still often feel lukewarm. No, the best part about the Super Bowl is always the food. We're talking endless piles of chips, steaming bowls of queso, and probably a mountain of wings if you are lucky.
Everybody does Super Bowl snacks differently though, so what better way to get inspired for your own Super Bowl spread than by tapping into the experts? We caught up with 14 professional chefs and restaurant owners from all around the country to get the lowdown on what they love to eat and serve during the big game. And trust us -- these taste better than any football victory could.
Recommended Video
This Restaurant Reinvented the McGriddle
Eden Grinshpan - Finger foods
Chef/Partner, DEZ (New York City, NY)
I love a mix of random things: tacos, nachos, hummus, wings. Tacos are just super easy to put together -- especially when you have solid corn tortillas; nachos are the ultimate football food; hummus is your healthy option (I serve it with pita and crudite); and wings -- saucy, juicy wings that you can't keep your hands off. OH, and guac… obviously. All these foods are super easy to whip together and huge crowd pleasers. You want food that is easy to hold and eat in front of the tv.
Steven Redzikowski - Chicken wings and spring rolls
Executive Chef/Partner, OAK at Fourteenth (Boulder, CO)
Gotta go with the classic chicken wing! I bring them to a simmer in water -- then drain, coat with cornstarch, and deep fry. Then I toss them in a homemade hot sauce, along with crispy garlic, rosemary, parmesan. It's delicious and perfect for sharing with a crowd! This year, I'm also going to make Burnt End Brisket and Cabbage Spring Rolls with mustard dipping sauce. Beer and barbeque go hand in hand -- plus, spring rolls are easy for sharing and a great option for game day entertaining.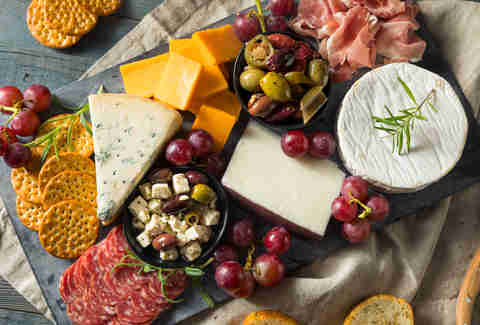 Kris Yenbamroong - Charcuterie board
Chef/Owner, Night + Market (Los Angeles, CA)
To be completely honest, I'm not a huge football fan. But, my wife Sarah, is. She loves snacks for Super Bowl viewing, because grilling burgers or steak would take her away from the TV screen. She'll visit DTLA Cheese, and put together a charcuterie board with sesame crackers from Mitsuwa Market. She'll also put together an endive salad inspired by Chef Ignacio Mattos (of Estela in NYC) with toasted walnuts.   Thankfully, the endives won't be wilted, even in the 3rd quarter! Popcorn seasoned with furikake and a Caviar station (with potato chips, creme fraiche, and chives) may make an appearance.
Jaime Young - Italian sandwiches
Executive Chef/Partner, Sunday In Brooklyn (Brooklyn, NY)
In my opinion, Super Bowl party food should be handheld. My go-to would be Italian sandwiches. Spicy salami, mortadella, hot capicola, prosciutto, shredded lettuce, fresh mozzarella, sweet peppers, olive oil, and red wine vinegar on traditional semolina bread (the yellow kind!). Big bag of Ruffles potato chips and Coors Light... and you're ready to go!
BJ Smith - Sauerkraut, mustard and kielbasa
Chef/Owner, Kim Jong Smokehouse (Portland, OR)
I'm from a Midwest polish family so the Super Bowl was always sauerkraut, mustard and kielbasa. My grandfather would always make and smoke his own and I do as well, but there is no shame in buying kielbasa and throwing it on the grill. Goes great with yellow mustard and sauerkraut with bacon and caraway.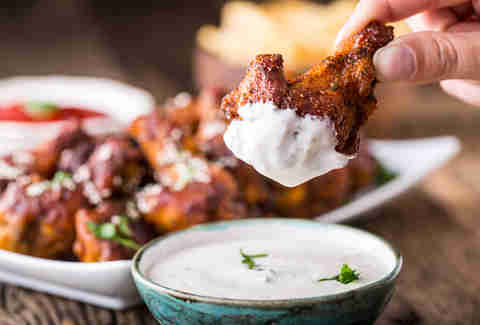 Louis Tikaram - Chicken wings and blue cheese sauce
Executive Chef, E.P. & L.P (West Hollywood, CA)
I'm from Australia so the Super Bowl is a fairly new event which I have come to love during my time living in America. I absolutely don't care who is playing, who is winning, and what the rules are -- I am there for the vibes, food, and beer. I'm glad it only happens once a year because when those hot wings with blue cheese sauce start to come out of the kitchen I seriously can't stop eating them. The flavour combination is so addictive and unique with the mouth tingling spice and vinegar wings balanced out with the salty, cooling, and savoury blue cheese sauce. Suck them straight off the bone and go for another one; I barely have time to even look up at the screen! GO SPORTS!
Sarah Schafer - Paella
Owner/Executive Chef, Irving Street Kitchen (Portland, OR)
Wood fired Paella every time. It's so good, from the variations in styles to the presentation. It's an opportunity to be out and enjoy some cold weather between Patriots touchdowns too.
Santiago Gomez - Mexican ceviche
Chef, Cantina La 20 (Miami, FL)
Without a doubt, my favorite snack for the Super Bowl is Shrimp Aguachile (Mexican ceviche). It's a fresh option and really simple to make and serve. You don't want to miss any second of the game. This dish can be made quickly before the game and ready to serve at any time! Remember to give a nice spicy kick to your Shrimp Aguachile.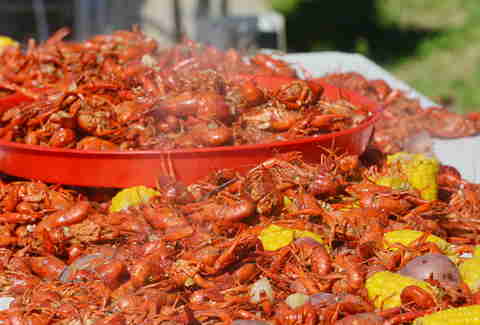 Marcus Jacobs and Caitlin Carney - Crawfish and French onion dip
Chef & Front-of-House Manager/Partner, Marjie's Grill (New Orleans, LA)
From Chef Marcus – I love the Saints and am so excited to see them cruising in the playoffs, all the way to the Super Bowl. [Editor's note: it was definitely pass interference]. To celebrate their success, and our city, I graze on crawfish, picking and sucking throughout the game.
From Caitlin Carney – One of our favorite snacks is homemade French onion dip that we make extra delicious and fancy by adding caviar, caramelized onions and lots of green onions. And you have to serve it with Ruffles chips because the ridges grab all the goodness.
Kate Williams - Corndog Rilettes
Chef, Lady of the House (Detroit, MI)
Favorite snack to serve during Super Bowl is Corndog Rillettes with Cheddar Bechamel. I make a pork rillette, form it, batter it like a corn dog, and fry it. Then I dip it in the cheddar cheese sauce unless I'm at my mother's house, I'll go old school with buffalo chicken dip and make sure to get the tortilla chips that are shaped like bowls... genius. The NFL team I support through the good, bad, or ugly (and it's often ugly) is the Detroit Lions.
Brian Riggenbach - Chips and dip
Chef, The Mockingbird (Nashville, TN)
While I'm not the world's biggest fan of football, I am a huge fan of chip and dip! Spicy hummus with quinoa chips, sure I'm in. Queso and Totino's, absolutely! You want the textural difference, the temperature and the ease of use. It's the perfect finger food that allows you to satiate your way through the game. I like all dips, so as long as you have a nice hearty bread and dip you are in good shape -- and gooey, creamy, cheesy never hurts for bonus points!
Amos Watts - Skewers
Executive Chef/Partner, Corrida (Boulder, CO)
I'll grill chicken, shrimp, steak and vegetable skewers throughout the day for Super Bowl. They cook really fast, so when your friends/family get hungry, you can throw a few on the grill and you don't have a big plate of food getting cold during the game.
Clemente Heredia - Ribeye tacos
Owner, Calo Kitchen + Tequila (El Segundo, CA)
A go-to Superbowl food is always tacos. My favorite protein for the big game is ribeye since it's the right occasion to pull out all of the stops. Tortillas are always better homemade, classic corn. The ribeye is oven-baked for supreme juiciness and topped with melted cheese (whatever I have or sounds best at the time and will melt best), sauteed mushrooms, onions, and cilantro. As for salsa, I like anything charred whether red or green, it adds so much smoky, rich flavor. Salsa needs to be good enough to top a taco and eat with a chip, even if it's simple.
Sign up here for our daily Thrillist email, get Eatmail for more food coverage, and subscribe here for our YouTube channel to get your fix of the best in food/drink/fun.