Fact: tailgating is the great American pastime. That's why the next-gen tools, tech, and more below are key to living the most patriotic, bratwurst-fueled lifestyle. And there's no reason to limit your parking lot dominance to football weekends. While all the gear below (sorry, you'll have to build that sweet motorized couch up there yourself) will make anybody a lot legend on Sunday, feel free to let this game-changing equipment enhance life every other day of the week, especially Tuesday (you know why, Tuesday).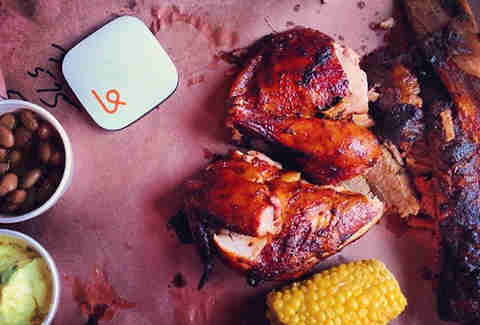 Want to stream pre-game content or blast your soundtrack from Spotify? You're going to need some Wi-Fi, and this little box can provide it. But tailgating is a collective experience, and the Karma takes advantage of that. The typical plan starts at $14 per GB, but when someone new connects to your network, you both get a free 100 MB of data to use. That's so many MBs, man.
Any good tailgating setup needs power for things like a stereo, laptop, and decorative inflatable wacky arm guy, and this 50lb generator can supply more than enough. There's power here to charge even big appliances (a mini fridge is no problem.). Plus, it runs much cleaner and quieter than other generators in its class, so you can concentrate on the smells and sounds of the brats as they cook, rather than burning fuel. It can last for eight hours at 25% load, which means partying through two football games or one very traditional Catholic wedding.
 
When it's time to blast "Freebird" as loud as possible, this is the portable speaker to send out those sweet guitar riffs. It's only about the size of a tallboy can of beer, but its clever speaker arrangement gives it a true 360-degree sound field. It connect via Bluetooth, allowing anyone to beam tunes to it from up to 50ft away. Battery life? Try 15 hours. Plus, it's rugged and water-resistant, so it'll survive getting knocked over by a football or lawn dart.
 
Before leaving for the lot or wherever else you plan to tailgate, stick these stainless steel rods in the freezer and let the cooling agent inside do its magic. Then, when the party kicks off, drop the rod in a beer bottle and it can keep a brew chilled for a lo-o-ong time, even if you're nursing it. You can even screw the whole thing directly into the bottle and drink from a spout in the top, ensuring beer that's chiller than Matthew McConaughey (oh who are we kidding, nothing's chiller than that guy. He's so chill.).
With 320sqin of cooking space, this compact gas grill has enough room for a dozen burgers at a time, but collapses down small enough to fit into the trunk of a standard sedan. Unlike a lot of other portable grills, it holds and uses a full-sized propane tank, too, so you won't have to switch bottles every time you want to put a good sear on a steak. And the high-heat from the infrared cooking system means quicker cooking times and more hours spent debating the finer rules of corn hole.
 
Typically, you'll find charcoal and gas grills at a tailgate party, but this is one of the only portable cookers that uses wood pellets. Once you set the temperature, a built-in auger doles out just enough fuel to keep the grill at a perfectly consistent temperature, which means no babysitting like charcoal. Using the built-in Wi-Fi, you can even control the temperature from a phone, tablet, or Wi-Fi-enabled graphing calculator (not really.). The best part, however, is that any grilled grub will have the unique wood-fired taste that would make Hank Hill cry in his propane tank.
 
The cooler is the center point of any good tailgating setup. It's the watering hole around which all the wild animals of the parking lot convene -- and this is a very serious cooler. Two inches of burly insulation keep things frigid inside for hours without the gross cooler sweat accumulating on the outside. It has military-grade handles, burly no-slip feet, and a tough exterior that would likely survive a bear attack (or at least a tantrum by an angry Bears fan.).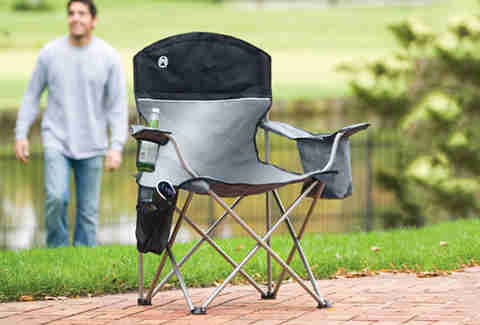 Because those who enjoy tailgates also enjoy the eating lifestyle, the Coleman's steel frame supports a padded butt-repository that can support up to 325lbs. Like most camping chairs, it has a cup holder in the arm, but this one goes beyond, adding a hanging cooler that can hold up to four more beers while keeping them cold. If you can bribe someone into bringing a steady stream of bratwursts (yes, this is the third and final bratwurst reference.), you may never have to get up from this thing ever again.