Every Flavor of Talenti Gelato, Ranked
With over 40 flavors to choose from, there's something for everyone.
Frannie Jiranek/Thrillist
It seems like Talenti has every flavor of gelato (and sorbetto) under the sun. The gelato company -- known for its ridiculously reusable containers -- began when founder Josh Hochschuler fell in love with the creamy dessert in Buenos Aires. He loved it so much, in fact, that he completed an apprenticeship at a heladeria in the Argentinian capital before launching his company stateside.
Today, there are 45 flavors in regular rotation: Some are fruity and robust, like the Roman Raspberry sorbetto. Others take inspiration from pies -- pumpkin and Key lime, to be exact. There are seasonal classics too, like almond butter and honey, peppermint bark, and caramel apple pie. Unfortunately, some flavors will be excluded from this list because they weren't in season or I was unable to get access to them. Other flavors have been removed after being retired. Even so, there's an abundance of gelato to choose from.
Whether you like chocolate or vanilla, peanut butter or caramel, there seems to be something for everyone. I ate through all the flavors of Talenti I could get my hands on and here is how they stack up from worst to best.
Frannie Jiranek/Thrillist
37. Old World Eggnog
I genuinely think eggnog during the holidays is lovely. It's spicy, it's thick, it's comforting. However, this eggnog-flavored gelato is anything but. Talenti missed the mark with this pint; bluntly put, the flavor was abrasive, overwhelmingly nutmeg-y, and sickeningly sweet. Not sure what exactly is "old world" about this flavor but it's a 'nay' from me.
36. Pumpkin Pie
Riding on the wave of overly spicy ice cream flavors is the pumpkin pie pint. There was too much nutmeg, too much sugar, too much cinnamon -- and not enough pumpkin. This flavor allegedly has bits of pie crust throughout, but I honestly couldn't identify any sort of real texture within the mass of sweet pumpkin cream. If you're craving pumpkin pie, seek out the real stuff.
35. Layers: Dark Chocolate Cherry
My editor and I unanimously decided to call this flavor the "grandma" flavor because it definitely tastes like something a grandma would like -- like a pint of boozy cherry cordial. That's because this flavor is laced with vermouth and then layered with fudge, a cherry sauce, and chocolate truffles. Unfortunately, the cherry and chocolate don't quite worth together this time and it actually tastes too boozy for my liking.
Frannie Jiranek/Thrillist
34. Mediterranean Mint
If I was in the mood to eat some frozen toothpaste but not have stomach issues after, this would be the ice cream I would turn to because that is exactly what this ice cream tastes like. I just don't find mint ice cream to be particularly refreshing or good, but to each their own. This flavor has flecks of bittersweet chocolate throughout, which gives it some texture. If you're into mint chip, you would probably enjoy this flavor. It's personally not for me.  
33. Layers: Mint Fudge Cookie
If I were the type of person to stockpile thin mint cookies in the freezer and ration them out throughout the year, I could see why this flavor would be appealing. The fudge is a really nice addition -- creamy, sweet, indulgent -- while the cookie layers adds some welcome crunch. Again, mint isn't really my jam, so I wasn't crazy about this, but if you love mint, you'll probably go nuts over this. And I'd be happy for you.
32. Southern Butter Pecan
Sweet, sweet, and more sweet -- that's basically all this ice cream tastes like. I was hoping for some more nuttiness or complexity from the swirls of dulce de leche and the pecans, but the entire flavor was homogenous, like eating spoonful after spoonful of caramel.
31. Pacific Coast Pistachio
This flavor, which was once called Sicilian Pistachio, bummed me out because I really love pistachios. And what I love more than pistachios is pistachio ice cream. Unfortunately, there wasn't enough pistachio flavor. It left me feeling like I was eating bland ice cream with the occasional surprise pistachio. More pistachios please Talenti.
30. Coconut Almond Chocolate
If you want Almond Joy in gelato form, Talenti has created it. This sweet, coconut-y ice cream wasn't as creamy as I was hoping; I'm not sure if the almonds were too finely chopped, or the chocolate shavings were too hard, but the mouthfeel of this ice cream wasn't what I was expecting from gelato, which is normally smooth and velvety. That being said, the flavor is really balanced.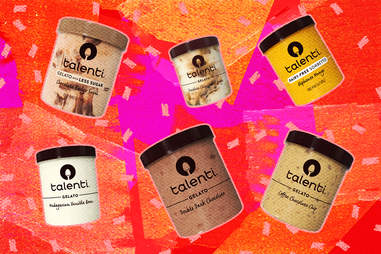 Frannie Jiranek/Thrillist
29. Chocolate Chip Cookie Dough
I used to be a firm believer that all chocolate chip cookie dough ice cream would be good, period. It seemed logical; how can throwing in gobs of cookie dough be a bad idea? And I'm right, it isn't. But what is a bad idea is advertising an ice cream as chocolate chip cookie dough without including any chocolate chip cookie dough. I was trying to figure out if I was crazy, or if the cookie dough had kind of blended into the ice cream, but it was so scarce that I felt like I was just eating a sad vanilla ice cream with a small ripple of chocolate.
28. Sorbetto: Alphonso Mango
A confession: I don't like ripe mangoes. I know, I know, I should have both my Thai heritage card and food writer card revoked. That being said, I can sometimes -- in small glimpses -- understand why fresh, ripe mangoes may be appealing. This sorbetto was one of those moments; sweet yet floral, fragrant and complex. As someone who loves raw mangoes dipped in chile, fish sauce, and salt, I think if this sorbetto was topped with Tajín or a fresh squeeze of lime it would be infinitely better.
27. Madagascan Vanilla Bean
Talenti fans are up in arms after Tahitian vanilla bean was subbed out with Madagascan vanilla bean. I personally haven't had the former, but I can say that the latter is a pretty solid vanilla bean ice cream. It's not the best vanilla bean ice cream I've ever had -- could have a stronger vanilla flavor, be creamier, be richer -- but I would happily eat this any day of the week.
26. Coffee Chocolate Chip
Coffee and chocolate is a pairing I can get behind, but be warned: the coffee flavor in this pint is strong. So if you like your coffee black and bitter, this ice cream might just be for you. I appreciated the large flecks of chocolate chips studded throughout and the balance of sweet, rich, and bitter flavors.
25. Double Dark Chocolate
The double dark chocolate has a rich, true chocolate flavor that makes it undeniably good. There were lots of chips scattered throughout as well as moments of bitterness, thanks to a dash of vermouth. The ice cream is really nuanced, like it was perfected for adults who like chocolate ice cream.
Frannie Jiranek/Thrillist
24. Black Raspberry Chocolate Chip
Berries, cream, and chocolate are a sundae combo made in heaven, and this gelato is no exception. It's refreshing, fruity, and tart from the raspberries but is balanced out nicely by the bittersweet chocolate chips. If you're looking for an ice cream that satisfies your cravings for both fruit and chocolate, this is it.
23. Caramel Cookie Crunch
The flavor name promises crunch, and the pint delivers.This vanilla gelato is loaded with chocolate chips and little crunchy bits of chocolate chip cookies for texture. It also stars a dulce de leche swirl throughout which adds a nice ribbon of sweetness.
22. Vanilla Caramel Swirl
I misjudged this ice cream. Based on its name, I thought it would be staggeringly sweet, but I was pleasantly proven wrong. Talenti's vanilla caramel swirl is loaded with vanilla beans and generous with its dulce de leche. Sure, its creamy and sweet, but beyond that it's also aromatic and inviting. I'd definitely indulge in this flavor again -- perhaps over a piece of pie or sandwiched in between two cookies.
21. Fudge Brownie
Include the word "fudge" in the name of your gelato and I am all in. This flavor was gooey and chocolaty, sprinkled with actual brownie bits throughout and generous ribbons of thick fudge. How could it have been improved? More brownies, please.
20. Key Lime Pie
I have a strong affinity for extremely tart dishes, whether they're intended to be savory appetizers or dessert. Key lime pie is at the top of my list of favorite treats. The ice cream itself was creamy, and the graham cracker swirl and chunks were buttery and delicious. But gazing at the ingredients list, I couldn't find key lime anywhere. This makes sense because this gelato barely tasted limey -- it was almost like there was a sprinkling of essence of lime, and the sugary cream of the gelato overwhelmed everything else. If Talenti redid this flavor and added fresh lime zest or juice, it might just claim the top spot.
Frannie Jiranek/Thrillist
19. Organic Ginger Matcha
This was a matcha made in heaven (sorry). It's the same earthy flavor of matcha but warmed up with the spiciness of ginger. In fact, the ginger is kind of the star element here -- and a bit overpowering. If you're hoping for a pure green tea flavor that is grassy, creamy, and sweet, that isn't exactly what you'll find. Despite that, this flavor is refreshing with a bit of an edge. All the ingredients are also organic, which is a win in my book.
18. Dairy Free Sorbetto Cold Brew Coffee
If you've ever cracked into a can of Japanese coffee, then know that this gelato tastes just like that -- meaning it is strong in its coffee flavor, lightly sweet, yet smooth and milky (even though it has no diary). It basically tastes like frozen cold brew, and that is a very good thing -- especially if you are embracing a plant-based diet.
17. Hazelnut Chocolate Chip
As a sane human who loves Nutella and Ferrero Rocher, this gelato really hit the spot for me because it tastes like both! It's full of hazelnuts and chocolate chips, all folded within a decadent hazelnut gelato. You can't really go wrong with hazelnuts and chocolate and Talenti was smart to turn the combination into a spoonable gelato.
16. Chocolate Peanut Butter Cup
This flavor tastes as if you are eating a frozen Reese's peanut butter cup. Talenti was generous with the swirls of peanut butter, as well as sprinkling of mini peanut butter cups mixed into the rich chocolate base. Might we suggest topping a peanut butter cup with a spoon of this gelato?
15. Organic Oak-Aged Vanilla
Organic oak-aged vanilla is a flavor that took me by surprise because it actually tasted, well, oaky! It's not a flavor you'd expect in ice cream -- it's kind of smoky, woodsy, with a bourbon kick. But I enjoyed it; it was refined, like an indulgent treat made specifically for adults who smoke out wooden pipes and read their New Yorker subscriptions with monocles.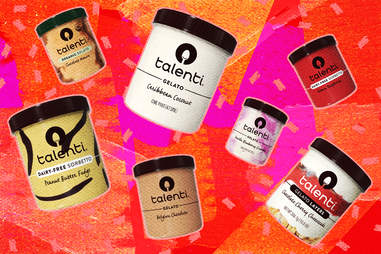 Frannie Jiranek/Thrillist
14. Carribbean Coconut
Although the name of this flavor is Caribbean coconut, apparently the coconuts used for this gelato are sourced from the Philippines. Either way, this ice cream is tropical and refreshing, like laying out on a secluded island in the Caribbean (or Philippines -- whichever is fine). There are generous coconut flakes swirled throughout and the frozen treat itself has a rich, smooth consistency.
13. Layers: Chocolate Cherry Cheesecake
Talenti has nailed cheesecake ice cream. It is typically a flavor that is hard to make because it is is so often overly sugary without the tang that makes cheesecake... cheesecake. But here, the cream cheese flavor is very present; the cherries add a nice, tart contrast; and the graham crackers and cookie pieces gave a welcome crunch. If you love a classic New York cheesecake with cherry topping, give this flavor a go.
12. Belgian Chocolate
This flavor tastes like eating an expensive, melted-down-then-frozen chocolate bar that isn't too milky or too sweet. I have zero complaints.
11. Vanilla Blueberry Crumble
Nothing tastes more like summer than a blueberry crumble served up with vanilla ice cream -- unless it's that exact experience but in ice cream form. The brown sugar oat crumbles that float throughout the pint are toasted and fragrant, while the blueberry swirl adds a nice punch of acidity. It could use more blueberry, but overall it's delightful experience reminiscent of summer's best dessert.
10. Roman Raspberry Sorbetto
This is a delicious sorbetto. The ingredients are really simple: sugar, raspberries imported from Chile, water, and lemon juice. The result is a perfectly fruity, tart, and divine dessert that is clean and with intense raspberry flavor.
9. Dairy Free Sorbetto PB Fudge
I truly can't believe this is dairy-free and vegan. This gelato is so decadent, with a perfectly creamy consistency. The fudge ripple is thick and generous, a perfect pairing alongside the thick peanut butter flavor. If you're a fan of peanut butter cups then you have to try this flavor -- regardless of if you're vegan or not.
8. Organic Chocolate Mousse
There is wizardry to be found in this pint on gelato. I don't know how they did it, but this chocolate mousse flavored ice cream actually has a fluffy, whipped, mousse-like consistency. It is seriously magic to me -- how can this be a frozen treat yet still be so light?
Frannie Jiranek/Thrillist
7. Organic Brown Butter Caramel
This genius flavor is just as advertised: buttery and sweet, but not cloying. The brown butter flavor really shines among the notes of burnt sugar, and the texture is velvety and soft -- as all gelatos should be. The addition of brown butter caramel swirls is appreciated and dispersed evenly, making this a very solid caramel flavored ice cream.
6. Raspberry Cheesecake
Talenti nailed this flavor: It's sweet but genuinely cheesy and tangy; you can really taste the cream cheese in it. And I appreciated all the crunchy bits of graham cracker crust; if anything, I'd say the amount of raspberry sauce could be increased.
5. Layers: Vanilla Fudge Cookie
Sometimes you don't want to have to choose between chocolate or vanilla and with this pint you don't have to. It features both chocolate and vanilla gelato, with layers of chocolate cookie crumbs, fudge, and chocolate waffle cone bits for extra texture. It's essentially a pre-made sundae in a jar -- all it is missing is the cherry on top.
4. Layers: Black Raspberry Vanilla Parfait
There are two flavors of gelato in this container -- vanilla and black raspberry -- and though this flavor is called black raspberry vanilla parfait, there is also a layer of blueberry sauce that adds a fruity kick. And since it has parfait in the name, that means you can eat it for breakfast, right?
3. Sea Salt Caramel
This caramel flavor is near perfect. It's salty and sweet, and studded with chocolate caramel truffles throughout -- hidden as if they were part of a treasure hunt where you must excavate the very good caramel gelato to find the candies. This is definitely one of the best caramel flavors Talenti makes.
2. Layers: Peanut Butter Vanilla Fudge
This is for all the peanut butter enthusiasts out there. Layers of peanut butter and vanilla gelato are divided by hot fudge sauce, miniature peanut butter cups (as delicious as they are cute), and peanut butter cookies. I really appreciate the addition of vanilla ice cream; it prevents the entire affair from being too peanut butter-y. Truly, this was a win.
1. Layers: Salted Caramel Truffle
Among the sea of caramel flavored gelatos -- and really all the gelato flavors Talenti has -- this one reigned supreme. It has two layers of rich, salty-and-sweet caramel gelato, made better with the addition of chocolate cookies, dulce de leche, and a floor of chocolate caramel truffles that I would truly devour on their own. I refuse to ever share this flavor. Go get your own.
Sign up here for our daily Thrillist email, get Eatmail for more food coverage, and subscribe here for our YouTube channel to get your fix of the best in food/drink/fun.