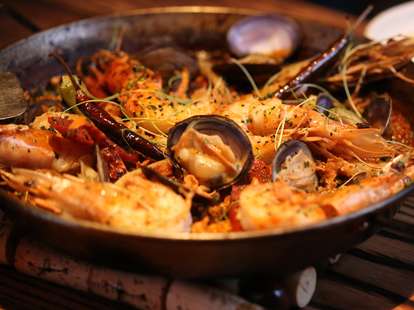 Grant Condon/Thrillist
Grant Condon/Thrillist
Hola amigos. Don't be intimidated by our totally fluent Spanish, we just wanted to whet your appetite for this breakdown of the best Spanish restaurants across the country. Whether they're serving Catalonian, Basque, Valencian, Andalusian, Aragonian, or even Extremaduran cuisine, these 14 spots -- everywhere from the Spanish hotbed that is Florida, to the not-so-Spanish hotbed that is Seattle -- should satisfy any and all cravings for crispy burnt rice, sherry, and ham that kind of tastes like acorns. Disagreements and random asides about making money while working from home should be dropped into the comments, but for now, sit back with another Barca gin & tonic, and buen provecho.
Philadelphia, PA
James Beard Award-winning Iron Chef and all-around food deity Jose Garces first opened Amada in 2005, and the Philly culinary landscape was forever altered, which sounds even more dramatic if you say it in a Spanish accent. The best move at Amada is to get the Especial tasting menu, which usually comes with three or four off-menu items so damn delicious you might attempt to stuff extras in your pockets, but ordering a la carte is a good call as well, assuming you're a smart man and get the crispy pork belly with cauliflower, Rioja jam, and boquerone salsa verde. Or if you come with a squad and order in advance, their cochinillo asado (roasted suckling pig) will make you have pork dreams for weeks on end.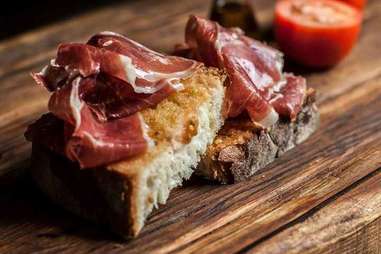 Houston, TX
From Barcelona-born Chef Luis Roger, who has done everything from working in the kitchen of Ferran Adrià at El Bulli to cooking on a private sailboat going around the world, BCN is all about sweet, sweet new takes on traditional Spanish recipes, as evidenced by must-order-at-all-costs dishes like their boneless grilled pork feet with chickpeas and chorizo fricassee, and their breaded baby lamb chops with Majorcan baked vegetables, yogurt, mint, and lemon, which both pair rather nicely with their Ultimate Gin & Tonic packed with tonic ice cubes and juniper berries.
Miami, FL
Miami may be more known for Cuban cuisine, but Bocaito is the first of two Spanish restaurants in Will Smith's favorite city to jig it out. Start with a plate of Serrano ham, manchego, and chorizo, and pass bolas de bacalao (fried codfish balls), pulpo vinaigrette (an octopus salad, tossed with vinaigrette), and a few of the small sandwiches -- we're partial to the beef tenderloin with onions and piquillo peppers. If you've never had Spanish tapas, this is the best intro: it's simple, traditional, and damn delicious.
Dallas, TX
From Chef Omar Flores and Jonn Baudoin, Rubia aims mainly for cuisine from the Catalonian side of Spain and keeps a tightly curated menu majoring in seafood, with a minor in vast quantities of sherry. Look smart and well-read by getting the Cape Cod mussels with sour orange, sherry, herbs, and smoked trout roe alongside a delicious foie-/brioche-stuffed Texas quail, or just order the paella del día, and work on your rolling your R's.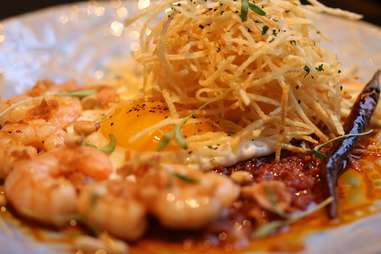 San Francisco, CA
Michael Chiarello's waterfront ode to Spanish and Basque cuisine is so damn handsome, you'd be excused for going there even if they only served tap water. But luckily the Cali-inflected menu of tapas and raciones goes a little bit further than agua.
Be smart and do what we do: start with the chef selection of cured meats and cheeses, snag at least two of the huevos de codorniz (spicy quail eggs with pickled mustard seed and jamón Serrano), then get the sunny side-up huevo (mix together the egg with the peppery shrimp, crispy potato, and chorizo right when it comes to your table), and finish it all off with the Pluma, an acorn-fed Ibérico de bellota pork shoulder loin with a honey-chili glaze for just the right amount of spicy-sweet. Oh, and get several of their Barcelona-style gin & tonics to wash it down. Save the tap water, California's in a drought.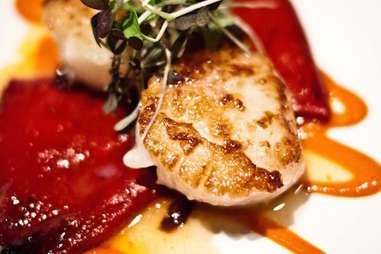 Asheville, NC
An authentic Spanish tapas restaurant tucked away in the Blue Ridge Mountains isn't exactly expected, but neither was Katie Button's path here. The Cúrate executive chef has a chemical engineering degree from Cornell and a biomedicine master's from L'École Centrale in Paris. While just that combo would intimidate most people, Button then shifted paths and dove into the culinary world with mega-wattage star chefs, working in Jose Andres' DC kitchen, then with Jean-Georges, and capping that with a seven-month internship at Ferran Adrià's El Bulli.
If all that left you feeling underwhelmed with your own skills, well, there are few things that can't be fixed with a plate of nutty, sweet Ibérico ham, Button's grilled, goat cheese-stuffed piquillo peppers, or fried honey-drizzled eggplant.
Miami, FL
A game plan is essential before you walk into Delicias de España. Don't be distracted by the whole, giant Serrano hams right when you walk in the door of the South Miami location. Don't turn left for the myriad Spanish groceries or right for more hams and sausages. Instead, go straight to the dining room: if it's the morning, the move is scrambled eggs with chorizo and fries, but if it's later in the day, grab a snack of spanish tortilla topped with ham and cheese. Then, get a cortado, because you need fuel to go back to tackle the groceries and the bakery. You didn't think you could leave WITHOUT buying fresh bread and some of that Serrano, right?
Washington, DC
Yes, they now have spinoffs in Vegas and even Maryland (!), but way back in 1993, Jose Andres (with Rob Wilder and Roberto Alvarez) first came up with his tapas joint showcasing the dishes of Spain, and people flipped out. And just because it is now a Cap City institution and Andres is a celebrity chef, doesn't mean it doesn't hold up even 20 years down the road, especially after you taste their jamón Ibérico de bellota Fermin (48-month cured, acorn-fed ham), the oyster "gin and tonic," and their extremely famous gambas al ajillo.
Seattle, WA
Though a name like Clay Kinsey doesn't exactly scream "SPAIN," the head chef at this tiny Belltown tapas joint knows how to balance the España cuisine with the flavors of the Pacific Northwest in a way that feels both at home in The Town, and Europe. Our move is to start with the chorizo in Spanish cider and honey reduction (choricitos a la miel), and then move on to the anchoas y huevos revueltos (scrambled eggs with a bunch of delicious things), as well the Pacific swordfish skewers. Then drink A LOT of sherry. Oh, and if you go late night, you'll usually find some delicious tapas sitting on the bar to go with that sherry.
Scottsdale, AZ
Once you see the live flamenco shows and the Spanish guitar and the other bells and whistles, your tendency might be to write TPF off as not focused on the food, but you'd be quite incorrect. Chef Joseph Gutierrez's menu of Basque, Andalusian, and Catalonian cuisine is on point, especially if you get the Tigres (steamed mussels in a tomato/pepper hot sauce), or the glazed snails in sherry vinegar aioli, or the pan-fried black rice sausage (morcilla de arroz). And fine, yes, we do kind of like the weekend flamenco show too.
Boston, MA
To truly understand the power of Ken Oringer and Jamie Bissonnette's long-standing Barca-style restaurant, just know that when they opened a spinoff in NYC in 2013, it became the hottest restaurant in town, and there is nothing New Yorkers hate more than admitting they like something from a couple of Bostonians.
And yet the original, now around for 10 years, has been frustratingly packed FOR ALL 10 YEARS with nearly every table filling up by 6pm so diners can stuff their faces with pato con membrillo (smoked duck drumettes with quince glaze), spicy beef curry empanadas, and a fantastic paella Valenciana. Also, they get extra points for having a fall-only cocktail called Yoga Pants.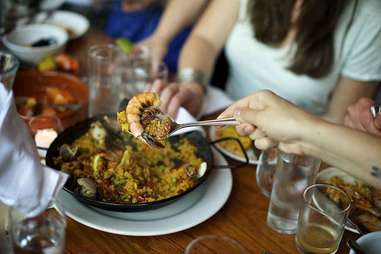 Portland, OR
The centerpiece of a grassroots restaurant empire that also includes Tasty n Sons and the Mediterranean Exploration Company, John Gorham's Toro Bravo is Spanish food executed with perfection and panache in the Portland tradition -- which is to say, it focuses on seasonal ingredients, and isn't afraid to go off the script.
On the old-school side of things, you can get braised beef cheeks, patatas bravas, fried empanadas, and the best damned octopus a la plancha you've ever had. The rest of the menu speaks to Spanish food while embracing outside influences, whether its foie gras complemented with Spanish Moscatel grapes or Moorish lamb chops with a bevy of unexpected spices. Oh, and because every Portland restaurant must, they've also got a great burger. Pro tip: there will be a wait -- a wait that's much more pleasing over craft cocktails at the Secret Society next door, or frozen margaritas and beers at Bunk Bar, also next door.
New York, NY
Don't be intimidated by the name of this temple to Basque cuisine... because you also won't be able to pronounce most of Txikito's dishes. But you still need to try the Txitxiki -- chorizo hash sandwiches that'll make you wonder why you never took the spicy sausage to hash form before -- and the Txipiron "encebollado" -- grilled squid ribbons that look more like delicate spaghetti and come in a delicate, yet rich sauce of sweet, slow-cooked onions and pine nuts. Husband-and-wife team Alex Raij and Eder Montero even make the now-mainstream pimientos de Padrón exciting again. The piperrak are flash-fried Basque peppers tossed with sea salt that're both delicious and give your tongue a break from stumbling over "tx."
Chicago, IL
Husband-and-wife team Mark and Elizabeth Mendez have run this intimate wine bar for the past several years in a quiet (relatively speaking) corner of Chicago's restaurant-happy West Loop. Thoughtful, well-executed shareable plates like shrimp a la plancha and clams with house-made chorizo and white wine populate the menu alongside a well-curated wine list particularly deep in sherry (also: whatever wine's on tap is generally a fantastic deal). If you happen to find yourself there on a Sunday and you fail to order the lobster paella, you've made a terrible mistake.
Kevin Alexander is Thrillist's Food/Drink executive editor, and once owned Spanish CDs that he'd listen to before he went to bed. Tell him that's not how you're supposed to use them: @KAlexander03.
Liz Childers is the associate Food/Drink editor, and she'll be in the corner with a month's supply of manchego and jamón Ibérico. Follow her to Spanish cheese plates: @lizchilders1.