Photo courtesy of LeRoy & Lewis
Photo courtesy of LeRoy & Lewis
Ask anyone what Texas is known for and you're likely to get two consistent answers: being really big and making great barbecue.
They're not wrong. Texas's barbecue tradition runs deep. Pitmasters enlist wood-fired smokers to cook meat low and slow, giving brisket, ribs, and sausage the same loving attention usually reserved for fine-dining kitchens. People across the country—even across the world—make pilgrimages to Texas to see what all the fuss is about.
When it comes to Texas barbecue, brisket dominates the conversation—and rightfully so. The best examples are marbled with luscious fat, topped with a crispy, seasoned bark, and good enough to make visitors take up residence. But don't sleep on the sides.
Potato salad, coleslaw, mac 'n cheese, and pinto beans comprise the classic side dish quartet on menus around the state, and, when treated with care, they make delicious accompaniments to the main course. But, occasionally, you find side dishes so good, so unexpected, that you forget all about that beef rib in your hand and dive back in for more.
These are eight of the best side dishes you'll find at Texas barbecue joints. Some are creative takes on traditional favorites, while others stray from the classic templates entirely. They range from brisket-and-cream-cheese-stuffed jalapeños wrapped in bacon to smoky, creamy scalloped potatoes, and addictive greens swimming in a spicy gochujang broth. Add them all to your bucket list.
Frisco and McKinney
How do you improve on the spongy snack cake? Easy. Set it down and start over with jalapeños. Hutchins began serving Texas Twinkies in 2014, and it's been a hit ever since. It stuffs the largest jalapeños it can find with cream cheese and chopped brisket, wrap the peppers in thick-cut bacon, and then smoke the meaty torpedoes until the bacon is crisp and rendered. It's a perfect bite. If you can't get to the Twinkies, they'll go to you—Hutchins offers national shipping, so you can order a dozen (or several dozen) and they'll be delivered straight to your door.
How to try it: Stop by for first-come, first-served seating, or purchase via the website.
Houston
Feges is the rare barbecue joint where the sides might be the star of the show. Sure, the brisket, pork ribs, and fried chicken are worthy additions to your plate, but Feges puts out more than a dozen sides, from traditional (coleslaw, charro Beans) to nontraditional, like the Moroccan Spiced Carrots and Spicy Korean Braised Greens. The latter is a take on Southern-style greens that sees kale cooked in a brothy mix of gochujang, red bell peppers, and garlic. Eat the tender greens, then scoop up every last bit of the potlikker with bread—or a spoon.
How to try it: Stop by for first-come, first-served seating, or order pickup via the website.
Fort Worth
This relative newcomer opened in early 2020, and after weathering more than a year of pandemic-related trials, the young barbecue joint was named Texas Monthly's best in the state. So, expect a line. But once you get through the doors, you'll find a small menu of expertly smoked meats (brisket, pork ribs, sausage) and thoughtful sides. Stalwarts like potato salad and coleslaw are joined by Jalapeño Cheese Grits, a warm and creamy dish that's flecked with peppers and cheddar cheese. The spice cuts through the richness to keep you coming back for more.
How to try it: Stop by for first-come, first-served seating.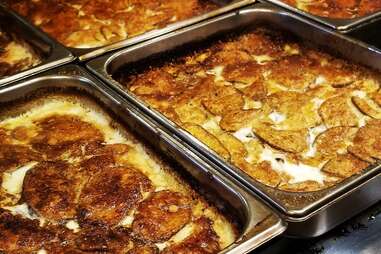 Austin
The chefs behind the former Noble Sandwich Co. brought their artisanal ways to Interstellar BBQ, where the sides receive as much care as the meat. The best of the bunch is the Smoked Scalloped Potatoes, in which thinly sliced potatoes are layered into a bath of cream and garlic, topped with a generous helping of shredded Parmesan, and then thrown in the smoker until that top layer of cheese resembles a crackling creme brulee crust. It's not light, but it is delicious. Fortunately, Interstellar also serves a bright, palate-awakening Tomato Zucchini Salad to balance you out.
How to try it: Stop by for first-come, first-served seating.
There's more to Texas than just great barbecue, folks. Breathtakingly diverse landscapes, like Big Bend National Park and Guadalupe Mountains National Park in West Texas, offer a natural respite for outdoor enthusiasts while the San Antonio River Walk is a 15-mile oasis for the urban explorer. No matter your interests, the Lone Star State is a vacation destination unto itself waiting to be explored, so, plan accordingly.
San Antonio
2M Smokehouse serves a menu of traditional barbecue with Tex-Mex accents, which can be seen in everything from the serrano-and-Oaxacan-cheese-stuffed pork sausages to brisket tacos served on fresh tortillas with pico de gallo. That treatment also applies to the sides, like the Pickled Nopales, Mexican Street Corn, and Chicharoni Macaroni. That last one is a serious departure from the sad, cafeteria-style mac 'n cheese that congeals the moment it hits your plate. 2M's version features creamy, white cheese topped with crumbled chicharrones, providing a dose of salty, porky crunch with each addictive bite.
How to try it: Stop by for first-come, first-served seating.
Farmers Branch
Cattleack is only open for three-and-a-half hours every Thursday and Friday, plus the first Saturday of each month (Hey, when the food's this good, you can do whatever you want). Plan accordingly, then brave the line outside this unassuming strip mall spot for wagyu brisket, some of the state's best and biggest beef ribs, and—in a twist—North Carolina-style whole-hog pulled pork. But also get the Burnt End Beans, a smoky, savory one-two punch of baked beans laced with flavorful hunks of the prized meat.
How to try it: Stop by for first-come, first-served seating, or place bulk preorders for pickup via the website.
Pearland
Ronnie Killen has built a restaurant empire in the Houston area, with concepts spanning steakhouses, Tex-Mex, burgers, and barbecue. But his most beloved dish might be creamed corn, which appears on several of his menus, including at Killen's Barbecue. Corn is shaved fresh off the cob and then combined with milk, cream, butter, sugar, white pepper, and cayenne pepper, plus a pinch of Parmigiano-Reggiano cheese. It's rich, delicious, and a good reason to have a salad later. But, for now, pair that corn with brisket, beef ribs, smoked turkey, or pulled pork.
How to try it: Stop by for first-come, first-served seating, and order pickup or delivery via ToastTab.
Austin
You'll find this fan-favorite barbecue trailer parked at Cosmic Coffee + Beer Garden. The owners source meat from responsible Texas ranchers and put out mains like Akaushi Brisket (available Saturday and Sunday only) alongside Barbacoa and Pulled Whole Hog. Bringing in whole pigs means there's a lot of pork to go around, so LeRoy & Lewis incorporates the extra bits into its Pork Hash and Rice. The pork and rice are combined with mustard and hot sauce and receive a scallion garnish. Rather than boasting large hunks of that pork, the dish eats like rice with rich gravy. If you want to make the side a meal, you can upgrade to the Loaded Pork Hash and a hearty portion will be topped with salsa, crispy pork skins, Fritos, and pickled smoked jalapeños.
How to try it: Stop by for first-come, first-served seating.