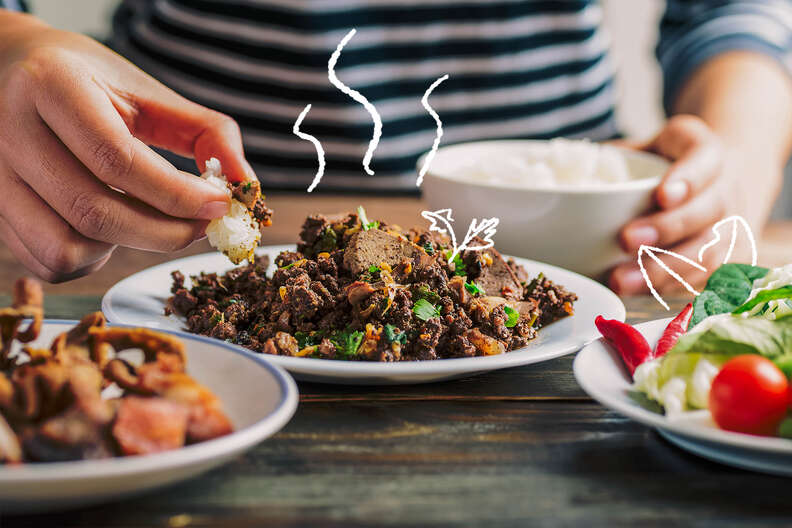 Photo: Shutterstock; Illustration: Emily Carpenter/Thrillist
Thai Restaurants Make the Tastiest Salads You'll Ever Eat
Don't you think salads are unfairly judged, with inaccurate descriptors like "boring" and "bland" and "not tasty"? People tend to overlook them while perusing restaurant menus. But I think these criticisms are unwarranted. Salads are fun and refreshing. They can be creamy, acidic, cheesy, fruity -- whatever you want them to be. And you should definitely consider ordering a salad when you're at a Thai restaurant, especially since they travel well as take-out or delivery.
When you picture a salad, I'm sure you're imagining a bed of greens, some dressing, maybe some crunchy bits like croutons and sunflower seeds. Thai salads are nothing like that -- and that's part of the reason why they might be the best thing on the menu. These salads are so vastly different from what people generally imagine a salad to be, that it feels like a special secret among those of us who know the genius of these spicy and often meaty dishes.
Firstly, I want to clarify that when I say Thai salad, I am not talking about Americanized interpretations, with sugary peanut dressing and fried wontons. I'm talking about the salads that originate in Thai cuisine, salads that are primarily composed of meat (yes, meat salad) and have robust flavors of lime, chile, sugar, and fish sauce -- the holy quadrality of Thai food.
There are three categories of Thai salads: yums, tums, and larbs.
Yum Salads
Thai salads that are called yums are aptly named due to how delicious they are. Yum roughly translates to "mixed or tossed together," which is what happens with these savory salads.
In southern Thailand, where beautiful coastal towns and fresh seafood are plenty, one of the best salads to get is yum talay or yum plameuk -- a "salad" of seafood or squid that's dressed in acidic lime, chile, sugar, and fish sauce and served on a bed of lettuce with chopped shallots and makrut lime leaves for good measure. It's not really a salad in the generic sense of the term -- more so a medley of seafood that's spicy, bright, and full of chunks of shrimp, mussels, and baby octopus.
Yum woon sen, or glass noodle salad, is also commonly found under the salad section in Thai restaurants. The irony is all in the name -- it's not really a salad so much as a noodle dish -- but contains the same flavor profile as the yum talay. Health-conscious Thais see yum woon sen as an opportunity to still consume noodles without the heaviness of the egg and rice varieties, because woon sen is made from mung bean starch instead.
You can find all kinds of yums in Thailand, cultivated from different bases. There's also yum neau, or spicy beef salad; yum som oh, a spicy-salty pomelo salad where chile and salt mingles with fruit; yum mamuang, a raw mango salad; and yum pla duk foo, which is a deep-fried catfish "salad" paired with a chile and mango fish sauce dip.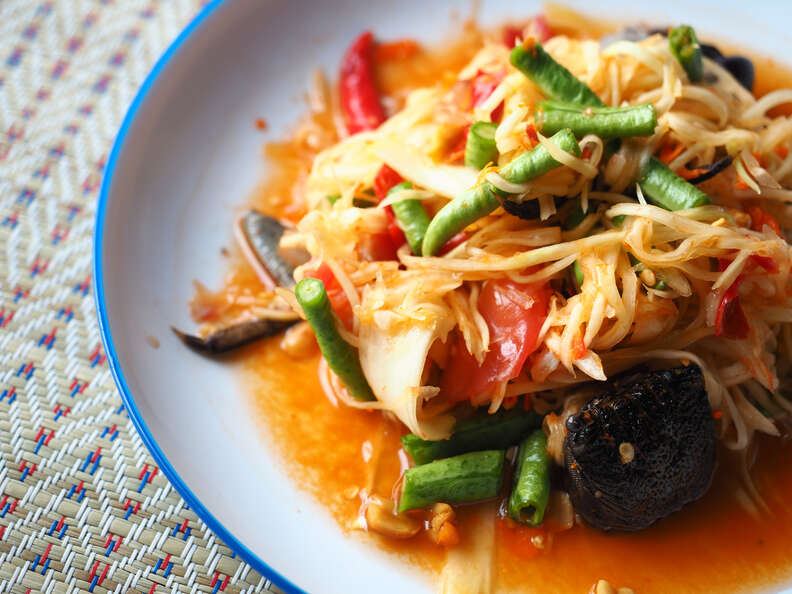 Tum Salads
Tums might actually be the most well known Thai salads. The word tum translates to "pounded," which is exactly what happens to the veggies and proteins that make up these salads during their creation, using a traditional Thai mortar and pestle.
An absolute must-try tum dish is the original som tum Thai, which contains a base of unripe papaya slivers that are pounded with dried shrimp, chiles, fish sauce, peanuts, and sugar. It's a staple food in Northeastern Thailand, where sticky rice is the main carb used to sop up the leftover juices of papaya salad, and it pairs beautifully with grilled chicken, meat skewers, and fatty pork neck. It's also a favorite among fans of Thai food because of how balanced the dish is: it's crisp, salty, spicy, and nutty, yet also sweet.
Beyond tum Thai, there are plenty of derivatives of papaya salad: tum phoo (with crab), tum kai kaem (with salted eggs), and a personal favorite, tum pala (with deliciously stinky, fermented fish). If papaya isn't your thing, there is also tum thang, which uses the same method as traditional som tum but swaps out the base of green papaya for cucumber, and tum som oh, which is pounded -- not tossed -- pomelo salad.
Because som tum originates from Northeastern Thailand, it can typically be found at Isaan -- the name of the region -- restaurants. In Los Angeles' Koreatown, Isaan Station offers six different kinds of som tums to choose from, including papaya salads loaded with salted egg and stringy rice noodles. The menu also consists of a range of yums, too, so you can get your meaty salad fix alongside platters of shredded papaya. In New York City's East Village, Som Tum Der also specializes in Isaan food and possesses a range of som tums to choose from, including som tum phu pala, a fermented crab papaya salad that is spicy and lip-smacking -- and definitely fragrant with the enticingly fishy smell of salted crab.
Larb Salads
Lastly, there's larb -- pronounced "lahb" with a short a sound and not "larb" like Aunt May said in Spiderman: Homecoming. This is a salad consisting of minced meats, fresh herbs, lime, chile, and dry roasted rice. It's typically made with chicken and pork and is also consumed alongside sticky rice. Larb is special because it's so herbaceous: expect to find fresh mint leaves, cilantro, and ground dry chiles all in the mix.
Versions that feature sliced meat, as opposed to minced, are called nam tok. Unlike larb, nam toks usually use beef that has plenty of marbling on it; the fat makes the salad extra juicy, but not overwhelmingly so against the tartness of lime.
In New York City, there's a restaurant devoted to the supremacy that is larb, aptly named Lan Larb. (The word "lan" translates into "restaurant" in Thai, so yes, the name of the restaurant translated is Larb Restaurant.) There, you can find a variety of larbs made from sometimes surprising ingredients: salmon larb, duck larb, tofu larb, and even tilapia larb.
If you've yet to browse the salad section of any Thai menu, now is an opportunity to explore fresh, fragrant dishes that will change the way you perceive what a salad can be. Noodles and rice dishes are great, but Thai salads are the best kept secret of Thai food.
Sign up here for our daily Thrillist email, get Eatmail for more food coverage, and subscribe here for our YouTube channel to get your fix of the best in food/drink/fun.
Kat Thompson is a staff food writer at Thrillist and lover of Thai salads. Her favorite is
neau nam tok
, which is basically just steak tossed with herbs, chiles, fish sauce, and garlic -- and it's great. For more opinions on Thai food, follow her on Twitter @katthompsonn.