Thanksgiving Sides, Ranked
Stuffing fans, take a deep breath.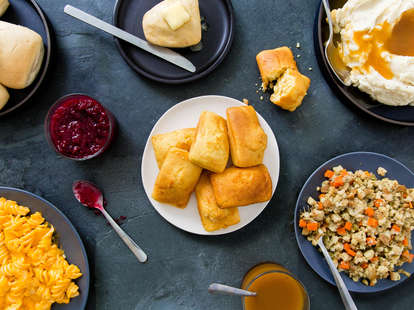 Photo by Cole Saladino for Thrillist
When people plan Thanksgiving dinner, the first thing they tend to bring up is the turkey. But who actually cares about the bird? (The answer is no one). Most people are really there to eat approximately a lifetime's worth of sides dishes in one sitting, judgement free, at approximately 4 pm for some reason.
But which sides are the best of them all? We set out to answer that question by eating multiple full Thanksgiving meals weeks before Thanksgiving. (Don't say we never sacrificed for our craft). Below, a totally scientific and 1,000% accurate ranking of 14 of the most common Thanksgiving side dishes to grace our communal family tables. Let's get eating.
14. Corn
By the time Thanksgiving finally rolls around, perfectly golden ears of corn are pretty much out of season. If Thanksgiving was in July, corn would probably be much higher up on the list! But at this time of year you are probably getting a bowl of thawed frozen kernels or nuked canned kernels. Either way, you—and your plate—deserve better. No one really wants a scoop of corn sitting in a puddle of can water. If we're thinking in buffet strategies, this is definitely a dish you might as well skip.
13. Green Beans
ZzzzzzZZzzzz. Most people get sleepy after Thanksgiving dinner (shout-out to tryptophan!), but green beans are so prosaic that even thinking about them is putting me to sleep. The only real use for the vegetable is in a casserole or to add a pop of color to your plate for Instagram purposes, and even that's not worth the watery mushiness.
12. Glazed Carrots
Sugar and butter tend to make basically everything better—carrots included. But at the end of the day, glazed carrots are still just carrots, arguably the most boring of vegetables. Thanks to the marvels of modern agriculture, you can get carrots all year round and boy, are they omnipresent. Have you ever seen a veggie tray or a salad bar without carrots? Thanksgiving is the time to eat things you don't get to eat the rest of the year, and carrots, glazed or not, are just not worth the prime plate real estate they hoard.
11. Roasted Root Vegetables
No one is enthusiastic about turnips or beets.
10. Rolls
Rolls are filler food. They are are safe bet for sustenance if everything else on the table is terrible, a backup carb if all other carbs fail. They would probably rank higher if this was a Friendsgiving table, and most of your friends were mediocre cooks at best.
9. Candied Yams/Sweet Potatoes
The base of beta carotene-packed root vegetables gives the dish the verisimilitude of being a healthy side dish. But in reality, it's about three ingredients away from being a pie. Wouldn't you rather just have pie?
8. Green Bean Casserole
This is nothing more than a delivery system for fried onions, but that's what makes green bean casserole so great. It's not the most seraphic dish on the table, but it doesn't need to be. It has fried onions. Did I mention that it comes crowned with fried onions?
7. Cornbread
In theory, cornbread should be at the very top of this list. It is, when served with honey butter, one of the most perfect foods on the planet, with its rustic crumble and gentle sweetness reminding you of the bounty of American farmland with every bite. But it gets knocked down a few spots because of just how easy it is to fill up on it. Before you know it, you've eaten five pieces of cornbread and have no room for anything else.
6. Brussels Sprouts
One of the biggest signs that you've matured into adulthood is the realization that Brussels sprouts are no longer the enemy, but instead are little green orbs of nutrients and happiness. They serve up fiber and flavor and are great roasted with a bit of salt and pepper. But, they become magical when combined with things like fish sauce and balsamic.
5. Gravy
Too many people board the gravy train without realizing that gravy is merely a side dish to your favorite side dish. It's a support side, one that is savory and delicious, but also one that you wouldn't want to eat by itself. Gravy is also genius at masking bad tasting food, which is probably a good thing, depending on who is cooking.
4. Stuffing
I understand some people might be upset to see stuffing so far away from the top spot. There is a lot to love about stuffing—who doesn't want savory bread pudding? I also realize that it's something that most people basically only eat this time of year. While absence makes the heart grow fonder, I think it can also make the heart grow biased. When stuffing is good, it is very good, but it can frequently be terrible. Bad stuffing means you are either eating brothy bread cubes that are essentially carbed-out sponges of herbs and lukewarm stock, or it is a stale mess of bread that croutons would even be embarrassed to be associated with.
3. Cranberry Sauce
There are some cretans out there who might argue that cranberry sauce is the side dish to a side, but they would be very, very wrong. Cranberry sauce is in fact the ruby jewel in the side dish crown with its sweet-but-tart appeal. It's this very combination of flavors that makes it the most versatile dish on the entire Thanksgiving table. This is important! We all have a tendency to load up our Thanksgiving plates, which means side dishes will touch each other. While you may never want to eat cornbread soaked with green bean casserole, both of those items taste good with a touch of cranberry sauce. While the canned stuff isn't as good, all of this still applies.
2. Macaroni 'n Cheese
If I were president, instead of sending out a non-stop barrage of petty tweets, I would spend my time doing important things like declaring macaroni 'n cheese the official food of Thanksgiving. It's not a staple on every table, but it damn well should be. The union of al dente noodles and liquid cheese is what they really mean when they say "holy matrimony." If the turkey sucks—which if we're being honest, it most likely will—macaroni 'n cheese is there to save your plate. It's also the ideal food to help fortify your system for the difficult battle ahead: The 5 am Black Friday line at Best Buy for discount TVs.
1. Mashed Potatoes
It's hard to deny the appeal of the majestic spud, especially when it is mashed and creamed to fluffy perfection. We are all blessed that we have the opportunity to have our tongues swaddled in a blanket of velvety potato innards. And if we're being honest, there are very few foods that can be pummeled to death in the kitchen and still turn out incredible. Mashed potatoes are resilient: no matter how hard you mess up, they usually manage to bounce back. You can make them completely vegan and plant-based. Even bad mashed potatoes are still pretty good. That can't be said for anything else on the Thanksgiving table—turkey and pie included.
Khushbu Shah is a former Senior Food Features Editor at Thrillist and believes the ideal Thanksgiving plate is 50% pie. Follow her dessert consumption @khushandoj.