Famous chefs reveal their favorite Chipotle orders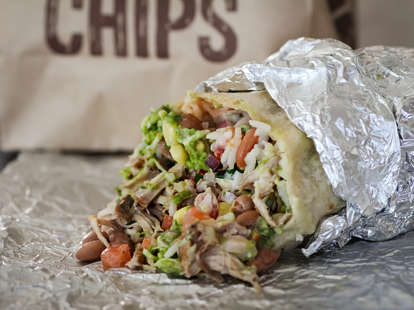 Sara Norris
Sara Norris
Whether you're a salad-for-lunch office nosher or a ravenous burrito fiend who has a distinct cilantro-lime musk, you've most likely eaten at Chipotle. There are a bunch of different types of people who dine at everyone's favorite fast-casual burrito joint, but who knew that professional chefs counted themselves among the Chipotle chosen?
To get a better sense of what these kitchen titans are considering when they're queued up in front of the sneeze guard, we asked them what their go-to orders are at Chipotle. There's an unusual amount of cilantro.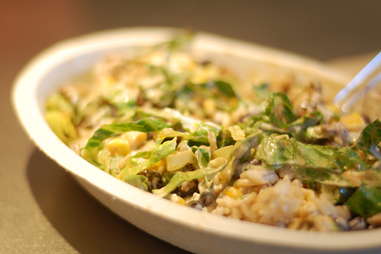 Justin Warner
CHEF, DO OR DINE (address and info)
Brooklyn
His order: "What amazes me about Chipotle is how willing they are to give away the farm. I shake them down for extra cilantro with the rice, always pork, and both beans for color. I am a big fan of that corn salsa -- load it up, with a healthy dash of the hot one. I don't do sour cream or guacamole... salsa is the only lube I need in this gut-busting machine. I always get a Coke, with extra limes to wash it down."

Zac Young
EXECUTIVE PASTRY CHEF, DAVID BURKE GROUP (info)
New York
His order: "I get the salad because I'm clearly a health nut. I add carnitas, fajita vegetables, and every kind of salsa they have because condiments are king. I also put on extra chili corn salsa because it's my favorite. No beans. I hate beans -- they ruin everything. Oh, and a side of chips, guacamole, and a margarita on the rocks. Because I'm a health nut..."
Tyson Cole
OWNER, UCHI (address and info) & UCHIKO (address and info)
Austin
His order: "I like the crispy tacos. The order comes in threes, and I get two pork, one chicken, all with corn salsa, rice, tomato, pico, and lettuce. I love the crunchy texture of the shell combined with the crisp freshness of the lettuce and the spice of the salsas. I haven't been in a while, but thinking about it makes me want to go back as soon as possible!"

Chris Shea
EXECUTIVE CHEF, DAVID BURKE GROUP (info)
New York
His order: "I just went there and picked up food for my family, which includes a hungry teenager, and they prefer the salads because they are silly. I get a carnitas burrito loaded with everything, and a side of guacamole."
Russell Wooten
CHEF, LONGITUDE BAR & RESTAURANT (address and info)
Santa Monica, CA
His order: "I typically order a barbacoa burrito with cheese, sour cream, and hot salsa. Chipotle is great because they practice sustainable methods and source local ingredients."

Perry Hendrix
CHEF DE CUISINE, AVEC (address and info)
Chicago
His order: A carnitas burrito. "My kid loves it, and, when traveling, we're all happy eating there. It's pretty tasty, and I feel good about supporting their environmental and ethical practices."

Paul Qui
EXECUTIVE CHEF/OWNER, QUI (address and info)
Austin
His order: "I get tacos or a burrito with carnitas, corn salsa, and cilantro rice. I always add avocado and cheese."
Philip Speer
CHEF, UCHI (address and info)
Austin
His order: "I like to order the burrito bowl with black beans, rice, chicken, double corn salsa, guacamole, and a half-portion of cheese. I also order chips to eat with the bowl. The bowl is one of my favorite fast-food meals!"

Paul Niedermann
CHEF, BLT PRIME DORAL (address and info)
Miami
His order: "I usually get a steak and chicken burrito with the cilantro-lime rice, black beans, corn salsa, cheese, guac, sour cream, and lettuce. I fill the thing up because, well... go big or go home."
Luke Venner
EXECUTIVE CHEF, BLT STEAK (address and info)
New York
His order: "I ALWAYS get a carnitas burrito with pinto beans, salsa rojo, add guac, and a Pacifico beer. This was my first order at the original Denver location. I was so satisfied that I have never felt the need to explore any other combination."

PJ Calapa
EXECUTIVE CHEF, AI FIORI (address and info)
New York
His order: "Chipotle! Really, it's the only fast food I do -- I grew up in Texas on the Mexican border so I'm sort of a purist. Burrito, steak, pinto beans, cilantro-lime rice, corn salsa, guacamole, extra chopped cilantro. Tastes like home."
Adam Lapetina is a Food/Drink staff writer for Thrillist, and his order is always a carnitas burrito bowl with extra hot salsa. Read his musings at @adamlapetina.