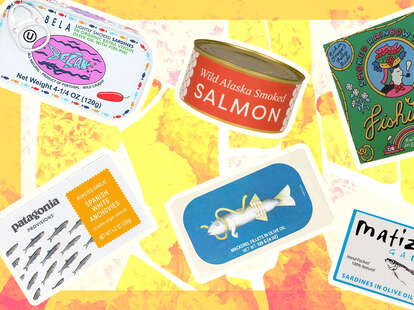 Design by Grace Han for Thrillist
In case you missed it, it's tinned seafood summer. Sardines, mussels, cockles, and anchovies—they've been around forever but Americans have suddenly taken notice and realized that there's way more to canned seafood than tuna.
Becca Millstein, co-founder of Fishwife, grew up eating tuna fish sandwiches but it wasn't until she studied abroad in Spain that she caught on to conservas, which are fish like sardines or mollusks like clams and mussels are preserved in oil or broth and packaged in tin cans.
"It's part of tapas culture that is very convenient and casual and social, but also a very elevated way of eating," she says. "You might serve a tin of cockles with a toasted baguette and some olive oil and some olives and a glass of white wine or something like that. It just struck me as sort of the height of elegance."
When Millstein and her friend Caroline Goldfarb quarantined together during the pandemic, they ate tons of tinned fish and realized that there isn't a domestic company that was celebrating tinned fish culture. Together they founded Fishwife, a brand that sells smoked trout and tuna —with other versions coming soon.
Tinned fish has risen in popularity the past few years. Even chefs at restaurants like Curate in Asheville, North Carolina, feature tinned seafood on their menus. In fact, a recent report found that the canned seafood market is set to grow by $23.7 billion over the next five years.
The pandemic has also boosted the tinned fish industry by giving home chefs a chance to dig through their cabinets and try something a bit more interesting to the palate than the same old takeout.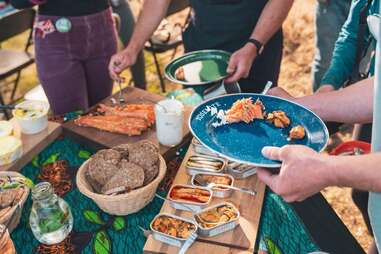 So what exactly is tinned seafood?
Humans have been preserving food forever. But, in the late 1700s, the French realized they needed a way to safely get food to soldiers and sailors fighting around the world. Nicolas Appert, a chef in Champagne, got to work and eventually realized you could preserve food in cans.
In Spain and Portugal, fish and mollusks caught in the Atlantic and Mediterranean are typically grilled or fried before being packaged in a tin with oil. Sometimes there are other ingredients like tomatoes, piquillo peppers, and lemon juice. In northern regions, like Alaska and Scandinavia, the fish might be smoked before being canned.
What to look for when choosing your fish
Some of the items might sound familiar—most of us know what mussels and clams are—but others might be new to you. Cockles, for instance, are smaller cousins to clams but just as tender and sardines aren't actually a type of fish, but a category of small fish. Sardines come in varying sizes from baby whole fish to larger sardines divided into fillets.
When Millstein wants to snack on tinned seafood, one of the key things she looks for is how the fish was sourced. "I didn't understand seafood sustainability before I started Fishwife. It's really nuanced," she says. "You really have to take a lot of time to parse through and check various resources. The Monterey Bay Seafood Watch List examines each species of fish and where it's being caught."
"You might serve a tin of cockles with a toasted baguette and some olive oil and some olives and a glass of white wine."
How to best enjoy tinned fish
Brandy Schuman, owner of Atlanta ceramics company A Sensible Habit, has been a tinned seafood enthusiast for as long as she can remember. "I think my parents were eating sardines and stuff when I was a kid, and my mom ate smoked oysters out of the can, too," she says.
She finds that a tin of cockles can easily be enjoyed with some hot sauce and potato chips, for instance. Or toss some anchovies with vinegar, red pepper flakes, and pepperoncini peppers and put the mixture atop salty potato chips. You can't go wrong by slicing a baguette and dipping into the olive oil before topping it with your seafood of choice. And tinned seafood isn't just for snacking solo, either, Schuman loves to put it on a spread when she entertains.
"I guess it feels easy, right? It comes halfway done for you," she says. "You just pop the can open and lay out some sardines with Triscuits and a really great mustard." While plenty of her guests initially turn their noses up at the sight of tinned seafood, that's part of the fun for Schuman. "It just adds a little more something creative and more funky that people don't get to eat all the time or they wouldn't think to. I really like trying to change people's minds."
Presentation is everything when it comes to conservas. Schuman likes to leave cockles and clams in the can with the lid peeled back and serve them alongside a little bowl of Trader Joe's bomba sauce with some crackers. Sardines, which tend to break easily, are easy to arrange on a plate with a pinch bowl of mustard and crackers. Pair your seafood snack with something bubbly like a sparkling rosé or maybe a vesper martini if you want something that packs more of a punch.
Here are six brands to try—whether you're peeling back the lid on sardines for the first time or you're a tinned seafood pro.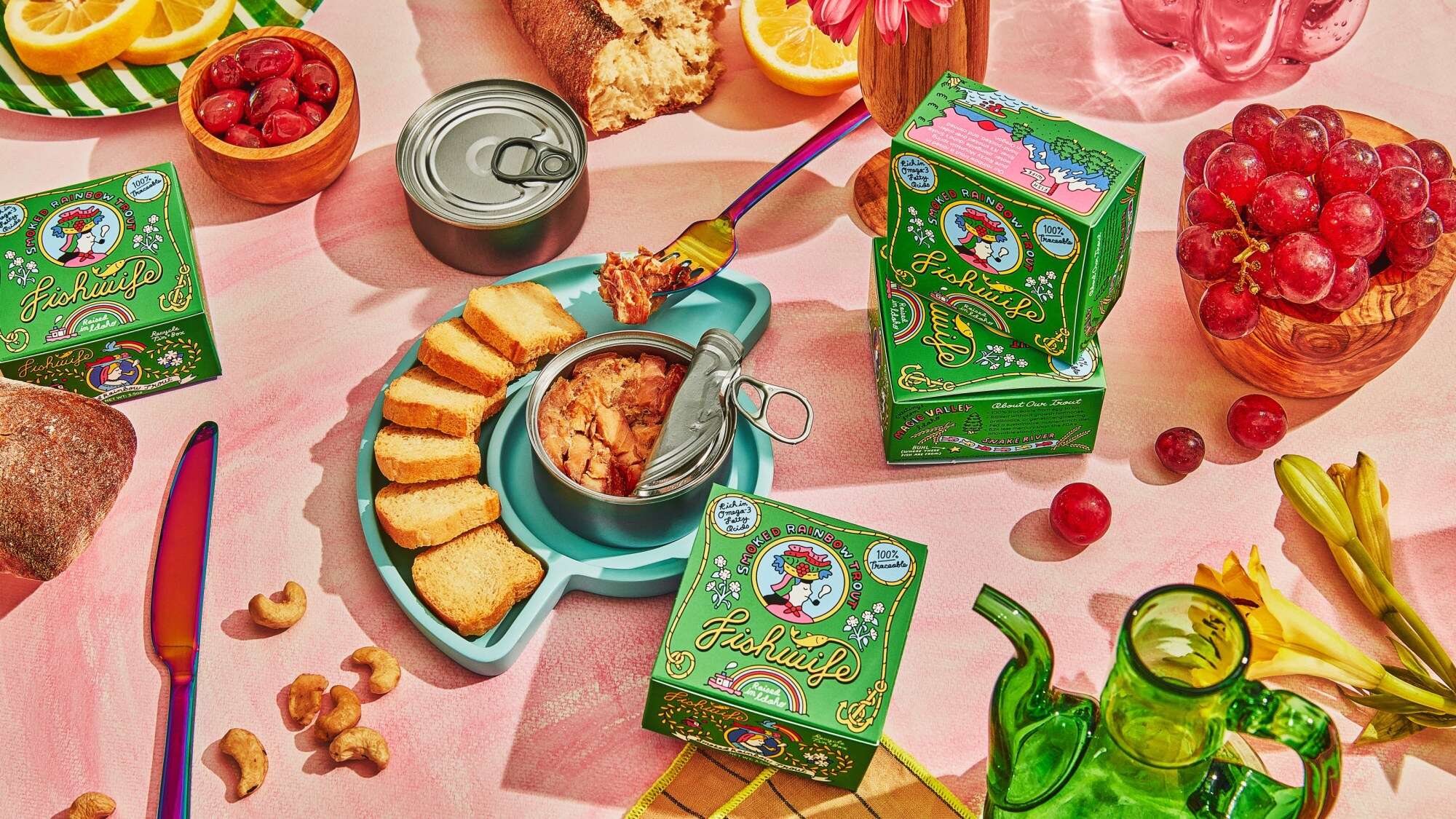 With fish sourced from Spain and Portugal, Jose Gourmet's packaging is adorned with art created by Luis Mendonça and depicts bright and colorful images. Seafood standouts include the fried mussels in marinade, sardine in lemon and olive oil, and the razor shells in brine.
Millstein and Goldfarb's company has undeniably splashy-chic packaging making it nearly impossible to resist clicking the "buy" button. Fishwife currently offers smoked trout and smoked albacore tuna. This tuna is not like the tuna of your elementary school lunchbox—expect a much more potent tuna flavor and a sturdier texture.
Another brand with eye-catching packaging, Matiz catches its fish off Spain, Italy, and Croatia and then cans them in Galicia, Spain. The baby sardines with s are a must-try. Since the sardines are smaller, they make great toast toppers and the peppers add an acidic pop. The mussels in olive oil and vinegar are just as delicious in pasta as they are on saltines with sun-dried tomato spread.
Did you know the brand behind your favorite fleece quarter zip has a food outpost, too? Patagonia Provisions works to source its seafood sustainably and even shares the deets behind how the fish is caught. For example, for the white anchovies in lemon and olive oil, the fish are caught in the Bay of Biscay in Northern Spain and then processed in a cannery in Northern Spain that employs mostly women. The anchovies are excellent for midday snacking as are the smoked mussels and the roasted garlic mackerel.
Bela is based in Portugal and works with locally owned fisheries to source sardines and mackerel. The brand packages the fish within eight hours of being caught, as opposed to freezing them first. Try the skipjack tuna that comes packaged in a jar with olive oil.
Another favorite of Millstein, Salmon Sisters is a deviation from the fish of warm and sunny regions of the Mediterranean. Instead, this company specializes in fish caught off of Alaska and, yes, it's run by actual sisters Claire Neaton and Emma Teal Laukitis, who harvest the fish themselves along with an all-women team. Among its tinned offerings is smoked Alaska salmon, smoked octopus, and smoked herring.
Lia Picard is an Atlanta-based journalist writing about food, travel, and a variety of other topics. Her work appears in
The New York Times, The Washington Post, Wine Enthusiast
, and CNN Travel.