How You Should Really Eat Pho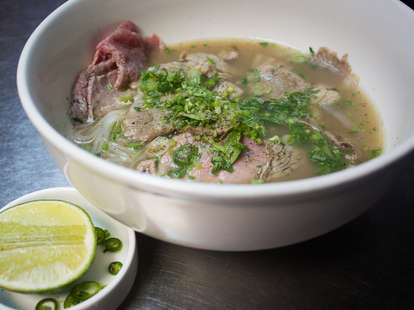 Last week, Bon Appetit posted a video with a definitely-not-Vietnamese guy telling everyone how to eat pho and people went buckwild, accusing the magazine of whitewashing the dish and posting one-star reviews of the chef's restaurant on Yelp. Now, we understand why people would take issue with being slapped with the you're-doing-it-wrong label for eating stuff they grew up with. That said, if you didn't grow up eating the Vietnamese noodle soup, it can be super confusing to go into a restaurant and know what to do with all those herbs and condiments sitting out on the table.
So we asked Andrea Nguyen, author of the upcoming The Pho Cookbook, for her personal pho rules. Here are 10 that she preaches and eats by:
1. Thou shall pronounce pho as if asking a question -- "fuh?" -- in order to impress a native Vietnamese speaker.
2. Thou shall develop a personal approach to eating pho, adding garnishes and condiments at will, because pho is a have-it-your-way food.
3. Thou shall hover over the bowl to inhale the pho perfume before taking the first taste.
4. Thou shall wield chopsticks (or a fork) in one hand and a spoon in the other to efficiently get everything into the mouth.
5. Thou shall put a spent lime wedge on the table or a refuse dish to avoid treating pho like a cocktail and having a slight bitter taste in the bowl.
6. Thou shall pluck fresh herb leaves from their stems and tear up large ones to drop into the bowl, setting the barren sprigs on the table or a refuse dish.
7. Thou shall try spearmint as a pho herb option because it's super old-school and just as good as, if not better than, Thai basil.
8. Thou shall consider and try all-cooked beef pho to savor an ultra-traditional bowl in which the meat is one with the broth.
9. Thou shall say "cam on" ("cahm uhn") to thank the person who made the pho.
10. Thou shall slurp to show appreciation for the pho.
Sign up here for our daily Thrillist email, and get your fix of the best in food/drink/fun.
Andrea Nguyen is an author, teacher, and consultant. Her upcoming cookbook,
The Pho Cookbook
, will be released in February 2017 from Ten Speed Press. Keep up with her at VietWorldKitchen.com.