Trader Joe's sells a lot of Indian food, and most of it is frozen

| Photo by Cole Saladino for Thrillist
Trader Joe's sells a lot of Indian food, and most of it is frozen

| Photo by Cole Saladino for Thrillist
Trader Joe's is known for its affordable and shockingly wide selection of meals from around the world. You can find everything from frozen Thai curries to Japanese gyoza and Korean scallion pancakes in the store. The grocery chain also has a solid array of Indian dishes available in stores from chicken tikka masala to yellow tadka dal.
So as an Indian American who grew up both eating these foods and loving Trader Joe's, I decided to put them to the test and see if they could nail the Indian flavors I know and love. Below, the meals you should buy, the dishes that are decent, and the things you should skip altogether.
Strong Buy
Spicy Chakri Mix
South Asians are unrivaled when it comes to the art of the snack mix. We have hundreds of them! And they each are packed with so much texture. Lots of crunchy moments, often fried. A good hit of salt. A nice undertone of heat. Sometimes there is a pop of sweetness thanks to something like a raisin. The Spicy Chakri Mix is no exception. This one is exceptionally savory and stars broken up chakri, which is a snack food often made from rice and chickpea flour that is piped into a spiral and deep-fried until golden. The mix also includes peanuts and fried curry leaves and plenty of seasoning including fennel, coriander, and red chili powder. Great on its own, even better with chai, or a cold glass of beer.
Korma Fish Curry
Who knew that a frozen fish dish that you heat in a microwave could be good? But the fish korma is one of Trader Joe's most brilliant Indian dishes. The flavors are well-balanced and the fish is tender. This is also a great dish for people who like Indian food but aren't big fans of heat. Korma tends to be more gentle and mild and leans slightly sweet. It pairs well with the basmati rice that it is packaged with. I would keep several of these stocked in my freezer.
Vegetable Biryani
To call this biryani is a bold move by Trader Joe's, because traditionally biryani takes hours and hours to make as the layers in the beloved rice dish meld together. Still, this vegetarian entree is flavorful and comforting, and even features little flour dumplings that add a nice dimension of texture to the meal. For a microwave dinner, it's easy to do worse than this.
Paneer Tikka Masala With Spinach Rice
This is my favorite frozen meal at Trader Joe's, period. The paneer tikka masala is tomato-y and creamy, but not overly so. The paneer is cut into perfect bite-sized chunks. And then there is the wonderfully herby spinach rice, which is such a brilliant move. So brilliant in fact, that now when I make paneer tikka masala from scratch, I also make spinach rice to go with it instead of just plain basmati.
Malabari Paratha
I almost screamed when I saw this in the frozen section at my local Trader Joe's. What a rare and unexpected treat. Malabari paratha are super flaky flatbreads that are common in the Malabar region of South India. They are almost like croissants in that the dough is folded over itself many times to create several, thin, almost translucent layers of buttery dough. These heat up amazingly well on a skillet and are great with every Trader Joe's Indian dish, or just on their own. They are also insanely cheap -- I paid $1.99 for a package with contains five parathas.
Tandoori Naan (Shelf Stable)
I was so skeptical about this naan when I picked it up from the bread section of Trader Joe's. Most shelf-stable naan tends to taste like bad pita bread. But when I heated it up on a pan at home and threw on a layer of ghee, the texture of these naan was incredible and the best of the bunch.
Basmati Rice
While the best deal on basmati rice are the large burlap sacks found at your local Indian grocery store, Trader Joe's dry basmati rice is actually quite good. When cooked, the grains are long, fluffy, and wonderfully separated -- the signs of a good basmati rice. The rice is fragrant too, and is a welcome addition to any meal.
Palak Paneer
It's hard to mess up palak paneer, which are cubes of cheese in a base made from blended spinach and spices. It's one of the most satisfying meals Indian food has to offer, especially spooned over a scoop of basmati rice and Trader Joe's makes a pretty great frozen version. It's verdant and the paneer retains a nice texture.
Butter Chicken With Basmati Rice
It's pretty hard to mess up butter chicken, the General Tso's of the Indian food cannon. It's basic and boring, but it's exactly what most people want when they crave South Asian food and it hits the spot. The chicken is tender, the sauce has deep tomato notes, and the basmati rice is shockingly fluffy for a meal that takes about five minutes to prepare in the microwave.
Vegetable Masala Burgers
While masala veggie burgers aren't exactly the most traditional of foods, maybe they should be, because these are excellent. Unlike many veggie burgers that taste mostly like mush and salt, these patties—which are best heated in a pan with a slick of oil until crisp—are potato based and heavily spiced with things like turmeric and mustard seeds. The result is somewhere halfway between a hash brown and a vada pav—which is better known as "bliss."
Tandoori Naan
As far as frozen naan goes, these are good! They are great to have on hand, and taste much better if heated up on a pan and doused with ghee.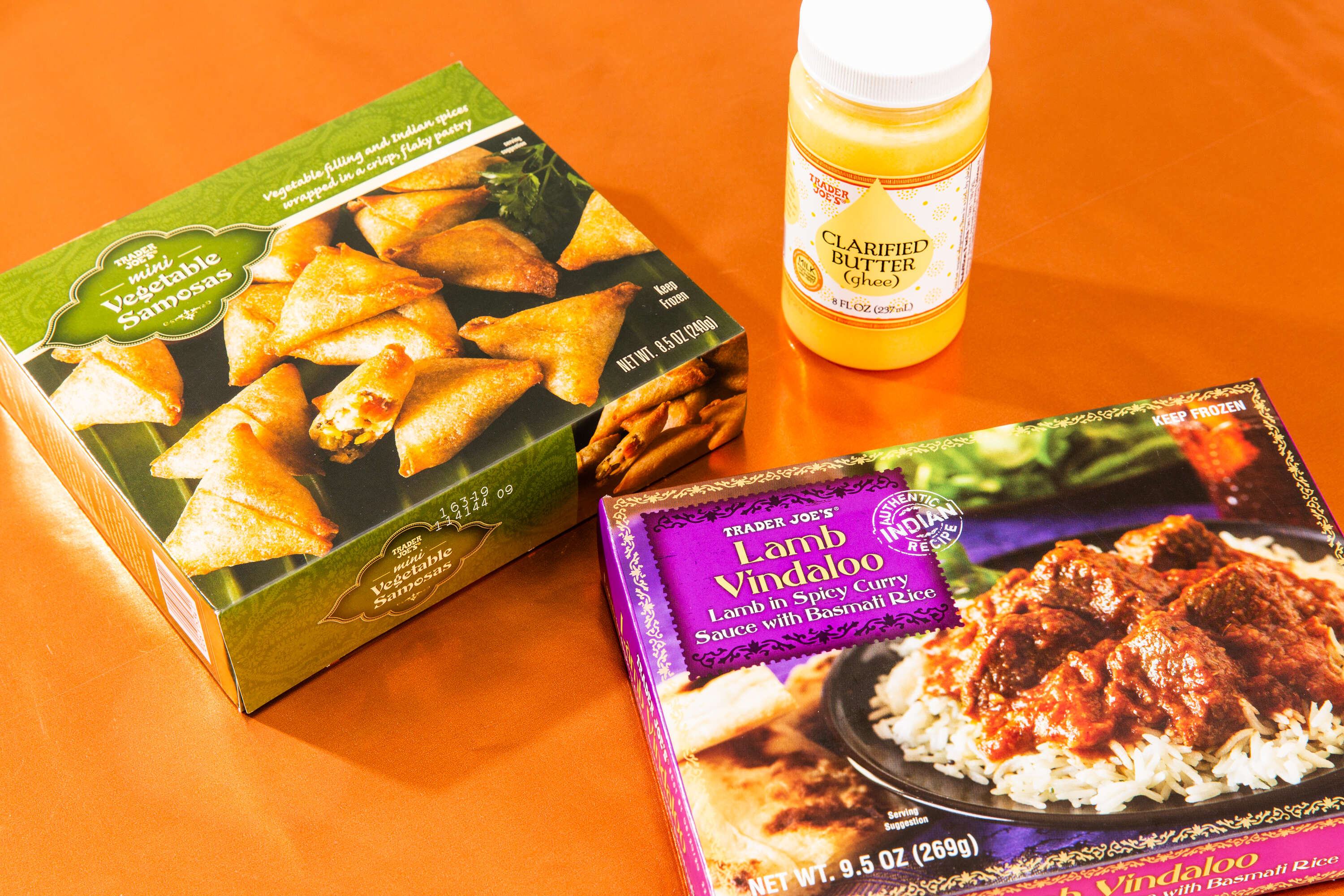 Maybe Purchase
Ghee
Ghee really isn't very hard to make. It just requires melting down butter, letting it boil a few times, and straining out the milk solids that sink to the bottom. And it's worth the effort to make at home, because the result is far superior to Trader Joe's ghee, which feels as if it is made from cheap butter. Their version, while convenient, is loose and grainy, and fails to have the luxurious fattiness of good ghee.
Aloo Chaat Kati Pouches
These remind me of Indian Hot Pockets. They aren't kati rolls, as advertised on the box, and feel more like long samosas that heat up shockingly well in the microwave. They make for a great quick snack, though they are a carb-on-carb bomb thanks to a hefty potato stuffing, so you might need a nap after. If Trader Joe's included packets of chutney with these, they would be one of Trader Joe's best Indian items.
Vegetable Samosas
Samosas are often too big—so you can eat one or maybe two if you are feeling super ambitious. Trader Joe's was smart to make mini samosas. While they nailed the size, the rest of the snack needs work—the crust is more limp than flaky, and the filling is closer to the bland assorted vegetable mush you might expect on a hospital meal tray. These samosas also do not come with any, but they taste much better when dunked in a swirl of tamarind and mint chutneys.
Channa Masala
A great channa masala (also often called chole) stars chickpeas cooked in a jammy tomato and onion base. While Trader Joe's version doesn't hold back on the spices (they even make it with fenugreek!), it's missing the deep notes of flavor that come from letting the onions and tomatoes properly stew together.
Chicken Tikka Masala
It's fine. It's hard to mess up chicken tikka masala—or CTM for short. But there are also so many great versions of CTM out there, that anything short of stellar means that it really isn't worth your time. This is a great frozen meal to have on hand when you are feeling crazy lazy and just need to feed yourself, but it's not something to go out of your way for.
Lamb Vindaloo
Americans have a hard time with lamb—it's not the most common meat here—so it was exciting to see Trader Joe's make a lamb vindaloo over say, a chicken version. The meat is well spiced, but there just isn't enough of it. A good vindaloo is supposed to bring on the heat and the tang, and it feels like Trader Joe's held back on the flavor of this dish.
Fiery Chicken Curry
Inspired by the tropical state of Goa, it appears the Fiery Chicken Curry is meant to replicate chicken xacuti, though it lacks the warming flavors of star anise, coconut, and cinnamon. Instead, this iteration is a vague tomato-based curry with chunks of chicken -- much like the rest of Trader Joe's frozen Indian dinners, but arguably hotter. Despite this, the turmeric basmati rice is fluffy and tempers the spice of the curry well. The chicken chunks are well seasoned and the curry is bright with the flavors of tamarind, tomatoes, and vinegar. It's certainly much spicier than Trader Joe's typical offerings, so be warned.
Pumpkin Samosas
I love that these exist in theory. Samosas filled with chunks of pumpkin and paneer, made zippy with garam masala, fennel, cumin, and coriander. The filling actually has a decent amount of heat but I always struggle with Trader Joe's samosa crust. It's never as flaky or crispy as you want it to be, but instead tends to be thick and a little dry. I also wish they would include chutney packets with the samosas. Still, these could be a fun addition to a Thanksgiving table, but not a permanent snack to devote freezer space to.
Misal Curry with Brown Rice
I'm honestly surprised and impressed that this is an offering at Trader Joe's. It's not one of the most well known dishes of the Indian cannon to most people in the west, but it's an affordable and filling vegetarian option. Misal curry is made with sprouted moth beans which have a springy texture, which makes it great with the brown rice they include. There's.a lovely note of coconut running through the dish, and plenty of ginger, garlic, and cumin. As far as entrees go, it's incredibly filling too and quite healthy, with plenty of protein and fiber. It's not a bad thing to keep on hand, but it's not mind blowing either when it comes to flavor.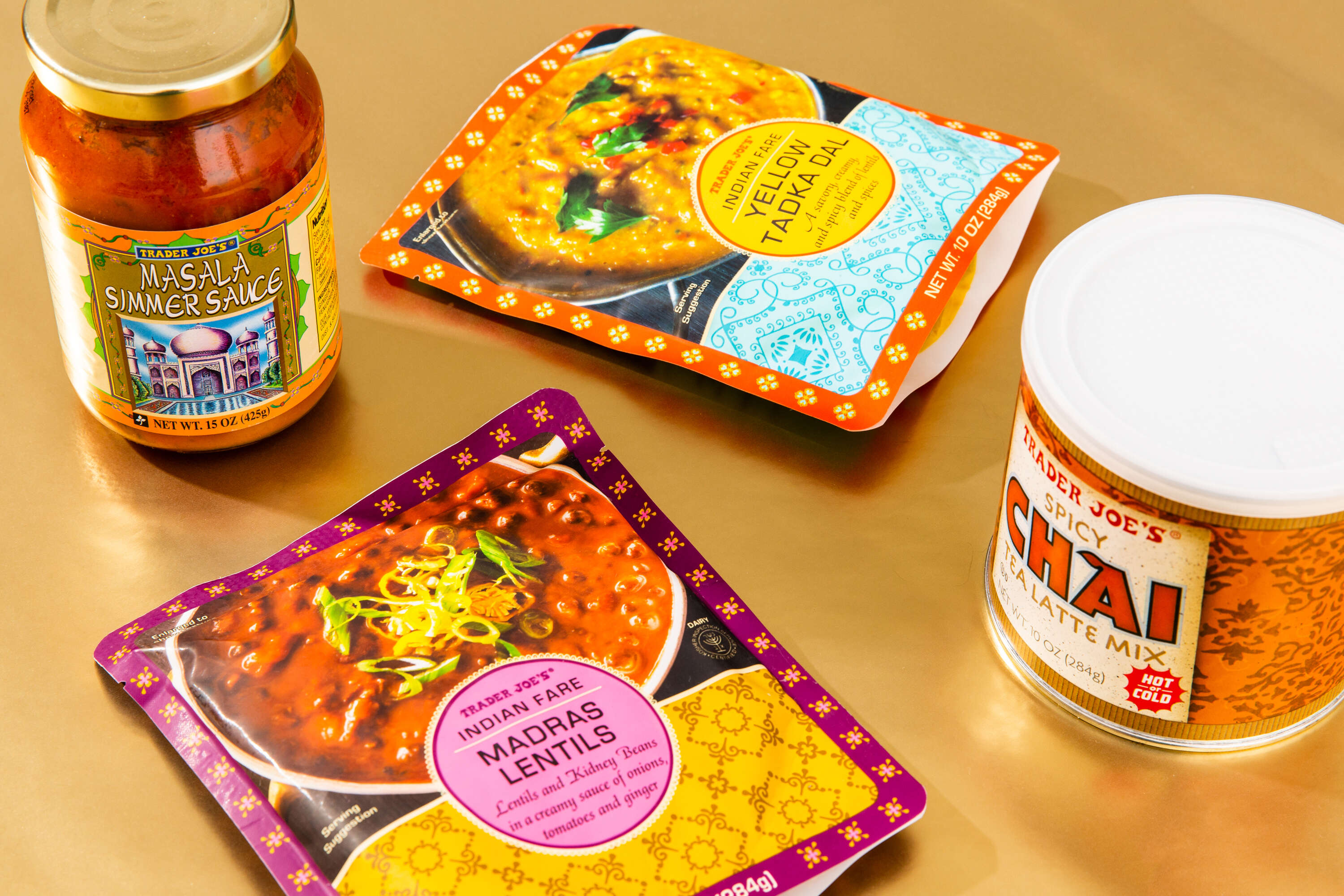 Skip!
Spicy Chai Tea Latte
Great masala chai is zippy and crisp. The spices and the milk fuse together to create a drink that is warm and comforting, but keeps your tongue on alert. This powdered mix is cloyingly sweet and tastes like it is straight from Starbucks.
Vegan Tikka Masala
Vegans don't deserve this form of torture. The vegan meat chunks, which are chewy and flaccid and almost inedible, are made from wheat gluten and are supposed to imitate chicken. The sauce itself is heavy on coconut milk and is lacking in flavor. The cumin rice the meal comes with, however, is fluffy and satisfying.
Tikka Vegetables (Pouch)
The pouch meals from Trader Joe's are in theory brilliant. They are incredibly cheap ($1.99 each at my local Brooklyn store) and are shelf stable. The only problem? They are almost inedible. The tikka vegetables tastes like generic salty mush.
Madras Lentis (Pouch)
Again, shelf stable and cheap! But pretty much inedible.
Yellow Tadka Dal (Pouch)
This is maybe the most tolerable pouch of them all, but it's still a huge disservice to tadka dal.
Jaipur Vegetables (Pouch)
Mush. Mush. Mush. Mush. Mush. Mush!!!!
Masala Simmer Sauce
In theory, you can dump this sauce into a pot, throw in some protein of your choice, and have a generic Indian-tasting meal. In reality, it tastes like Ragu, with a splash of cream, and fenugreek instead of basil. Skip.
Garlic Naan
Garlic naan, when done right, is one of the most brilliant foods around. Trader Joe's version unfortunately feels flimsy and dried out, even after heating it up in a pan and giving it a lather of ghee. It doesn't have the thickness of good garlic naan, or enough of a garlic punch for my tastes.
Chicken Tikka Samosas
These are such a great snack in concept—who doesn't want crispy dough triangles stuffed with shredded chicken tikka? Portable and poppable! Unfortunately in execution, the dough never quite crisps up for that perfect flaky samosa crust and the chicken tastes like, well, nothing. All you can taste is the texture of the poultry, but none of the spices come through.
Sign up here for our daily Thrillist email, get Eatmail for more food coverage, and subscribe here for our YouTube channel to get your fix of the best in food/drink/fun.
Khushbu Shah is the restaurant editor at
Food & Wine
, and keeps a package of the paneer tikka masala from Trader Joe's in her fridge at all times. Follow her Indian food opinions on Twitter @khushandoj.