Trader Joe's is a sea of temptation for anyone looking to eat healthy. Cookies in plastic tubs! Freezers full of cheesecake and ice cream! Surely if you put dessert in your cart next to something healthy, it basically doesn't count! Bad news: it does count. But here's some good news to cheer you up: TJ's is also full of keto-friendly food. To help you find the latest and greatest high-fat/low-carb eats to fill your fridge, we spoke to Integrative Health Coach and keto-focused podcast host Tracee Gluhaich about which easy-to-prepare meals and snacks she loves from Trader Joe's.
A quick primer for how to shop keto-friendly at Trader Joe's
While the ketogenic diet preaches "high-fat, moderate protein, low carb," Gluhaich practices a clean keto, meaning she prioritizes eating foods with healthy fats. "I don't eat canola or soybean oil because they're inflammatory," she said. She recommends that you read the label of any product you buy, whether it's at Trader Joe's or elsewhere. That said, she loves TJ's for the plethora of grass-fed meat, veggies, fish, and nuts. For this story, we focused on TJ's-exclusive products, since you can buy veggies, fish, and nuts pretty much anywhere. Here's a sampling of her favorites.
Uncooked Ground Buffalo Burgers
This freezer section staple has an 80% lean/20% fat content, and is one of Gluhaich's staple foods. "This is one of my favorite things!" she said. "They're not allowed to use hormones on buffalo because they're federally regulated." She typically grills this grass-fed meat, wraps it in iceberg lettuce, piles on bacon and avocado, and tops it with Primal Kitchen Chipotle Lime Mayo (which isn't sold at TJ's, but is easy enough to find in supermarkets). It's a keto version of an In-N-Out protein-style burger... without the crappy fries, obviously.
Just a Handful of Pitted Salted Manzanilla Olives
Does your hand fit exactly 1.05-ounces of green olives? I sure would hope so, or else TJ's would likely be sued for false advertising. "The reason that they're so good is because a keto person needs salt, and this has salt and olive oil, and it's in a little snack pack," Gluhaich noted. Each serving has 220mg of sodium, which is 9% of your nutritional daily value.
Lightly Smoked Sardines in Olive Oil
Omega-3's are known to help your brain think things that are thoughts…geez, maybe I could use some right about now. And sardines are one way of getting your daily dose. "Most people eat salmon and tuna instead of sardines," she said. "But sardines are way lower in mercury, and they're very high in both calcium (because the bones are still there) and omega-3's." They're also exceedingly easy to prepare. "Nine times out of 10, I'm just using a fork and eating these out of a can." she noted. If you're not into the flavor, Gluhaich said you can always mix it with chipotle mayo and eat it like you would tuna.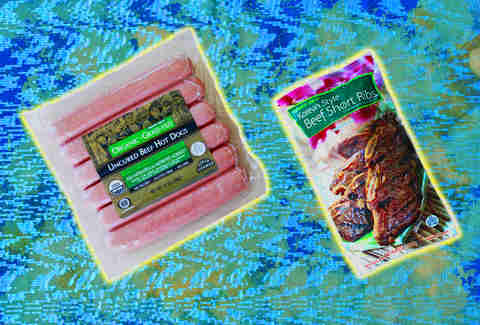 Organic Grass-Fed Uncured Beef Hot Dogs
People used to say "hot dog!" when they were excited about something, but that obviously wouldn't fly today because "organic grass-fed uncured beef hot dogs!" is a real mouthful. Regardless, Gluhaich loves these fully cooked dogs. "Because it's grass-fed beef, you know you're getting good meat," she said. "It's pure protein and fat." She also loves pairing this TJ's naturally-fermented sauerkraut from the refrigerated section, which she noted "is really good for your gut microbiome."  
Korean Style Beef Short Ribs + Organic Riced Cauliflower
Here's another easy dinner option straight from the TJ's freezer. "I like these because there's only 2 grams carbs," she noted. The soy sauce marinade on the ribs, while tasty, does have wheat in it, which Gluhaich said gives her pause for anyone who's gluten-sensitive. And she said brown sugar is normally a no no, but it's buried in the ingredient list (it contains two grams), so she'll give it a pass. Other than that, it's great as a meal's centerpiece. "They have frozen cauliflower rice, so you can make that with sauteed onion and garlic, and then put the beef short ribs over that," she said. "Or you can make cauliflower mashed potatoes, either of those are great."
Cobb Salad
While the Tuna Salad, Egg Salad, and Nicoise Salad all get the thumbs up keto-wise, Gluhaich said that the Cobb Salad is the best lettuce-filled option in the TJ's refrigerated section, as she likes the six net carbs and 29 grams of fat. While she's not a fan of the canola oil in the ranch dressing that it comes with, you could always sub in a Primal Kitchen option, or combine olive oil and lemon juice for a quick dressing.
Shrimp Stir-Fry
This is another bag o' food at TJ's that delivers exactly what it promises: "You're getting fish and veggies," she said, referring to the combo of broccoli, sugar snap peas, water chestnuts, bean sprouts, and red bell peppers. "It only has four net carbs." More good news: it's pre-seasoned with salt, black pepper, onion, garlic, and celery. All you've gotta do is slap it on a bed of that cauliflower rice and you're good to go.
Guacamole
There are a number of different guacs in the refrigerated section of TJ's, but the Avocado's Number Guacamole to Go gives you six separate packs of the keto-friendly snack. Gluhaich's a big of this guac, and of the fruit in general. "I eat half an avocado a day," she said. "It's high in potassium." This is important because Gluhaich stressed that keto devotees must supplement their electrolytes with potassium, sodium, and magnesium. She said that consuming avocado and spinach will help you reach your daily potassium goals.
Fresh Hard-Cooked Peeled Eggs
Making hard boiled eggs is easy. But so is cooking a lot of food -- that doesn't mean you're ever going to wait by the stove for those things to finish boiling. Let Trader Joe's do the work for you. "These are all peeled and ready-to-eat, and cage free!" she said. "Eggs are just protein and fat, and they're really keto-friendly. They're something you can eat that's a whole food, and I prefer anything whole."
Sign up here for our daily Thrillist email, get Eatmail for more food coverage, and subscribe here for our YouTube channel to get your fix of the best in food/drink/fun.