The Trader Joe's Pumpkin Foods You Need to Get This Fall
Pumpkin empanadas, pumpkin cheesecake, and even pumpkin samosas.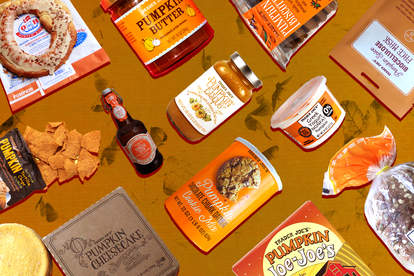 Frannie Jiranek/Thrillist
Nothing is certain other than death, taxes, and Trader Joe's having a truckload of pumpkin-flavored food every fall. Only one of those things fill us with joy every time we encounter it, so if you're looking for a story about death and taxes look elsewhere, hombre. But if you're looking for a rundown of the best pumpkin stuff you're going to find at (almost) everyone's favorite specialty grocer, this story is for you. These are the essential Trader Joe's pumpkin products you need in your life.
Having tasted
every Oreo in existence
, I know that with flavors like Cinnamon Bun or Birthday Cake, Nabisco does not aim for subtlety. I fully expected TJ's would follow Oreo's lead and overwhelm my tastebuds with pumpkin spice. That did not happen, and I couldn't be happier about it. Despite the fact that this is made from two pumpkin-flavored cookies with a layer of pumpkin creme inside, the Joe-Joe isn't as pumpkiny as you'd think -- there's just enough spice to keep your mouth happy. And because the creme is the best part, TJ's adds a sizable layer that squishes out of the cookie when you bite down. Dip this into the whipped cream atop a Pumpkin Spice Latte and you might reach peak fall.
Pumpkin Chocolate Chunk Oatmeal Cookie Mix
I know, I know -- who the hell wants to bake cookies when TJ's offers so many delicious pre-made snacks? But it's worth mixing together a couple ingredients for one sole reason: the smell of fall that will emanate from your oven when you're baking it. It's an intoxicatingly delicious scent, like baking an edible pumpkin Yankee Candle. (Please do not eat Yankee Candles). You can either make 24 small cookies or about 16 larger ones. You'll even have plenty of cookies left over to give away to friends, who will think you're some sort of Martha Stewart. The cookies have a ton of chocolate chips, and you'll probably also notice that the spice blend goes heavy on the nutmeg. But if nutmeg and chocolate chips don't sound good to you, why are you even reading this?!
The funniest thing about the instructions for preparing this pre-made cheesecake is that it says it keeps for five days in the fridge. The odds of this dessert made with real pumpkin not being completely eaten in five days are small indeed. It's staggeringly affordable at $6.99, and all it requires from you is to defrost it overnight in the fridge, and taking it out one to two hours before you want to eat a slice of this decadent cheesecake with a whole-wheat crust. Best of luck not finishing it in one sitting.
Mini Spicy Pumpkin Samosas
One of the best uses for pumpkin is in curry. Even better? Wrapping it into a flaky pastry. The new Trader Joe's pumpkin samosas have warming spices, like coriander, cumin, and chili powder, but is also filled with paneer cheese and generous chunks of pumpkin. It's the sweet, savory, and spicy Indian mash-up that serves as the perfect fall-themed appetizer.
Pumpkin Empanadas
If you're into the idea of pumpkin puree encased in a flaky pastry, but don't really want a savory combination that the pumpkin samosas offer, pick up these pumpkin empanadas instead. Like the samosas, they're full of creamy pumpkin goodness but sweeter thanks to the inclusion of cinnamon, cloves, allspice, and coconut milk. This is the perfect pumpkin hand pie if you're craving pumpkin dessert on the go.
Frannie Jiranek/Thrillist
Greek Nonfat Pumpkin Yogurt
Nonfat Greek yogurt made with skim milk might not sound like a decadent snack, but it'll only take a spoonful for you to change your mind. A dose of pumpkin puree, along with spices like nutmeg, cinnamon, cloves, and a healthy heaping of ginger help push this into must-buy territory for any Greek yogurt fan. Despite nonfat yogurt not being nearly as sexy and Instagrammable as Pumpkin Butter, this is one of those seasonal products that flies under the radar and is equally as craveable. Does it have something to do with the 17 grams of sugar in it? Sure, that doesn't hurt. On the plus side, it has zero fat, 12 grams of protein, and a flavor you won't find in Greek yogurt at TJ's at any other point this year. Stock up.
Organic Pumpkin Bread
If someone saw you put a piece of bread up to your nostrils and inhale all the incredible aromas from it, they'd probably wonder why you were doing that in full view of everyone in the break room. But trust us: This bread is worth ostracizing yourself from your work friends. Throw a slice or two of the cinnamon raisin-sized bread in the toaster. Spread on a little TJ's Pumpkin Cream Cheese or Pumpkin Butter, or even apple preserves. You'll get a little crunch from the pumpkin, sunflower, and sesame seeds, and plenty of pumpkin spice flavor from the cloves, allspice, cinnamon, and nutmeg. This is the first year Organic Pumpkin Bread has been on the shelves, and we're guessing it won't be the last.
Pumpkin Biscotti
While some of TJ's gourd-focused food goes easy on the pumpkin spices, the biscotti decidedly does not. You'll taste every bit of that familiar spice blend (cinnamon, clove, ginger, nutmeg) along with the familiar crunchy biscotti bite you know and love. And while TJ's could've gotten away with just adding spices to this Italian biscuit, it actually added real pumpkin puree. I went nuts and dipped it into New Orleans iced coffee, and it was delicious. It's worth picking up to add a pumpkin kick to your next coffee break.
Pumpkin Bisque
We get a glorious amount of sunlight in the summertime, but a couple days after Halloween, we'll have to set our clocks an hour back. The days will get shorter, the nights longer, and the temperatures will drop. But at least we'll have bisque. Specifically, this hearty pumpkin bisque made primarily with pumpkin puree, heavy cream, olive oil, and tahini. The bisque gets its depth of flavor from apple cider vinegar, garlic, and other spices, resulting in a soup you'll inevitably microwave and pair with three slices of Pumpkin Bread instead of making dinner. But who can blame you? It gets dark at like 6pm! What are you supposed to do, be motivated enough to cook for yourself?!
Pumpkin Rolls with Pumpkin Spice Icing
It's Thanksgiving morning and you can't wait to eat a huge meal at 3 pm? Just pop these pumpkin-flavored pastries into the oven and wait for your kitchen to smell gloriously spicy and cozy. Top these rolls off with Trader Joe's pumpkin spice icing for the ultimate pumpkin breakfast. Thanks, Trader Joe's.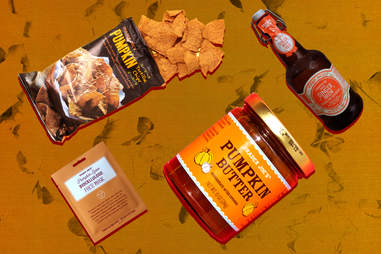 Frannie Jiranek/Thrillist
Corn. That's what most tortilla chips taste like. Like eating stale corn. I'm not knocking it! I love dipping tortilla chips into guac and
salsa
. But these Pumpkin Tortilla Chips are a real shot to the bow of the Tortilla Chip Industrial Complex. They've got a satisfying crunch, but there's also a bonus cinnamon and nutmeg kick. One caveat: The chain recommends you dip it into Pumpkin Greek Yogurt. I'm sorry, but I've never been eating a bowl of yogurt and thought, "Let me grab a bag full of Tostitos right quick!" Here's the good news: It's delicious paired on the side of any sandwich (especially something Thanksgiving-y like
The Bobbie
) or just to snack on when you're watching weekend football.
Let me first talk about what this Pumpkin Butter isn't. It isn't full of oils or laden with preservatives. Here's the entirety of this edible holiday-in-a-jar: pumpkin, sugar, honey, lemon juice concentrate, cinnamon, cloves, ginger, nutmeg. I spread it on bread and loved how it reminded me of apple butter, consistency-wise, but was even more fall appropriate. The serving size is 1 tablespoon, and unlike every other serving size suggestion, they couldn't be more right. You don't need more than that to transform any snack or meal. Another idea: If you like eating oatmeal when it gets colder, a tiny scoop of pumpkin butter is your new best friend. Or you can shovel some onto another Trader Joe's item, like that new, fantastic Organic Pumpkin Bread.
Pumpkin Pie Spiced Ginger Brew Sparkling Beverage
Will you be celebrating Sober October? If so, consider bringing a bottle of this to a Halloween party. After all, it's basically ginger beer wearing a pumpkin mask. The first thing you'll notice is that it looks like it costs way more than the super affordable $2.99 we picked it up for in the Denver area. But most importantly, it tastes fantastic. When you lift the bottle, look for the ginger puree sediment at the bottom of the bottle. That'll clue you in for the serious amount of ginger flavor in this heavily carbonated party starter. Plus, you'll get all the cinnamon, nutmeg, allspice, and clove notes you're seeking this fall -- the latter of which is especially strong in the finish. Pouring yourself a pint out of such a pretty looking bottle feels celebratory. Grab a glass, champ.
When I first saw this pop up in my Instagram feed, I was sure it was one of those fake products by Truewagner. But nope, TJ's wants your face to smell like your kitchen does from September through December. Still, it's probably better for your skin than slapping a slice of Organic Pumpkin Bread on your punim, though we won't judge either way.
Sign up here for our daily Thrillist email and subscribe here for our YouTube channel to get your fix of the best in food/drink/fun.
Lee Breslouer is a writer and editor based in Colorado. If you prick him, he bleeds pumpkin-spiced blood. Follow him @LeeBreslouer.