Nothing is certain other than death, taxes, and Trader Joe's having a truckload of pumpkin-flavored food every fall. Only one of those things fill us with joy every time we encounter it, so if you're looking for a story about death and taxes look elsewhere, hombre. But if you're looking for a rundown of the best pumpkin stuff you're going to find at (almost) everyone's favorite specialty grocer, this story is for you. This is the essential Trader Joe's pumpkin food you need in your life.
Recommended Video
This Top-Notch Punjabi Spot Is A Favorite Amongst NYC Taxi Drivers
TJ's is a master at spices and seasonings. Case in point: its Everything But the Bagel Sesame Seasoning Blend. I use it on eggs and avocado toast, and am convinced it's one of the best seasonings ever made, with apologies to Mrs. Dash. So you know that TJ's brings it with this pumpkin pie spice. Look, if it only was good for baking pumpkin pie with, it wouldn't be worth the $1.99. But much like with the EBTBSSB, its versatility is key. TJ's says you can add it to oatmeal, squash, and even a bowl of cereal. Why stop there? Throw it in a cup of coffee with steamed milk, stir well, and you've got a pumpkin spice latte on the cheap.
Corn. That's what most tortilla chips taste like. Like eating stale corn. I'm not knocking it! I love dipping tortilla chips into guac and salsa. But these Pumpkin Tortilla Chips are a real shot to the bow of the Tortilla Chip Industrial Complex. They've got a satisfying crunch, but there's also a bonus cinnamon and nutmeg kick. One caveat: The chain recommends you dip it into Pumpkin Greek Yogurt. I'm sorry, but I've never been eating a bowl of yogurt and thought, "Let me grab a bag full of Tostitos right quick!" Here's the good news: It's delicious paired on the side of any sandwich (especially something Thanksgiving-y like The Bobbie) or just to snack on when you're watching weekend football.
Last week, I was walking around the store talking to a TJ's manager about the pumpkin products. We walked by the freezers, and he mentioned offhandedly that his family was in the ice cream business, and that he has a super high standard for ice cream. This Pumpkin Ice Cream makes the cut, he said. And who am I to argue with an ice cream scion?! He probably loves it because it contains 20% actual pumpkin puree, and it's rich and decadent as all get-out. If you scooped some of this onto some pumpkin pie, you'd be ingesting so much pumpkin you might instantly turn bright orange after consuming it. We recommend just scooping some into a bowl and enjoying those pumpkin spices in a cold, creamy format.
Let me first talk about what this Pumpkin Butter isn't. It isn't full of oils or laden with preservatives. Here's the entirety of this edible holiday-in-a-jar: pumpkin, sugar, honey, lemon juice concentrate, cinnamon, cloves, ginger, nutmeg. I spread it on bread and loved how it reminded me of apple butter, consistency-wise, but was even more fall appropriate. The serving size is 1 tablespoon, and unlike every other serving size suggestion, they couldn't be more right. You don't need more than that to transform any snack or meal. Another idea: If you like eating oatmeal when it gets colder, a tiny scoop of pumpkin butter is your new best friend. Or you can shovel some onto another Trader Joe's item like…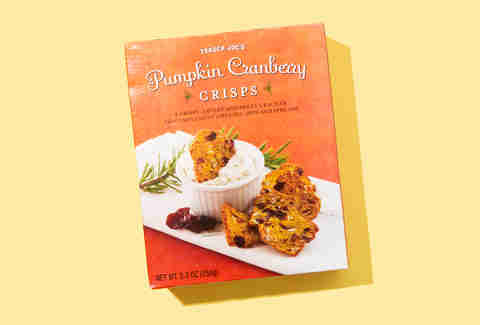 … this one! Remember that manager guy from earlier? He paused when he stood in front of these crisps. This was the one item he said he stocks up on when it comes out because he likes to eat them year-round. The box says it's meant to "complement cheeses, dips, and spreads" but this expert said it was all about complementing one thing: cheese. The cranberry and thyme from the crisp pairs nicely with any cheese; it's almost like it was designed to put out on a tray for a holiday gathering. Or, if you're lazy like me, you can shovel them into your mouth unadorned until your stomach says it's time to quit.
Yeah, this isn't a Trader Joe's-branded item. But it may be one of the few nationwide grocers where you can find this delightful, oversized pastry courtesy of Racine, Wisconsin's iconic O&H Danish Bakery, which will otherwise ship you one direct for around $30 (here it's under $10). I'd never had one before, so I was surprised when a danish in the exact shape of a toilet seat came out of the bag. I threw it in the oven for 3 1/2 minutes as instructed, and when it came out, I had the distinct pleasure of eating one of the best pumpkin-flavored pastries I've ever had. It's flaky, warm, and has just the right of pumpkin spice. I prepared it as a midnight snack, but I've got a feeling it's been enjoyed on a crisp fall morning with a cup of coffee. Pumpkin spice coffee, obviously.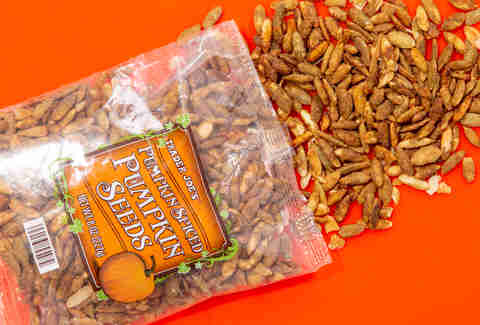 If you don't buy all your nuts and seeds at Trader Joe's, you're missing out. C'mon, those Thai Lime and Chili Cashews are worth the trip on their own. I was happy to see that the Inception of pumpkin snacks was back for a fifth year to delight everyone with its dessert-like take on pumpkin seeds. Cinnamon, ginger, nutmeg, and allspice dust these pepitas, which are good for a quick fall-themed snack whether you're at your desk or you're a Major League Baseball player looking to spice up your dugout eats. The TJ's manager I spoke to says it's too much pumpkin flavor for him, but that's his own fault! If you're smart like me (and you are!), it's worth adding a scoop of these to spice up any trail mix.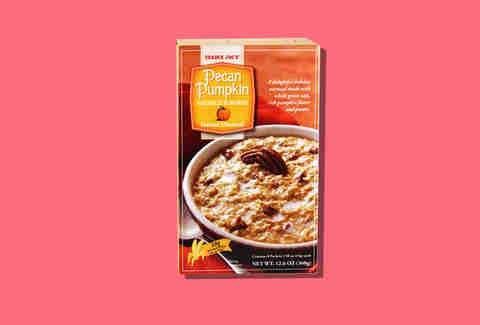 I eat oatmeal every morning. I'm particular about it: I want it with bananas, blueberries, and Trader Joe's Unsweetened Vanilla Almond Milk, and I want it cooked for exactly two minutes. I tasted this product that's been on shelves for seven straight years with high expectations. I heated a bowl in the microwave for a minute and 30 seconds and the consistency was perfect: not too soupy and piping hot. I could use more pecans, but other than that, all the pumpkin flavor you want is accounted for and present. Probably because they use real pumpkin, and add little more than sugar and oats.
What if the highlight of every dog's year was getting pumpkin-flavored dog treats, and we didn't even know it?! It's best to cover your bases. Buy a box. They beat the hell out of Snausages. 
Sign up here for our daily Thrillist email and subscribe here for our YouTube channel to get your fix of the best in food/drink/fun.