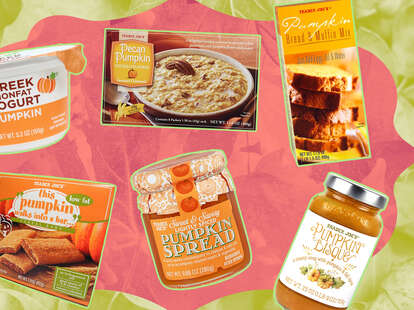 Design by Maitane Romagosa for Thrillist
Design by Maitane Romagosa for Thrillist
Nothing is certain other than death, taxes, and Trader Joe's having a truckload of pumpkin-flavored food every fall. Only one of those things fill us with joy every time we encounter it, so if you're seeking a story about death and taxes, look elsewhere.
But if you want a rundown of the best pumpkin stuff you're going to find at (almost) everyone's favorite specialty grocer, this story is for you. These are the essential Trader Joe's pumpkin products you need in your life. Not all of these are available now, as Trader Joe's tends to roll out their seasonal items in bursts, but snag these when they finally hit your store's shelves.
Having tasted every Oreo in existence, I know that with flavors like Cinnamon Bun or Birthday Cake, Nabisco does not aim for subtlety. I fully expected TJ's would follow Oreo's lead and overwhelm my tastebuds with pumpkin spice. That did not happen, and I couldn't be happier about it. Despite the fact that this is made from two pumpkin-flavored cookies with a layer of pumpkin creme inside, the Joe-Joe isn't as pumpkiny as you'd think—there's just enough spice to keep your mouth happy. And because the creme is the best part, TJ's adds a sizable layer that squishes out of the cookie when you bite down. Dip this into the whipped cream atop a Pumpkin Spice Latte and you might reach peak fall.
Pumpkin Chocolate Chunk Oatmeal Cookie Mix
I know, I know—who the hell wants to bake cookies when TJ's offers so many delicious pre-made snacks? But it's worth mixing together a couple ingredients for one sole reason: the smell of fall that will emanate from your oven when you're baking it. It's an intoxicatingly delicious scent, like baking an edible pumpkin Yankee Candle. (Please do not eat Yankee Candles). You can either make 24 small cookies or about 16 larger ones. You'll even have plenty of cookies left over to give away to friends, who will think you're some sort of Martha Stewart. The cookies have a ton of chocolate chips, and you'll probably also notice that the spice blend goes heavy on the nutmeg. But if nutmeg and chocolate chips don't sound good to you, why are you even reading this?!
The funniest thing about the instructions for preparing this pre-made cheesecake is that it says it keeps for five days in the fridge. The odds of this dessert made with real pumpkin not being completely eaten in five days are small indeed. It's staggeringly affordable at $6.99, and all it requires from you is to defrost it overnight in the fridge, and taking it out one to two hours before you want to eat a slice of this decadent cheesecake with a whole-wheat crust. Best of luck not finishing it in one sitting.
Mini Spicy Pumpkin Samosas
One of the best uses for pumpkin is in curry. Even better? Wrapping it into a flaky pastry. The new Trader Joe's pumpkin samosas have warming spices, like coriander, cumin, and chili powder, but is also filled with paneer cheese and generous chunks of pumpkin. It's the sweet, savory, and spicy Indian mash-up that serves as the perfect fall-themed appetizer.
Pumpkin Empanadas
If you're into the idea of pumpkin puree encased in a flaky pastry, but don't really want a savory combination that the pumpkin samosas offer, pick up these pumpkin empanadas instead. Like the samosas, they're full of creamy pumpkin goodness but sweeter thanks to the inclusion of cinnamon, cloves, allspice, and coconut milk. This is the perfect pumpkin hand pie if you're craving pumpkin dessert on the go.
Pumpkin Bisque
We get a glorious amount of sunlight in the summertime, but a couple days after Halloween, we'll have to set our clocks an hour back. The days will get shorter, the nights longer, and the temperatures will drop. But at least we'll have bisque. Specifically, this hearty pumpkin bisque made primarily with pumpkin puree, heavy cream, olive oil, and tahini. The bisque gets its depth of flavor from apple cider vinegar, garlic, and other spices, resulting in a soup you'll inevitably microwave and pair with three slices of Pumpkin Bread instead of making dinner. But who can blame you? It gets dark at like 6pm! What are you supposed to do, be motivated enough to cook for yourself?!
Pumpkin Rolls with Pumpkin Spice Icing
It's Thanksgiving morning and you can't wait to eat a huge meal at 3 pm? Just pop these pumpkin-flavored pastries into the oven and wait for your kitchen to smell gloriously spicy and cozy. Top these rolls off with Trader Joe's pumpkin spice icing for the ultimate pumpkin breakfast. Thanks, Trader Joe's.
Let me first talk about what this Pumpkin Butter isn't. It isn't full of oils or laden with preservatives. Here's the entirety of this edible holiday-in-a-jar: pumpkin, sugar, honey, lemon juice concentrate, cinnamon, cloves, ginger, nutmeg. I spread it on bread and loved how it reminded me of apple butter, consistency-wise, but was even more fall appropriate. The serving size is 1 tablespoon, and unlike every other serving size suggestion, they couldn't be more right. You don't need more than that to transform any snack or meal. Another idea: If you like eating oatmeal when it gets colder, a tiny scoop of pumpkin butter is your new best friend. Or you can shovel some onto another Trader Joe's item, like that new, fantastic Organic Pumpkin Bread.
Pumpkin Waffles
Let go of my Trader Joe's-branded-frozen-pumpkin-waffles. Although that doesn't quite roll off the tongue, these pumpkin waffles are undoubtedly delicious: aromatic thanks to cinnamon and subtly sweet with just the right amount of pumpkin flavor. You can undercook them for chewier waffles or scorch them if you prefer crispy edges. These are the perfect canvas for a smear of Trader Joe's maple butter.
Pumpkin Bagels & Pumpkin Cream Cheese
This is kind of a twofer. I mean, you can also spread the pumpkin cream cheese on the pumpkin waffles (I had delicious results), but the pumpkin bagels are really the perfect vessel for the sweet cream cheese. The pumpkin bagels smell like fall: they're made with actual pumpkin flour and contain pumpkin spice bits throughout, which is essentially cinnamon strudel bits. Pair that with the pumpkin cream cheese and you've got a winning fall-themed breakfast.
Pecan Pumpkin Instant Oatmeal
Instant oatmeal is the savior of office breakfasts everywhere so if you're headed back to work in person, make sure to pick up a pack of these. This comes together in a minute and change and is studded with the pleasant nuttiness of pecans throughout. If hot oatmeal isn't your thing, you can always use these packs to make overnight oats—just add your favorite milk and let it set in the fridge.
Organic Pumpkin Spice Granola Bark
You'll want to eat this granola bark crumbled over yogurts, scooped into smoothie bowls, or directly on its own. The pumpkin seeds provide an astounding crunch while the bitter dark chocolate balances out all the warming spices woven throughout.
"This Pumpkin Walks Into a Bar" Cereal Bars
Trader Joe's has various cereal bars perfect for a breakfast or snack on the go, and fall is no different with this pumpkin version. The pumpkin filling is spiced with cinnamon and nutmeg while the exterior boasts a soft, crumbly shell. This is one of the sweeter cereal bars—blueberry and strawberry have acid to them—so if you're not into sweets, maybe steer clear. But if you are into a hand-held rendition of pumpkin pie, this is your best bet.
Lee Breslouer is a writer and editor based in Colorado. If you prick him, he bleeds pumpkin-spiced blood. Follow him @LeeBreslouer.
Kat Thompson is a senior staff writer of food & drink at Thrillist. Follow her on Twitter @katthompsonn.