Photo by Cole Saladino for Thrillist

Cult-loved grocery store Trader Joe's—which sells an array of faraway offerings under slightly uncomfortable and contrived names (like Trader Ming's, Trader Jose's, and Trader Giotto's)—has tapped into an undeniable desire that Americans have: trying food from around the world without having to venture beyond the grocery store aisle.
Admittedly, I love Trader Joe's as much as the next person. Their unexpected cheddar and cookie butter variations have captured my heart, but as a Thai American, shopping for their Thai food gave me pause. Is it actually possible to condense the flavors of red curry and yellow curry into a simple simmer sauce? What is an egg roll stuffed with sticky rice and mangos like? Would this be anything like the food I grew up eating and loving? And what exactly are Thai gyozas (because Thai people don't make gyozas)?
I decided to put them all to the test to see whether they flop or whether Trader Joe's managed to nail Thai food, too. Below, the good, the bad, and the questionable.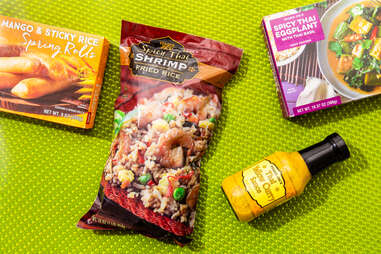 STRONG BUY
Mango Sticky Rice Spring Rolls
Mango sticky rice is a quintessential Thai dessert. Spring rolls are something that exist in Thailand, too, mostly as an appetizer filled with glass noodles and veggies. But together? I've never heard of such a thing. That doesn't stop this fusion frozen food from being delicious, however. These crispy, yet gooey, desserts are an explosion of tropical flavor and savory, crunchy wonton skins. I pan-fried mine in a little bit of oil and five minutes later, I had a hot, oozing egg roll stuffed with creamy sticky rice and juicy chunks of mango. They aren't traditional, but I would make these a staple in my freezer.
Mini Thai Tea Mochi
These Thai tea mochi balls are everything I've ever wanted! For those who have never had the pleasure of sipping on the nectar that is Thai tea, it's a strongly brewed and sweet ceylon tea stirred with condensed milk, evaporated milk, and occasionally half-and-half. Are they a super traditional representation of Thai cuisine? Of course not. Are they delicious? Yes! These chewy, yet creamy, mochis are an indulgent treat that also happen to be vegan. The coconut milk adds richness and the chewy mochi that envelop the ice cream are perfectly sticky and fun to pop into your mouth. Praise Trader Joe's for these beautiful, ready-to-eat desserts that are also a really good bargain—one pack comes with 15 of these delicious, bite-sized sweets.
Spicy Thai Shrimp Fried Rice
This is a one-and-done pan item and the flavor is incredible. It was actually spicy, actually filling, and actually tasted good. Additionally, it wasn't as much of a sodium overkill as most of their other frozen offerings were. I have to give extra kudos to Trader Joe's for including makrut lime leaves, red Thai chilies, and basil in this dish, which really made the whole entree pop. It allowed me to overlook the fact that this fried rice is also loaded with peas and baby corn, which aren't typical veggies found in a Thai fried rice. The one gripe I have is that the bag is pretty small, and only had about seven pieces of shrimp for a four-person serving. I need to be clear: this bag does not serve four people. I shared it with my two roommates and we all could have done with a more generous heaping—so keep that in mind if you're trying to feed a crowd!
Organic Jasmine Rice
It's hard to go wrong with plain, jasmine rice. It smells like childhood and comfort to me, and Trader Joe's' frozen variety hits the spot: it's quick, convenient, organic, and delicious. Even though I microwaved it, the rice tastes like it's from the rice cooker and can work well being transformed into a fried rice, laddled with curry, or eaten plain. I'd pick this up for a quick meal any day of the week.
Spicy Thai Eggplant
Generally, spicy Thai eggplant entrees are a sweet and savory dish filled with heat, basil, tons of garlic, and generous chunks of eggplants simmered in a dark soy sauce. Peeling back the plastic film that covers Trader Joe's version means subjecting yourself to a steam cloud of garlic, red Thai chilis, and basil—and it's wholly welcomed. This vegan frozen entree is as good as it gets when it comes to frozen food: the ingredients are identifiable, the meal is quick and efficient, and it genuinely tastes… good, like the eggplant-filled dish you'd expect at your local takeout spot. This doesn't play when it comes to spice—but it's easy to recognize the streaks of red hot chili peppers among the green eggplants and strands of basil, so pick them out if you must. Pair this with a bag of the organic jasmine rice and you're good to go for a simple, Wednesday night dinner.
Thai Yellow Curry Sauce
Classic Thai yellow curries are made from a tumeric-based curry paste, full-fat creamy coconut milk, fish sauce, and a myriad of root veggies that tie the whole dish together. This yellow curry sauce is not as thick, coconut-y, and sweet as some variations I've had, but that doesn't make it any less delicious. It sort of reminded me of Japanese curry if I'm being honest—there was light heat, a deep savoriness, and a punch of onions and garlic. I simmered mine with potatoes and chicken and ate it over a bed of Trader Joe's organic white rice, which truly completed the meal. The best thing about this sauce is that it makes for a good base that you can enhance with an extra splash of coconut milk, fish sauce, or sugar to transform into a new curry sauce that's just as delicious.
Thai Lime & Chili Cashews
I could see these well-seasoned nuts as a bar snack staple in Bangkok. Although not traditional in any sense, the generous seasoning of makrut lime leaves and Thai chili powder countered with the buttery sweetness of cashews make this a flavorful snack that you'll want to keep reaching for. I enjoy these cashews in between lunch and dinner or alongside a fizzy beer.
SKIP
Thai Sweet Chili Veggie Burger
Nothing about the Thai Sweet Chili Veggie Burger is Thai. It left me wondering if there was something I did that made this sad, vegan burger taste so bad. Did I cook this wrong? Is there something wrong with me? This mushy patty is constructed from brown rice, black rice, carrots, soy protein, and a bunch of other ingredients I can't pronounce. I pan-fried mine and ate it with rice but it didn't leave me desiring more. Instead, it reminded me of wet cat food and being hungry in college late at night with few options for food. It's certainly sweet—and has no hint of spice whatsoever—so I'd recommend you skip this one.
Thai Vegetable Gyoza
Honestly, the name of this dish makes me laugh because gyozas are Japanese. I pan-fried these bad boys, which is essential because it actually creates some textural elements with the crunchy dumpling skin because the rest of this gyoza is a soggy, mushy mess. This "Thai" veggie gyoza is stuffed with white cabbage, carrots, green onions, white radish, and a bunch of other stuff but it honestly just tastes like baby food wrapped in a wonton skin. Skip!
Red Curry Sauce
Traditional red curry is a blend of chilies, garlic, galangal, lemon grass, shallots, and a lot of other fragrant ingredients that make the dish so nuanced and special. This curry sauce lacked spice and seemed to make up for it with an overload of salt. Something about this sauce just rubbed me the wrong way; it had a very weird tang to it and just didn't marry well with the potatoes and chicken I used to complete the curry. It was disappointing, because red curry is one of my favorite curries of all the Thai curries, but Trader Joe's version was simply too salty and too off-base. If I'm ever craving red curry, I'd rather go to my local Thai grocer and buy their base, order takeout, or just eat Trader Joe's delicious yellow curry instead.
MAYBE PURCHASE
Vegetable Panang Curry
Honestly, this frozen, microwaveable dinner wasn't bad (especially if I ignore the fact that eating this meal constitutes over 40% of my daily allotted intake of sodium and over 80% of my daily allotted intake of saturated fat). The rice—which was separated by a plastic divider—was fluffy and tasted like the typical jasmine rice I make at home, and the panang curry flavor definitely had traditional ingredients like lemongrass, galangal, and makrut lime leaves packed into it. I thought the curry sauce was a bit too sweet and the fact that the lemongrass and galangal were abandoned in the curry sauce (they aren't intended for eating, merely for flavoring the curry) left an unpleasant chewing experience.
Vegetable Pad Thai
The vegetable pad Thai says it is a product of Thailand—and I believe it (to an extent). It definitely smells like the aromas of your favorite take-out meal, and the noodles are the typical, thin rice noodles used in pad Thai. The main downfall of this veggie pad Thai is that, buried underneath all the noodles, are the world's soggiest bean sprouts. The sauce and noodles can't hide how sad it tastes to eat pre-packaged, frozen bean sprouts that have clumped up into a wet mess. Additionally, the absence of fish sauce and lime makes the pad Thai feel a bit one note; the salty, pungent flavors of fish sauce and the sour jolt of lime typically cut through the sticky sweetness of a dish like pad Thai. Despite that, I think the pad Thai is redeemable if you scramble in your own eggs and maybe hit it with a bump of fish sauce.
Yellow Jackfruit Curry with Jasmine Rice
This yellow jackfruit curry contains a "moderate amount of heat" according to its packaging, and they're not kidding! It's pretty spicy (which I love) but a little bit turmeric-heavy (which I don't). Similarly to the vegetable pad Thai, this dish is vegan and doesn't contain fish sauce, which makes me feel like it is lacking a deep, umami saltiness. I expected the jackfruit to be shredded in an attempt to dress it up like meat, but it instead arrives in big bulbs, alongside chunks of eggplant and slices of red bell pepper. Everything was a bit mushy and the meal lacked texture, but overall I'd say it's a pretty good take on a yellow curry and I would probably eat this again if I was trying to go meatless.
Thai Shrimp Gyoza
I love most things that are advertised as gyoza. It's hard to go wrong with delicious packages of shrimp and veggies wrapped in a wonton skin, and these aren't bad. The veggies, however, are still a bit mushy—as they are in the veggie gyoza—and the shrimp doesn't necessarily leave me craving more. To coax any real flavor out of this, it's necessary to submerge them in dumpling sauce. The best method to prepare these is the pan-fried way so there's at least some texture to your food, but if I'm really craving dumplings, I'll turn to my tried-and-true Mama Ling's from Costco.
Thai Style Green Chili Sauce
The jar of Trader Joe's' Thai-style green chili sauce says its inspired by nam prik noom, a pounded chili paste common in Northern Thailand. The whole premise of nam prik noom is using fresh ingredients, so this jarred version does not have the same aroma or mouthfeel as the original. That being said, it's not bad. I could see this working as a salsa for fried eggs, dipped with chips, or eaten with boiled eggs and pork rinds—traditional accompaniments of nam prik noom.
Kat Thompson is a staff food writer at Thrillist. Find her on Twitter @katthompsonn.