The 25 Most Influential TV Chefs of All Time, Ranked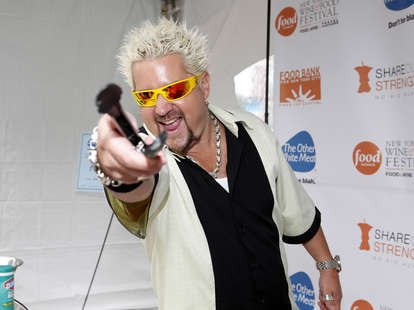 Mark Von Holden/Getty Images
Mark Von Holden/Getty Images
Real chefs spend a lifetime studying technique and execution through rigorous training. Amateur chefs spend a lifetime watching TV chefs, leaving sliced fingers and burnt cakes in their wake. These days, anybody with a little celebrity and a modicum of skill with a chef's knife seems to have a show. But not all TV chefs are created equal, and that's why we're counting down the most influential TV chefs of all time -- the ones who changed the way we cook and how we talk about food, and whose lessons have resulted in a spike in kitchen fires over the decades.
Note: For the purposes of this list, we focused on chefs who have actually hosted instructional cooking shows instead of chef-influencers who haven't taught you how to cut an onion (e.g., Anthony Bourdain) or who merely show up as guests on cooking shows (Marcus Samuelsson, Aaron Sanchez). And no, the Swedish Chef didn't make the cut, despite his influence on IKEA meatballs. Bork bork bork. Here we go.
25. Paula Deen
Notable shows: Paula's Home Cooking (2002-12), Paula's Party (2006-08), Paula's Best Dishes (2008-13)
Paula Deen is like a semi-melted stick of butter plopped into this sauce of celebrity chefs. She makes things a little better, but at the risk of your health/moral constitution. Deen has a personal history denser than a slice of fried cheesecake, and while allegations of rampant racism have torpedoed her career, they cannot erase her impact. She was the harbinger of the everywoman food show. As the regular lady from Savannah who just loves whippin' up belt-busting explosions of home cookin' while rocking a "can I speak with your manager?" haircut, she broke the mold of the celebrity chef into a million deep-fried crumbs and became an industry unto herself. You probably don't like her, but you can't deny her influence, sugar. -- Wil Fulton
24. Ree Drummond
Notable show:The Pioneer Woman (2011-present)
While she wasn't exactly the first to settle the land out West, Ree Drummond (born Ann Marie Smith) is a pioneer when it comes to parlaying a food blog into an insanely lucrative multimedia career. Her website has amassed a legion of fiercely loyal fans unafraid to militantly rush to her defense in any comment section. This led the Food Network to do something it had never done before: give a blogger a television show. Drummond has since turned her fame into a full-blown empire filled with cookbooks, children's books, a kitschy Wal-mart cookware line, and a now, a restaurant, all from a ranch in Pawhuska, Oklahoma. Not bad for someone who started out with just a keyboard and a camera. -- Khushbu Shah
23. Duff Goldman
Notable shows: Ace of Cakes (2006-11); Cake Masters (2016-present)
Goldman pioneered the "elaborate dessert show" construct with nothing but Baltimore moxie, a moderate production budget, and a metric shit-ton of fondant. Subsequently, basic cable has been flooded with copycats, from Cake Boss to Cupcake Wars to Can You Make a Cake in the Shape of a Fifth-Grader Better Than a Fifth-Grader? OK, that last one was made up, but the influx of riffs on Duff's original is seemingly infinite and increasingly ridiculous. Ace of Cakes mixed the entertaining drama of a small business with the awe-inspiring icing art of cake sculptors to create one of the cooking world's most loved -- and most copied -- show concepts. -- WF
22. Rick Bayless
Notable show: Mexico: One Plate at a Time (2003-present)
The complex conversation around what it means for a white guy from Oklahoma to be America's foremost evangelist for Mexican cuisine has far too many layers to be dealt with here, but there can be no doubting Bayless' encyclopedic knowledge and genuine passion for Mexican food. Bayless' relentless championing for the rich variety and complexity of Mexican food has helped the broader public wake up and recognize its rightful place as one of the world's great culinary traditions. -- Matt Lynch
21. Michael Symon
Notable shows: Dinner: Impossible (2008), Symon's Suppers (2012-13), The Chew (2011-present)
A jolly, cue-balled Clevelander, Symon's one of those chefs who's been making the rounds for so long, it seems like he might have a cot in the back of Food Network's central office. You'd be wrong: his sleep pod has actually been in ABC's studio since he started filming episodes of The Chew every weekday in 2011. For someone who once felt like a fringe celebrity chef, Symon's presence on daytime TV, occasionally demonstrating recipes from a certain website you might read from time to time, has planted him among one of the most recognizable celebrity chef faces today. -- Andy Kryza
20. Pat and Gina Neely
Notable shows:Down Home with the Neelys (2008-14); Road Tasted with the Neelys (2008)
The Neelys occupy a unique space in the Food Network, and not because they were among the few splashes of color on a channel whiter than a Mormon bridal shop. High school sweethearts Pat and Gina are living legends of Memphis-style BBQ who spent three years reigning over a Memphis BBQ empire before becoming the first husband-wife duo to host a cooking show on the network. Though it turned out their lovey-dovey banter was a complete farce (yikes), they nailed that "just a guy and a girl in a kitchen" vibe immaculately. Unlike, say, Deen, you actually wanted to hang out with the Neelys. So few shows get that as right as this couple did… even if they hated each other the whole time. -- WF
19. Masaharu Morimoto
Notable shows: Iron Chef (1998-2001), Iron Chef America (2004-14)
I once found myself sitting in front of Chef Morimoto, eating sushi, talking about sushi. (Whoops! Let me pick up that name I just dropped.) And on bastardized "American" rolls, chef had this to say: "There are no rules with sushi. Add anything. If it's good, it's good." These kinds of koans of authority have made Morimoto one of the important figures in food media. But he's not all calm musings, as the man has a serious flair for the dramatic: His elaborate, sometimes aggressive, and always creative methods of presenting food haven't just made him an Iron Chef, they've made him THE Iron Chef (.661 winning percentage over 60+ matches, notably with a two-one record against fellow celeb-chef Bobby Flay). If any one person represents that show's core tenants of fun, tongue-in-cheek showmanship and legitimate culinary chops, it's Morimoto. The Iron Chef of all Iron Chefs. -- WF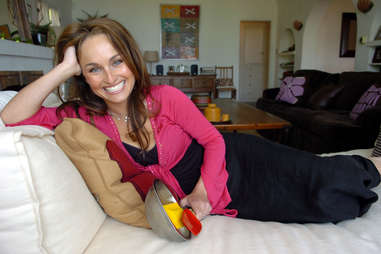 18. Giada De Laurentiis
Notable shows:Everyday Italian (2008-present), Giada at Home (2008-present)
The granddaughter of legendary film producer Dino, Giada brought the whole "Italian grandmother" style of casual cooking/wine-pounding to the general public, helping to reignite America's passion for hearty Sunday sauce while (allegedly) barely eating any of the stuff she makes. No matter. Her playful demeanor, acceptance of imperfection, and general excitement with what she does have proven infectious, making her the go-to hero for the soccer-parent set that doesn't phone it in when it comes to stepping it up on a weekday meal. -- AK
17. Ming Tsai
Notable shows: East Meets West (1998-2003), Simply Ming (2003-present)
As part of the Food Network's first wave of stars with his show East Meets West, Tsai smartly blended Asian and American ingredients and techniques, all the while resisting the all-too-easy "fusion" label in favor of something smarter and subtler, a point of view he's continued on his PBS program, Simply Ming. He hasn't built the massive empire of some of his early Food Network cohorts, but he's been an incredibly steadfast reminder that combining disparate influences needn't be cheap or gimmicky. -- ML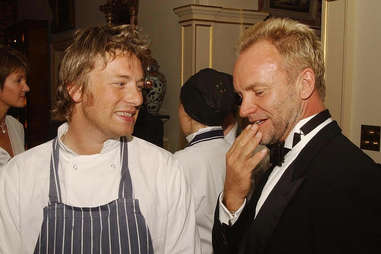 16. Jamie Oliver
Notable shows: The Naked Chef (1999-2001), Oliver's Twist (2002-2004)
"Who's this super-cute Brit with a Beatles haircut and a sunny loft, and why isn't he naked?" everyone queried when The Naked Chef first aired in 1999. Joke's on you, because this show was never about nudity: It was about clean, simple cooking for dinner parties with friends or a quick weeknight meal. Fast-forward to Oliver's Twist, when this every-dude's dude started riding his now-iconic moped around London to collect local ingredients for his dinners. Since then, he's gone on to host innumerable other shows and specials (JK, it's 28) and he's made it his mission to share the gospel of food that won't rot your insides, though he's been embroiled in his fair share of controversy for it. -- Leanne Butkovic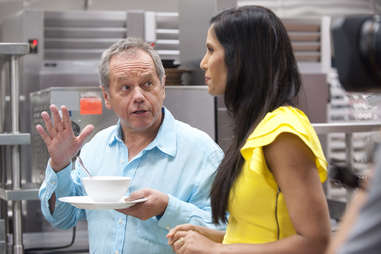 15. Wolfgang Puck
Notable show:Wolfgang Puck (2001)
Puck's hosting experience may be limited, but ever since Spago opened in 1982, he's been the embodiment of a celebrity chef. He's appeared on American Idol and Iron Chef. He got name-dropped in Die Hard and practically lived on HSN, shilling kitchen gear like a gourmand Billy Mays. His insistence on putting his face on mediocre soups and frozen foods even inspired the character of sell-out chef Gusteau in Ratatouille. His influence on food culture transcends even his remarkable skills with a chef's knife. Puck is the prototype for all bougie celebrity chefs of the last 40 years. He's the one who balanced Michelin stars with Hollywood stars, for good or ill, and inspired a generation of home cooks to emulate haute cuisine. Or just buy it in a can. -- AK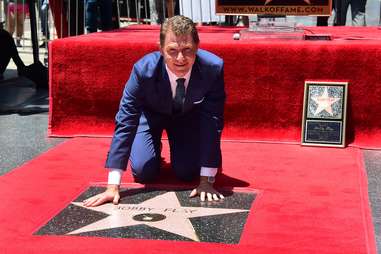 14. Bobby Flay
Notable shows:Boy Meets Grill (2003-07), Throwdown with Bobby Flay (2006-11), Beat Bobby Flay (2013-present)
Bobby Flay has built a career around invincible might, or at least the illusion of it. The indomitable boyish king of competition shows, Flay transitioned from an Iron Chef with the winningest record to host of several shows with the conceit of bringing in a revolving door of specialized chefs attempting to take him down with their token dishes (and often failing to do so, which raises some questions about these shows' authenticity). It would be more annoying if he were a less talented chef, but alas, he cooks with finesse and confidence, bordering on arrogance. That said, he's still a guy with a face I'd like to punch -- everyone's gotta be humbled sometimes. Such is the price you pay to become TV chefdom's most lovable villain. -- LB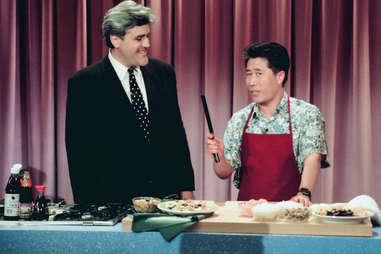 13. Martin Yan
Notable show: Yan Can Cook (1982-present)
There were relatively few cooking shows, period, when Yan's long-running PBS show made its debut in 1982 (though he had already done some television work in Canada). What little food television there was had an unmistakably Eurocentric bent to it. Actually, much of it still does. With more than 1,500 episodes and several offshoot series under his belt, Yan has retained his boundless enthusiasm for making Chinese cooking accessible to those who might've previously consumed it solely from cardboard takeout cartons, making believers out of his trademark sign-off, "If Yan can cook, so can you!" -- ML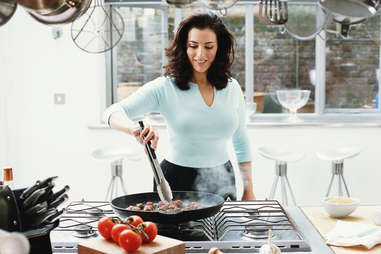 12. Nigella Lawson
Notable shows:Nigella Bites (1999-07), Nigella Feasts (2006-11), The Taste (2013-15)
Nigella Lawson never really set out to be a TV chef, but when you share a name with a popular seed used in many of the best recipes, it's hard to avoid your destiny. Lawson burst out onto the British cookery scene (that's their fun way of saying "cooking") in 1999 with her show Nigella Bites. She gained an instant following for her flirty hosting style and her ability to make something as basic as baking a chocolate cake a sensuous experience. But most notably, Lawson, who is the first to say that she is not a "celebrity chef," was one of the first to embrace simplicity on air, eschewing elaborate preparations in favor of things any home cook with minor skills could make. She made cooking for pleasure something that should be celebrated, and made bank in the process by selling over 3 million cookbooks in her career. -- KS
11. Alton Brown
Notable shows:Good Eats (1999-2012), Cutthroat Kitchen (2013-2016)
Alton Brown is not a chef, per se. He studied drama years before enrolling in culinary school. But Good Eats -- which aired for 13 years and 14 seasons and is poised to make a comeback sometime soon -- is essential viewing for home cooks seeking a thorough understanding of why they're using only egg whites and not the entire egg to make meringue, for example. Equivalent to the kooky-yet-beloved high school teacher who used unconventional methods to get you to memorize the periodic table, Brown is a hugely influential food-science educator who blends cheeky sketch comedy and bouncy monologues to instruct techniques rather than convoluted recipes. His persona -- whip-smart yet accessible -- is exactly why he's gone on to host skill-intensive shows like Iron Chef America and tour the country giving lectures on his craft. -- LB
10. Ina Garten
Notable show: Barefoot Contessa (2002-present)
So many shows have come and gone since Barefoot Contessa debuted 16 years ago, and all the while Garten's just kept doing what she does: convincing all of us that we, too, are capable of entertaining our friends with lavish Hamptons-style dinner parties while making sure her husband, Jeffrey, reliably exceeds his daily caloric requirements. In all seriousness, Ina's show reflects a devotion to thorough testing and proper technique that's increasingly missing from much televised cookery. Also in all seriousness, we don't want to live in a world that's devoid of Jeffrey merrily bounding into the kitchen, ready to get down on some salted caramel brownies or whatever. -- ML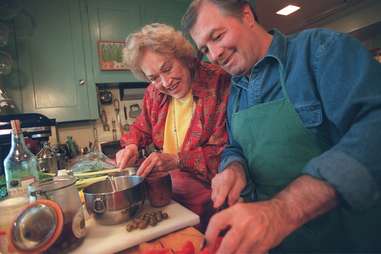 9. Jacques Pepin
Notable shows: The Complete Pepin (1997), Julia and Jacques Cooking at Home (1999), Heart & Soul (2015-16)
Pepin's numerous shows (the above standouts represent only a snapshot of the many PBS series he has helmed) are all linked by his unyielding devotion to teaching and technique (there's a reason La Technique was the name of his seminal 1976 cookbook). Pepin reliably delivered the kind of incredibly useful nuts-and-bolts instruction that's increasingly rare in food television. If you doubt his influence, just watch the way the room lights up any time he does a guest spot on Top Chef or some other more youthful program. Besides, how many chefs are deemed worthy of sharing the screen with Julia Child? -- ML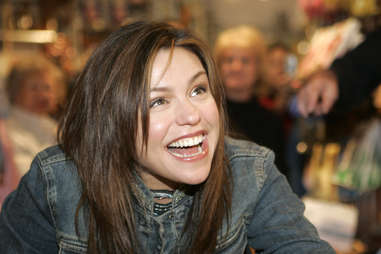 8. Rachael Ray
Notable show:30 Minute Meals (2001-12)
Regardless of whether she is Beyoncé's nemesis "Becky with the Good Hair" (she isn't!!), Ray's influence is absolutely undeniable. She was a Food Network OG, logging in 28 damn seasons of 30 Minute Meals and upping the weeknight meal game nationwide. She became an industry unto herself, her smiling face appearing on everything from cookbooks to talk shows, tie-in products, and Nabisco boxes. But at the root of Ray's stardom is the fact that she perfected the everywoman persona and helped America fall back in love with spending time (even a half-hour) in the kitchen. That alone is worth ignoring her ill-advised side trip into FHM cover-girl territory. Such is the power of EVOO. -- AK
7. Mario Batali
Notable shows:Molto Mario (1996-2004), Ciao America with Mario Batali (2003-04), The Chew (2001-2017)
Batali's long legacy was quickly eviscerated in late 2017 when allegations of serial sexual misconduct surfaced. But before that, and before he was The Orange Crocs Guy, Batali was simply known as Molto Mario. He spent his days running his restaurant empire (that he's since stepped away from) and filming his Food Network show where he whipped up fresh pasta and other Italian delights for his best friends in a small yellow kitchen. The show ended in 2004, but Batali became the epitome of the modern-day celebrity chef with enough restaurants, cookbooks, and retail products to last approximately seven lifetimes. -- KS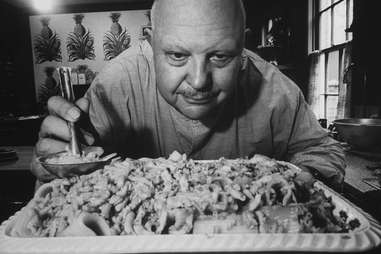 6. James Beard
Notable show: I Love to Eat (1946-47)
You're undoubtedly familiar with the name James Beard, as his foundation's awards basically amount to the Oscars of the food world. You're probably less familiar with his relatively short-lived television show on NBC, because no recordings have survived (though there's some audio evidence of its existence in the Library of Congress). Still, the fact that it's widely believed to be television's first cooking show, and that it was hosted by James f'ing Beard, is enough to merit a robust ranking. -- ML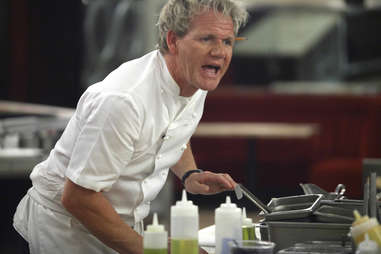 5. Gordon Ramsay
Notable shows: Hell's Kitchen (2005-present), Kitchen Nightmares (2007-14)
Are you [Expletive Deleted] serious? You really [Expletive Deleted]ing need explanation as to why Gordon [Expletive Deleted] Ramsay is influential in the world of cooking shows? He only owns 16 Michelin [Expletive Deleted] stars, regularly appears on close to a dozen [Expletive Deleted] television shows, and inspires about 2 [Expletive Deleted] million [Expletive Deleted] memes a day. He's practically the model for a celebrity chef in the [Expletive Deleted] digital age, for [Expletive Deleted]'s [Expletive Deleted] sake, you [Expletive Deleted]. -- WF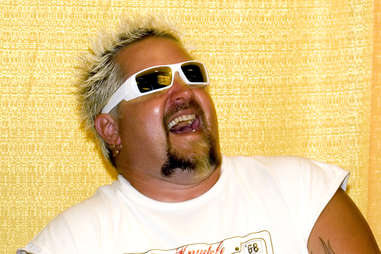 4. Guy Fieri
Notable shows: Diners, Drive-Ins and Dives (2006-present), Guy's Big Bite (2006-present)
F is for "Face of the Network," as the New York Times described you in 2010. L is for love, because you clearly love what you are doing, and the people love you for that. A is for all the amore for food you have inspired, especially among America's red-blooded mass markets. V is for vats of Donkey Sauce, even though we know it's just aoli. O is for your otherworldly power to connect with everyone from millionaires to line cooks. R is for ratings, which you always crush. T is for traveling for food, because you've inspired more road trips than Chevy Chase and Rick Steves combined. O is for opening up food television to the masses by showing dishes that people actually want to eat. W is for when you were just OK, then really uncool, and now kind of cool again in a very irony-soaked millennial kind of way. N is for never losing sight of the fact that food shows should be, above all, entertaining. You, oh Prince of Flavortown, are as fun as a Super Soaker filled with ranch dressing. We don't deserve you. But we thank you for your unprecedented, bewildering influence. -- WF
3. Martha Stewart
Notable shows:Martha Stewart Living (1991-2004), Martha (2005-2010), Martha & Snoop's Potluck Dinner Party (2016-present)
Martha is a superstar who happens to cook, and not the other way around. If she worked at your office, she'd be your boss' boss. If she decided to go the STEM route, one of Saturn's moons would be named after her. But she decided to show us how to make our miserable lives a little better, one quaint table setting and succulent roast at a time. She prefaced the rise of the celebrity chef as media influencer well before Bourdain. And in classic celebrity fashion, she fell from grace, served her time, and became another American tale of redemption via the low-security prison system. But most importantly, she's bigger than food, and made food bigger than food. Because of Martha, cooking show hosts no longer have to die as public servants on PBS. They can live long enough to see themselves as heroes hosting potluck dinners with aging rappers on VH1. And hey -- that's a good thing. -- WF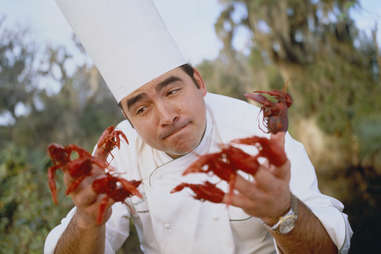 2. Emeril Lagasse
Notable shows:Emeril Live (1997-2010), Essence of Emeril (1994-'96 & 2000-'07)
It's safe to say that the Food Network would not be what it is today without Emeril Lagasse. From 1997 to 2007, Lagasse, the chef from New Orleans with a thick Massachusetts accent, was the king of the network. His two shows -- Emeril Live and Essence of Emeril -- were shot in front of a studio audience with a live band. This was a setup that was typically reserved for late-night comedy shows and not ones about cooking. Lagasse also coined not one, but two popular catchphrases ("Bam!" and "Let's kick it up a notch!") during his run. But most importantly, he was also the first food TV star to sign a seven-figure contract. Bam! indeed. -- KS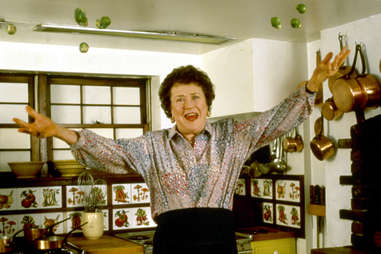 1. Julia Child
Notable shows:The French Chef (1963-73), In Julia's Kitchen with Master Chefs (1995), Julia and Jacques Cooking at Home (1999)
She was a spy in WWII. She appeared on talk shows ranging from Carson to Letterman to Rosie. She even helped some unknown actress named Meryl Streep get an Oscar nomination for Julie & Julia. Child is now, and always shall be, the first name that comes to mind when you think of TV chef, a woman who was teaching Americans the virtues of then-untenable haute French cuisine before Guy Fieri started frosting his tips. She is the queen of cookbooks, the oft-imitated (usually by dudes) but never duplicated influencer of damn near every kitchen in America. Even 13 years after she went on to the big kitchen in the sky, her presence is felt every time a cookbook goes to print or cameras roll in a kitchen. Such is the joy of cooking. -- AK
Sign up here for our daily Thrillist email, and get your fix of the best in food/drink/fun.