Restaurants like Smashburger or an In-N-Out are great, but they are not the only cult-loved burger joints out there. There's a beefy army of burger chains across the country with the potential to win over your heart -- and stomach. We scoured the country for only the choicest, Angus-iest burger chains out there that you may or may not be deprived of, depending on where you live. If there's a chain near you that deserves shouting out, tell us in the comments. But first, fire up the grill (in your mind) and get to know these phenomenal burger chains you definitely want in your life.
Recommended Video
You Can Now Get Artisanal Twinkies Delivered to Your Door in NYC
160+ locations in Arizona, California, Florida, Idaho, Maryland, New Jersey, Nevada, Utah, Virginia, Washington, and internationally
Best burger: Santa Barbara Style (two patties, cheese, avocado, on grilled sourdough)
Consumer Reports is normally where you go to figure out the best Whirlpool washer/dryer set in all of Sears. But it also does yearly surveys of 50,000+ people about fast food, and those people have said more than once that Habit ranks up there with In-N-Out as one of the top burger chains in the country. Like In-N-Out, Habit open-flame grills its Charburgers -- and it has been doing this since it opened in 1969. That's way before the internet made it possible for you to be reading this. But unlike In-N-Out, Habit has made strides to update its menu for modern times. To wit: an Asian-inspired Teriyaki Charburger that comes topped with grilled pineapple and caramelized onions, and its juicy Santa Barbara Style double Charburger which has a heavy helping of avocado on grilled sourdough. And if you're sick of pairing a burger with the thick-cut fries that Habit serves up, there's always the flash-fried tempura green beans. It probably ain't healthy, but when else are you going to eat green beans that taste this good?
10 locations in Michigan
Best burger: The Beefy Double cheeseburger (four patties, four pieces of cheese, a Big Mac-style middle bun, customizable toppings)
Having outlasted even the auto industry in Vehicle City, Bill Thomas' Halo Burger has been slinging its Kewpee burgers (that's cute-speak for "quarter pounder") since 1923, with its Downtown Flint drive-thru jockeying with a mural of ginger ale-making gnomes for the city's most beloved still-living icons. That longevity is attributed to the joint's phenomenal -- and phenomenally messy -- no-frills burgers, which are flat, salty, and have very little structural integrity. The signature here is the Olive Burger, which is overflowing with green, pimento-laden olives. But if you can't handle the brine, opt for the Beefy Double, which is basically like a Big Mac on steroids, minus the secret sauce but plus a flavor that McDonald's can't touch. Oh, and since you were about to make a bad water joke, save your breath. The drink of choice here is the Boston Cooler, with the world's best ginger ale (that'd be Vernors) blended with ice cream.
17 locations in Connecticut, DC, Florida, Maryland, New Jersey, Nevada, New York, Ohio, Pennsylvania, Virginia
Best burger: New Mexico (queso, roasted green chiles, pickled red onions)
Bobby Flay doesn't need an introduction, so we're not giving him one. The Food Network grill master's burger chain is rapidly expanding due in part to the menu, which is loaded with dishes themed after cities. Take for example, the Philly with provolone and griddled onions, or the New Mexico with queso, and the Miami with ham. But the real genius to this chain is that you can get your burger topped with potato chips, which is such a good idea it should be standard everywhere. The burger lineup gets refreshed each month and each order can be paired with a spiked milkshake -- another thing that should be standard everywhere. Plus, if you've ever debated with yourself over fries or onion rings, order The Undecided and you'll get 'em both. Either way, don't forget to douse them in one of the chain's stellar dipping sauces, like the funkily sweet horseradish honey mustard.
17 locations in Arizona, California, Colorado, Texas
Best burger: El Diablo (pepper jack cheese, caramelized onions, habanero/serrano chiles, salsa roja, chipotle mayo)
There are few meal pairings more satisfying than a burger and a beer. But too often when you order a drink in a burger place, the beer is basically a glass of water with a sad, lone hop floating around in it. Hopdoddy does not screw around with its craft brews, however, offering up pours from beloved local breweries. Luckily for America, the burgers at this Austin-born chain are even better than the beer selection. They put a priority on food being really fresh. Case-in-point: Even the bun is baked freshly in-house. Plus, the beef is from humanely raised cows. Consider ordering those freshly ground patties Texas-style with chile con carne and Fritos, or if you like a little more heat, with habaneros, serranos, and salsa roja. For dessert, you'd be silly to skip out on the decadent, chocoholic-favorite Nutella & Chocolate Pretzel shake. And while the focus here is on the beef burger, it's impossible not to mention the impossibly tender Greek burger, with a lamb patty, feta, pickled red onions, and tzatziki.
24 locations in California, Illinois, Nevada, New York
Best burger: Hatch (hatch chiles, the funky American cheese-esque Cali cheese, roasted garlic aioli)
Pop quiz: what the heck is umami? If you answered "the Spanish word for sexy that's been misspelled," you're wrong! It's actually the fifth taste -- something that's not salty, sweet, sour, or bitter. It's just... something else. The burgers served up here are meant to maximize the amount of umami flavor you get in every bite, which is why you'll see umami-rich ingredients like Parmesan, shiitake mushrooms, and roasted tomatoes. It's no wonder that when it debuted in Los Angeles in the late '00s, it took the city by storm. Since then, Umami Burger has slowly spread its reach across the US. The unique burger lineup includes outrageously creative options like the K-BBQ, which has a Gochujang glaze, caramelized kimchi, and Korean-spiced ketchup (something Heinz should definitely get on). But the secret sauce of Umami Burgers burgers is the literal secret sauce. The chain calls it the Umami Master Sauce, and it's a combination of a sweet/spicy Chinese hoisin sauce, the nutrient-rich kombu (aka kelp), and soy sauce. OK, guess it's not so secret anymore. But it helps Umami Burger stand out from the crowd.
83 locations in AK, AL, AZ, CA, CO, CT, FL, GA, IL, KS, KY, MD, MI, NC, NE, NJ, NY, OH, PA, SC, TN, TX, VA
Best burger: 4x4 (four Angus patties, four slices of cheese)
You better go to BurgerFi hungry, because most of the burgers on the menu come with two Angus patties. You'll barely have room to also eat its beef dogs, custards, and sides. But you still probably will, because items like the decadent Red Velvet Custard Concrete (thick vanilla custard + red velvet cake) and the crispy Cry+Fry (half onion ring + half fries) are worth saving real estate for in your stomach. And while the menu is relatively tiny, like In-N-Out, there's a slew of secret menu items to order that aren't so secret. Among them is the gigantic 4x4, which is basically a Big Mac on steroids with four Angus patties, four slices of cheese, and plenty of mayo-based BurgerFi sauce. Luckily it's not actually on steroids, since the beef is all-natural. On the opposite end of the health spectrum, there's also a Hippie Veggie, which is decidedly not boring and includes two of its beloved, crunchy quinoa burgers (which are packed with lentils, fontina, Parmesan, and panko), and comes on a potato bun.
Whataburger
800 locations in Alabama, Arizona, Arkansas, Florida, Georgia, Louisiana, Mississippi, New Mexico, Oklahoma, Texas
Best burger: Jalapeño & Cheese Whataburger
This burger chain is as much a part of Texas as cowboy boots, cowboy hats, the Cowboys, and actual cowboys. For one, it was started in Corpus Christi, and it's still family-owned by the now-billionaire filled Dobson family. No matter which of the 46 menu items you order (hello, Honey Butter Chicken Biscuit!), you're going home happy (and very full). Nevertheless, we're guessing the reasons Whataburger has endured as a burger brand since 1950 are threefold. One: It's open 24/7. Two: You can order 36,864 different combinations of toppings on burgers. We recommend picking a burger with a kick, like the Jalapeño & Cheese Whataburger. And three: Its spicy ketchup and honey butter is so beloved, it's sold at H-E-B and online. Oh, that ketchup. There's just something about dipping Whatafries in that classic chipotle-inflected condiment. Hell, there's just something about Whataburger, period.
33 in AZ, CA, FL, GA, HI, ID, NY, TX, VA, and international location
Best burger: The one you create using toppings you can't get anywhere else
The Counter is the perfect chain for people who like options. There are 60+ toppings on the menu at this Los Angeles-born burger joint. And with that you can create one of 312,000+ different burgers. How about an organic bison burger with herbed goat cheese, steak sauce, kale, and avocado? Or a classic cheeseburger with but with guacamole and grilled pineapples? The answer is always yes. No matter the combination, it's gonna be a damn good burger. But don't take our word for it. Oprah loves it too. Yeah, that Oprah! And don't forget to pair your favorite burger with a pile of the chain's shoestring Parmesan fries. Seriously. You'll regret it if you do.
544 locations across the country
Best burger: Steakburger (American cheese, lettuce, pickles, tomato, red onion, ketchup)
If this burger concept feels like a throwback, that's because it is. A Midwestern staple that began as a fried chicken spot in a gas station and morphed into a hamburger stand in 1934, Steak 'n Shake is as classic a burger spot as a burger spot can get. Its heavily griddled Steakburgers were a major influence on Shake Shack, so you're doing yourself a disservice if you've never paid your respects to the original. Speaking of shakes, it's also a place where a hardworking employee will whip up a hand-dipped peanut butter cup or Nutella shake (always order the creamy hazelnut and chocolate-packed shake!) right in front of you. Feeling ambitious? You're going to want to order its cult-hit off-menu 7x7 burger -- which, you guessed it, has seven patties and seven slices of cheese. A perfect pairing to this burger behemoth are its beloved Thin 'n Crispy fries. They're so thin you'll be able to squeeze a few into your mouth in between bites of those seven Steakburgers you're going to take down.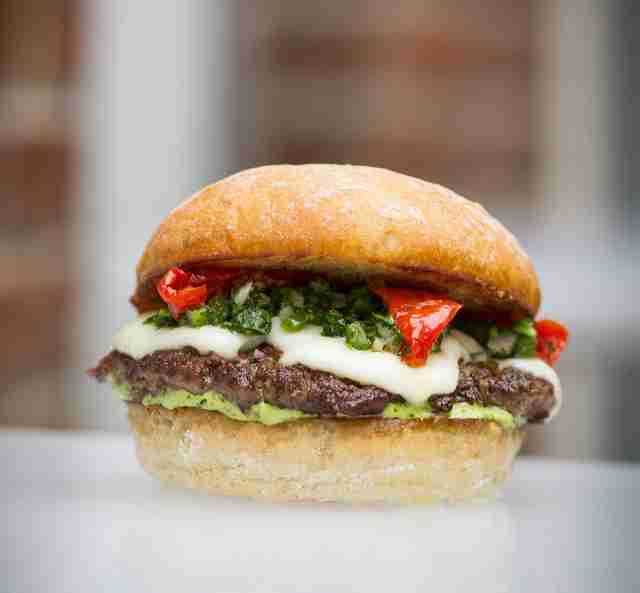 24 locations in California and Nevada
Best burger: The Classic (American cheese, ketchup, mustard, pickles, onion)
Most of the BL's out there in the universe are in California, with LA and San Diego. But there's a specific location of Burger Lounge inside the Aria hotel/casino in Vegas that tells you everything you need to know about the restaurant. It's minimalist to a fault. A few chefs are behind glass in what looks like a beige, rectangle-shaped kitchen, steadily cooking burgers. A few tables are scattered in front. A sign says Burger Lounge with the words "grass-fed" underneath it. Like the open-kitchen, this chain has nothing to hide on the ingredient front: You'll only find humanely raised beef burgers, free-range turkey patties, and even a we-swear-it's-tasty organic quinoa burger. No stunt burgers here with a million ingredients. Just straightforward options like The Classic, a gloriously simple, juicy beef burger with cheese, mustard, pickles, and onions. Or The Husky, an In-N-Out Double Double clone, which comes complete with Thousand Island dressing on top. And unlike when you order a burger at that popular no-frills California burger chain, you can get this with nitrate-free bacon on top.
6 locations in DC, Illinois, Virginia, and an international location
Best burger: Colletti's Smokehouse (bacon, Cheddar-fried onion rings, chipotle BBQ sauce)
For a guy who finished in fifth place on Top Chef, Spike Mendelsohn sure does have the career of a winner. Only a month after the season of his show stopped airing, he and others in the Mendelsohn clan (including his parents, who are restaurant industry vets) opened Good Stuff to serious acclaim -- and not just from Yelp reviewers or any schmo off the street, from a president. Former President Obama was a famous visitor to the DC-founded restaurant, which explains why there's a menu item called Prez Obama Burger with bacon, onion marmalade, Roquefort cheese, and a horseradish mayo. Mostly, Good Stuff keeps the menu simple. There's a variety of signature farm-raised beef burgers; order that Colletti's Smokehouse with bacon, Cheddar-fried onion rings, and a smoky chipotle BBQ sauce. There are also unique beef-free options, like the extremely cheesy Muenster & Cheddar stuffed portobello tops and Nashville hot chicken, all of which pairs well with Spike's village fries, an addictive mix of thyme, rosemary, and sea salt. And don't you dare forget to finish your meal with the crowd-pleasing Toasted Marshmallow shake -- a frothy mix of vanilla custard and marshmallows blended together and topped with even more marshmallows.
13 locations in Colorado, Kansas
Best burger: Truffle burger (truffle aioli, lettuce, tomato, onion, pickle)
Colorado is not only an epicenter of weed culture, but it's also a home to stellar burgers. Coloradans in the know are passionate about Larkburger. It all began as a fine-dining restaurant called Larkspur in the ski town of Vail. Larkburger was spun off into its own business when it was clear that the namesake Larkburger on the menu was a huge hit. It was popular for a reason -- the ⅓lb of black Angus beef is charbroiled and comes on a brioche bun with an absolutely addictive tangy lemon-dijon sauce that you want to pour it over everything. Swap the lemon-dijon for the umami-filled truffle aioli, and you've got an equally mouthwatering Truffle Burger. The move here is to come hungry, order two burgers, and leave with no regrets -- just a very full stomach.
Sign up here for our daily Thrillist email, and get your fix of the best in food/drink/fun.