The Tastiest Plant-Based Ice Creams
Chickpea ice cream? Count me in.
Courtesy of Little Chickpea Ice Cream
Courtesy of Little Chickpea Ice Cream
When I attempted my first taste of Portland restaurateur Micah Camden's Little Chickpea ice cream I did what everyone always does: I took a tiny spoonful and raised it slowly, hesitantly to my mouth. Can you blame me? Ice cream made from chickpeas... shudder. I braced for a sandy and watery texture, a funky bean aftertaste, and that awkward moment when I smile anyway and say something polite.
After just one taste, I went for a much larger spoonful when it was time for my second bite.
They got it right. The creamy mouthfeel, no bad texture, the clear, true flavors free of beany-ness, everything you'd want from any ice cream, vegan or dairy, they were all there. We did a flight starting with their cherry chai, then Szechuan strawberry, then mint matcha, and finally, the deep, dark triple chocolate (they also make Cold Brew Coffee and Blackberry Basil). No basics here; each flavor has layers and ranges from delicate to intense with finesse. It helps that each of the flavors we tried also has a subtle element of savory to them that probably plays well with the chickpea base. But then again, that's on-trend for flavors these days.
Now for the bad news. This vegan ice cream is currently available only at the Little Chickpea shop in Portland, and no, they don't ship. Camden is introducing the brand ever so slowly. They'll do pop-ups in New York City, Los Angeles, Austin, and San Francisco, and Camden wants to get the story of chickpea ice cream out ahead of filling up freezer shelves.
Little Chickpea was the first vegan ice cream to really turn my head and make me take the plant-based dessert wave seriously. As a longtime vegan ice cream skeptic I have been rejecting pints left and right. I'm a committed omnivore who digests dairy just fine, thank you. (I lie. Dairy gives me puffy Benicio del Toro eyes.) Still, it takes a lot to lure me away from cow cream.
And look, we're going to be honest with you: the coconut milk-based ice creams we've tried thus far simply don't do it for us (and yes, we keep trying new ones). There's always at least a faint flavor of coconut milk -- not that there's anything terrible about that, as long as you like coconut. We're OK with it for certain vegan yogurts. But coconut is one of those flavors... either you like it or you hate it, you know? And at this point in the plant-based treats game, we don't believe a preference for coconut milk should be a prerequisite for enjoying vegan ice cream.
As for oat milk ice cream, keep trying. You're not there... yet.
For that matter, should we be calling these frozen desserts "ice cream" if they're not made from dairy cream? We'll let other folks take up that debate. Until the dust clears, we're just going to keep going with "ice cream" to keep things simple.
Anyway, this encounter with chickpea ice cream got me combing the local artisan shops to see if anything else comes close. I dragged my colleague Nicole Taylor with me (it was not hard to convince her) and we found a few other flavors we liked.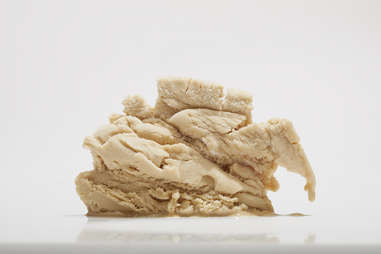 Available online for nationwide shipping and at shop locations in New York City
When other ice cream entrepreneurs aren't working with coconut milk, they're usually experimenting with nut milks. Almond has proven a bust. But cashew shows promise, especially in Morgenstern's cashmere-soft sesame caramel. That's a barely-burnt caramel with only the slightest hint of bitterness giving the buttery mellow of tahini an edge. This is a perfect flavor profile for cashew milk, which makes an almost neutral, rich and creamy canvas for grown-up dessert flavors.
Available at shop locations in New York City and Boston
OddFellows has been whipping up some plant-based magic at their Bushwick factory. We tried their dark chocolate chunk, which was so alluring I couldn't stop eating it. The base is macadamia nut milk, not my favorite nut. But what makes macadamia nuts too extra for snacking (the richness, the richness, and also the richness) makes them ideal for ice cream.
OddFellows has a process that removes nut flavors, leaving behind a neutral creamy base. They have a few other flavors using other nuts like hazelnut.
Available online for nationwide shipping or in the Bay Area at Mitchell's Ice Cream, Acre Pizza, The Good Scoop, and Milkbomb; in New York at by CHLOE. and OddFellows; in Los Angeles at Honeybee Burger, Wanderlust Creamery, and Long Beach Creamery; and in Washington, D.C. at Ice Cream Jubilee and Equinox Restaurant
Straight outta Silicon Valley, this Alexis Ohanian (Serena Williams' husband and Reddit founder)-backed company got sciency with their plant-based ice cream. The "alternative protein expert" founders use a blend of heirloom corn, cassava, and oats to "replicate milk on a molecular level," as they put it, producing a dessert that's free of soy, nuts, coconut, gluten, GMOs, gums and stabilizers.
But let's get out of the lab and into the bowl. How does it taste? We tried their vanilla, chocolate, and Biscoff flavors, and they are indeed thick, rich, and creamy. Texture nailed. The Biscoff flavor is sweeter than we prefer, but the chocolate and vanilla are less so. The vanilla flavor is nice, but they could stand to bump up the cocoa in the chocolate. Our tasters did detect the teensiest of aftertaste, but it's hard to know if we would have noticed that if we didn't know it was plant-based.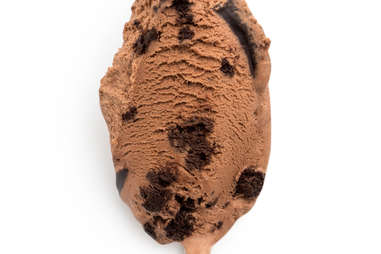 Available online for nationwide shipping, at scoop shops, and in stores across the country
What I said about coconut milk-based ice creams? I have to take it back when it comes to Jeni's. They use coconut cream, rather than milk, and that coconutty flavor is undetectable in their dark chocolate truffle and their roasted peanut butter and strawberry jam. I could just barely detect it in the Texas sheet cake, but the overall flavor is bomb so I don't even care. What I did notice, though, was that while the mouthfeel is creamy I'm picking up that texture you get from thickening agents (carob bean gum and sunflower lecithin).
Available online for nationwide shipping, in its Culver City scoop shop, and in stores nationwide
This a widely-available vegan ice cream we like, with a caveat: we recommend it in sandwich form. The base is made from yellow peas--hello, chickpea cousin (and main ingredient of vegan protein supplement products by Orgain and alt milk Ripple)--along with brown rice and cocoa butter and various other thickeners and stabilizers. While not soaring to the heights of these others, it's the most respectable mass-market vegan treat we've tried so far. Sandwiching the ice cream between cookies improves the overall experience. We especially like the Dirty Mint flavor.
All things considered, we can't help but return to the chickpea ice cream because of everything else it has to offer in addition to taste. There's the sustainability factor, since chickpeas can grow in practically any climate (unlike nuts or coconut). Chickpea allergies aren't nearly as prevalent as nut allergies, so there's that as well. Are chickpeas winning the plant-based ice cream game? Only you, the tasters, will tell.
Sign up here for our daily Thrillist email, get Eatmail for more food coverage, and subscribe here for our YouTube channel to get your fix of the best in food/drink/fun.