The Best Vegetarian Meals to Try at Major Fast Food Chains
Prepare your dipping arm.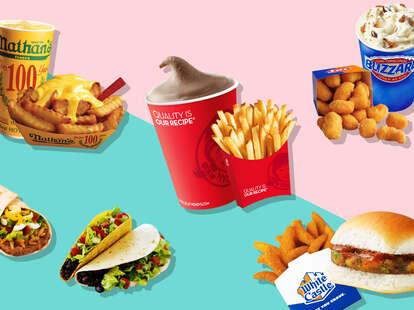 Design by Cole Saladino for Thrillist
Design by Cole Saladino for Thrillist
It's a carnivore's world, and we're just eating in it. In a fast-food landscape with mountains of burgers and fryers full of chicken, it's tough for a vegetarian to grab quick eats on the cheap. Thankfully, all the major fast-food players, from McDonald's to Bojangles, have enough worthy meat-free offerings to make up a full meal, and we've been kind enough to offer up a suggested order. We sure hope you like sides.
Important note: Many of the selections on this list are fried, which means there's no guarantee that they're not cooked in the same oil as non-veg items. If you're ordering at a fast-food spot, this is probably a risk you're already willing to take, but just know that if you are conscious of contamination, many of these suggestions will not work for you. You should probably just ask. Or say "screw it," because you're hungry and the smell of fries is calling to you.
Arby's
Best order: Mozzarella sticks and curly fries
The Arby's slogan is literally "We have the meats." Unfortunately for you, that's almost all it has. Go straight to the sides here. You might even be able to trick yourself into thinking you're ordering some greasy bar food, considering the mozzarella sticks and curly fries are as good as what you might find at your local happy hour. Both stay golden and crunchy and pair ridiculously well with zesty Horsey sauce.
A&W
Best order: Cheese curds, fries with spicy Papa sauce, and a root beer float
I hate root beer, but alas, I am not so selfish as to deny you, reader, what A&W is most famous for. You will get a root beer float here (hopefully) in a frosty mug and you will enjoy it, because apparently most people do. The proprietary Papa sauce is a mayo-relish concoction reminiscent of Thousand Island that plays well with the fries, and the cheese curds are like baby mozz sticks with less breading.
Bojangles'
Best order: Cheddar Bo, mac & cheese, seasoned fries, legendary iced tea (sweet)
As the majority of the menu at Bojangles' is chicken-based, and even many of the unassuming sides have some sort of meat in them, your best bet is to buy a ticket and ride that carb-and-cheese train all the way home. The Cheddar Bo is a simple, sacred union of cheese and biscuit; the mac & cheese is as creamy as the best of 'em; the seasoned fries are generously Cajun-spiced; and the sweet tea speaks for itself once you take your first saccharine sip. This place is in itself an argument for moving to the South, because anything can be bearable when biscuits this good are involved.
Burger King
Best order: Impossible Whopper, fries, and a fountain soda
Occasionally you need to fill the classic burger-and-fries meal void as a veg eater. So I love the fact that Burger King offers the Impossible Whopper, which might actually be better than a regular whopper. The patty comes charbroiled like a regular whopper and has all the same toppings: lettuce, tomato, onions, pickles, mayonnaise, and cheese if you want it. I won't sit here and pretend these fries have a leg up on McDonald's, but they do have a notable lack of beef flavoring and a thick yet crispy texture that holds up well. This is the type of meal that begs for a fountain soda, so do the right thing and oblige.
Carl's Jr./Hardee's
Best order (Carl's): Beyond Famous Star with fried zucchini and a side of CrissCut fries
Best order (Hardee's): Beyond Thickburger and a side of crispy curls
Both Carl's and Hardee's offer Beyond Meat patties that you can swap out for most of your favorite burgers. We like the classic Famous Star, which comes topped with red onions, dill pickles, ketchup, mustard, mayo, lettuce, and tomato. Unfortunately, Hardee's doesn't have the zucchini option, instead favoring a patty-less Thickburger bursting with veggies and melty American. The fry options slightly vary as well: go for the waffle-esque CrissCuts at Carl's and the curly fries at Hardee's.
Chick-fil-A
Best order: Waffle fries with Chick-fil-A sauce, Superfood Side, and lemonade
When a place has chicken in its name, you know your vegetarian self is in for a bit of a tough time. However, should you be dragged here by selfish friends fiending for chicken sandwiches, your best bet is the go-to side of fries, though they're not just any fries. These are waffle fries, and they are crispy and wonderful, especially when dipped in the chain's eponymous smoky sauce. But fries do not make a whole meal, so get some greens with the Superfood Side, which involves broccolini, kale, dried cherries, and nuts. Wash everything down with a cold lemonade, and then make your friends pay for your meal for being rude.
Church's Chicken
Best order: Honey butter biscuit, jalapeño cheese bombers, and fried okra
You will worship at the Church after biting into one of its made-from-scratch biscuits drizzled with luscious honey butter, even if you can't eat 90% of the menu. Points must be awarded for serving fried okra, a divisive vegetable that's made almost impossible to dislike when fried up by the good folks of Church's. Though jalapeño poppers are a more common offering, Church's goes the alternative route here too, with bombers that achieve a somehow thick-yet-light breading and involve legitimately spicy jalapeño bits balanced out by liquid-gold cheese.
Culver's
Best order: Cheese curds, coleslaw, and a concrete mixer of choice
Culver's was born in Wisconsin, the home of the curd. Which means the ones served here are pretty damn famous and remain a huge draw even for hardcore carnivores ordering the similarly renowned ButterBurgers. In fact, they paved the way for most fast-food curds to come. Made with both yellow and white Cheddar and deep fried to crispy, golden perfection, it's difficult to stop shoveling these curds hand over fist into your mouth. Don't stop there, though. The coleslaw is cool, crunchy, and dotted with visible bits of black pepper, which will set you up well for the decadent concrete mixer to follow. These are another sought-after Culver's creation, as they feature fresh, house-made frozen custard and can be filled with everything from salted caramel to cookie dough bites.
Dairy Queen
Best order: Pretzel sticks with zesty queso, cheese curds, and a Butterfinger Blizzard
Does anyone really go to Dairy Queen for anything but dessert? This is a legitimate question, but I suppose it's best to be prepared for anything. So, should you find yourself at DQ needing something more than ice cream for sustenance, you'll be relegated to a place you're well-acquainted with: the snacks and sides menus. The pretzel sticks are ballpark-level good and pair perfectly with the jalapeño-flecked white queso, while the cheese curds are fried just right and—controversial take—are said to be even better than Culver's. Once you've had your well-balanced meal, move on to the belle of the ball: a Blizzard. I am of the mind that Butterfinger reigns supreme, but it's impossible to make a wrong choice in this scenario.
Del Taco
Best order: Epic Beyond Fresh Guacamole Burrito and a mini cheddar quesadilla
Mexican fast-food joints really do cater to vegetarians best. Del Taco rolled out Beyond Meat tacos and burritos in 2019 and have not looked back. Again, your decision-making skills will be put to the test here, but you will take the challenge on with aplomb. The Epic Beyond Fresh Guacamole Burrito is loaded with rice, beans, guacamole, pica de gallo, and crumbles of Beyond Meat and is surprisingly filling. Not only is it vegetarian, it's actually certified vegan and boasts 44 grams of protein per burrito. Also, the guacamole is just perfectly fresh and zippy with lime. The cheese quesadilla is an old reliable and exactly what you'd expect; plus, you can order a full-sizer if you're feeling particularly famished.
In-N-Out
Best order: Grilled cheese and Animal Style fries
If you're fortunate enough to hit up an In-N-Out, it is your responsibility as a contributing member of society to order something Animal Style. In your case, dear herbivore, that means fries. While some people aren't so stoked on these fries on their own, when you get them jazzed up with melted cheese, grilled onions, and a gluttonous pour of special sauce, that opinion becomes flat-out false. And if you really want to take the fries to the next level, order them well done for maximum crispiness. These honestly could probably constitute a whole meal, but just to be safe, also spring for a grilled cheese made up of American, lettuce, tomato, and that same sauce on a toasty bun.
Jack in the Box
Best order: Stuffed jalapeños, onion rings, and mini pancakes
Hit up the trusty sides section and go to town on some Cheddar-stuffed jalapeños that actually pack a little punch (there's a buttermilk ranch sauce for the spice-averse) and panko-breaded onion rings that could actually pass for ones served at a sit-down fast-casual chain. If you're part of Jack's target audience (the "Munchie Meal" that's only served between 9pm and 5am says it all), these will surely satisfy while you watch the latest Planet Earth and slowly become one with your couch. And if you swing by during breakfast hours, get the mini pancakes and drown them in maple syrup.
Jollibee
Best order: Mashed potatoes & gravy, peach mango pie, and pineapple quencher
In the land of Chicken Joys and sweet, Filipino-style spaghetti sprinkled with hot dogs, finding a vegetarian-friendly option at Jollibee may feel impossible. Thankfully, it's not. The gravy here is vegetarian-friendly, so go ahead and order a large mashed potatoes with the stuff. Then opt for a peach mango pie—arguably the best fast food pie out there—that boasts an ultra flaky fried crust with molten peaches and mangoes inside. Finish it off with a refreshing pineapple quencher for a vegetarian meal unlike any other fast food spot.
KFC
Best order: Beyond Fried Chicken Nuggets, mac & cheese, and a biscuit
After years of trials and tests, KFC has finally launched vegetarian-friendly chicken nuggets at locations nationwide, crafted in partnership with Beyond Meat. It was worth the wait—the chicken nuggets definitely satisfy the craving for chicken while being vegetarian-friendly. It's challenging to make plant-based chicken resemble the real deal but KFC was done it. Pair the "chicken" with macaroni and cheese and a biscuit for a full meal.
McDonald's
Best order: Egg and cheese McMuffin, hash browns, Oreo McFlurry
When I first learned that McDonald's fries were made with beef flavoring, I wasn't sure I could ever go back. Then McDonald's introduced all-day breakfast, and it was one of the greatest gifts the fast-food world has ever bestowed upon vegetarians. At the risk of sounding off on an unpopular opinion, a fluffy egg and cheese McMuffin with a good squeeze of ketchup is as satisfying as your average egg sandwich, and even more so when accompanied by a crispy hash brown patty. The creamy-crunchy Oreo McFlurry may seem out of place in this order, but please remember that anything pairs with breakfast food if you simply order it with breakfast food. McDonald's has a bunch of vegetarian burger options globally, so hopefully those make their way to the U.S. at some point.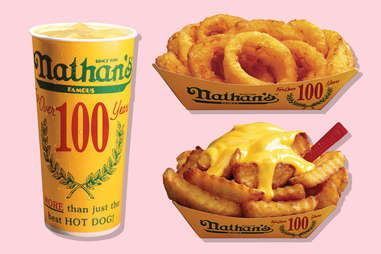 Nathan's
Best order: Crinkle-cut cheese fries, beer-battered onion rings, and old-fashioned lemonade
Obviously you're not going to be pulling a Joey Chestnut here and eating your weight in hot dogs, or even one hot dog for that matter. Your choices here are few and far between but most definitely solid. Aside from the hot dogs, Nathan's really is famous for its platonic ideal of a crinkle-cut fry. There's a reason you can purchase frozen bags of these, but of course, it's best to get them straight from the source and covered in bright Cheddar cheese sauce. The onion rings work well as a supplement with their perfect thickness and breading-to-onion ratio, while the lemonade is a sweet refresher that goes down smooth year-round, but especially in the summer.
Popeyes
Best order: Cajun fries, mac & cheese, two biscuits
Popeyes is essentially Bojangles but available in places like New York, hence why the recommendations are almost identical at both. Like Bo's, Popeyes deals in fried bird (pescatarians can go the risky route of popcorn shrimp) and sides of red beans and dirty rice with pork and sausage. Lucky for you, the biscuits are so buttery that you'd be content to go here just to get your hands on at least a couple. The Cajun fries have a nice crisp to them along with a healthy coating of a special spice blend, and springing for the alarmingly cheesy mac is a solid enough way to make a real meal out of it.
Raising Cane's
Best order: Texas toast, coleslaw, crinkle-cut fries with Cane's sauce, sweet tea
Raising Cane's is a chicken finger-based establishment, so prepare to get literally one of every side to constitute your meal. There's a fairly mayo-y rendition of coleslaw, the creaminess of which works surprisingly well, some perfectly good crinkle-cut fries that reach a whole other level when dipped in the chain's tangy, shrouded-in-secrecy sauce, and the star of the show in the form of a slice of thick, buttery, grilled toast that's pillowy soft on the inside. Sweet tea is the move at most Southern spots, and Cane's is absolutely no exception.
Roy Rogers
Best order: Mac & cheese, side salad, and apple crisp
A salad had to go in here somewhere, and Roy's sides just aren't as worthy of your stomach space as some of the others. Sorry, Roy. It's nothing personal. Having said that, the mac & cheese is of the white Cheddar persuasion and is creamy as hell. And that aforementioned side salad will set you up to feel slightly less guilt upon digging into a cinnamon-baked apple crisp, arguably one of the finest not-totally-ice-cream-based desserts in the fast-food arena.
Sonic
Best order: Cheese tots, Ched 'R' Peppers, and a Reese's Sonic Blast
While my pre-veg days of going to town on a burger with Ched 'R' Peppers on top of it are behind me, Ched 'R' Peppers certainly are not. These are some of the gooiest, cheesiest poppers in fast food, plus the flavor is enhanced when paired with crispy yet fluffy tots covered with a warm blanket of cheese sauce. If you dare try to forego an extremely decadent Sonic Blast (Reese's recommended), I will feel extremely disrespected.
Taco Bell
Best order: Anything and everything with approximately 10 packets of Fire Sauce
When you're used to having to go straight for the sides menu, entering a Taco Bell feels like an alternate reality, one in which your options are exactly the same as everyone else's and suddenly your wallet's $30 lighter and everything's a bit of a blur. You can substitute most meat options with potatoes, beans, or rice (or a combination of the three). Therein lies the conundrum of too many choices, a welcome problem for a veghead patronizing a fast-food establishment. My personal favorites are the Cheesy Gordita Crunch and classic Crunchwrap Supreme, both getting in the necessary textural crunch when relying on mushy but tasty black beans. Also, a minimum of two packets of Fire Sauce per item should be employed for best results.
Wendy's
Best order: Large fries, a chocolate Frosty, and sour cream and chives baked potato
Original sin originated with the first guy who consumed Wendy's fries on their own. This is a little-known historical fact. These hand-cut, skin-on taters are just meant to be dipped in a cold, creamy, chocolatey Frosty, especially when you're not snagging a burger. The salty-plus-sweet combo is one of the greatest and most powerful partnerships this world has ever seen, one that has mended the broken hearts of many a left-out vegetarian. And if that isn't enough for you, snag a baked potato topped with fluffy sour cream and chives, too.
Whataburger
Best order: Jalapeño cheddar egg and cheese biscuit sandwich and hash brown sticks
Similar to Chick-fil-A, we've got burger in the name here, and, indeed, Whataburger, for the most part, sticks to what it advertises. But don't count it out just yet. This spot is well-known for its breakfast, particularly its flaky buttermilk biscuits. You could go classic here, but when jalapeño cheddar is an option, is there really another option at all? An egg and cheese on said biscuit will satisfy at any early hour (breakfast is served from 11pm to 11am) and the hash brown sticks are a perfectly dippable accompaniment. The honey butter is potentially life-changing, if you're willing to take your taste buds on that sweet-spicy-savory adventure.
White Castle
Best order: Impossible sliders and onion chips
Years ago, White Castle only had limited-time veggie sliders. Now, these cuties are a permanent menu fixture with the help of Impossible Foods. It's recommended that you ask for cheese on at least a few of these. Remember that you're at a damn White Castle by ordering some onion chips too, which are basically the fried-up petals of deconstructed Bloomin' Onion.
Zaxby's
Best order: Spicy fried mushrooms, tater chips, and a gallon of sweet tea
Zaxby's is a chicken chain, if you couldn't tell from the cartoon chicken in the logo and your very limited menu options. That being said, it does have a few offerings for you to get a meal better than a basket of celery (a thing you can order here!). Head for the Zappetizers and don't look back. The battered and fried mushrooms served with spicy Zestable sauce are a fun, veggie-centric alternative to your usual onion ring or jalapeño popper, while the tater chips—literally just seasoned potato chips—are a welcome break from fries. Assuming you're not by yourself (or maybe even if you are), order a gallon of sweet tea for the novelty of being able to do so.