You've mastered the art of phở (or at least how to pronounce it) and housed enough bánh mì to feed Saigon, but it's time to broaden your horizons a little. Vietnamese cuisine -- steeped in East Asian flavors and seasoned with a huge French influence (and fish sauce) is one of the most robust, wide-ranging culinary delights in the world. This list, however, is not robust. Instead, we tapped the folks at legendary Portland, OR restaurant Yen Ha to name a few dishes that'll expand eaters' horizons beyond the beef noodle soup of lore.
Recommended Video
The Most Overlooked Mediterranean Paradise in Europe
Bánh cuon
What it is: A thin, wide rice noodle wrapped around pork and onions, though other fillings can be subbed in.
What's the deal: Somewhere between a burrito, a cannoli, and an egg roll, bánh cuon is traditionally served at breakfast, though its savory nature has helped it find its way to the dinner table in many restaurants.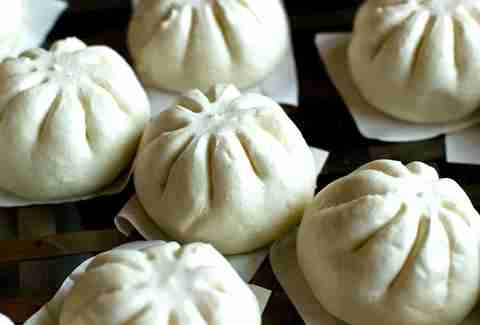 Bánh bao
What it is: A steamed bun typically filled with pork, but often containing chicken, egg, veggies, and other awesomeness.
What's the deal: You might also recognize these suckers from your favorite dim sum joint, and that's because these delicious steamed buns are Cantonese in origin and were adapted by Vietnamese cooks. They're also compact and portable, which is why you often see them at food stands and in bánh mì shops, where they're sold on the cheap and can contain anything from hard-boiled quail eggs to roasted pork.
Bo luc lac
What it is: Also known as "shaking beef", this is a plate of steak cubes marinated in wine or vinegar bases, cooked with onions and peanuts, and served on a bed of veggies or rice.
What's the deal: A hugely popular dish due to its diversity -- you can use any cut of beef for this stuff -- the "shaking" part of the name refers to the beef being tossed in a wok after it's seared, creating delicious bites that range from well-done to rare, and are perfect for dipping in a variety of sauces.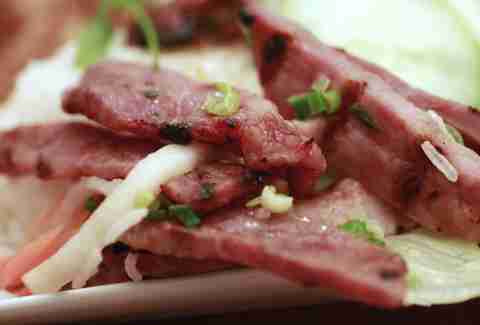 Thit nuong
What it is: Marinated grilled pork served over noodles, though some pair it with rice.
What's the deal: The thickness of this char-grilled pork dish depends on who's making it, but traditionally it's pretty flat, thanks to a traditional preparation that tosses the cuts in a "meat cage", which sounds like something you'd see at a carnivorous burlesque show. The pork's usually hit with fish sauce, then served over cold vermicelli noodles.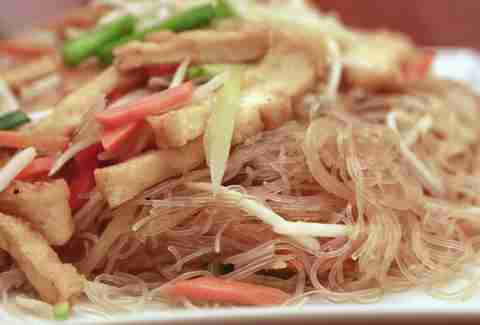 Bún tàu
What it is: Vermicelli noodles -- also called glass noodles or cellophane noodles -- that are the basis for an overwhelmingly large number of traditional dishes.
What's the deal: The cornerstone of about a billion dishes, these transparent noodles show up in dishes throughout Vietnam, and are known for their ability to absorb flavor and look like clear spaghetti. Pictured above is Mien Xao, a stir fry of veggies, tofu, and bean. But the number of dishes that contain them is limitless.
Bún bò Hue
What it is: A spicy, sour beef-based soup.
What's the deal: Where pho gives you a nice, balanced, soothing flavor, bún bò Hue's goal is to launch a full-on assault on your taste buds, taking them on a voyage that hits hot, sweet, spicy, and sour notes all at once. The flavor of lemongrass mellows it out, and it's loaded with vermicelli, various meats (oxtail and shank are common), plus tiny congealed blood cubes that are kind of like beef Jell-O, which is way more delicious than it sounds.
Ca kho to
What it is: Caramelized fish braised in a clay pot.
What's the deal: A staple at Vietnamese family dinners, ca kho to utilizes the clay pot in order to lock in as much flavor as possible into a gooey, sweet explosion of savory fish (usually catfish, but if you can't find Nev, any fish will do) braised in a special caramel sauce and served family-style over rice.
Andy Kryza is Thrillist's national food/drink senior editor, and has developed the shakes in the absence of shaking beef. Follow him to a bao truck via @apkryza.