The 5 Best Ways to Use Hot Honey That Aren't Pizza
Mix it into cocktails, top your morning yogurt, or spice up a chicken sandwich.
Hot honey is still hot—in case you haven't noticed. The spicy-sweet condiment was widely introduced to the United States by Mike's Hot Honey in 2010, and over the years has become a ubiquitous pizza topping. Since then, other honey producers and condiment brands have begun offering the stuff, and it turns out, it can be used in many more applications besides pizza.
Armond Wilbourn is the beekeeper behind Noble Honey in Atlanta. He began producing wildflower and sourwood honey in 2019, and only recently started offering hot honey. "I would do farmers' markets, and different people would walk up to the stand like, 'Do you have hot honey? Do you have hot honey?'" says Wilbourn.
After many requests and the urging from a local chef, he finally took the plunge. Now he infuses his wildflower honey with chili peppers ("The exact chili pepper, I like to keep close to the vest," he laughs) and strains it after the mixture sits for a little bit. "People love it because on the front end, you get the sweetness. Then on the back end, you get the spice," he says. "A lot of people when they first taste it, they're like, 'It's not even... Oh, there it is!'"
Hot honey is not a uniformly made condiment, of course. Charleston-based Red Clay Hot Sauce, for example, puts their own spin on it. "I think it all starts with domestic honey suppliers and then making sure we keep that honey raw," says founder and chef Geoff Rhyne. "We never cook it. Honey has all those really beautiful nuances when you don't heat it."
Red Clay's honey is infused with red pepper flakes and a little bit of vinegar to give it a tangy dimension. "I always love the push-pull of sweet, salty, and tart," Rhyne says. "I think that is an interesting tasting component, when you have flavors that contrast and complement each other."
So how can you use hot honey besides squirting it on pizza? Here are five ways, according to honey experts themselves.
Spice up a charcuterie board
Brooklyn-based sauce company Bushwick Kitchen makes Bees Knees Spicy Honey (spiced with habanero oleoresin), and while CEO Daniel Doll does love it on pizza, he finds that it's also a great charcuterie board accompaniment.
"You have different cured meats that have different salt levels, spice levels, whether it's a salami on the one side or sopressata and pepperoni in the middle," he says. "You're going to get a range of sweet, salt, and heat through your meat so why not do that with your honeys as well?" In addition to spicy honey, consider also putting out a sweet honey, too, for a little balance.
Put between buns
Wilbourn likes to use hot honey as a sandwich garnish. He partners with Atlanta hotel restaurant Drawbar, where they use his hot honey on a fried chicken sandwich, but he also likes to use it on hamburgers. Just squeeze it on top like a garnish for a spicy kick.
Mix into cocktails
Swap out simple syrup for spicy honey, especially in an Old Fashioned. "I use the hot honey because I like a little bit of heat with bourbon and I like rye whiskey," Rhyne says. "I don't like an overly sweet cocktail. And so any cocktail that would call for simple syrup, it's fun to incorporate spicy honey."
When he whips up an Old Fashioned, he'll muddle the honey in with the orange before adding the ice cube and spirit. "You get this super refreshing, cold beverage that also has a touch of sweetness, and the heat coming from the pepper," he says.
Hot honey also works as a substitute for agave syrup in margaritas. Doll especially likes to use it in mezcal margaritas because the honey's flavor cuts the smokiness.
Use for a vinaigrette
Summer produce like tomatoes demand a light vinaigrette, so why not use your spicy honey in that? Rhyne suggests that it makes a great base for a dressing simply using hot honey, cider vinegar, and oil (and whatever seasonings you want). "You can throw it on tomato salad and can throw herbs in there like basil," Rhyne says. "Softer herbs play really well."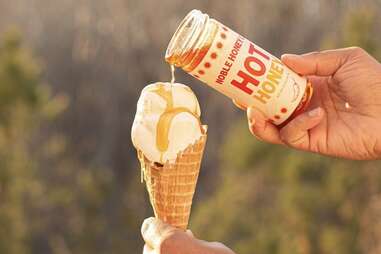 Atop yogurt or ice cream
Rhyne finds that a great summer breakfast involves Greek yogurt and spicy honey. "Cut up some strawberries, peaches, and almonds," he says. Throw that on top of Greek yogurt and drizzle it with hot honey in the morning. High fives all around."
Or take a cue from Noble Honey, and end your day by drizzling hot honey on ice cream in lieu of traditional caramel or hot fudge.
Lia Picard is an Atlanta-based journalist writing about food, travel, and a variety of other topics. Her work appears in
The New York Times
,
The Washington Post
,
Wine Enthusiast
, and
CNN Travel
.