Design by Manali Doshi for Thrillist
Just about the sweetest thing you can do for your 420-friendly Valentine—aside from lighting them a joint and pouring a bowl of Lucky Charms Cinnamon Toast Crunch Mix—is to get them something sweet…with weed in it. To help you show your significant other's cannabinoid receptors some love this Valentine's Day, we've test-driven and stamped a seal of approval on the following top-tier cannabis edibles and drinkables, perfect for gifting.
So forget all about roses, there's only one flower we really need in our lives, and it really does the trick once it's been infused into butter and baked into cookies. This guide assumes you're not buying a cannabis product for the first time. However, if you—or a person you're buying for —are noobies when it comes to edibles, find informative primers in the form of our extracts guide, CBD gummies guide, and cannabis news feed.
Dose: 2mg or 4mg THC and CBD per chocolate (11 chocolates per tin)
Availability: California
Los Angeles-based cannabis-infused confections brand Cloud11 is the brainchild of Chef Nick Pritzker and Eleven Madison Park alum Chef Mauela Sanin who set out to incorporate gastronomy and advanced infusion technology into their edibles. The result is a line of meticulously hand-painted microdosed deserts that are an ideal fit for any decadent holiday or party occasion. The Strawberry Pink Peppercorn variety features strawberries from LA farmers' market mainstay Harry's Berries with a creamy filling that has a pleasant peppercorn tinge to it. To add to the hauteness, tins are delivered by Cloud11's in-house couriers with same day white glove service.
Dose: 5mg THC per gummy (8 gummies per tin)
Availability: Illinois, Nevada
If you're looking to pick up some infused sweetarts for your sweetheart, these blood orange pastilles bring on a euphoric and energetic high. Beboe's upscale line of cannabis candies comes from it's fashion executive and celebrity tattoo artist founders, Scott Campbell and Clement Kwan. If your significant other has a hankering for Dolce & Gabbana and French perfumes, this tin will fit right in their impossibly tiny and shiny purse.
Dose: 1 mg THC per serving (100mg per package)
Availability: California
Whether you're a weekend warrior or the crunchiest of hippies, any nature hike can be made better with some feel good granola. Made with solventless hybrid concentrates, oats, chia hemp seeds, agave, and coconut oil, the vegan-friendly, gluten free Cranberry Almond Granola Clusters are sure to score brownie points. The goods belong to San Diego's own Kaneh Co who's edibles range from PB&J blondies and caramelized hazelnut truffle bars to mango chile gummies and a high-dose 100mg cookie lovingly dubbed "The One."
Dose: 2mg THC, 4mg CBD per can
Availability: California
As an alternative to alcohol, you can always skip the booze with a bud-filled beverage from Wunder and live that "Cali Sober" lifestyle. Their effervescent and uplifting social tonics come in both low-dose (2mg) and higher dose (10mg) options. The newly-launched tart Blackberry Lemon flavor is the perfect sidecar for an afternoon session.
Dose: 10mg THC per macaron (3 macarons per pack)
Availability: California, Nevada
You don't need to be a total sophisticate to enjoy Hervé's fine French pâtisserie offerings. (Hell, I still think France's President is named Emmanuel Macaron.) The three-packs of exquisitely crafted chocolate, raspberry, or salted caramel macarons are made by hand using premium almond flour and dusted with 23k gold. Tantalizing, light, and airy, these sweets are the French connection you'll want to make this Valentine's Day.
Dose: 20mg CBD per can (6 cans per pack)
Availability: California, Maryland
From Lacroix to Spindrift to every beverage in Millenial office fridges, sparkling seltzers are going strong. It was only a matter of time before they hooked up with CBD. Day One's zesty lemon fizzy water has the requisite zero calories and is made with natural fruit juice so there's no lingering artificial aftertaste and it's not unduly sweet. It packs 20mg of CBD, which is non-psychoactive, so it takes some edge off without getting you high.
Dose: 7.5mg of CBD and THC per 1/4 dropper dose (60 doses per bottle)
Availability: California
While cannabis tinctures are technically a separate category from edibles, they can easily be added to beverages like a smoothie, juice, or mocktail, rather than administered sublingually, for a slightly different effect. Papa & Parkley is top of the line when it comes to putting out pain-reducing and general wellness products like balms, patches, and body oils that are guaranteed to be free of needless additives. Their line of tinctures is a great option for precision dosing, coming in a variety of CBD:THC ratios including 1:1, 1:3 (some psychoactivity), and 30:1 (CBD dominant).
Dose: 5mg THC per candy (20 candies per pack)
Availability: Colorado
While the brand name may be uncouth, Suck It does pack a party in your mouth where everyone's invited. The hard candies arrive get their fruit-forward strawberry taste from a mix of organic cane sugar, organic tapioca syrup, and natural flavors. They're made by Colorado-based Canyon THC which has been a player in the medical marijuana industry since 2010 and prides itself on making edibles that're free of synthetic ingredients or petroleum distillates like butane or propane.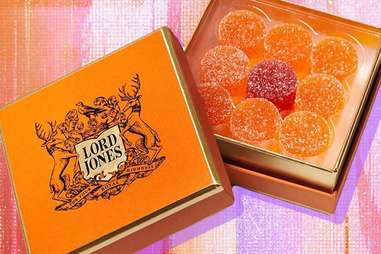 Dose: 20mg CBD per gumdrop (9 gumdrops per package)
Availability: Nationwide
We're fans of Lord Jones for all the same reasons we mentioned in the last cannabis gift guide. This season, the fanciful CBD gumdrop purveyor has a limited edition Valentine's Day package with rich and tart passionfruit and raspberry flavors, in their classy signature box with a gold foil heart gift band primed for gifting.
Dose: 5mg THC per peanut butter cup (20 peanut butter cups per package)
Availability: California
If you're like me then you're currently battling an addiction to Trader Joe's Dark Chocolate Peanut Butter Cups (note to self: stop grocery shopping while high... or at least not high and hungry). So it's high praise to say that Emerald Sky's peanut butter cups are equally craveable -- milk-chocolatey and sea salt sprinkled to boot. The Bay Area edibles manufacturer is helmed by President and Co-Founder Josh Taylor, who's spent three decades as a confectioner for major companies like Whole Foods, Newman's Own, and, you guessed it, Trader Joe's.
Dose: 50mg THC (15 capsules per pack)
Availability: California
Fun fact: Ancient Egyptians were into weed, so says the Ebers Papyrus, one of the oldest medical texts known to humankind. A number of formulas with the cannabis hieroglyph "shemshemet" were developed to treat earaches, joint pain, and a slew of other maladies. It's only natural that a cannabis brand like Ra would look to carry the spirit of the Sun God and spread the healing properties of marijuana. No fuss, no muss, Ra's vegan-friendly capsules are THC-rich, made with sun-grown flower harvested in Mendocino, CA, and placed through a decarbing process that's solventless in order to best preserve key terpenes, cannabinoids, and flavonoids that hold therapeutic value.
Dose: 7.5mg THC per serving (4 servings per bottle)
Availability: California
While it's a bottled adult beverage made with California grapes, consider Stonebush as less of a weed wine -- as tempting as it is to see the pink hue and think "rosé that gets you high" -- and more a tasty semi-sour infused beverage. Serve it up chilled and prepare to chill yourself with a glass of Stonebush that has a moderate 7.5mg of THC that'll onset after 10-15 minutes. The beverage is also alcohol-free too, so there's no need to worry about that cross-faded feeling of being boozed and stoned.
Sean Cooley
is a senior contributor to Thrillist, covering cannabis, food, and travel. He will be spending Valentine's Day
getting weed delivered
from Grassdoor building a marble race course with his lovely wife Christine. Follow his half-baked festivities on Instagram
@SeanCoolish
.